Abstract
The coexistence of alternative male mating strategies depends on the balance between costs and benefits. Here we examine the short-term metabolic costs associated with distinct reproductive strategies in the genetically determined alternative male phenotypes of a northern swordtail, Xiphophorus nigrensis. In this species, large males court females, non-adorned small males chase females, and intermediate males exhibit both courtship and chase behaviors. Using intermittent flow respirometry, we measure oxygen consumption rates and behaviors of each size class in isolation and in the presence of a female. Changes in oxygen consumption between solitary and female presence trials (ΔVO2) correlated significantly with standard length across all size classes (r = 0.42). Only the large male class exhibited a significant increase in oxygen consumption in female-present trials exhibiting a range of increase from 2 to 200% relative to solitary metabolic rates, but costs of specific courtship displays could not be demonstrated. Sword length explained 54–57% of the variation in oxygen consumption in large male solitary trials and 63–65% in the female-present trials independent of any behavioral correlation with sword length. Our results exhibit similarities to condition-dependent alternative mating systems where the female-favored phenotype has higher energetic costs.
Access options
Buy single article
Instant access to the full article PDF.
USD 39.95
Price excludes VAT (USA)
Tax calculation will be finalised during checkout.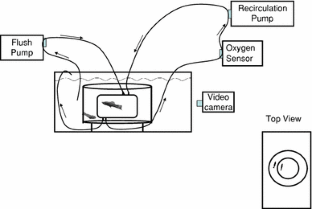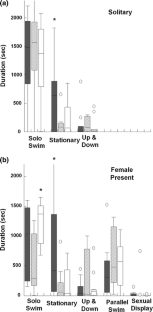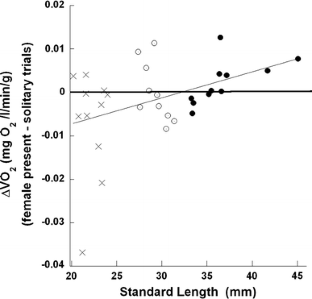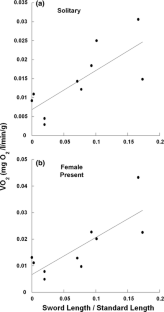 Abbreviations
RMR:

Routine metabolic rate

SL:

Standard length

VO2 :

Oxygen consumption rate
References
Alexander RM (1999) Energy for animal life. Oxford University Press, Oxford

Alonzo SH, Warner RR (2000) Female choice, conflict between the sexes and the evolution of male alternative reproductive behaviours. Evol Ecol Res 2:149–170

Basolo AL (1990) Female preference predates the evolution of the sword in swordtail fish. Science 250:808–810

Basolo AL (1995) A further examination of a preexisting bias favoring a sword in the genus Xiphophorus. Anim Behav 50:365–375

Basolo AL, Alcarez G (2003) The turn of the sword: length increases male swimming costs in swordtails. Proc R Soc Lond B 270:1631–1636

Bateson PPG (1976) Rules and reciprocity in behavioral development. In: Bateson PPG, Hinde RA (eds) Growing points in ethology. Cambridge University Press, Cambridge, pp 401–421

Beamish FWH (1978) Swimming capacity. In: Hoar WS, Randall PP (eds) Fish physiology, vol VII. Academic Press, New York, pp 101–187

Bennett AF, Houck LD (1983) The energetic cost of courtship and aggression in a plethodontid salamander Desmognathus-ochrophaeus. Ecology 64:979–983

Boisclair D, Tang M (1993) Empirical analysis of the influence of swimming pattern on the net energetic cost of swimming in fishes. J Fish Biol 42:169–183

Bucher TL, Ryan MJ, Bartholomew GA (1982) Oxygen consumption during resting, calling, and nest building in the frog Physalaemus pustulosus. Physiol Zool 55:10–22

Cade WH (1981) Alternative male strategies: genetic differences in crickets. Science 212:563–564

Clutton-Brock TH, Langley P (1997) Persistent courtship reduces male and female longevity in captive tsetse flies Glossina morsitans morsitans Westwood (Diptera: glossinidae). Behav Ecol 8:392–395

Cordts R, Partridge L (1996) Courtship reduces longevity of male Drosophila melanogaster. Anim Behav 52:269–278

Cummings ME, Mollaghan DM (2006) Repeatability and consistency of female preference behaviours in a northern swordtail, Xiphophorus nigrensis. Anim Behav 72:217–224

Cummings ME, Rosenthal GG, Ryan MJ (2003) A private ultraviolet channel in visual communication. Proc R Soc Lond B 270:897–904

Cummings ME, Garcia de Leon FJ, Mollaghan DM, Ryan MJ (2006) Is UV ornamentation an amplifier in swordtails? Zebrafish 3:91–100

Dawkins R (1980) Good strategy or evolutionarily stable strategy? In: Barlow GW, Silverberg J (eds) Sociobiology: beyond nature/nurture. Westview Press, Boulder, pp 331–367

Dyson ML, Henzi SP, Halliday TR, Barrett L (1998) Success breeds success in mating male reed frogs (Hyperolius marmoratus). Proc R Soc Lond B 265:1417–1421

Emlen DJ (2001) Costs and the diversification of exaggerated animal structures. Science 291:1534–1536

Franz M, Goller F (2003) Respiratory patterns and oxygen consumption in singing zebra finches. J Exp Biol 206:967–978

Grantner A, Taborsky M (1998) The metabolic rates associated with resting, and with the performance of agonistic, submissive and digging behaviours in the cichlid fish Neolamprologus pulcher (Pisces: Cichlidae). J Comp Physiol B 168:427–433

Gross MR (1991) Evolution of alternative reproductive strategy: frequency-dependent sexual selection in male bluegill sunfish. Phil Trans R Soc B 332:59–66

Hack M (1998) The energetics of male mating strategies in field crickets (orthoptera: Gryllinae: Gryllidae). J Insect Behav 11:853–867

Howard RD (1984) Alternative mating behaviors of young male bullfrogs. Am Zool 24:394–406

Hunt J, Brooks R, Jennions MD, Smith MJ, Bentsen CL, Bussiere LF (2005) High-quality male field crickets invest heavily in sexual display but die young. Nature 432:1024–1027

Lank DB, Smith CM, Hanotte O, Burke TA, Cooke F (1995) Genetic polymorphism for alternative mating behavior in lekking male ruff, Philomachus pugnax. Nature 378:59–62

Lezama E, Günther J (1992) The routine metabolism of the guapote tigre, Cichlasoma managuense (Günther 1869), related to body weight and temperature. J Fish Biol 41:373–380

Martin E, Taborsky M (1997) Alternative male mating tactics in a cichlid, Pelvicachromis pulcher: a comparison of reproductive effort and success. Behav Ecol Sociobiol 41:311–319

McCauley SJ, Bouchard SS, Farina BJ, Isvaran K, Quader S, Wood DW, St. Mary CM (2000) Energetic dynamics and anuran breeding phenology: insights from a dynamic game. Behav Ecol 11:429–436

Moretz JA, Morris MR (2003) Evolutionary labile responses to a signal of aggressive intent. Proc R Soc Lond B 270:2271–2277

Nagy KA (2005) Review: field metabolic rate and body size. J Exp Biol 208:1621–1625

Oberweger K, Goller F (2001) The metabolic cost of birdsong production. J Exp Biol 204:3379–3388

Prestwich KN (1994) The energetic of acoustic signaling in anurans and insects. Am Zool 34:625–643

Rosenthal GG, Flores Martinez TY, Garcia de Leon FJ, Ryan MJ (2001) Shared preferences by predators and females for male ornaments in swordtails. Am Nat 158:146–154

Rosenthal GG, Wagner WE, Ryan MJ (2002) Secondary reduction of preference for the sword ornament in the pygmy swordtail Xiphophorus nigrensis (Pisces: Poeciliidae). Anim Behav 63:37–45

Ryan MJ (1985) Energetic efficiency of vocalization by the frog Physalaemus pustulosus. J Exp Biol 116:47–52

Ryan MJ, Causey BA (1989) Alternative mating behavior in the swordtails Xiphophorus nigrensis and Xiphophorus pygmaeus (Pisces: Poeciliidae). Behav Ecol Sociobiol 24:341–348

Ryan MJ, Rosenthal GG (2001) Variation and selection in swordtails. In: Dugatkin L (ed) Model systems in behavioral ecology. University Press, Princeton, pp 133–148

Ryan MJ, Hews DK, Wagner WE Jr (1990) Sexual selection on alleles that determine body size in the swordtail Xiphophorus nigrensis. Behav Ecol Sociobiol 26:231–237

Ryan MJ, Pease CM, Morris MR (1992) A genetic polymorphism in the swordtail Xiphophorus nigrensis: testing the prediction of equal fitness. Am Nat 139:21–31

Shuster SM (1989) Male alternative reproductive strategies in a marine isopod crustacean (Paracerceius sculpta): the use of genetic markers to measure differences in fertilization success among α-, β- and γ-males. Evolution 43:1683–1698

Simmons LW, Kotiaho JS (2007) The effects of reproduction on courtship, fertility and longevity within and between alternative male mating tactics of the horned beetle, Onthophagus binodis. J Evol Biol 20:488–495

Sinervo B, Lively CM (1996) The rock-paper-scissors game and the evolution of alternative male reproductive strategies. Nature 380:240–243

Steffensen JF (1989) Some errors in respirometry of aquatic breathers: how to avoid and correct for them. J Fish Physiol Biochem 6:49–59

Taborsky M (1994) Sneakers, satellites and helpers: parasitic and cooperative behavior in fish reproductions. Adv Study Behav 21:1–100

Taborsky M (1997) Bourgeois and parasitic tactics: do we need collective, functional terms for alternative reproductive behaviours? Behav Ecol Sociobiol 41:361–362

Taborsky M (1998) Sperm competition in fish: 'bourgeois' males and parasitic spawning. Trends Ecol Evol 13:222–227

Taborsky M, Grantner A (1998) Behavioural time-energy budgets of cooperatively breeding Neolamprologus pulcher (Pisces: Cichlidae). Anim Behav 56:1375–1382

Taigen TL, Wells KD (1985) Energetics of vocalization by an anuran amphibian Hyla versicolor. J Comp Physiol B 155:163–170

Torres JJ, Belman BW, Childress JJ (1979) Oxygen consumption rates of midwater fishes as a function of depth of occurrence. Deep Sea Res 26A:185–197

Widemo F (1998) Alternative reproductive strategies in the ruff, Philomachus pugnax: a mixed ESS? Anim Behav 56:329–336

Zar JH (1984) Biostatistical analysis, 2nd edn. Prentice-Hall, Englewood Cliffs

Zimmerer EJ, Kallman KD (1989) Genetic basis for alternative reproductive tactics in the pygmy swordtail, Xiphophorus nigrensis. Evolution 43:1298–1307
Acknowledgments
Much gratitude is extended to Brad Seibel, who generously trained MEC in respirometry. Thank you to Mike Ryan, Martine Maan, Mary Ramsey, Chris Martell, Eben Gering, Ryan Wong, Michael Taborsky and an anonymous reviewer for providing critical feedback on earlier versions of this manuscript. We are indebted to the Mexican government for fish-collecting permits, Francisco Garcia de Leon for assistance in collection permits, and Brackenridge Field laboratories for fish-holding facilities. This research was supported by a Reeder Fellowship to MEC. This research complied with the "Principles of Animal Care", publication No. 86-23, revised 1985 of the National Institute of Health and followed IACUC protocols.
About this article
Cite this article
Cummings, M.E., Gelineau-Kattner, R. The energetic costs of alternative male reproductive strategies in Xiphophorus nigrensis . J Comp Physiol A 195, 935–946 (2009). https://doi.org/10.1007/s00359-009-0469-9
Received:

Revised:

Accepted:

Published:

Issue Date:

DOI: https://doi.org/10.1007/s00359-009-0469-9
Keywords
Respirometry

Alternative mating strategies

Swordtails

Signaling behavior

Energetic costs