Abstract
Big brown bats (Eptesicus fuscus) use biosonar to find insect prey in open areas, but they also find prey near vegetation and even fly through vegetation when in transit from roosts to feeding sites. To evaluate their reactions to dense, distributed clutter, bats were tested in an obstacle array consisting of rows of vertically hanging chains. Chains were removed from the array to create a curved corridor of three clutter densities (high, medium, low). Bats flew along this path to receive a food reward after landing on the far wall. Interpulse intervals (IPIs) varied across clutter densities to reflect different compromises between using short IPIs for gathering echoes rapidly enough to maneuver past the nearest chains and using longer IPIs so that all echoes from one sound can be received before the next sound is emitted. In high-clutter density, IPIs were uniformly shorter (20–65 ms) than in medium and low densities (40–100 ms) and arranged in "strobe groups," with some overlap of echo streams from different broadcasts, causing pulse-echo ambiguity. As previously proposed, alternating short and long IPIs in strobe groups may allow bats to focus on large-scale pathfinding tasks as well as close-in obstacle avoidance.
Access options
Buy single article
Instant access to the full article PDF.
USD 39.95
Price excludes VAT (USA)
Tax calculation will be finalised during checkout.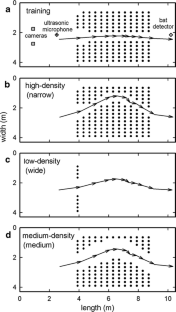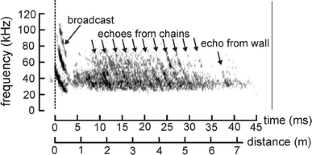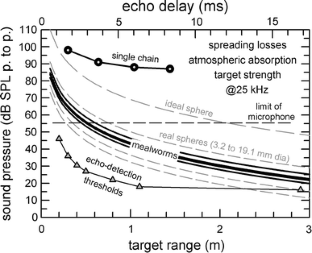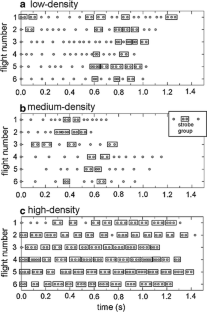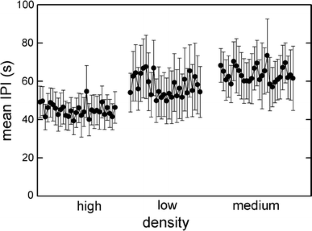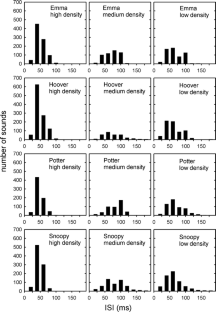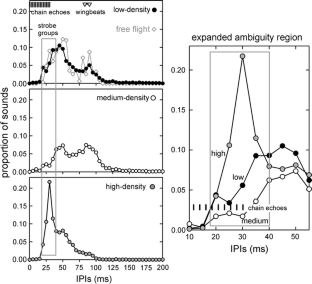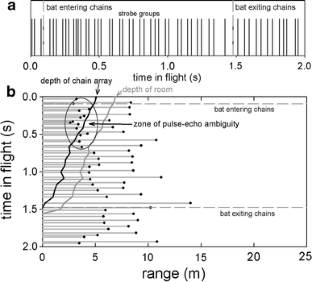 References
Aldridge HDJN, Rautenbach IL (1987) Morphology, echolocation and resource partitioning in insectivorous bats. J Anim Ecol 56:763–778

Au WWL (1993) The sonar of dolphins. Springer, New York

Denny M (2007) Blip, ping and buzz: making sense of radar and sonar. Johns Hopkins University Press, Baltimore

Fenton MB (1994) Echolocation: its impact on the behaviour and ecology of bats. Écoscience 1:21–30

Griffin DR (1958) Listening in the dark. Yale University Press, New Haven

Grinnell AD, Griffin DR (1958) The sensitivity of echolocation in bats. Biol Bull 114:10–22

Grunwald JE, Schörnich S, Wiegrebe L (2004) Classification of natural textures in echolocation. Proc Natl Acad Sci USA 101:5670–5674

Hailman ED, Hailman JP (1993) UNCERT User's Guide (University of Wisconsin Zoology Department, Madison, WI). http://www.animalbehavior.org/Resources/CSASAB/#Uncert

Hartley DJ (1992) Stabilization of perceived echo amplitudes in echolocating bats. II. The acoustic behavior of the big brown bat, Eptesicus fuscus, when tracking moving prey. J Acoust Soc Am 91:1133–1149

Hiryu S, Katsura K, Lin L-K, Riquimaroux H, Watanabe Y (2005) Doppler-shift compensation in the Taiwanese leaf-nosed bat (Hipposideros terasensis) recorded with a telemetry microphone system during flight. J Acoust Soc Am 118(6):3927–3933

Jen PHS, Kamada T (1982) Analysis of orientation signals emitted by the CF-FM bat, Pteronotus p. parnellii and the FM bat, Eptesicus fuscus during avoidance of moving and stationary obstacles. J Comp Physiol A 148:389–398

Jen PHS, McCarty JK (1978) Bats avoid moving objects more successfully than stationary ones. Nature 275:743–744

Jones G (1999) Scaling of echolocation call parameters in bats. J Exp Biol 202:3359–3367

Kalko EKV (1994) Coupling of sound emission and wingbeat in naturally foraging European pipistrelle bats (Microchiroptera: Vespertilionidae). Folia Zool 43:363–376

Kick SA (1982) Target detection by the echolocating bat. J Comp Physiol 145:431–435

Kick SA, Simmons JA (1984) Automatic gain control in the bat's sonar receiver and the neuroethology of echolocation. J Neurosci 4:2725–2737

Kurta A, Baker RH (1990) Eptesicus fuscus. Mamm Species 356:1–10

Lawrence BD, Simmons JA (1982) Echolocation in bats: the external ear and perception of the vertical positions of targets. Science 218:481–483

Moss CF, Surlykke A (2001) Auditory scene analysis by echolocation in bats. J Acoust Soc Am 110:2207–2226

Moss CF, Bohn K, Gilkenson H, Surlykke A (2006) Active listening for spatial orientation in a complex auditory scene. PLoS Biol 4:615–626

Müller R, Kuc R (1997) Foliage echoes: a probe into the ecological acoustics of bat echolocation. J Acoust Soc Am 108:836–845

Neuweiler G (2000) The biology of bats. Oxford University Press, New York

Obrist MK (1995) Flexible bat echolocation: the influence of individual, habitat and conspecifics on sonar signal design. Behav Ecol Sociobiol 36:207–219

Rutenko AN, Vishnyakov AA (2006) Time sequences of sonar signals generated by a beluga whale when locating underwater objects. Acoust Phys 52:314–323

Saillant PA, Simmons JA, Bouffard FH, Lee DN, Dear SP (2007) Biosonar signals impinging on the target during interception by big brown bats, Eptesicus fuscus. J Acoust Soc Am 121:3001–3010

Schnitzler H-U (1971) Fledermäuse im Windkanal. Z Vgl Physiol 73:209–231

Schnitzler H-U, Henson OW Jr (1980) Performance of airborne animal sonar systems: I. Microchiroptera. In: Busnel R-G, Fish JF (eds) Animal sonar systems. Plenum Press, New York, pp 109–181

Schnitzler H-U, Kalko EKV (2001) Echolocation by insect-eating bats. Bioscience 51:557–569

Schnitzler H-U, Moss CF, Denzinger A (2003) From spatial orientation to food acquisition in echolocating bats. Trends Ecol Evol 18:386–394

Simmons JA (2005) Big brown bats and June beetles: multiple pursuit strategies in a seasonal acoustic predator–prey system. Acoust Res Lett Online 6:238–242

Simmons JA, Chen L (1989) The acoustic basis for target discrimination by FM echolocating bats. J Acoust Soc Am 86:1333–1350

Simmons JA, Fenton MB, O'Farrell MJ (1979) Echolocation and pursuit of prey by bats. Science 203:16–21

Simmons JA, Moss CF, Ferragamo M (1990) Convergences of temporal and spectral information in target images perceived by the echolocating bat, Eptesicus fuscus. J Comp Physiol A 166:449–470

Simmons JA, Moffat AJM, Masters WM (1992) Sonar gain control and echo detection thresholds in the echolocating bat, Eptesicus fuscus. J Acoust Soc Am 91:1150–1163

Simmons JA, Eastman KM, Horowitz SS, O'Farrell MJ, Lee DN (2001) Versatility of biosonar in the big brown bat, Eptesicus fuscus. Acoust Res Lett Online 2:43–48

Surlykke A, Moss CF (2000) Echolocation behavior of big brown bats, Eptesicus fuscus, in the field and the laboratory. J Acoust Soc Am 108:2419–2429

Suthers RA, Thomas SP, Suthers BJ (1972) Respiration, wing-beat and ultrasonic pulse emission in an echo-locating bat. J Exp Biol 56:037–48

Turl CW, Penner RH (1989) Differences in echolocation click patterns of the beluga (Dephinapterus leucas) and the bottlenose dolphin (Tursiops truncatus). J Acoust Soc Am 86:497–502

Wong JG, Waters D (2001) The synchronisation of signal emission with wingbeat during the approach phase in soprano pipistrelles (Pipistrellus pygmaeus). J Exp Biol 204:575–583

Yovel Y, Franz MO, Stilz P, Schnitzler H-U (2008) Plant classification from bat-like echolocation signals. PLoS Comput Biol 4:e1000032
Acknowledgments
We thank H. Baqaen for assistance with Matlab programming, R. Bragg for assistance with bat training, E. Mullen for assistance with chain matrix construction, and M. Bates and M. Gonchar for assistance in data analysis. Work was supported by NIMH grant #R01MH069633 and ONR grant #N00014-0-1-0415 to J. A. Simmons. The experiment complied with the "Principles of Animal Care", publication No. 86-23, revised 1985 of the National Institute of Health, and was approved by the Brown University IACUC.
About this article
Cite this article
Petrites, A.E., Eng, O.S., Mowlds, D.S. et al. Interpulse interval modulation by echolocating big brown bats (Eptesicus fuscus) in different densities of obstacle clutter. J Comp Physiol A 195, 603–617 (2009). https://doi.org/10.1007/s00359-009-0435-6
Received:

Revised:

Accepted:

Published:

Issue Date:

DOI: https://doi.org/10.1007/s00359-009-0435-6
Keywords