Abstract
Austrofundulus limnaeus thrive in ephemeral ponds that may experience temperatures spanning a range of over 20°C on a daily basis. We hypothesized that A. limnaeus may have mechanisms, either behavioral or physiological, that allow them to support successful reproduction in this environment. To evaluate this hypothesis, we exposed male and female adult A. limnaeus to constant 26°C and cycling 21–37°C acclimation regimes in the laboratory and then determined their temperature preference and reproductive fitness. Temperature preference was determined using a thermal gradient. We demonstrated that A. limnaeus is capable of accurate behavioral thermoregulation, has a final thermal preferendum near 26°C, and exhibits a daily cycle of temperature preference. Exposure to a cycling temperature regime has an acute effect on thermal preference that differs between the sexes. Reproductive capability was negatively affected by the cyclic temperature exposure. These findings suggest that thermal partitioning between males and females may be a natural part of the ecology of A. limnaeus. In addition, it appears that behavioral thermoregulation, or partitioning of reproductive events to the cool parts of the thermoperiod, are likely to be critical to support successful reproduction in natural populations of A. limnaeus.
Access options
Buy single article
Instant access to the full article PDF.
US$ 39.95
Tax calculation will be finalised during checkout.
Subscribe to journal
Immediate online access to all issues from 2019. Subscription will auto renew annually.
US$ 119
Tax calculation will be finalised during checkout.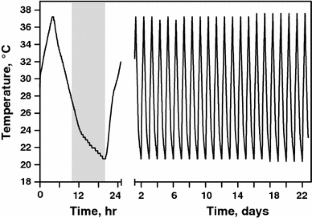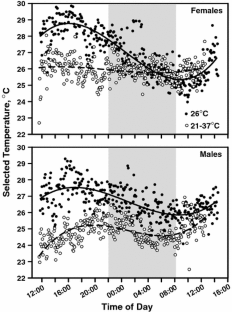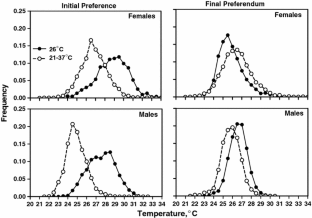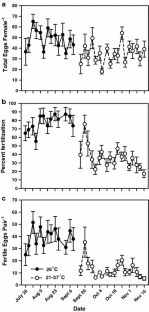 References
Alavi SMH, Cosson J (2005) Sperm motility in fishes. I. Effects of temperature and pH: a review. Cell Biol Int 29:101–110

Barlow GW (1958) Daily movements of desert pupfish, Cyprinodon macularius, in shore pools of the Salton sea, California. Ecology 39:580–587

Brett JR (1995) Energetics. In: Groot C, Margolis L, Clarke WC (eds) Physiological ecology of Pacific Salmon. UBC Press, Vancouver, pp 1–68

Brooks S, Tyler CR, Sumpter JP (1997) Egg quality in fish: what makes a good egg? Rev Fish Biol Fish 7:387–416

Brown JH, Feldmeth CR (1971) Evolution in constant and fluctuating environments: thermal tolerances of desert pupfish (Cyprinodon). Evolution 25:390–398

Cowles RB (1965) Hyperthermia, aspermia, mutation rates and evolution. Q Rev Biol 40:341–367

Crawshaw LI (1975) Attainment of the final thermal preferendum in brown bullheads, acclimated to different temperatures. Comp Biochem Physiol A 52A:171–173

Crawshaw LI, Hammel HT (1974) Behavioral regulation of internal temperature in the brown bullhead, Ictalurus nebulosus. Comp Biochem Physiol A 47A:51–60

David JR, Araripe LO, Chakir M, Legout H, Lemos B, Pétavy G, Rohmer C, Joly D, Moreteau B (2005) Male sterility at extreme temperatures: a significant but neglected phenomenon for understanding Drosophila climatic adaptations. J Evol Biol 18:838–846

Feldmeth CR, Stone EA, Brown JH (1974) An increased scope for thermal tolerance upon acclimating pupfish (Cyprinodon) to cycling temperatures. J Comp Physiol 89:39–44

Gerking SD, Lee R, Shrode JB (1979) Effects of generation-long temperature acclimation on reproductive performance of the desert pupfish, Cyprinodon n. nevadensis. Physiol Zool 52:113–121

Hazel J (1993) Thermal biology. In: Evans DH (ed) The physiology of fishes. CRC Press, Boca Raton, pp 427–467

Heath AG, Turner BJ, Davis WP (1993) Temperature preferences and tolerances of three fish species inhabiting hyperthermal ponds on mangrove islands. Hydrobiologia 259:47–55

Heath WG (1963) Thermoperiodism in sea-run cutthroat trout (Salmo clarki clarki). Science 142:486–488

Hernández M, Bückle LF, Espina S (2002) Temperature preference and acclimation in Poecilia sphenops (Pisces: Poeciliidae). Aquac Res 33:933–940

Hrbek T, Taphorn DC, Thomerson JE (2005) Molecular phylogeny of Austrofundulus Myers (Cyprinodontiformes: Rivulidae), with revision of the genus and the description of four new species. Zootaxa 825:1–39

Ito LS, Yamashita M, Takahashi C, Strüssman CA (2003) Gonadal degeneration in sub-adult male pejerrey (Odontesthes bonariensis) during exposure to warm water. Fish Physiol Biochem 28:421–423

Jobling M (1981) Temperature tolerance and the final preferendum—rapid methods for the assessment of optimum growth temperatures. J Fish Biol 19:439–455

Jobling M (1997) Temperature and growth: modulation of growth rate via temperature change. In: Wood CM, McDonald DG (eds) Global warming: implications for freshwater and marine fish. Cambridge University Press, Cambridge, pp 225–253

Johansen PH, Cross LA (1980) Effects of sexual maturation and sex steroid hormone treatment on the temperature preference of the guppy, Poecilia reticulata (Peters). Can J Zool 58:586–588

Licht P (1965) The relation between preferred body temperatures and testicular heat sensitivity in lizards. Copeia 1965(4):428–436

Lowe CH, Heath WG (1969) Behavioral and physiological responses to temperature in the desert pupfish Cyprinodon macularius. Physiol Zool 42:53–59

Morgentaler A, Stahl BC, Yin Y (1999) Testis and temperature: an historical, clinical, and research perspective. J Androl 20:189–195

Nordlie FG (2006) Physicochemical environments and tolerances of cyprinodontid fishes found in estuaries and salt marshes of eastern North America. Rev Fish Biol Fish 16:51–106

Norris KS (1963) The functions of temperature in the ecology of the percoid fish Girella nigricans (Ayres). Ecol Monogr 33:23–62

Podrabsky JE (1999) Husbandry of the annual killifish Austrofundulus limnaeus with special emphasis on the collection and rearing of embryos. Env Biol Fish 54:421–431

Podrabsky JE, Hand SC (1999) The bioenergetics of embryonic diapause in an annual killifish, Austrofundulus limnaeus. J Exp Biol 202:2567–2580

Podrabsky JE, Hrbek T, Hand SC (1998) Physical and chemical characteristics of ephemeral pond habitats in the Maracaibo basin and Llanos region of Venezuela. Hydrobiologia 363:67–78

Podrabsky JE, Carpenter JF, Hand SC (2001) Survival of water stress in annual fish embryos: dehydration avoidance and egg envelope amyloid fibers. Am J Physiol Regul Integr Comp Physiol 280:R123–R131

Rommel SA, Pabst DA, McLellan WA (1998) Reproductive thermoregulation in marine mammals. Am Sci 86:440–448

Shrode JB (1975) Developmental temperature tolerance of a death valley pupfish (Cyprinodon nevadensis). Physiol Zool 48:378–389

Shrode JB, Gerking SD (1977) Effects of constant and fluctuating temperatures on reproductive performance of a desert pupfish, Cyprinodon n. nevadensis. Physiol Zool 50:1–10

Wollmuth LP, Crawshaw LI, Panayiotides-Djaferis H (1987) Thermoregulatory effects of intracranial norepinephrine injections in goldfish. Am J Physiol 253:R821–R826

Wourms JP (1972) The developmental biology of annual fishes III. Pre-embryonic and embryonic diapause of variable duration in the eggs of annual fishes. J Exp Zool 182:389–414
Acknowledgments
We would like to thank Helen Wallace for assistance with data analysis and quality assurance. We would also like to thank Zac Kohl for a couple of sleepless nights helping to maintain watch over the thermal gradient. This work was complies with the "Principles of animal care", publication No. 86-23, revised 1985 of the National Institute of Health, and also with the current laws of the United State of America. This work was supported by NSF grant IOB—0344578 to J.E.P.
About this article
Cite this article
Podrabsky, J.E., Clelen, D. & Crawshaw, L.I. Temperature preference and reproductive fitness of the annual killifish Austrofundulus limnaeus exposed to constant and fluctuating temperatures. J Comp Physiol A 194, 385–393 (2008). https://doi.org/10.1007/s00359-008-0313-7
Received:

Revised:

Accepted:

Published:

Issue Date:
Keywords
Final thermal preferendum

Thermoregulation

Behavior

Acclimation

Temperature cycling