Abstract
Liquid-infused surfaces present a novel coating for passive drag reduction in turbulent flows. Conceptually similar to superhydrophobic surfaces, which are composed of air pockets trapped within hydrophobic roughness, liquid-infused surfaces instead rely on a preferentially wetting, liquid lubricant to create a heterogeneous surface of fluid–solid and fluid–fluid interfaces. The mobility of the lubricant within the textures allows the fluid–fluid interfaces to support a finite interfacial slip velocity. In the proper configuration, the collection of slipping interfaces can result in a significant reduction in skin friction drag. However, sustaining this drag reduction is predicated on maintaining the integrity of the lubricating layer. While liquid-infused surfaces are robust to the most common sources of superhydrophobic surface failure, they exhibit a distinct susceptibility to shear/slip-driven drainage. Here, the robustness and behavior of lubricant-infused streamwise microgrooves are studied, in a turbulent channel flow facility. In the presence of external turbulent shear flow, a finite length of lubricant is found to be retained within the microtextures by a mechanism analogous to capillary rise, consistent with the observations of Wexler et al. (Phys Rev Lett 114(16):168301, 2015b), while the remainder of the lubricant is driven out of the surface. This retention mechanism is exploited to maintain a lubricating layer over a larger surface area by using a novel chemical patterning technique. Chemical barriers are scribed along the streamwise length of the grooves. These periodic barriers disrupt the continuity of the streamwise groove and inhibit the downstream drainage of the lubricant. The effectiveness of this approach is evaluated in a turbulent channel flow with promising results.
Access options
Buy single article
Instant access to the full article PDF.
US$ 39.95
Tax calculation will be finalised during checkout.
Subscribe to journal
Immediate online access to all issues from 2019. Subscription will auto renew annually.
US$ 119
Tax calculation will be finalised during checkout.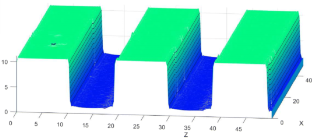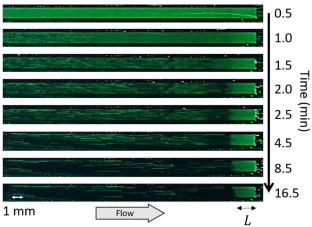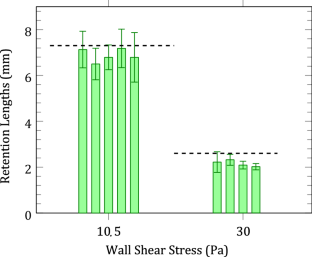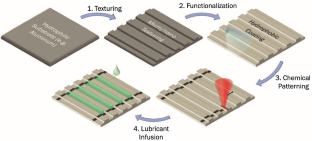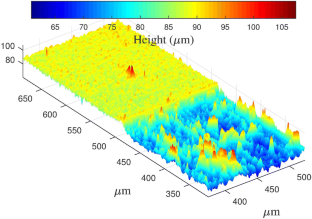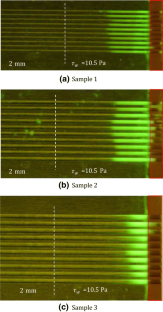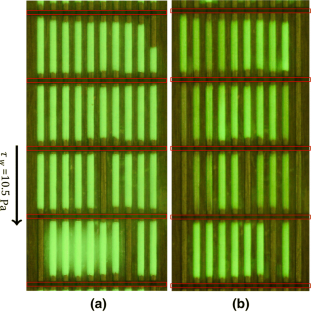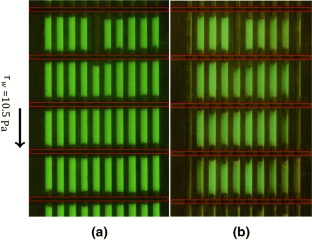 References
Bartolo D, Degré G, Nghe P, Studer V (2008) Microfluidic stickers. Lab Chip 8(2):274–279

Daniello RJ, Waterhouse NE, Rothstein JP (2009) Drag reduction in turbulent flows over superhydrophobic surfaces. Phys Fluids 21(8):085103

Dean RB (1978) Reynolds number dependence of skin friction and other bulk flow variables in two-dimensional rectangular duct flow. J Fluids Eng 100(2):215

Fu MK, Arenas I, Leonardi S, Hultmark M (2017) Liquid-infused surfaces as a passive method of turbulent drag reduction. J Fluid Mech. https://doi.org/10.1017/jfm.2017.360

Golovin KB, Gose JW, Perlin M, Ceccio SL, Tuteja A (2016) Bioinspired surfaces for turbulent drag reduction. Philosophical Trans R Soc A: Math Phys Eng Sci 374(2073):20160189. https://doi.org/10.1098/rsta.2016.0189

Jacobi I, Wexler JS, Stone HA (2015) Overflow cascades in liquid-infused substrates. Phys Fluids. https://doi.org/10.1063/1.4927538

Kim P, Wong TS, Alvarenga J, Kreder MJ, Adorno-Martinez WE, Aizenberg J (2012) Liquid-infused nanostructured surfaces with extreme anti-ice and anti-frost performance. ACS Nano 6(8):6569–6577

Kim P, Kreder MJ, Alvarenga J, Aizenberg J (2013) Hierarchical or not? Effect of the length scale and hierarchy of the surface roughness on omniphobicity of lubricant-infused substrates. Nano Lett 13(4):1793–1799. https://doi.org/10.1021/nl4003969

Liu Y, Wexler JS, Schönecker C, Stone HA (2016) Effect of viscosity ratio on the shear-driven failure of liquid-infused surfaces. Phys Rev Fluids 1(7):074003

Ou J, Rothstein JP (2005) Direct velocity measurements of the flow past drag reducing ultrahydrophobic surfaces. Phys Fluids 17(10):1–10

Ou J, Perot B, Rothstein JP (2004) Laminar drag reduction in microchannels using ultrahydrophobic surfaces. Phys Fluids 16(12):4635–4643. https://doi.org/10.1063/1.1812011

Park H, Sun G, Kim CJ (2014) Superhydrophobic turbulent drag reduction as a function of surface grating parameters. J Fluid Mech 747:722–734

Rosenberg BJ, Van Buren T, Fu MK, Smits AJ (2016) Turbulent drag reduction over air- and liquid- impregnated surfaces. Phys Fluids 28(1):015103

Schönecker C, Baier T, Hardt S (2014) Influence of the enclosed fluid on the flow over a microstructured surface in the Cassie state. J Fluid Mech 740:168–195

Seo J, García-Mayoral R, Mani A (2015) Pressure fluctuations and interfacial robustness in turbulent flows over superhydrophobic surfaces. J Fluid Mech 783(2003):448–473

Seo J, García-Mayoral R, Mani A (2018) Turbulent flows over superhydrophobic surfaces: flow-induced capillary waves, and robustness of air-water interfaces. J Fluid Mech 835:45–85. https://doi.org/10.1017/jfm.2017.733

Solomon BR, Khalil KS, Varanasi KK (2014) Drag reduction using lubricant impregnated surfaces in viscous laminar flow. Langmuir 30(36):10970–10976. https://doi.org/10.1021/la5021143

Srinivasan S, Ja Kleingartner, Gilbert JB, Cohen RE, Milne AJB, McKinley GH (2015) Sustainable drag reduction in turbulent taylor-couette flows by depositing sprayable superhydrophobic surfaces. Phys Rev Lett 114(1):014501

Stroh A, Hasegawa Y, Kriegseis J, Frohnapfel B (2016) Secondary vortices over surfaces with spanwise varying drag. J Turbul 17:1142–1158. https://doi.org/10.1080/14685248.2016.1235277

Türk S, Daschiel G, Stroh A, Hasegawa Y, Frohnapfel B (2014) Turbulent flow over superhydrophobic surfaces with streamwise grooves. J Fluid Mech 747:186–217

Van Buren T, Smits AJ (2017) Substantial drag reduction in turbulent flow using liquid-infused surfaces. J Fluids Mech 827:1–9

Wexler JS, Grosskopf A, Chow M, Fan Y, Jacobi I, Stone HA (2015a) Robust liquid-infused surfaces through patterned wettability. Soft Matter 11(25):5023–5029

Wexler JS, Jacobi I, Stone HA (2015b) Shear-driven failure of liquid-infused surfaces. Phys Rev Lett 114(16):168301

Wong TS, Kang SH, Tang SKY, Smythe EJ, Hatton BD, Grinthal A, Aizenberg J (2011) Bioinspired self-repairing slippery surfaces with pressure-stable omniphobicity. Nature 477:443–447. https://doi.org/10.1038/nature10447
Acknowledgements
The authors are thankful to all of the former and current members of the ONR MURI SLIPS team, especially Ying Liu, Dr. Rémy Mensire, Dr. Jason Wexler, Prof. Ian Jacobi, Dr. Brian Rosenberg, Prof. Howard Stone and Prof. Alexander Smits for their insight and discussions. The authors would also like to thank Dr. Tyler Van Buren and Dan Hoffman for their assistance in manufacturing the aluminum substrates. The authors would also like to thank Karen Wang, Kevin Lee, and Raj Balaji for their assistance in designing, manufacturing, and characterizing the channel facility.
Additional information
Publisher's Note
Springer Nature remains neutral with regard to jurisdictional claims in published maps and institutional affiliations.
This work was supported under the Office of Naval Research (ONR) Multidisciplinary University Research Initiative (MURI) Grants N00014-12-0875 and N00014-12-1-0962, Program Manager Dr. Ki-Han Kim. M. K. Fu was also supported, in part, by the Department of Defense (DoD) through the National Defense Science and Engineering Graduate Fellowship (NDSEG) Program.
Electronic supplementary material
About this article
Cite this article
Fu, M.K., Chen, TH., Arnold, C.B. et al. Experimental investigations of liquid-infused surface robustness under turbulent flow. Exp Fluids 60, 100 (2019). https://doi.org/10.1007/s00348-019-2747-9
Received:

Revised:

Accepted:

Published: