Abstract
Some winged seeds exhibit autorotation flight during their descent to migrate far away from their parent trees by using oncoming wind. The reduced descent speed of autorotating maple seeds is attributed to the high lift force generated by a leading-edge vortex (LEV). In this study, several prominent features of the autorotation flight of maple samaras (Acer palmatum) were investigated experimentally. The autorotation flight of each maple seed was observed to be very stable during its fall. The nominal values of the dynamic motion parameters were 1.2 m/s for descent velocity, 130.9 rad/s for spinning rate, 22° for coning angle, and 1.5° for pitch angle. Velocity fields of the flow around an autorotating maple samaras model were measured by particle image velocimetry; wind speed was controlled to be similar to the descending velocity. As a result, a highly stable LEV was attached on the leeward side of the autorotating seed.
Access options
Buy single article
Instant access to the full article PDF.
USD 39.95
Price includes VAT (USA)
Tax calculation will be finalised during checkout.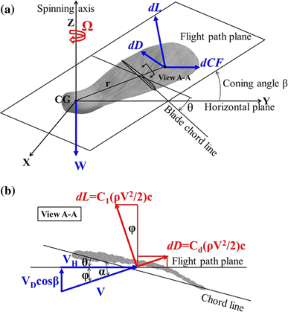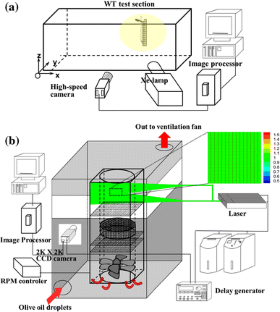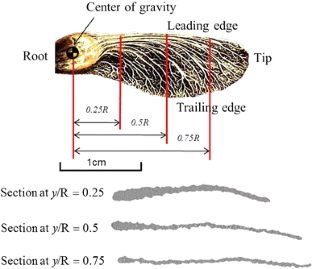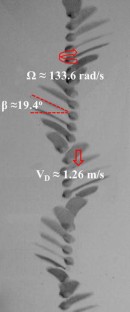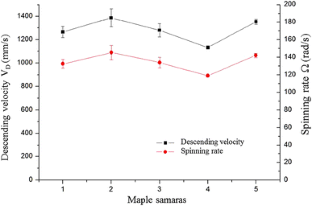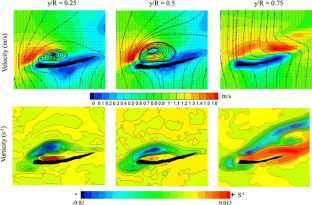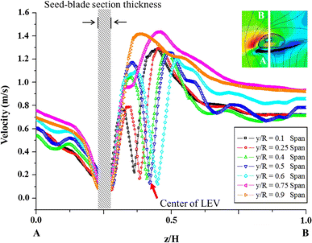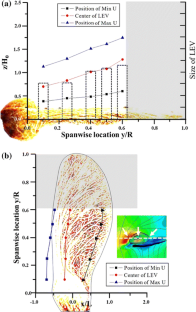 References
Azuma A, Okuno Y (1987) Flight of a samara, Alsomitra macrocarpa. J Theor Biol 129:263–274

Azuma A, Yasuda K (1989) Flight performance of rotary seeds. J Theor Biol 138:23–53

Birch JM, Dickson WB, Dickinson MH (2004) Force production and flow structure of the leading edge vortex on flapping wings at high and low Reynolds numbers. J Exp Biol 207:1063–1072

Bullock JM, Kenward RE, Hails RS (2002) Dispersal ecology: 42nd symposium of the British Ecological Society. Cambridge University Press, Cambridge

Cain ML, Milligan BG, Strand AE (2000) Long-distance seed dispersal in plant populations. Am J Bot 87:1217–1227

Carr ZR, Chen C, Ringuette MJ (2013) Finite-span rotating wings: three-dimensional vortex formation and variations with aspect ratio. Exp Fluids 54:1–26

Dickinson MH, Lehmann F-O, Sane SP (1999) Wing rotation and the aerodynamic basis of insect flight. Science 284:1954–1960

Ellington CP, van den Berg C, Willmott AP, Thomas ALR (1996) Leading-edge vortices in insect flight. Nature 384:626–630

Fenner M (1985) Seed ecology. Chapman and Hall, London

Greene D, Johnson E (1993) Seed mass and dispersal capacity in wind-dispersed diaspores. Oikos 67:69–74

Horn HS, Nathan R, Kaplan SR (2001) Long-distance dispersal of tree seeds by wind. Ecol Res 16:877–885

Lentink D, Dickson WB, Van Leeuwen JL, Dickinson MH (2009) Leading-edge vortices elevate lift of autorotating plant seeds. Science 324:1438–1440

McCutchen C (1977) The spinning rotation of ash and tulip tree samaras. Science 197:691–692

Minami S, Azuma A (2003) Various flying modes of wind-dispersal seeds. J Theor Biol 225:1–14

Muijres FT, Johansson LC, Barfield R, Wolf M, Spedding GR, Hedenstrom A (2008) Leading-edge vortex improves lift in slow-flying bats. Science 319:1250–1253

Norberg R (1973) Autorotation, self-stability, and structure of single-winged fruits and seeds (samaras) with comparative remarks on animal flight. Biol Rev 48:561–596

Ozen CA, Rockwell D (2012) Three-dimensional vortex structure on a rotating wing. J Fluid Mech 707:541–550

Salcedo E, Treviño C, Vargas RO, Martínez LA (2013) Stereoscopic particle image velocimetry measurements of the three-dimensional flow field of a descending autorotating Mahogany seed (Swietenia macrophylla). J Exp Biol 216:2017–2030

Shyy W, Lin H (2007) Flapping wings and aerodynamic lift: the role of leading-edge vortices. AIAA J 45:2817–2819

Skews BW (1991) Autorotation of many-sided bodies in an airstream. Nature 352:512–513

Smith EH (1970) Autorotating wings: an experimental investigation. Cambridge University Press, Cambridge

Ulrich ER, Pines DJ, Humbert JS (2010) From falling to flying: the path to powered flight of a robotic samara nano air vehicle. Bioinspir Biomim 5:045009

Usherwood JR, Ellington CP (2002) The aerodynamics of revolving wings II. Propeller force coefficients from mayfly to quail. J Exp Biol 205:1565–1576

Westneat MW, Socha JJ, Lee WK (2008) Advances in biological structure, function, and physiology using synchrotron X-ray imaging. Annu Rev Physiol 70:119–142

Yasuda K, Azuma A (1997) The autorotation boundary in the flight of samaras. J Theor Biol 185:313–320
Acknowledgments
This work was supported by the National Research Foundation of Korea (NRF) grant funded by the Korea government (MSIP; No. 2008-0061991).
About this article
Cite this article
Lee, S.J., Lee, E.J. & Sohn, M.H. Mechanism of autorotation flight of maple samaras (Acer palmatum). Exp Fluids 55, 1718 (2014). https://doi.org/10.1007/s00348-014-1718-4
Received:

Revised:

Accepted:

Published:
Keywords
Particle Image Velocimetry

Pitch Angle

Cone Angle

Aerodynamic Force

Particle Image Velocimetry Measurement