Abstract
We performed an investigation on spatial features of the Convective Boundary Layer (CBL) of the atmosphere, which was simulated in a laboratory model and analyzed by means of image analysis techniques. This flow is dominated by large, anisotropic vortical structures, whose spatial organization affects the scalar transport and therefore the fluxes across the boundary layer. With the aim of investigating the spatial structure and scaling in the Convective Boundary Layer, two-dimensional velocity fields were measured, on a vertical plane, by means of a pyramidal Lucas–Kanade algorithm. The coherent structures characterizing the turbulent convection were educed by analyzing the Finite-Time Lyapunov Exponent fields, which also revealed interesting phenomenological features linked to the mixing processes occurring in the Convective Boundary Layer. Both velocity and vorticity fields were analyzed in a scale-invariance framework. Data analysis showed that normalized probability distribution functions for velocity differences are dependent on the scale and tend to become Gaussian for large separations. Extended Self Similarity holds true for velocity structure functions computed within the mixing layer, and their scaling exponents are interpreted well in the phenomenological framework of the Hierarchical Structure Model. Specifically, β parameter, which is related to the similarity between weak and strong vortices, reveals a higher degree of intermittency for the vertical velocity component with respect to the horizontal one. On the other hand, the analysis of circulation structure functions shows that scaling exponents are fairly constant in the lowest part of the mixed layer, and their values are in agreement with those reported in Benzi et al. (Phys Rev E 55:3739–3742, 1997) for shear turbulence. Moreover, the relationship between circulation and velocity scaling exponents is analyzed, and it is found to be linear in the bottom part of the mixing layer. The investigation of the CBL spatial features, which has seldom been studied experimentally, has important implications for the comprehension of the mixing dynamics, as well as in turbulence closure models.
Access options
Buy single article
Instant access to the full article PDF.
US$ 39.95
Tax calculation will be finalised during checkout.
Subscribe to journal
Immediate online access to all issues from 2019. Subscription will auto renew annually.
US$ 119
Tax calculation will be finalised during checkout.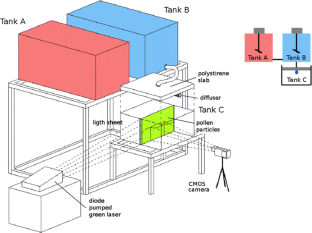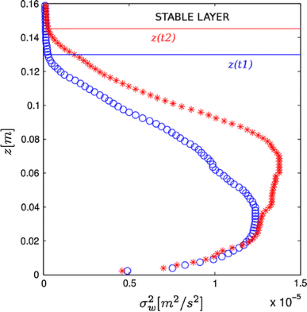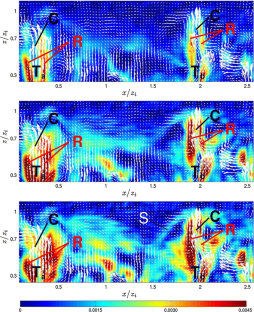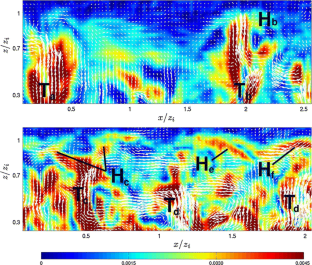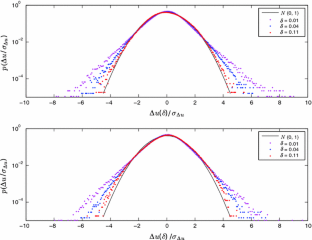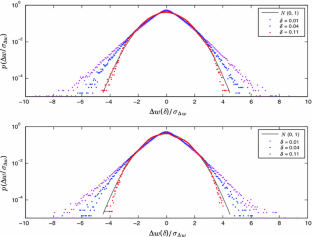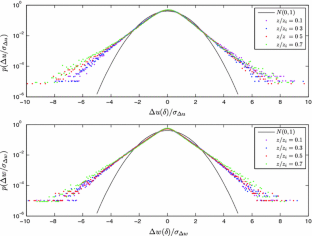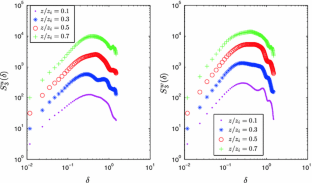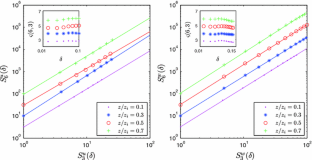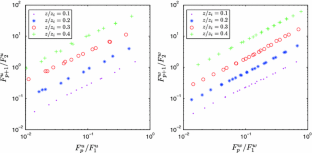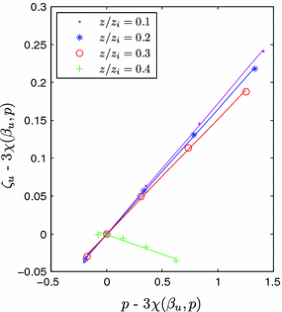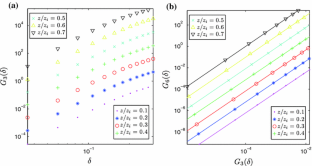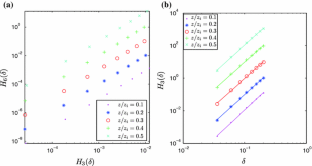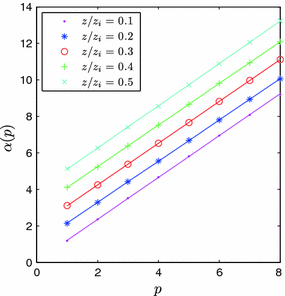 References
Antonelli M, Mazzino A, Rizza U (2003) Statistics of temperature fluctuations in a buoyancy-dominated boundary layer flow simulated by a large eddy simulation model. J Atmos Sci 60:215–224

Antonelli M, Lanotte A, Mazzino A (2007) Anisotropies and universality of buoyancy-dominated turbulent fluctuations: a large-eddy simulation study. J Atmos Sci 64:2642–2656. doi:10.1175/JAS3951.1

Benzi R, Ciliberto S, Baudet C, Chavarria GR (1995) On the scaling of three-dimensional homogeneous and isotropic turbulence. Phys D Nonlinear Phenom 80(4):385–398

Benzi R, Biferale L, Struglia MV, Tripiccione R (1997) Self-scaling properties of velocity circulation in shear flows. Phys Rev E 55:3739–3742

Bouguet J-Y (2000) Pyramidal implementation of the lucas kanade feature tracker description of the algorithm. Technical Report, OpenCV Document, Intel Microprocessor Research Labs

Cenedese A, Querzoli G (1994) A laboratory model of turbulent convection in the atmospheric boundary layer. Atmos Environ 28:1901–1913

Cenedese A, Querzoli G (1997) Lagrangian statistics and transilient matrix measurements by PTV in a convective boundary layer. Meas Sci Technol 8:1553–1561

Crum TD, Stull RB, Eloranta EW (1987) Coincident lidar and aircraft observations of entrainment into thermals and mixed layers. J Appl Meteorol 26:774–78

Deardorff JW, Willis GE (1985) Further results from a laboratory model of the convective planetary boundary layer. Boundary-Layer Meteorol 32:205–236

Deardorff JW, Willis GE, Lilly DK (1969) Laboratory investigation of non-steady penetrative convection. J Fluid Mech 35(01):7–31

Dore V, Moroni M, Menach ML, Cenedese A (2009) Robust evaluation of the dissimilarity between interrogation windows in image velocimetry. Exp Fluids 47:811–825. doi:10.1007/s00348-009-0716-4

Frisch U (1995) Turbulence: the legacy of AN Kolmogorov. Cambridge University Press, Cambridge

Haller G, Yuan G (2000) Lagrangian coherent structures and mixing in two-dimensional turbulence. Phys D Nonlinear Phenom 147:352–370

Hibberd MF, Sawford BL (1994) A saline laboratory model of the planetary convective boundary layer. Boundary-Layer Meteorol 67:229–250. doi:10.1007/BF00713143

Hunt JCR, Kaimal JC, Gaynor JE (1988) Eddy structure in the convective boundary layer—new measurements and new concepts quarterly. J Royal Meteorol Soc 114:827–858

Jiang X-Q, Gong H, Liu J-K, Zhou M-D, She Z-S (2006) Hierarchical structures in a turbulent free shear flow. J Fluid Mech 569:259–286. doi:10.1017/S0022112006002801

Klein R (2010) Scale-dependent asymptotic models for atmospheric flows. Annu Rev Fluid Mech 42:249–274. doi:10.1146/annurev-fluid-121108-145537

Lekien F (2003) Time-dependent dynamical systems and geophysical flows. Ph.D. Thesis, California Institute of Technology

Lenschow DH, Stephens PL (1980) The role of thermals in the convective boundary layer. Boundary-Layer Meteorol 19:509–532

Lenschow DH, Wyngaard JC, Pennell WT (1980) Mean-field and second-moment budgets in a baroclinic, convective boundary layer. J Atmos Sci 37:1313–1326

Liu L, She Z (2003) Hierarchical structure description of intermittent structures of turbulence. Fluid Dyn Res 33:261–286

Lohse D, Xia K (2010) Small-scale properties of turbulent Rayleigh-Bénard convection. Annu Rev Fluid Mech 42:335–364. doi:10.1146/annurev.fluid.010908.165152

Lothon M, Lenschow DH, Mayor SD (2006) Coherence and scale of vertical velocity in the convective boundary layer from a Doppler Lidar. Boundary-Layer Meteorol 121:521–536. doi:10.1007/s10546-006-9077-1

Lucas BD, Kanade T (1981) An iterative image registration technique with an application to stereo vision. In: IJCAI'81: proceedings of the 7th international joint conference on artificial intelligence. Morgan Kaufmann Publishers Inc., San Francisco, CA, USA, pp 674–679

Miesch M, Brandenburg A, Zweibel EG (2000) Nonlocal transport of passive scalars in turbulent penetrative convection. Phys Rev E 61(1)

Miozzi M, Jacob B, Olivieri A (2008) Performances of feature tracking in turbulent boundary layer investigation. Exp Fluids 45:765–780. doi:10.1007/s00348-008-0531-3

Monin A, Yaglom A (2007) Statistical fluid mechanics: mechanics of turbulence. In: Dover (ed) vol I. ISBN 0-486-45883-0

Nelkin M (1994) Universality and scaling in fully developed turbulence. Adv Phys 43:143–181

Querzoli G (1996) A lagrangian study of particle dispersion in the unstable boundary layer. Atmos Environ 30(16):2821–2829

Sadlo F, Peikert R (2007) Efficient visualization of lagrangian coherent structures by filtered amr ridge extraction. IEEE Trans Visual Comput 13(6):1456–1463

Schmidt H, Schumann U (1989) Coherent structure of the convective boundary layer derived from large-eddy simulations. J Fluid Mech 30:511–562

Shadden SC, Lekien F, Marsden JE (2005) Definition and properties of Lagrangian coherent structures from finite-time Lyapunov exponents in two-dimensional aperiodic flows. Phys D Nonlinear Phenom 212:271–304. doi:10.1016/j.physd.2005.10.007

Shadden SC, Dabiri JO, Marsden JE (2006) Lagrangian analysis of fluid transport in empirical vortex ring flows. Phys Fluids 18. doi:10.1063/1.2189885

She Z, Leveque E (1994) Universal scaling laws in fully developed turbulence. Phys Rev Lett 72:336–339

She Z-S, Zhang Z-X (2009) Universal hierarchical symmetry for turbulence and general multi-scale fluctuation systems. Acta Mech Sin 25:279–294. doi:10.1007/s10409-009-0282-2

Sreenivasan KR, Antonia RA (1997) The phenomenology of small-scale turbulence. Annu Rev Fluid Mech 29:435–472

Williams AG, Hacker JM (1992) The composite shape and structure of coherent eddies in the convective boundary layer. Boundary Layer Meteorol 61:213–245

Young G (1988) Convection in the atmospheric boundary layer. Earth-Sci Rev 25(3):179–198

Young G (1988) Turbulence structure of the convective boundary layer. Part II. Phonenix 78 aircraft observations of thermals and their environment. 45(78):727–735

Zhou Q, Sun C, Xia K (2008) Experimental investigation of homogeneity, isotropy, and circulation of the velocity field in buoyancy-driven turbulence. J Fluid Mech 598:361–372. doi:10.1017/S0022112008000189

Zilitinkevich S, Gryanik VM, Lykossov VN, Mironov DV (1999) Third-order transport and nonlocal turbulence closures for convective boundary layers. J Atmos Sci 56:3463–3477
Acknowledgments
The authors are grateful to Antonio Mascia for his valuable contribution to the experimental work.
About this article
Cite this article
Badas, M.G., Querzoli, G. Spatial structures and scaling in the Convective Boundary Layer. Exp Fluids 50, 1093–1107 (2011). https://doi.org/10.1007/s00348-010-1020-z
Received:

Revised:

Accepted:

Published:

Issue Date:
Keywords
Mixed Layer

Convective Boundary Layer

Interrogation Window

Lagrangian Coherent Structure

Velocity Structure Function