Zusammenfassung
Für ein gutes refraktives Ergebnis nach Implantation einer (Sonder-)Linse ist die exakte Positionierung der Intraokularlinse (IOL) mit möglichst optimaler Achslage von entscheidender Bedeutung. Das Einklemmen der IOL-Optik in der vorderen Kapsulorhexis ("reverse optic capture" mit "haptic tuck") ermöglicht beim Auftreten einer Hinterkapselruptur eine stabile Fixation der IOL in Bezug auf Rotation, Zentrierung und axiale Lage. Dafür wird die Optik im Sulcus platziert und die Haptiken verbleiben hinter der vorderen Kapsulorhexis, sodass eine Fixation der IOL in der Rhexis erreicht wird. So kann eine langfristig stabile IOL-Position erzielt werden.
Abstract
Exact positioning and optimal axial alignment are mandatory to achieve satisfactory postoperative refractive results after implantation of a toric or presbyopia correcting intraocular lens (IOL). Posterior capsule rupture can preclude stable capsular fixation. In such cases, reverse optic capture with haptic tuck results in stable fixation of the lens with respect to centering, rotation and axial position. Only the haptics are positioned in the capsule, behind the anterior capsulorrhexis. The optic remains in the sulcus; thus, the lens is fixed in the rhexis, providing long-term stability despite the presence of posterior capsule rupture.
Access options
Buy single article
Instant access to the full article PDF.
US$ 39.95
Tax calculation will be finalised during checkout.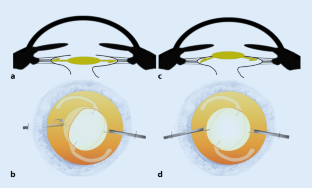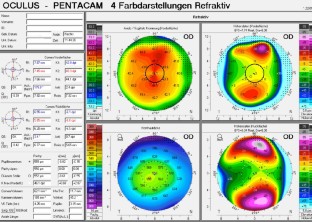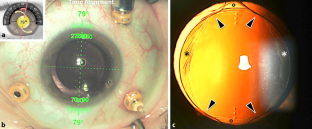 Literatur
1.

Akaishi L, Bessa T, Vaz R et al (2009) Multifocal intraocular lens optic anteriorization capture to correct residual refractive error. J Cataract Refract Surg 35:2077–2083

2.

Amesbury EC, Miller KM (2009) Correction of astigmatism at the time of cataract surgery. Curr Opin Ophthalmol 20:19–24

3.

Augustin AJ (2007) Augenheilkunde

4.

Becker MD, Michels S, Lortz S et al (2019) Precision pulse capsulotomy: the new capsulorhexis? Ophthalmologe 116:288–290

5.

Day AC, Gore DM, Bunce C et al (2016) Laser-assisted cataract surgery versus standard ultrasound phacoemulsification cataract surgery. Cochrane Database Syst Rev 7:CD10735

6.

Gao Y, Ye Z, Chen W, Li J, Yan X, Li Z (2020) Management of cataract in patients with irregular astigmatism with regular central component by phacoemulsification combined with toric intraocular lens implantation. J Ophthalmol. https://doi.org/10.1155/2020/3520856

7.

Gavriș M, Mateescu R, Belicioiu R et al (2017) Is laser assisted capsulotomy better than standard CCC? Rom J Ophthalmol 61:18–22

8.

Gimbel HV, Amritanand A (2013) Reverse optic capture to stabilize a toric intraocular lens. Case Rep Ophthalmol 4:138–143

9.

Gimbel HV, Marzouk HA (2019) Haptic tuck for reverse optic capture of a single-piece acrylic toric or other single-piece acrylic intraocular lenses. J Cataract Refract Surg 45:125–129

10.

Jones JJ, Oetting TA, Rogers GM et al (2012) Reverse optic capture of the single-piece acrylic intraocular lens in eyes with posterior capsule rupture. Ophthalmic Surg Lasers Imaging 43:480–488

11.

Kaur M, Shaikh F, Falera R et al (2017) Optimizing outcomes with toric intraocular lenses. Indian J Ophthalmol 65:1301–1313

12.

Khoramnia R, Auffarth GU, Rabsilber TM et al (2012) Implantation of a multifocal toric intraocular lens with a surface-embedded near segment after repeated LASIK treatments. J Cataract Refract Surg 38:2049–2052

13.

Lawless M, Levitz L, Hodge C (2017) Reviewing the visual benefits of femtosecond laser-assisted cataract surgery: Can we improve our outcomes? Indian J Ophthalmol 65:1314–1322

14.

Masket S, Fram NR (2011) Pseudophakic negative dysphotopsia: surgical management and new theory of etiology. J Cataract Refract Surg 37:1199–1207

15.

Mayer C, Khoramnia R (2021) "Double Prosthesis Implantation": Biometry and Refractive Outcomes in Combined Intraocular Lens and Artificial Iris Surgery. Clin Ophthalmol 15:799–805. https://doi.org/10.2147/OPTH.S302224

16.

Mayer CS, Hoffmann AM, Prahs P, Reznicek L, Khoramnia R (2020) Functional outcomes after combined iris and intraocular lens implantation in various iris and lens defects. BMC Ophthalmol 20(1):370. https://doi.org/10.1186/s12886-020-01621-8

17.

Müller M, Kohnen T (2008) Dreipunkt-Sklerafixation torischer Intraokularlinsen. Klin Monbl Augenheilkd 225:KV87

18.

Pisella PJ (2012) Post-operative residual astigmatism after cataract surgery: current surgical methods of treatment. J Fr Ophtalmol 35:226–228

19.

Senthil S, Grover IG (2018) In-the-bag multifocal intraocular lens causing pigment dispersion and refractory secondary ocular hypertension. Indian J Ophthalmol 66:1339–1341

20.

Thomas BC, Khoramnia R, Auffarth GU et al (2018) Clinical outcomes after implantation of a toric intraocular lens with a transitional conic toric surface. Br J Ophthalmol 102:313–316

21.

Von Beckerath A‑K, Katz T, Harfst A et al (2020) Diffractive trifocal lens implantation with or without excimer laser enhancement: is a touch-up procedure a negative predictor for refractive and subjective outcome? Graefes Arch Clin Exp Ophthalmol 258:1115–1121

22.

Zhao J, Yu J, Wang T et al (2019) Ciliary sulcus implantation of intraocular lens in manual small incision cataract surgery complicated by large posterior capsule rupture. Exp Ther Med 17:1470–1475
Ethics declarations
Interessenkonflikt
Das IVCRC ("International Vision Correction Centre") wird von den Firmen Alcon, Oculus und Hoya unterstützt. R. Khoramnia und G.U. Auffarth geben Reisekostenerstattungen und Vortragstätigkeit an (Alcon, Hoya, Oculus). H. Wallek, H. Güngör, T.M. Yildirim und C.S. Mayer geben an, dass kein Interessenkonflikt besteht.
Für diesen Beitrag wurden von den Autoren keine Studien an Menschen oder Tieren durchgeführt. Für die aufgeführten Studien gelten die jeweils dort angegebenen ethischen Richtlinien. Für Bildmaterial oder anderweitige Angaben innerhalb des Manuskripts, über die Patienten zu identifizieren sind, liegt von ihnen und/oder ihren gesetzlichen Vertretern eine schriftliche Einwilligung vor.
Additional information
R. Khoramnia und H. Wallek teilen sich die Erstautorenschaft.
About this article
Cite this article
Khoramnia, R., Wallek, H., Güngör, H. et al. Fixation einer Intraokularlinse bei intraoperativem Hinterkapseldefekt durch Einklemmen der Linsenoptik in der vorderen Kapsulorhexis. Ophthalmologe (2021). https://doi.org/10.1007/s00347-021-01432-2
Received:

Revised:

Accepted:

Published:
Schlüsselwörter
Torische Intraokularlinse

Hinterkapseldefekt

Komplikation

Kataraktoperation

Achslage
Keywords
Toric intraocular lens

Posterior capsule rupture

Complication

Cataract surgery

IOL axis