Zusammenfassung
Hintergrund
Das Risiko der Abstoßung und des Transplantatversagens nach Hochrisikokeratoplastik steigt mit Zunahme der kornealen Neovaskularisation. Die medikamentöse und physikalische Regression der kornealen Neovaskularisation vor Keratoplastik bietet möglicherweise das Potenzial, das Risiko einer Abstoßung nach anschließender Hochrisikokeratoplastik zu reduzieren.
Ziel der Arbeit
Die vorliegende Arbeit gibt eine Literaturübersicht hinsichtlich der Präkonditionierung von vaskularisierten Hochrisikoaugen mittels Feinnadeldiathermie und kornealem Crosslinking vor Hochrisikokeratoplastik ("lymphangioregressive Präkonditionierung").
Methoden
Es erfolgen eine Literaturrecherche via PubMed sowie eine Zusammenfassung eigener Daten.
Ergebnis
Tierexperimentelle Studien zeigen, dass sowohl die Feinnadeldiathermie als auch das korneale Crosslinking zu einer Regression der kornealen Neovaskularisation führen und das Transplantatüberleben nach anschließender Hochrisikokeratoplastik verlängern. Untersuchungen aus unserem Institut geben darüber hinaus erste Hinweise, dass beide Verfahren auch in der klinischen Praxis zur Reduktion der kornealen Neovaskularisation führen und damit potenziell das Abstoßungsrisiko reduzieren.
Diskussion
Die Feinnadeldiathermie und das korneale Crosslinking bieten effektive Therapieansätze zur angioregressiven Behandlung und scheinen das Transplantatüberleben nach Hochrisikokeratoplastik zu verlängern. Größer angelegte prospektive und kontrollierte klinische Studien sind notwendig, um diese vielversprechenden Therapieansätze weitergehend zu untersuchen.
Abstract
Background
The risk of allograft rejection following high-risk keratoplasty increases with the area of corneal neovascularization. Pharmaceutical and physical regression of corneal neovascularization before keratoplasty may offer the potential to reduce the risk of graft rejection after high-risk keratoplasty.
Objective
This article provides a review of the literature on the preconditioning of vascularized high-risk eyes using fine-needle diathermy and corneal cross-linking (preoperative preconditioning by lymphangioregression).
Methods
A literature search was carried out in PubMed and a summary of own data is presented.
Results
Animal experimental studies showed that both fine-needle diathermy and corneal cross-linking lead to a regression of corneal neovascularization and prolong graft survival after high-risk keratoplasty. Furthermore, studies from our institute provide first evidence that both procedures also lead to a reduction of corneal neovascularization in the clinical practice and thus potentially reduce the risk of allograft rejection after subsequent high-risk keratoplasty.
Discussion
Fine-needle diathermy and corneal cross-linking provide effective therapeutic approaches for angioregressive treatment and seem to prolong graft survival following high-risk keratoplasty. Larger prospective and controlled clinical trials are needed to further investigate these promising therapeutic approaches.
Access options
Buy single article
Instant access to the full article PDF.
US$ 39.95
Tax calculation will be finalised during checkout.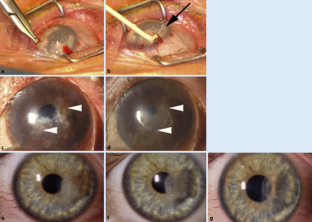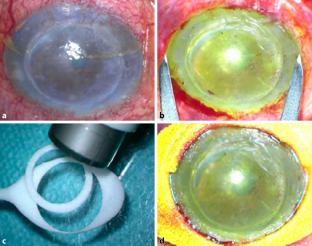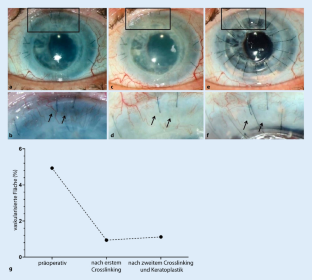 Literatur
1.

Cursiefen C (2007) Immune privilege and angiogenic privilege of the cornea. Chem Immunol Allergy 92:50–57

2.

Hos D, Matthaei M, Bock F et al (2019) Immune reactions after modern lamellar (DALK, DSAEK, DMEK) versus conventional penetrating corneal transplantation. Prog Retin Eye Res 73:100768

3.

Bock F, Maruyama K, Regenfuss B et al (2013) Novel anti(lymph)angiogenic treatment strategies for corneal and ocular surface diseases. Prog Retin Eye Res 34:89–124

4.

Bachmann B, Taylor RS, Cursiefen C (2013) The association between corneal neovascularization and visual acuity: a systematic review. Acta Ophthalmol 91(1):12–19

5.

Nguyen NX, Seitz B, Martus P, Langenbucher A, Cursiefen C (2007) Long-term topical steroid treatment improves graft survival following normal-risk penetrating keratoplasty. Am J Ophthalmol 144(2):318–319

6.

Alldredge OC, Krachmer JH (1981) Clinical types of corneal transplant rejection. Their manifestations, frequency, preoperative correlates, and treatment. Arch Ophthalmol 99(4):599–604

7.

Price MO, Thompson RW Jr., Price FW Jr. (2003) Risk factors for various causes of failure in initial corneal grafts. Arch Ophthalmol 121(8):1087–1092

8.

Sellami D, Abid S, Bouaouaja G et al (2007) Epidemiology and risk factors for corneal graft rejection. Transplant Proc 39(8):2609–2611

9.

Hos D, Le VNH, Hellmich M et al (2019) Risk of corneal graft rejection after high-risk keratoplasty following fine-needle vessel coagulation of corneal neovascularization combined with Bevacizumab: a pilot study. Transplant Direct 5(5):e452

10.

Bachmann B, Taylor RS, Cursiefen C (2010) Corneal neovascularization as a risk factor for graft failure and rejection after keratoplasty: an evidence-based meta-analysis. Ophthalmology 117(7):1300–1305e7

11.

Cursiefen C, Maruyama K, Jackson DG, Streilein JW, Kruse FE (2006) Time course of angiogenesis and lymphangiogenesis after brief corneal inflammation. Cornea 25(4):443–447

12.

Cursiefen C, Wenkel H, Martus P et al (2001) Impact of short-term versus long-term topical steroids on corneal neovascularization after non-high-risk keratoplasty. Graefes Arch Clin Exp Ophthalmol 239(7):514–521

13.

Cunningham MA, Edelman JL, Kaushal S (2008) Intravitreal steroids for macular edema: the past, the present, and the future. Surv Ophthalmol 53(2):139–149

14.

Roshandel D, Eslani M, Baradaran-Rafii A et al (2018) Current and emerging therapies for corneal neovascularization. Ocul Surf 16(4):398–414

15.

Cursiefen C, Cao J, Chen L et al (2004) Inhibition of hemangiogenesis and lymphangiogenesis after normal-risk corneal transplantation by neutralizing VEGF promotes graft survival. Investig Ophthalmol Vis Sci 45(8):2666–2673

16.

Bachmann BO, Bock F, Wiegand SJ et al (2008) Promotion of graft survival by vascular endothelial growth factor a neutralization after high-risk corneal transplantation. Arch Ophthalmol 126(1):71–77

17.

Bachmann BO, Luetjen-Drecoll E, Bock F et al (2009) Transient postoperative vascular endothelial growth factor (VEGF)-neutralisation improves graft survival in corneas with partly regressed inflammatory neovascularisation. Br J Ophthalmol 93(8):1075–1080

18.

Cursiefen C, Bock F, Horn FK et al (2009) GS-101 antisense oligonucleotide eye drops inhibit corneal neovascularization: interim results of a randomized phase II trial. Ophthalmology 116(9):1630–1637

19.

Cursiefen C, Viaud E, Bock F et al (2014) Aganirsen antisense oligonucleotide eye drops inhibit keratitis-induced corneal neovascularization and reduce need for transplantation: the I‑CAN study. Ophthalmology 121(9):1683–1692

20.

Bock F, Konig Y, Kruse F, Baier M, Cursiefen C (2008) Bevacizumab (Avastin) eye drops inhibit corneal neovascularization. Graefes Arch Clin Exp Ophthalmol 246(2):281–284

21.

Mayer W (1967) Cryotherapy in corneal vascularization. Arch Ophthalmol 77(5):637–641

22.

Baer JC, Foster CS (1992) Corneal laser photocoagulation for treatment of neovascularization. Efficacy of 577 nm yellow dye laser. Ophthalmology 99(2:173–179

23.

Koenig Y, Bock F, Kruse FE, Stock K, Cursiefen C (2012) Angioregressive pretreatment of mature corneal blood vessels before keratoplasty: fine-needle vessel coagulation combined with anti-VEGFs. Cornea 31(8):887–892

24.

Pillai CT, Dua HS, Hossain P (2000) Fine needle diathermy occlusion of corneal vessels. Investig Ophthalmol Vis Sci 41(8):2148–2153

25.

Spiteri N, Romano V, Zheng Y et al (2015) Corneal angiography for guiding and evaluating fine-needle diathermy treatment of corneal neovascularization. Ophthalmology 122(6):1079–1084

26.

Le VNH, Hou Y, Bock F, Cursiefen C (2020) Supplemental anti vegf A‑therapy prevents rebound neovascularisation after fine needle diathermy treatment to regress pathological corneal (LYMPH)Angiogenesis. Sci Rep 10(1):3908

27.

Trikha S, Parikh S, Osmond C, Anderson DF, Hossain PN (2014) Long-term outcomes of Fine Needle Diathermy for established corneal neovascularisation. Br J Ophthalmol 98(4):454–458

28.

Romano V, Steger B, Brunner M, Ahmad S, Willoughby CE, Kaye SB (2016) Method for angiographically guided fine-needle diathermy in the treatment of corneal neovascularization. Cornea 35(7):1029–1032

29.

Le VNH, Schneider AC, Scholz R, Bock F, Cursiefen C (2018) Fine needle-diathermy regresses pathological corneal (lymph)angiogenesis and promotes high-risk corneal transplant survival. Sci Rep 8(1):5707

30.

Williams KA, Keane MC, Galettis RA, Jones VJ, Mills RAD, Coster DJ (2015) The Australian corneal graft registry. https://researchnow-admin.flinders.edu.au/ws/portalfiles/portal/16917342/ACGR_report_2015_2.pdf. Zugegriffen: 9. Jan. 2021

31.

Spoerl E, Huhle M, Seiler T (1998) Induction of cross-links in corneal tissue. Exp Eye Res 66(1):97–103

32.

Wollensak G, Sporl E, Seiler T (2003) Treatment of keratoconus by collagen cross linking. Ophthalmologe 100(1):44–49

33.

Cursiefen C (2009) Corneal crosslinking: "Safe and effective"? Ophthalmologe 106(2):164–165 (author reply 165-166.)

34.

Hashemi H, Seyedian MA, Miraftab M, Fotouhi A, Asgari S (2013) Corneal collagen cross-linking with riboflavin and ultraviolet a irradiation for keratoconus: long-term results. Ophthalmology 120(8):1515–1520

35.

Knyazer B, Krakauer Y, Tailakh MA et al (2020) Accelerated corneal cross-linking as an adjunct therapy in the management of presumed bacterial keratitis: a cohort study. J Refract Surg 36(4):258–264

36.

Ammermann C, Cursiefen C, Hermann M (2014) Corneal cross-linking in microbial keratitis to prevent a chaud keratoplasty: a retrospective case series. Klin Monbl Augenheilkd 231(6):619–625

37.

Toth G, Bucher F, Siebelmann S et al (2016) In situ corneal cross-linking for recurrent corneal melting after boston type 1 keratoprosthesis. Cornea 35(6):884–887

38.

Hou Y, Le VNH, Toth G et al (2018) UV light crosslinking regresses mature corneal blood and lymphatic vessels and promotes subsequent high-risk corneal transplant survival. Am J Transplant 18(12):2873–2884

39.

Schaub F, Hou Y, Zhang W, Bock F, Hos D, Cursiefen C (2021) Corneal crosslinking to regress pathologic corneal neovascularization before high-risk keratoplasty. Cornea 40(2):147–155
Ethics declarations
Interessenkonflikt
M. Matthaei, D. Hos, F. Bock, V.N.H. Le, Y. Hou, F. Schaub, S. Siebelmann, W. Zhang, S. Roters, B.O. Bachmann und C. Cursiefen geben an, dass kein Interessenkonflikt besteht.
Für diesen Beitrag wurden von den Autoren keine Studien an Menschen oder Tieren durchgeführt. Für die aufgeführten Studien gelten die jeweils dort angegebenen ethischen Richtlinien.
Additional information
M. Matthaei und D. Hos teilen sich die Erstautorenschaft.
About this article
Cite this article
Matthaei, M., Hos, D., Bock, F. et al. Präkonditionierung von vaskularisierten Hochrisikoaugen mittels Feinnadeldiathermie und Crosslinking. Ophthalmologe 118, 553–560 (2021). https://doi.org/10.1007/s00347-021-01415-3
Accepted:

Published:

Issue Date:
Schlüsselwörter
Hochrisikokeratoplastik

Transplantatversagen

Abstoßungsreaktion

Hornhautvaskularisationen

Korneale Neovaskularisation
Keywords
High-risk keratoplasty

Graft failure

Rejection

Corneal vascularization

Corneal neovascularization