Zusammenfassung
Hintergrund
Die Zyklophotokoagulation (CPC) ist ein einfaches, nichtinvasives und schnell verfügbares Verfahren zur Augendrucksenkung, nimmt aber aufgrund ihres gefürchteten Komplikationspotenzials weiterhin eine Außenseiterrolle bei der operativen Therapieplanung ein. Die Mikropuls-CPC verspricht ein gewebeschonenderes sowie schmerzärmeres Vorgehen mit weniger Nebenwirkungen.
Methode
Retrospektive Auswertung der Patienten, die mit dem Mikropuls-CPC-Laser behandelt wurden, zu den Messzeitpunkten 1 Tag präoperativ, 2 Tage postoperativ sowie nach 3 und 6 Monaten.
Ergebnisse
Zwischen 2018 und 2019 wurden 63 Augen von 46 Patienten behandelt. Der mittlere Augendruck im Gesamtkollektiv lag vor Operation bei 20,6 mm Hg und sank 2 Tage nach Operation auf 13,5 mm Hg, nach 3 Monaten auf 16,2 mm Hg und nach 6 Monaten auf 14,6 mm Hg (p < 0,002). Die Anzahl der drucksenkenden Substanzen sank von präoperativ 3,2 auf 2,4 nach 2 Tagen postoperativ, nach 3 Monaten auf 2,6 Substanzen, nach 6 Monaten auf 2,8 (p < 0,001). Der Visus lag vor Operation bei 0,59 logMAR, 2 Tage postoperativ bei 0,60, nach 3 Monaten bei 0,59 und nach 6 Monaten bei 0,5 (statistisch nicht signifikant). Intraoperativ ereignete sich eine Komplikation (Hyposphagma), die postoperative Komplikationsrate lag bei 0 %.
Schlussfolgerung
Die Behandlung mit einem Mikropuls-CPC-Laser bietet eine schonende Möglichkeit der zeitnahen Drucksenkung. Der Einsatz der Mikropuls-CPC sowohl als erste chirurgische Therapieoption als auch bei Patienten mit gutem Visus wird von uns befürwortet.
Abstract
Background
Cyclophotocoagulation (CPC) is a simple noninvasive and quickly available procedure for lowering intraocular pressure but due to its dreaded potential for complications it continues to play an outsider role in surgical treatment planning. The Micropulse-CPC promises to be a more tissue-friendly and less painful procedure and thus a lower rate of side effects.
Method
Retrospective evaluation of all patients who were treated with the Micropulse-CPC laser at the measurement times 1 day preoperatively, 2 days postoperatively, after 3 months and 6 months.
Results
Between 2018 and 2019 a total of 63 eyes in 46 patients were treated. The mean intraocular pressure in the total collective was 20.6 mm Hg before surgery and decreased to 13.5 mm Hg 2 days after surgery, 16.2 mm Hg after 3 months and 14.6 mm Hg after 6 months (p < 0.002). An average of 3.2 hypotensive substances were used preoperatively, 2.4 substances 2 days postoperatively, 2.6 substances after 3 months and 2.8 after 6 months (p < 0.001). The visual acuity (VA) before surgery was 0.59 logMAR, 2 days postoperatively VA was 0.60, after 3 months 0.59 and after 6 months VA was 0.5 (statistically not significant). A complication (subconjunctival bleeding) occurred intraoperatively and the postoperative complication rate was 0%.
Conclusion
Treatment with a Micropulse-CPC laser offers a gentle way of reducing pressure in a timely manner. The use of the Micropulse-CPC is advocated as a first surgical option as well as for patients with good visual acuity.
Access options
Buy single article
Instant access to the full article PDF.
US$ 39.95
Tax calculation will be finalised during checkout.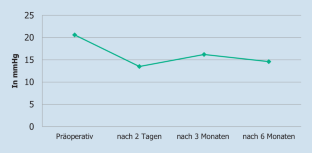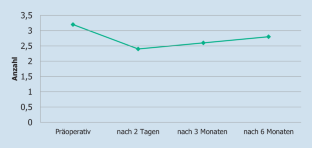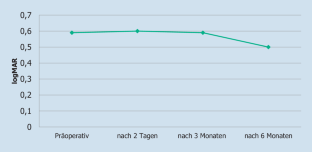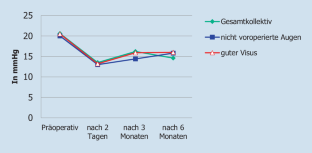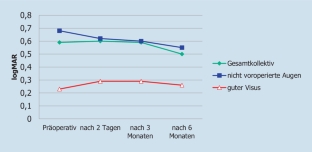 Literatur
1.

Dastiridou AI, Katsanos A, Denis P et al (2018) Cyclodestructive procedures in glaucoma: a review of current and emerging options. Adv Ther 35:2103–2127. https://doi.org/10.1007/s12325-018-0837-3

2.

Jammal AA, Costa DC, Vasconcellos JPC et al (2019) Prospective evaluation of micropulse transscleral diode cyclophotocoagulation in refractory glaucoma. 1 year results. Arq Bras Oftalmol 82:381–388. https://doi.org/10.5935/0004-2749.20190076

3.

Toyos M, Toyos R (2016) Clinical outcomes of micropulse transscleral cyclophotocoagulation in moderate to severe glaucoma. J Clin Exp Ophthalmol 7:6. https://doi.org/10.4172/2155-9570.10000620

4.

Gedde SJ, Schiffman JC, Feuer WJ, Tube versus Trabeculectomy Study Groupe (2012) Treatment outcomes in the Tube Versus Trabeculectomy (TVT) study after five years of follow-up. Am J Ophthalmol 153:789–803. https://doi.org/10.1016/j.ajo.2006.07.020

5.

Huth A, Viestenz A (2019) Hohe Myopie bei vitrektomiertem Auge: Kontraindikation für minimal-invasive glaukomchirurgische Implantate? Ophthalmologe 117:461–466. https://doi.org/10.1007/s00347-019-00950-4

6.

Rotchford AP, Jayasawal R, Madhusudhan S et al (2010) Transscleral diode laser cycloablation in patients with good vision. Br J Ophthalmol 94:1180–1183. https://doi.org/10.1136/bjo.2008.145565

7.

Zaarour K, Abdelmassih Y, Arej N et al (2019) Outcomes of micropulse transscleral cyclophotocoagulation in uncontrolled glaucoma patients. J Glaucoma 28:270–275. https://doi.org/10.1097/IJG.0000000000001174

8.

Emanuel ME, Grover DS, Fellman RL et al (2017) Micropulse cyclophotocoagulation: initial results in refractory glaucoma. J Glaucoma 26:726–729. https://doi.org/10.1097/IJG.0000000000000715

9.

Williams AL, Moster MR, Tahmatnejad K et al (2018) Clinical efficacy and safety profile of micropulse transscleral cyclophotocoagulation in refractory glaucoma. J Glaucoma 27:445–449. https://doi.org/10.1097/IJG.0000000000000934

10.

Alio J (2016) Redefining cyclophotocoagulation with modified laser delivery. Ophthalmol Times Eur 3:34–36

11.

Gavris MM, Olteanu I, Kantor E et al (2017) Iridex MicroPuls P3: innovative cyclophotocoagulation. Rom J Ophthalmol 61:107–111. https://doi.org/10.22336/rjo.2017.20

12.

Iridex Europe Gmb H MicroPulse®, Patentierte MicroPulse® Technologie. http://www.iridex.de/cyclo-g6.php. Zugegriffen: 18. Juli 2020
Ethics declarations
Interessenkonflikt
A. Huth und A. Viestenz geben an, dass kein Interessenkonflikt besteht.
Diese retrospektive Studie erfolgte nach Konsultation der zuständigen Ethikkommission und im Einklang mit nationalem Recht.
About this article
Cite this article
Huth, A., Viestenz, A. Mikropuls-Zyklophotokoagulation senkt den Intraokulardruck: Halbjahresergebnisse. Ophthalmologe (2021). https://doi.org/10.1007/s00347-021-01391-8
Received:

Revised:

Accepted:

Published:
Schlüsselwörter
Mikropuls-CPC

Glaukom

Guter Visus

Komplikationsrate

Schmerz
Keywords
Micropulse-CPC

Glaucoma

Visual acuity

Complication rate

Pain