Zusammenfassung
Die optische Kohärenztomographie ermöglicht eine hochauflösende Darstellung und Vermessung der Glaukom relevanten Strukturen des Auges am hinteren Pol. Minimale Randsaumweite, retinale Nervenfaserschicht- und Ganglienzellschichtdicke sind die Parameter, die im Vergleich mit der Normdatenbank zur Interpretation von Mikro- und Makropapillen hilfreich sind. Sie sind eine wertvolle Ergänzung der Ophthalmoskopie und der sensorischen Tests in der Glaukomdiagnostik.
Abstract
Optical coherence tomography provides high-resolution imaging and measurement of glaucoma-relevant structures of the posterior pole. Minimal rim width, retinal nerve fiber layer, and ganglion cell layer thickness are parameters that enhance interpretation of micro- and macrodiscs in relation to a normative database. They are a valuable supplement to ophthalmoscopy and sensory testing in glaucoma diagnostics.
Access options
Buy single article
Instant access to the full article PDF.
US$ 39.95
Tax calculation will be finalised during checkout.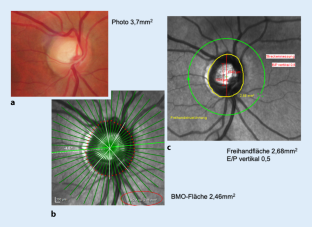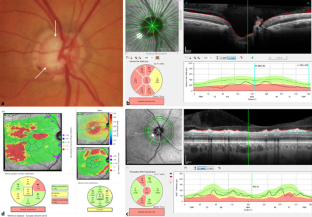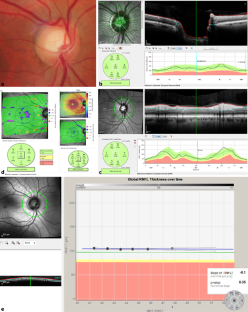 Literatur
1.

Amini N, Miraftabi A, Henry S, Chung N, Nowroozizadeh S, Caprioli J et al (2016) The relationship of the clinical disc margin and bruch's membrane opening in normal and glaucoma subjects. Investig Ophthalmol Vis Sci 57(3):1468–1475

2.

Chauhan BC, Danthurebandara VM, Sharpe GP, Demirel S, Girkin CA, Mardin CY et al (2015) Bruch's membrane opening minimum rim width and retinal nerve fiber layer thickness in a normal white population: a multicenter study. Ophthalmology 122(9):1786–1794

3.

Ctori I, Gruppetta S, Huntjens B (2015) The effects of ocular magnification on Spectralis spectral domain optical coherence tomography scan length. Graefes Arch Clin Exp Ophthalmol 253(5):733–738

4.

Gmeiner JM, Schrems WA, Mardin CY, Laemmer R, Kruse FE, Schrems-Hoesl LM (2016) Comparison of Bruch's membrane opening minimum rim width and peripapillary retinal nerve fiber layer thickness in early glaucoma assessment. Investig Ophthalmol Vis Sci 57(9):OCT575–OCT84

5.

Jonas JB, Budde WM, Panda-Jonas S (1999) Ophthalmoscopic evaluation of the optic nerve head. Surv Ophthalmol 43(4):293–320

6.

Jonas JB, Schmidt AM, Müller-Bergh J, Schlötzer-Schrehardt U, Naumann G (1992) Human optic nerve fiber count and optic disc size. Investig Ophthalmol Vis Sci 33(6):2012–2018

7.

Lee YP, Ju Y‑S, Choi DG (2018) Ganglion cell-inner plexiform layer thickness by swept-source optical coherence tomography in healthy Korean children: normative data and biometric correlations. Sci Rep 8(1):1–5

8.

Mardin C (2020) Optical coherence tomography in glaucomas: tips and tricks. Klin Monatsbl Augenheilkd 237(4):539–551

9.

Mwanza J‑C, Durbin MK, Budenz DL, Girkin CA, Leung CK, Liebmann JM et al (2011) Profile and predictors of normal ganglion cell–inner plexiform layer thickness measured with frequency-domain optical coherence tomography. Investig Ophthalmol Vis Sci 52(11):7872–7879

10.

Papastathopoulos KI, Jonas JB, Panda-Jonas S (1995) Large optic discs in large eyes, small optic discs in small eyes. Exp Eye Res 60(4):459–461

11.

Tan NY, Sng CC, Jonas JB, Wong TY, Jansonius NM, Ang M (2019) Glaucoma in myopia: diagnostic dilemmas. Br J Ophthalmol 103(10):1347–1355
Ethics declarations
Interessenkonflikt
C. Mardin gibt an, dass kein Interessenkonflikt besteht.
Für diesen Beitrag wurden von den Autoren keine Studien an Menschen oder Tieren durchgeführt. Für die aufgeführten Studien gelten die jeweils dort angegebenen ethischen Richtlinien.
About this article
Cite this article
Mardin, C. Relative Mikro- und Makropapillen – eine Herausforderung in der Glaukomdiagnostik mit der optischen Kohärenztomographie?. Ophthalmologe 118, 608–613 (2021). https://doi.org/10.1007/s00347-021-01363-y
Received:

Accepted:

Published:

Issue Date:
Schlüsselwörter
Ophthalmoskopie

Erhöhter Augeninnendruck

Offenwinkelglaukom

N.-opticus-Erkrankungen

Papilla nervi optici
Keywords
Ophthalmoscopy

Ocular hypertension

Open-angle glaucoma

Optic nerve diseases

Optic disc