Zusammenfassung
Hintergrund
Bei schwerstbeeinträchtigten und vaskularisierten Hochrisikoaugen stellt die Versorgung mittels Boston-Keratoprothese die oftmals letzte Therapieoption dar. Die Transparenz der Optik wird hier nicht durch endotheliale Abstoßungsreaktionen beeinträchtigt.
Methoden
In diesem Übersichtsbeitrag werden relevante Literatur sowie eigene Daten und Erfahrungen zur Versorgung von Hochrisikoaugen mit der Boston-Keratoprothese diskutiert. Die relevanten Komplikationen sowie das postoperative Management werden erörtert.
Ergebnisse
In mehr als 60 % der Hochrisikoaugen kann durch eine Keratoprothesenversorgung langfristig ein Visusanstieg erreicht werden. Keratoprothesenretentionswerte schwanken stark, nach 5 Jahren liegen diese im Mittel bei 75 %. Die häufigsten postoperativen Komplikationen umfassen die Ausbildung einer retroprothetischen Membran und das Auftreten von Keratolysen in jeweils bis zu 50 %. Bereits präoperativ leiden mehr als 70 % der Augen an einem (Sekundär‑)Glaukom, sodass ein glaukomchirurgischer Eingriff simultan in mindestens 20 % der Fälle erfolgt und im postoperativen Verlauf in bis zu 31 % ein weiterer Eingriff erforderlich wird. Vitreoretinale Komplikationen umfassen insbesondere die sterile Vitritis und die infektiöse Endophthalmitis, aber auch die persistierende Bulbushypotonie ist bei einem Drittel der Patienten beschrieben.
Schlussfolgerung
Die Boston-Keratoprothese kommt bei sehr schlechter Prognose für einen konventionellen Hornhautersatz infrage. Postoperative Komplikationen sind häufig, sodass dem postoperativen Management eine wichtige Rolle zukommt. Für vaskularisierte Hochrisikoaugen ist sie jedoch oftmals die einzige verbliebene Option zur Visusrehabilitation.
Abstract
Background
In severely compromised and vascularized high-risk eyes, the Boston keratoprosthesis procedure is often the last treatment option. The transparency of the optics is not impaired by endothelial immune reactions.
Methods
This review article discusses relevant literature as well as our own data and experiences with the Boston keratoprosthesis in high-risk eyes. The relevant complications as well as the postoperative management are discussed.
Results
In more than 60% of the high-risk eyes a long-term increase in visual acuity can be achieved. Keratoprosthesis retention rates show a variable span with reported mean 5‑year retention rates of 75%. The most common postoperative complications include the formation of a retroprosthetic membrane and keratolysis in up to 50% each. More than 70% of the eyes already suffer from (secondary) glaucoma preoperatively, so that glaucoma surgery is performed simultaneously in at least 20% of cases and in the postoperative course further antiglaucomatous surgery is necessary in up to 31%. Vitreoretinal complications include, in particular, sterile vitritis and infectious endophthalmitis but persistent hypotonia is also described in one third of patients.
Conclusion
The Boston keratoprosthesis is an alternative to conventional corneal replacement if the prognosis for allogeneic transplants is poor. Postoperative complications are common; therefore, postoperative management plays an important role. For vascularized high-risk eyes, however, it is often the only remaining option for visual rehabilitation.
Access options
Buy single article
Instant access to the full article PDF.
US$ 39.95
Tax calculation will be finalised during checkout.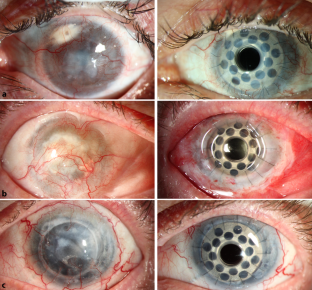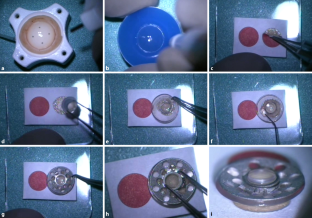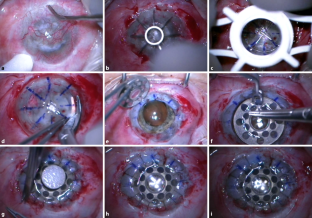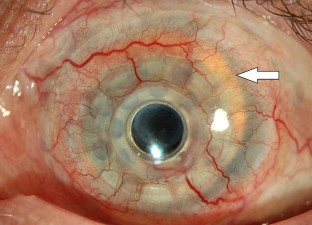 Literatur
1.

Thompson RW Jr., Price MO, Bowers PJ et al (2003) Long-term graft survival after penetrating keratoplasty. Ophthalmology 110:1396–1402

2.

Avadhanam VS, Liu CS (2015) A brief review of Boston type‑1 and osteo-odonto keratoprostheses. Br J Ophthalmol 99:878–887

3.

Lee WB, Shtein RM, Kaufman SC et al (2015) Boston keratoprosthesis: outcomes and complications: a report by the American academy of ophthalmology. Ophthalmology 122:1504–1511

4.

Caldwell DR (1997) The soft keratoprosthesis. Trans Am Ophthalmol Soc 95:751–802

5.

Stone W Jr., Herbert E (1953) Experimental study of plastic material as replacement for the cornea; a preliminary report. Am J Ophthalmol 36:168–173

6.

Lam FC, Liu C (2011) The future of keratoprostheses (artificial corneae). Br J Ophthalmol 95:304–305

7.

Goins KM, Kitzmann AS, Greiner MA et al (2016) Boston type 1 keratoprosthesis: visual outcomes, device retention, and complications. Cornea 35:1165–1174

8.

Liu C, Paul B, Tandon R et al (2005) The osteo-odonto-keratoprosthesis (OOKP). Semin Ophthalmol 20:113–128

9.

Schrage N, Hille K, Cursiefen C (2014) Aktuelle Versorgungsmöglichkeiten mit Keratoprothesen Boston-Keratoprothese, Osteoodontokeratoprothese, Miro Cornea® und KeraKlear. Ophthalmologe 111:1010–1018

10.

Akpek EK, Harissi-Dagher M, Petrarca R et al (2007) Outcomes of Boston keratoprosthesis in aniridia: a retrospective multicenter study. Am J Ophthalmol 144:227–231

11.

Aravena C, Bozkurt TK, Yu F et al (2016) Long-term outcomes of the Boston type I keratoprosthesis in the management of corneal limbal stem cell deficiency. Cornea 35:1156–1164

12.

Schaub F, Bachmann BO, Seyeddain O et al (2017) Mittel- und langfristige Erfahrungen mit der Boston-Keratoprothese. Die Kölner und Salzburger Perspektive. Klin Monbl Augenheilkd 234:770–775

13.

Schaub F, Neuhann I, Enders P et al (2018) Boston keratoprosthesis: 73 eyes from Germany : an overview of experiences from two centers. Ophthalmologe 115:744–753

14.

Driver TH, Aravena C, Duong HNV et al (2018) Outcomes of the Boston type I keratoprosthesis as the primary penetrating corneal procedure. Cornea 37:1400–1407

15.

Priddy J, Bardan AS, Tawfik HS et al (2019) Systematic review and meta-analysis of the medium- and long-term outcomes of the Boston type 1 keratoprosthesis. Cornea 38:1465–1473

16.

Matthaei M, Bachmann B, Hos D et al (2019) Technik der Boston-Typ-I-Keratoprothesen-Implantation. Ophthalmologe 116:67–72 (Videobeitrag)

17.

Siebelmann S, Steven P, Hos D, Hüttmann G, Lankenau E, Bachmann B, Cursiefen C (2016) Advantages of microscope-integrated intraoperative online optical coherence tomography: usage in Boston keratoprosthesis type I surgery. J Biomed Opt 21(1):16005

18.

Klufas MA, Colby KA (2010) The Boston keratoprosthesis. Int Ophthalmol Clin 50:161–175

19.

Zarei-Ghanavati M, Liu C (2019) Keratoprosthesis: current choices and future development. Asia Pac J Ophthalmol (Phila) 8:429–431

20.

Iyer G, Srinivasan B, Agarwal S et al (2018) Keratoprosthesis: current global scenario and a broad Indian perspective. Indian J Ophthalmol 66:620–629

21.

Kosker M, Suri K, Rapuano CJ et al (2015) Long-term results of the Boston keratoprosthesis for unilateral corneal disease. Cornea 34:1057–1062

22.

Kang KB, Karas FI, Rai R et al (2018) Five year outcomes of Boston type I keratoprosthesis as primary versus secondary penetrating corneal procedure in a matched case control study. PLoS ONE 13:e192381

23.

Muzychuk AK, Robert MC, Dao S et al (2017) Boston keratoprosthesis type 1: a randomized controlled trial of fresh versus frozen corneal donor carriers with long-term follow-up. Ophthalmology 124:20–26

24.

Ahmad S, Mathews PM, Srikumaran D et al (2016) Outcomes of repeat Boston type 1 keratoprosthesis implantation. Am J Ophthalmol 161:181–187.e1

25.

Lin M, Bhatt A, Haider A et al (2017) Vision retention in early versus delayed glaucoma surgical intervention in patients with Boston keratoprosthesis type 1. PLoS ONE 12:e182190

26.

Crnej A, Paschalis EI, Salvador-Culla B et al (2014) Glaucoma progression and role of glaucoma surgery in patients with Boston keratoprosthesis. Cornea 33:349–354

27.

Lin CC, Chen A, Jeng BH et al (2014) Scleral intraocular pressure measurement in cadaver eyes pre- and postkeratoprosthesis implantation. Invest Ophthalmol Vis Sci 55:2244–2250

28.

Baratz KH, Goins KM (2017) The Boston keratoprosthesis: highs and lows of Intraocular pressure and outcomes. Ophthalmology 124:9–11

29.

Risma JM, Tehrani S, Wang K et al (2016) The utility of diaton tonometer measurements in patients with ocular hypertension, glaucoma, and glaucoma tube shunts: a preliminary study for its potential use in keratoprosthesis patients. J Glaucoma 25:643–647

30.

Collins CC (1967) Miniature passive pressure transensor for implanting in the eye. IEEE Trans Biomed Eng 14:74–83

31.

Enders P, Hall J, Bornhauser M et al (2019) Telemetric intraocular pressure monitoring after Boston keratoprosthesis surgery using the eyemate-IO sensor: dynamics in the first year. Am J Ophthalmol 206:256–263

32.

Enders P, Hall J, Bornhauser M et al (2019) Telemetric intraocular pressure monitoring after Boston keratoprosthesis surgery. Ophthalmology 126:322–324

33.

Enders P, Cursiefen C (2020) Device profile of the EYEMATE-IO™ system for intraocular pressure monitoring: overview of its safety and efficacy. Expert Rev Med Devices 17(6):491–497

34.

Samarawickrama C, Strouthidis N, Wilkins MR (2018) Boston keratoprosthesis type 1: outcomes of the first 38 cases performed at Moorfields Eye Hospital. Eye (Lond) 32:1087–1092

35.

Wang Q, Harissi-Dagher M (2014) Characteristics and management of patients with Boston type 1 keratoprosthesis explantation—the University of Montreal Hospital Center experience. Am J Ophthalmol 158:1297–1304.e1

36.

Noel CW, Isenberg J, Goldich Y et al (2016) Type 1 Boston keratoprosthesis: outcomes at two Canadian centres. Can J Ophthalmol 51:76–82

37.

Toth G, Bucher F, Siebelmann S et al (2016) In situ corneal cross-linking for recurrent corneal melting after Boston type 1 keratoprosthesis. Cornea 35:884–887

38.

Grassi CM, Cruzat A, Taniguchi EV et al (2015) Periprosthetic tissue loss in patients with idiopathic vitreous inflammation after the Boston keratoprosthesis. Cornea 34:1378–1382

39.

Iyer G, Srinivasan B, Agarwal S et al (2014) Laminar resorption in modified osteo-odonto-keratoprosthesis procedure: a cause for concern. Am J Ophthalmol 158:263–269.e2

40.

Chan CC, Loverde L, Qiang J et al (2016) Incidence, risk factors, and surgical management of Boston type 1 keratoprothesis corneal melts, leaks, and extrusions. Cornea 35:1049–1056

41.

Talati RK, Hallak JA, Karas FI et al (2018) Retroprosthetic membrane formation in Boston keratoprosthesis: a case-control-matched comparison of titanium versus PMMA backplate. Cornea 37:145–150

42.

Saeed HN, Shanbhag S, Chodosh J (2017) The Boston keratoprosthesis. Curr Opin Ophthalmol 28:390–396

43.

Schaub F, Hos D, Bucher F et al (2016) Boston-Keratoprothese. Erste Erfahrungen bei 13 Hochrisikoaugen aus der Kölner Universitätsaugenklinik. Ophthalmologe 113:492–499
Förderung
Deutsche Forschungsgemeinschaft (DFG) FOR2240 "(Lymph)-angiogenesis and Cellular Immunity in Inflammatory Diseases of the Eye", www.for2240.de (CC, DH); DFG PRIVENT FA 441/4‑1 (FS); EU COST BM1302 (BOB, DH, CC, SS); EU Horizon 2020 ARREST BLINDNESS (CC); EU COST ANIRIDIA (www.aniridia-net.eu) (BOB, CC, DH); Zentrum für Molekulare Medizin Köln (ZMMK; CC, DH).
Ethics declarations
Interessenkonflikt
F. Schaub, M. Matthaei, P. Enders, S. Siebelmann, D. Hos, B.O. Bachmann und C. Cursiefen geben an, dass kein Interessenkonflikt besteht.
Für diesen Beitrag wurden von den Autoren keine Studien an Menschen oder Tieren durchgeführt. Für die aufgeführten Studien gelten die jeweils dort angegebenen ethischen Richtlinien.
About this article
Cite this article
Schaub, F., Matthaei, M., Enders, P. et al. Versorgung von vaskularisierten Hochrisikoaugen mittels Boston-Keratoprothese. Ophthalmologe 118, 544–552 (2021). https://doi.org/10.1007/s00347-021-01356-x
Accepted:

Published:

Issue Date:
Schlüsselwörter
Künstlicher Hornhautersatz

Keratoplastik

Limbusstammzellinsuffizienz

Aniridie

Komplikation
Keywords
Artificial corneal replacement

Keratoplasty

Limbal stem cell insufficiency

Aniridia

Complication