Zusammenfassung
Operationsziel
Ziel der "simple limbal epithelial transplantation" (SLET) ist die Regeneration der kornealen Oberfläche bei einseitiger kompletter Limbusstammzellinsuffizienz (LSZI).
Indikationen
Die SLET ist bei einseitiger kompletter LSZI indiziert.
Kontraindikationen
Kontraindikationen umfassen die beidseitige LSZI, eine stark verdünnte Hornhaut, eine ausgeprägte Keratoconjunctivitis sicca, chronische Entzündungszustände der Augenoberfläche, Lidfehlstellungen sowie ausgeprägte Verwachsungen der Bindehaut mit Trichiasis.
Operationstechnik
Eine Biopsie über 1 Uhrzeit wird dem Spenderauge am superioren Limbus entnommen. Am LSZI-Auge erfolgen die 360°-Peritomie und die Entfernung des Pannusgewebes. Eine Amnionmembran (AM) wird mittels Fibrinkleber auf der kornealen Oberfläche fixiert. Das Spendergewebe wird in 8 bis 10 Stücke geteilt und auf der AM unter Aussparung der optischen Achse mit Fibrinkleber befestigt. Zuletzt wird eine Verbandslinse eingesetzt. Anhand eines Operationsvideos, das online zur Verfügung steht, wird die Operationstechnik dargestellt.
Weiterbehandlung
Kontrolluntersuchungen sind innerhalb der ersten postoperativen Woche und 1 Monat nach SLET erforderlich, danach alle 3 Monate bis zu 1 Jahr postoperativ. Bis zum Epithelschluss werden antibiotische Augentropfen ca. 5-mal täglich empfohlen. Topische Steroide sollten zu Beginn ca. 6-mal täglich appliziert und dann über 2 bis 3 Monate ausgeschlichen werden. Benetzende Augentropfen unterstützen die epitheliale Heilung. Alle Augentropfen sollten möglichst unkonserviert sein. Die Kontaktlinse kann 7 bis 10 Tage nach dem Eingriff entfernt werden. Die AM löst sich innerhalb weniger Wochen auf. Eine Epithelialisierung der Hornhautoberfläche kann in der zweiten postoperativen Woche beobachtet werden.
Evidenz
In einer aktuellen Review-Analyse wurde nach 1,5 Jahren in 78 % der SLET-Fälle eine stabile, epithelialisierte Hornhautoberfläche beobachtet. Eine Visusverbesserung von mindestens 2 Zeilen wurde in 69 % der SLET-Fälle festgestellt.
Abstract
Objective
The aim of simple limbal epithelial transplantation (SLET) is the regeneration of the corneal surface in unilateral complete limbal stem cell deficiency (LSCD).
Indications
SLET is indicated for unilateral complete LSCD.
Contraindications
Contraindications include bilateral LSCD, severe corneal thinning, pronounced keratoconjunctivitis sicca, chronic inflammatory condition of the ocular surface, malposition of the eyelids and pronounced adhesions of the conjunctiva with trichiasis.
Surgical technique
A 1‑h biopsy is obtained from the superior limbus of the healthy donor eye. A 360° peritomy is performed on the LSCD eye and pannus tissue covering the cornea is removed. An amniotic membrane (AM) is glued to the corneal surface with fibrin. The donor tissue is then divided into 8–10 small pieces, which are placed on the AM sparing the visual axis and fixed by fibrin glue. A contact lens is placed on the eye. A surgical video, which is available online, shows the surgical technique in detail.
Follow-up
Examinations are necessary within the first postoperative week and 1 month after SLET, then every 3 months within the first postoperative year. Antibiotic eye drops should be applied 5 times daily until complete epithelialization. Topical steroids should be applied 6 times daily in the early postoperative period and can be tapered thereafter. Artificial tears can improve epithelial healing. Ideally, all eye drops should be preservative-free. The contact lens can be removed after 7–10 days. The AM dissolves within a few weeks. An epithelialization of the corneal surface can be observed by the second postoperative week.
Evidence
A recent systematic review reported a stable epithelialized corneal surface in 78% of SLET cases after 1.5 years. An improvement of visual acuity of at least two lines was found in 69% of SLET cases.
Access options
Buy single article
Instant access to the full article PDF.
US$ 39.95
Tax calculation will be finalised during checkout.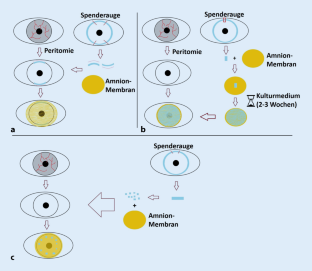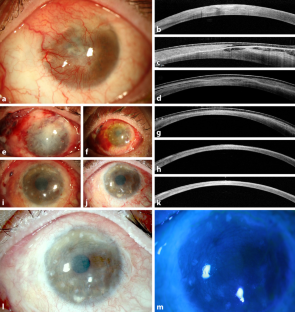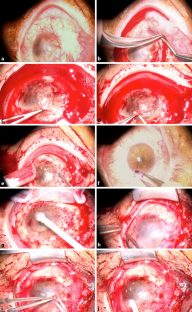 Literatur
1.

Amescua G, Atallah M, Nikpoor N et al (2014) Modified simple limbal epithelial transplantation using cryopreserved amniotic membrane for unilateral limbal stem cell deficiency. Am J Ophthalmol 158:469–475e2

2.

Atallah MR, Palioura S, Perez VL et al (2016) Limbal stem cell transplantation: current perspectives. Clin Ophthalmol 10:593–602

3.

Basu S, Ali H, Sangwan VS (2012) Clinical outcomes of repeat autologous cultivated limbal epithelial transplantation for ocular surface burns. Am J Ophthalmol 153:643–659, 650.e1‑2

4.

Basu S, Sureka SP, Shanbhag SS et al (2016) Simple limbal epithelial transplantation: long-term clinical outcomes in 125 cases of unilateral chronic ocular surface burns. Ophthalmology 123:1000–1010

5.

Cheng J, Zhai H, Wang J et al (2017) Long-term outcome of allogeneic cultivated limbal epithelial transplantation for symblepharon caused by severe ocular burns. BMC Ophthalmol 17:8

6.

Dziasko MA, Daniels JT (2016) Anatomical features and cell-cell interactions in the human limbal epithelial stem cell niche. Ocul Surf 14:322–330

7.

Dziasko MA, Tuft SJ, Daniels JT (2015) Limbal melanocytes support limbal epithelial stem cells in 2D and 3D microenvironments. Exp Eye Res 138:70–79

8.

Fuest M, Yam GH, Peh GS et al (2017) Corneal cell therapy-an overview. Ophthalmologe 114:705–715

9.

Gupta N, Farooqui JH, Dziasko MA et al (2020) Reappearance of limbal pigmentation post-simple limbal epithelial transplant. Indian J Ophthalmol 68:927–929

10.

Gupta N, Farooqui JH, Patel N et al (2018) Early results of penetrating keratoplasty in patients with unilateral chemical injury after simple limbal epithelial transplantation. Cornea 37:1249–1254

11.

Kate A, Shanbhag SS, Goyal R et al (2020) Serial anterior segment optical coherence tomography post autologous simple limbal epithelial transplantation. BMJ Case Rep 13(12):e236692. https://doi.org/10.1136/bcr-2020-236692

12.

Kenyon KR, Tseng SC (1989) Limbal autograft transplantation for ocular surface disorders. Ophthalmology 96:709–722 (discussion 722–703)

13.

Le Q, Chauhan T, Yung M et al (2020) Outcomes of limbal stem cell transplant: a meta-analysis. JAMA Ophthalmol 138:660–670

14.

Meller D, Thomasen H (2017) Limbal epithelial stem cell transplantation : current state and perspectives. Ophthalmologe 114:298–306

15.

Miri A, Al-Deiri B, Dua HS (2010) Long-term outcomes of autolimbal and allolimbal transplants. Ophthalmology 117:1207–1213

16.

O'callaghan AR, Daniels JT (2011) Concise review: limbal epithelial stem cell therapy: controversies and challenges. Stem Cells 29:1923–1932

17.

Pedrotti E, Chierego C, Cozzini T et al (2020) In vivo confocal microscopy of the corneal-conjunctival transition in the evaluation of epithelial renewal after SLET. J Clin Med 9(11):3574. https://doi.org/10.3390/jcm9113574

18.

Pellegrini G, Traverso CE, Franzi AT et al (1997) Long-term restoration of damaged corneal surfaces with autologous cultivated corneal epithelium. Lancet 349:990–993

19.

Rama P, Matuska S, Paganoni G et al (2010) Limbal stem-cell therapy and long-term corneal regeneration. N Engl J Med 363:147–155

20.

Sangwan VS, Basu S, Macneil S et al (2012) Simple limbal epithelial transplantation (SLET): a novel surgical technique for the treatment of unilateral limbal stem cell deficiency. Br J Ophthalmol 96:931–934

21.

Santos MS, Gomes JA, Hofling-Lima AL et al (2005) Survival analysis of conjunctival limbal grafts and amniotic membrane transplantation in eyes with total limbal stem cell deficiency. Am J Ophthalmol 140:223–230

22.

Shanbhag SS, Nikpoor N, Rao Donthineni P et al (2020) Autologous limbal stem cell transplantation: a systematic review of clinical outcomes with different surgical techniques. Br J Ophthalmol 104:247–253

23.

Shanbhag SS, Patel CN, Goyal R et al (2019) Simple limbal epithelial transplantation (SLET): review of indications, surgical technique, mechanism, outcomes, limitations, and impact. Indian J Ophthalmol 67:1265–1277

24.

Tsai RJ, Li LM, Chen JK (2000) Reconstruction of damaged corneas by transplantation of autologous limbal epithelial cells. N Engl J Med 343:86–93

25.

Vazirani J, Ali MH, Sharma N et al (2016) Autologous simple limbal epithelial transplantation for unilateral limbal stem cell deficiency: multicentre results. Br J Ophthalmol 100:1416–1420

26.

Wang J, Qi X, Dong Y et al (2019) Comparison of the efficacy of different cell sources for transplantation in total limbal stem cell deficiency. Graefes Arch Clin Exp Ophthalmol 257:1253–1263
Ethics declarations
Interessenkonflikt
J. Prinz, J.S. Mehta, P. Walter und M. Fuest geben an, dass kein Interessenkonflikt besteht.
Alle im vorliegenden Manuskript beschriebenen Untersuchungen am Menschen wurden im Einklang mit nationalem Recht sowie gemäß der Deklaration von Helsinki (in der aktuellen, überarbeiteten Fassung) durchgeführt. Für Bildmaterial oder anderweitige Angaben innerhalb des Manuskripts, über die Patienten zu identifizieren sind, liegt von ihnen und/oder ihren gesetzlichen Vertretern eine schriftliche Einwilligung vor.
Supplementary Information
Video: Technik der Limbusstammzelltransplantation mittels "simple limbal epithelial transplantation" (SLET); Copyright: PD Dr. Matthias Fuest, Aachen
About this article
Cite this article
Prinz, J., Mehta, J.S., Walter, P. et al. "Simple limbal epithelial transplantation" (SLET). Ophthalmologe 118, 404–412 (2021). https://doi.org/10.1007/s00347-021-01346-z
Accepted:

Published:

Issue Date:
Schlüsselwörter
Epithelialisierung

Transplantation

Hornhaut

Kontraindikationen

Visusverbesserung
Keywords
Epithelialization

Transplantation

Cornea

Contraindications

Improved visual acuity