Zusammenfassung
Das Spektrum der anästhesiologischen Verfahren in der Augenheilkunde hat sich in den letzten Jahrzehnten nicht wesentlich verändert, wobei die Lokalanästhesie deutlich in den Vordergrund gerückt ist. Die Entwicklung von minimal-invasiven Operationstechniken benötigt deutlich weniger Analgesie und ökonomische Zwänge zur Verkürzung der Operationszeiten, und der zunehmende Anteil ambulanter Augenoperationen fordert eine kurze und möglichst komplikationsarme Analgesie des Operationsgebietes. Trotzdem muss die Auswahl der Verfahren, die hier ausführlich beschrieben werden, patientenindividuell geschehen. Die Allgemeinanästhesie hat weiterhin ihren Stellenwert insbesondere bei reduzierter Compliance und schwierigen Operationsverhältnissen. Durch die enge Zusammenarbeit von Anästhesisten und Ophthalmochirurgen z. B. bei Analgosedierungen im ambulanten Bereich kann ein für den Patienten sehr angenehmes Operationserleben geschaffen werden. Wichtiges Ziel sollte immer eine ausreichende Anxiolyse, Analgesie und bei speziellen Operationen ausreichende Akinesie sein.
Abstract
The range of anesthesiological procedures in ophthalmology has not changed significantly over the last decades, with local anesthesia clearly coming to the fore. The development of minimally invasive surgical techniques requires significantly less analgesia and economic constraints to shorten operating times. The increasing proportion of outpatient ophthalmic surgery requires a short analgesia of the surgical area with as few complications as possible. Nevertheless, the selection of the procedures, which are described here in detail, must be made individually for each patient. General anesthesia continues to have its place, especially in cases of reduced compliance and difficult surgical conditions. The close cooperation between anesthetists and ophthalmic surgeons, e.g. for analgosedation in the outpatient area, can create a very pleasant surgical experience for the patient. An important goal should always be sufficient anxiolysis, analgesia and, in special operations, sufficient akinesia.
Access options
Buy single article
Instant access to the full article PDF.
US$ 39.95
Tax calculation will be finalised during checkout.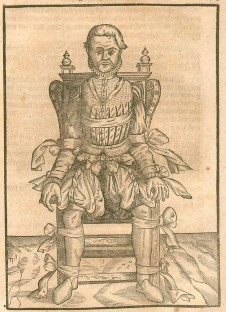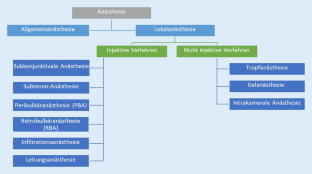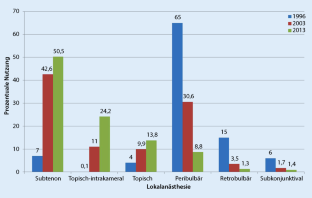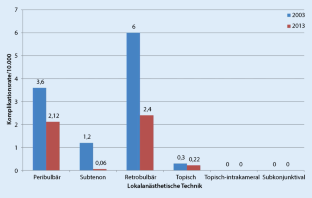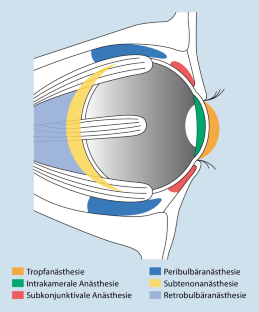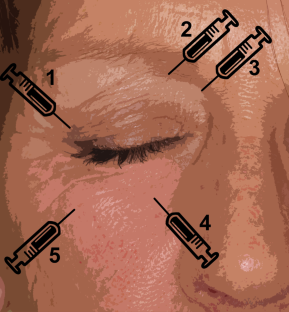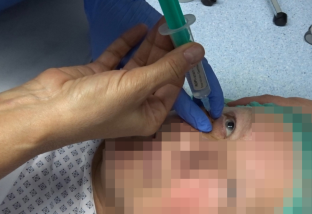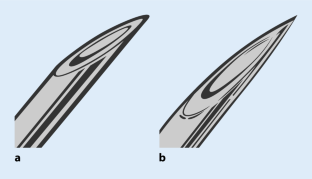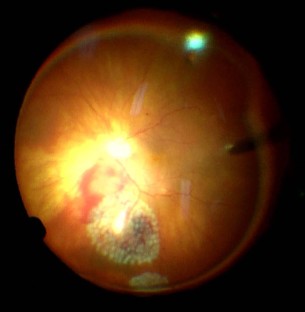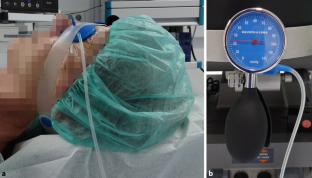 Literatur
1.

Müller LJ, Marfurt CF, Kruse F et al (2003) Corneal nerves: structure, contents and function. Exp Eye Res 76:521–542

2.

von Bartisch G (1583) Ophthalmodouleia, das ist Augendienst. Dresden

3.

Trendelenburg F (1923) Die ersten 25 Jahre der Deutschen Gesellschaft für Chirurgie. Springer, Heidelberg

4.

Gottschalk A, Van Aken H, Zenz M et al (2011) Ist Anästhesie gefährlich? Dtsch Arztebl Int 108:469–474

5.

Schargus M (2018) Einführung in die Ophthalmochirurgie, Teil 6: Anästhesieformen. Ophthalmo-Chirurgie 30:83–92

6.

Lee RM, Thompson JR, Eke T (2016) Severe adverse events associated with local anaesthesia in cataract surgery: 1 year national survey of practice and complications in the UK. Br J Ophthalmol 100:772–776

7.

Hempelmann G, Kammann J (1998) Gemeinsame Empfehlung über die Zusammenarbeit in der operativen Ophthalmologie der Deutschen Gesellschaft für Anästhesiologie und Intensivmedizin e. V. und der Deutschen Ophthalmologischen Gesellschaft e. V. Anasth Intensivmed 39:309–310

8.

Mayhew D, Mendonca V, Murthy BVS (2019) A review of ASA physical status—historical perspectives and modern developments. Anaesthesia 74:373–379

9.

Schonfeld CL, Reith M (2013) Anästhesieverfahren in der Augenheilkunde. Ophthalmologe 110:175–178

10.

Castello R, Neth J (2019) Empfehlungen zur anästhesiologischen Versorgung in der Ophthalmochirurgie. Anasth Intensivmed 60:145–148

11.

Kotekar N, Shenkar A, Nagaraj R (2018) Postoperative cognitive dysfunction—current preventive strategies. Clin Interv Aging 13:2267–2273

12.

Rundshagen I (2014) Postoperative kognitive Dysfunktion. Dtsch Arztebl Int 111:119–125

13.

Keilhauer J, Trieschmann U, Bottiger BW (2015) Besondere Aspekte der Kinderanästhesie in der Ophthalmochirurgie. Ophthalmologe 112:118–121

14.

Weigt HU, Spraul CW, Weiss M (2003) Was gibt es Neues in der Ophthalmoanästhesie. Klin Monatsbl Augenheilkd 220:809–821

15.

Fiorentzis M, Morinello E, Viestenz A et al (2017) Muscle relaxants as a risk factor for vis-à-tergo during penetrating keratoplasty: a prospective interventional study. Adv Ther 34:2674–2679

16.

Chu TG, Green RL (1999) Suprachoroidal hemorrhage. Surv Ophthalmol 43:471–486

17.

Rex S (2001) Anesthesia in ophthalmology. Anaesthesist 50:798–813 (quiz 814–795)

18.

Zuche H, Morinello E, Viestenz A et al (2015) Sinken des Augeninnendrucks und der okularen Pulsamplitude während der Intubationsnarkose. Ophthalmologe 112:764–769

19.

Rascon-Martinez DM, Fresan-Orellana A, Ocharan-Hernandez ME et al (2016) The effects of ketamine on cognitive function in elderly patients undergoing ophthalmic surgery: a pilot study. Anesth Analg 122:969–975

20.

Ruiz-Villa JO, Jaramillo-Rivera DA, Pineda-Gutierrez LM (2019) Ketamine impact on intraocular pressure of children: a systematic review and qualitative synthesis of evidence. Colombian J Anesthesiol 47:226–235

21.

Mikhail M, Sabri K, Levin AV (2017) Effect of anesthesia on intraocular pressure measurement in children. Surv Ophthalmol 62:648–658

22.

Eke T (2016) Preoperative preparation and anesthesia for trabeculectomy. J Curr Glaucoma Pract 10:21–35

23.

Basta B, Gioia L, Gemma M et al (2011) Systemic adverse events during 2005 phacoemulsifications under monitored anesthesia care: a prospective evaluation. Minerva Anestesiol 77:877–883

24.

Weindler J, Weindler M, Ruprecht KW (2004) Lokalanästhesie in der Ophthalmochirurgie. Ophthalmologe 101:847–864 (quiz 865)

25.

Hoerauf H, Feltgen N (2018) Augenoperationen bei Patienten unter Gerinnungshemmung: Absetzen oder weiterführen? Eine Einzelfallentscheidung. Dtsch Arztebl Int 115:2117

26.

Feltgen N, Mele B, Dietlein T et al (2018) Umgang mit gerinnungshemmenden Substanzen in der Ophthalmochirurgie – eine Umfrage unter Ophthalmochirurgen in Deutschland. Ophthalmologe 115:585–591

27.

Grönefeld G (2018) DOAKs im perioperativen Setting: Wann und wie absetzen? Dtsch Arztebl Int 115:20

28.

Kochs E, Adams HA, Spies C (2008) Anästhesiologie. Thieme, Stuttgart, S 143–145

29.

Hussain N, McCartney CJL, Neal JM et al (2018) Local anaesthetic-induced myotoxicity in regional anaesthesia: a systematic review and empirical analysis. Br J Anaesth 121:822–841

30.

Remy M, Pinter F, Nentwich MM et al (2008) Efficacy and safety of hyaluronidase 75 IU as an adjuvant to mepivacaine for retrobulbar anesthesia in cataract surgery. J Cataract Refract Surg 34:1966–1969

31.

Quhill F, Bowling B, Packard RB (2004) Hyaluronidase allergy after peribulbar anesthesia with orbital inflammation. J Cataract Refract Surg 30:916–917

32.

Weller A, Pham DT, Häberle H et al (2000) Sponge-Oberflächen-Anästhesie mit intracameraler Lidocain-Applikation Kataraktchirurgie. Ophthalmologe 97:51–53

33.

Inman ZD, Anderson NG (2011) Incidence of endophthalmitis after intravitreal injection of antivascular endothelial growth factor medications using topical lidocaine gel anesthesia. Retina 31:669–672

34.

Weller A, Pham DT, Haberle H (2002) Intracamerale Anästhesie mit Lidocain bei Cornea guttata. Ophthalmologe 99:29–31

35.

Deeks ED (2019) Tropicamide/phenylephrine/lidocaine intracameral injection: a review in cataract surgery. Clin Drug Investig 39:1133–1139

36.

Välimäki J, Törnblom RM (2009) Viscoanaesthesia in cataract surgery: a prospective, randomized clinical trial. Acta Ophthalmol 87:378–381

37.

Nadbath RP, Rehmani (1963) Facial nerve block. Am J Ophthalmol 55:143–146

38.

van der Hogan ME, Vaart S, Perampaladas K et al (2011) Systematic review and meta-analysis of the effect of warming local anesthetics on injection pain. Ann Emerg Med 58:86–98.e1

39.

Fricke J, Neugebauer A (2005) Augenmuskeloperationen in kombinierter Tropf- und Subkonjunktivalanästhesie. Ophthalmologe 102:46–50

40.

Turnbull C (1884) The hydrochlorate of cocaine, a judicious opinion of its merits. Med Surg Rep 29:628–629

41.

Stevens JD (1992) A new local anesthesia technique for cataract extraction by one quadrant sub-Tenon's infiltration. Br J Ophthalmol 76:670–674

42.

Gauba V, Saleh GM, Watson K et al (2007) Sub-Tenon anaesthesia: reduction in subconjunctival haemorrhage with controlled bipolar conjunctival cautery. Eye (Lond) 21:1387–1390

43.

Bohlender T, Weindler J, Schroeder P et al (1997) Peribulbäranästhesie transkutan oder transkonjunktival? Ophthalmologe 94:324–326

44.

Warwar RE, Romriell EK, Pennock EA (2004) Contralateral amaurosis after retrobulbar anesthetic injection. J Neuroophthalmol 24:187–188

45.

Alhassan MB, Kyari F, Ejere HO (2015) Peribulbar versus retrobulbar anaesthesia for cataract surgery. Cochrane Database Syst Rev 3:CD4083

46.

Davis DB 2nd, Mandel MR (1994) Efficacy and complication rate of 16,224 consecutive peribulbar blocks. A prospective multicenter study. J Cataract Refract Surg 20:327–337

47.

Gillow JT, Aggarwal RK, Kirkby GR (1996) A survey of ocular perforation during ophthalmic local anaesthesia in the United Kingdom. Eye (Lond) 10(5):537–538
Ethics declarations
Interessenkonflikt
Gemäß den Richtlinien des Springer Medizin Verlags werden Autoren und Wissenschaftliche Leitung im Rahmen der Manuskripterstellung und Manuskriptfreigabe aufgefordert, eine vollständige Erklärung zu ihren finanziellen und nichtfinanziellen Interessen abzugeben.
Autoren
M. Schargus: A. Finanzielle Interessen: Forschungsförderung: Novartis. – Referent: Bayer, Novartis, Allergan. – Berater: Carl Zeiss Meditec. – B. Nichtfinanzielle Interessen: Chefarzt, Augenklinik, Asklepios Klinik Nord-Heidberg, Hamburg | Mitgliedschaften: Deutsche Ophthalmologische Gesellschaft, Retinologische Gesellschaft, Berufsverband der Augenärzte Deutschlands, American Academy of Ophthalmology. V. Schargus: A. Finanzielle Interessen: V. Schargus gibt an, dass kein finanzieller Interessenkonflikt besteht. – B. Nichtfinanzielle Interessen: Oberärztin, Augenklinik, Asklepios Klinik Nord-Heidberg, Hamburg | Mitgliedschaften: Deutsche Ophthalmologische Gesellschaft, Berufsverband der Augenärzte Deutschlands, American Academy of Ophthalmology. S. Rath: A. Finanzielle Interessen: S. Rath gibt an, dass kein finanzieller Interessenkonflikt besteht. – B. Nichtfinanzielle Interessen: Oberarzt, Klinik für Anästhesiologie und Operative Intensivmedizin, Universitätsklinikum Köln (AöR) | Mitgliedschaften: DGAI (Deutsche Gesellschaft für Anästhesie und Intensivmedizin), BDA (Berufsverband Deutscher Anästhesisten), DEGUM (Deutsche Gesellschaft für Ultraschall in der Medizin), ESAIC (European Society of Anaesthesiology and Intensive Care), GTÜM (Gesellschaft für Tauch- und Überdruckmedizin).
Wissenschaftliche Leitung
Die vollständige Erklärung zum Interessenkonflikt der Wissenschaftlichen Leitung finden Sie am Kurs der zertifizierten Fortbildung auf www.springermedizin.de/cme.
Der Verlag
erklärt, dass für die Publikation dieser CME-Fortbildung keine Sponsorengelder an den Verlag fließen.
Für diesen Beitrag wurden von den Autoren keine Studien an Menschen oder Tieren durchgeführt. Für die aufgeführten Studien gelten die jeweils dort angegebenen ethischen Richtlinien. Für Bildmaterial oder anderweitige Angaben innerhalb des Manuskripts, über die Patienten zu identifizieren sind, liegt von ihnen und/oder ihren gesetzlichen Vertretern eine schriftliche Einwilligung vor.
Additional information
Wissenschaftliche Leitung
F. Grehn, Würzburg
Unter ständiger Mitarbeit von:
H. Helbig, Regensburg
W.A. Lagrèze, Freiburg
U. Pleyer, Berlin
B. Seitz, Homburg/Saar
CME-Fragebogen
CME-Fragebogen
Die Lokalanästhesie wurde von Carl Koller mit der topischen Kokainanästhesie wann begründet?
1865
1884
1892
1902
1907
Was kommt als tropisches Lokalanästhetikum zum Einsatz?
Articain
Oxybuprocain
Mepivacain
Bupivacain
Ropivacain
Welcher der nachfolgenden Punkte könnte bei der Durchführung einer Allgemeinanästhesie am ehesten vernachlässigt werden?
POCD (postoperative kognitive Dysfunktionen) bei jungen Erwachsenen
PONV (postoperative Übelkeit und Erbrechen) bei Kindern
Der Einsatz von RSI ("rapid sequence induction") in Spezialfällen
Gegebenenfalls der Einsatz einer präemptiven Analgesie
Kurze arterielle hypertensive Phasen bei Glaukompatienten
Was muss präoperativ berücksichtigt werden?
Eine anxiolytische Prämedikation ist nur in Einzelfällen notwendig.
Ein Monitoring muss nur bei Allgemeinanästhesie angeschlossen werden.
Bei geplanten Operationszeiten für mehr als 2 h sollte eine Allgemeinanästhesie gewählt werden.
Die Gabe von Granisetron vor Narkosebeginn reduziert das Risiko einer PONV (postoperative Übelkeit und Erbrechen).
Eine Okulopression bei einem Glaukompatienten ist unproblematisch.
Wie hoch ist die Inzidenz einer Bulbuspenetration bei einer Peribulbäranästhesie?
0,0002 %
0,006 %
0,05 %
0,1 %
1 %
Was ist ein Symptom eines Retrobulbärhämatoms?
Enophthalmus
Bulbushypotonie
Protrusio bulbi
Ektropium
"Lid lag"
Eine 85-jährige Patientin mit ASA(American Society of Anaesthesiologists) 4 und fortgeschrittenem Glaukomschaden soll eine Trabekulektomie bekommen. Auf welche Faktoren ist in Bezug auf die Anästhesie zu achten?
Häufiges Auftreten einer PONV (postoperative Übelkeit und Erbrechen)
Gefahr der POCD (postoperative kognitive Dysfunktionen)
Eine RSI ("rapid sequence induction") ist zwingend notwendig.
Eine RBA (Retrobulbäranästhesie) mit Vasokonstriktoren wäre optimal.
Eine Begleitung einer geplanten Lokalanästhesie durch einen Anästhesisten ist nicht notwendig.
Wie hoch ist die POV("postoperative vomiting")-Inzidenz in Prozent bei einem 10-jährigen Kind bei einer Strabismusoperation mit geplanter Eingriffszeit von 45 min?
9 %
10 %
30 %
55 %
70 %
Welche Anästhesieform hat die geringste Bulbusakinesie zur Folge?
Retrobulbäranästhesie
Subtenonanästhesie
Subkonjunktivale Anästhesie
Parabulbäranästhesie
Allgemeinanästhesie
Was ist die sehr selten vital bedrohende Komplikation einer Retrobulbäranästhesie?
Apoplex
Hirnstammanästhesie
Herzinfarkt
Blutdruckkrise
Lungenembolie
About this article
Cite this article
Schargus, M., Schargus, V. & Rath, S. Anästhesieformen in der Augenheilkunde. Ophthalmologe 118, 413–428 (2021). https://doi.org/10.1007/s00347-021-01334-3
Accepted:

Published:

Issue Date:
Schlüsselwörter
Allgemeinanästhesie

Lokalanästhesie

Ophthalmochirurgie

Glaukomoperationen

Sedierung
Keywords
General anesthesia

Local anesthesia

Ophthalmic surgery

Glaucoma surgery

Sedation