Zusammenfassung
Toxische Retinopathien werden häufig durch externe Stimulanzien (z. B. Nikotin, Poppers, Methanol), seltener durch unerwünschte Arzneimittelwirkungen (UAW) systemisch (z. B. Hydroxychloroquin, Ethambutol, MEK-, ERK-, FLT3-, Checkpointinhibitoren, Didanosin, Pentosanpolysulfat-Natrium) oder intravitreal eingesetzte Medikamente verursacht. Die klinische Symptomatik von UAW ist oft ähnlich zu retinalen Erkrankungen anderer Ursache, sodass die Erkennung von UAW schwierig sein kann. Klinische Befunde, pathophysiologische Mechanismen und, wenn sinnvoll, Screeningstrategien werden diskutiert. Dabei liegt der Fokus auf der Darstellung in der Kausalität gesicherter UAW bei Medikamenten mit bereits langjähriger Zulassung. Bei neuen Medikamenten werden auch kausal ungesicherte Assoziationen dargestellt, um für die weitere Erkennung von UAW bei diesen Medikamenten zu sensibilisieren.
Abstract
Toxic retinopathies are most frequently induced by external stimulants (e.g. nicotine, poppers, methanol) and are less frequently undesired side effects of systemic drugs (e.g. hydroxychloroquine, ethambutol, MEK, ERK, FLT3 or checkpoint inhibitors, didanosine, pentosan polysulfate sodium) or intravitreally applied drugs. The clinical symptoms of undesired side effects of drugs are often similar to retinal diseases from other causes, which interferes with the recognition of the undesired side effects of drugs. Clinical findings, pathophysiological mechanisms and if advisable strategies for screening are discussed. The focus is on the presentation of confirmed undesirable side effects with established associations for medications which have long been approved. For novel medications, in addition potential but not proven associations are presented to facilitate the recognition of additional cases with side effects for these medications.
This is a preview of subscription content, log in to check access.
Access options
Buy single article
Instant access to the full article PDF.
US$ 39.95
Tax calculation will be finalised during checkout.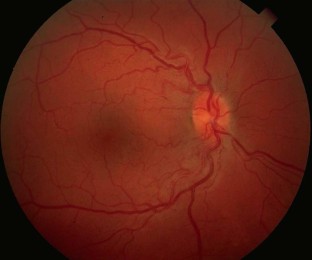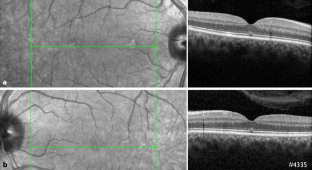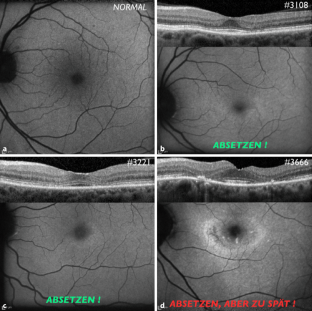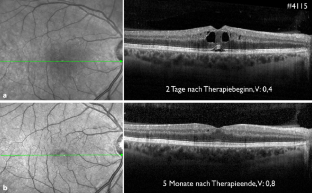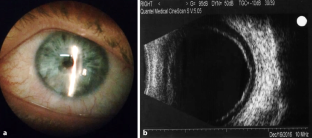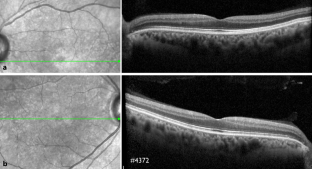 Literatur
1.

Nita M, Grybowski A (2017) Smoking and eye pathologies. A systematic review. Part II. Retina diseases, uveitis, optic neuropathies, thyroid-associated orbitopathy. Curr Pharm Des 23:639–654

2.

Cai X, Chen Y, Yang W et al (2018) The association of smoking and risk of diabetic retinopathy in patients with type 1 and type 2 diabetes: a meta-analysis. Endocrine 62:299–306

3.

Lee DH, Yi HC, Bae SH et al (2018) Risk factors for retinal microvascular impairment in type 2 diabetic patients without diabetic retinopathy. PLoS ONE 13:e202103

4.

Chua SYL, Dhillon B, Aslam T et al (2019) Associations with photoreceptor measurers in the UK Biobank. Sci Rep 9:19440

5.

Kotwal A, Stan M (2018) Current and future treatments for and Graves' Disease and Graves'Ophthalmopathy. Horm Metab Res 50:871–886

6.

Giordano L, Deceglie S, d'Adamo P, Valentino ML (2015) Cigarette toxicity triggers Leber's hereditary optic neuropathy by affecting mtDNA copy number, oxidative phosphorylation and ROS detoxification pathways. Cell Death Dis 17:e2021

7.

El-Shazly AAE, Farweez YAT, Elzankalony YA et al (2018) Effect of smoking on macular function and structure in active smokers versus passive smokers. Retina 38:1031–1040

8.

Yuan N, Li J, Tang S et al (2019) Association of secondhand smoking exposure with choroidal thinning in children aged 6 to 8 years. The Hongkong Children Eye Study. JAMA Ophthalmol 137:1–9

9.

Hudalla H, Bruckner T, Pöschl J et al (2020) Maternal smoking as an independent risk factor for the development of severe retinopathy of prematurity in very preterm infants. Eye. https://doi.org/10.1038/s41433-020-0963-4

10.

Ashina H, Li XQ, Olsen EM et al (2017) Association of maternal smoking during pregnancy and birth weight with retinal nerve fiber thickness in children aged 11 or 12 years: the Copenhagen Child Cohort 2000 Eye Study. JAMA Ophthalmol 135:331–337

11.

Rewbury R, Hughes E, Purbrick R et al (2017) Poppers: legal highs with questionable contents? A case series of poppers maculopathy. Br J Ophthalmol 101:1530–1153

12.

Nurieva O, Diblik P, Kuthan P et al (2018) Progressive chronic axonal loss following methanol-induced optic neuropathy: four-year prospective cohort study. Am J Ophthalmol 191:100–115

13.

Schlote T, Kellner U (2016) Unerwünschte Arzneimittelwirkungen in der Augenheilkunde: Update 2015/2016. Klin Monbl Augenheilkd 233:203–219

14.

Tsang SH, Sharma T (2018) Drug-induced retinal toxicity. Adv Exp Med Biol 1085:227–232

15.

Bourgeois N, Chavant F, Lafay-Chebassier C et al (2016) Drugs and retinal disorders: a case/non-case study in the French pharmacovigilance database. Therapie 71:365–374

16.

Marmor MF, Kellner U, Lai TY et al (2016) Recommendations on screening for chloroquine and hydroxychloroquine retinopathy (2016 revision). Ophthalmology 123:1386–1394

17.

Melles RB, Marmor MF (2015) Pericentral retinopathy and racial differences in hydroxychloroquine toxicity. Ophthalmology 122:110–116

18.

Ahn SJ, Joung J, Lim HW, Lee BR (2017) Optical coherence tomography protocols for screening of hydroxychloroquine retinopathy in Asian patients. Am J Ophthalmol 184:11–18

19.

Melles RB, Marmor MF (2014) The risk of toxic retinopathy in patients on long-term hydroxychloroquine therapy. JAMA Ophthalmol 132:1453–1460

20.

Garrity ST, Jung JY, Zambrowski O et al (2019) Early hydroxychloroquine retinopathy: optical coherence tomography abnormalities preceding Humphrey visual field defects. Br J Ophthalmol 103:1600–1604

21.

Kellner S, Weinitz S, Farmand G, Kellner U (2014) Cystoid macular oedema and epiretinal membrane formation during progression of chloroquine retinopathy after drug cessation. Br J Ophthalmol 98:200–206

22.

Nuzbrokh Y, Jauregui R, Oh JK et al (2020) Presumed chloroquine retinopathy with short-term therapy for glioblastoma multiforme. JAMA Ophthalmol. https://doi.org/10.1001/jamaophthalmol.2020.3251

23.

Nti AA, Serrano LW, Sandhu HS et al (2019) Frequent subclinical macular changes in combined BRAF/MEK inhibition with high-does hydroxychloroquine as treatment for advanced metastatic BRAF mutant melanoma: Preliminary results from a phase I/II clinical treatment trial. Retina 39:502–513

24.

DiNicola M, Barteselli G, Dell'Arti L et al (2015) Functional and structural abnormalities in Deferoxamine retinopathy. Biomed Res Int. https://doi.org/10.1155/2015/249617

25.

Jain N, Li AL, Yu Y, van der Beek BL (2020) Association of macular disease with long-term use of pentosan polysulfate sodium: findings from a US cohort. Br J Ophthalmol 104:1093–1097

26.

Vora RA, Patel AP, Melles R (2020) Prevalence of maculopathy associated with long-term pentosan polysulfate therapy. Ophthalmology 127:835–836

27.

Shah R, Simonett JM, Lyons RJ et al (2020) Disease course in patients with pentosan polysulfate sodium maculopathy after drug cessation. JAMA Ophthalmol 138:894–900

28.

Zaugg BE, Bell JE, Taylor KY, Bernstein PS (2017) Ezogabine (Potiga) maculopathy. Retin Cases Brief Rep 11:38–43

29.

Borovik AM, Bosch MM, Watson SL (2009) Ocular pigmentation associated with clozapine. Med J Aust 190:210–211

30.

Baba T, Kubota-Taniai M, Kitahashi M et al (2010) Two-year comparison of photodynamic therapy and intravitreal bevacizumab for treatment of myopic choroidal neovascularisation. Br J Ophthalmol 94:864–870

31.

Haug SJ, Wong RW, Day S et al (2016) Didanosine retinal toxicity. Retina 36(Suppl 1):S159–S167

32.

Sophie R, Moses GM, Hwang ES, Kim JE (2019) Fundus hypopigmentation and loss of choroidal nevi pigmentation associated with Nivolumab. JAMA Ophthalmol 137:851–853

33.

Gianni L, Panzini I, Li S et al (2006) International Breast Cancer Study Group. Ocular toxicity during adjuvant chemoendocrine therapy for early breast cancer: results from International Breast Cancer Study Group trials. Cancer 106:505–513

34.

Hager T, Seitz B (2013) Ocular side effects of biological agents in oncology: what should the clinician be aware of? Onco Targets Ther 24:69–77

35.

Crisostomo S, Vieira L, Cardigos J et al (2020) Tamoxifen-induced chorioretinal changes: an optical coherence tomography and optical tomography angiography study. Retina 40:1185–1190

36.

Wieder MS, Harooni M, Rusu I (2019) Association of crystalline retinopathy with anastrozole. JAMA Ophthalmol 137:581–582

37.

Hueber A, Rosentreter A, Severin M (2011) Canthaxanthion retinopathy: long-term observations. Ophthalmic Res 46:103–106

38.

Schlote T, Kellner U (2009) Nebenwirkungen von Medikamenten am Auge. Klin Monbl Augenheilkd 226:173–186

39.

Moss HE (2017) Visual consequences of medications for multiple sclerosis: the good, the bad, the ugly and the unknown. Eye Brain 29:13–21

40.

Heath G, Airody A, Gale RP (2017) The ocular manifestations of drugs used to treat Multiple Sclerosis. Drugs 77:303–311

41.

Chelala E, Arej N, Antoun J et al (2017) Central macular thickness monitoring after a taxane-based therapy in visually asymptomatic patients. Chemotherapy 62:199–204

42.

Perez JM, Teo K, Ong R et al (2020) Optical coherence tomography characteristics of taxane-induced macuar edema and other multimodal imaging findings. Graefe Arch. Clin Exp Ophthalmol 258:1607–1615

43.

Hu J, Vu JT, Hong B, Gottlieb C (2020) Uveitis and cystoid macular oedema secondary to topical prostaglandin analogue use in ocular hypertension and open-angle glaucoma. Br J Ophthalmol 104:1040–1044

44.

Shin YK, Lee GW, Kang SW et al (2020) Macular abnormalities associated with 5alpha-reductase inhibitor. JAMA Ophthalmol 138:732–739

45.

Breazzano MP, Coleman DJ, Chen RWS et al (2020) Prospective impact of sildenafil on chronic central serous chorioretinopathy. Ophthalmol Retin. https://doi.org/10.1016/j.oret.2020.06.006

46.

Araki T, Ishikawa H, Iawhashi C et al (2019) Central serous chorioretinopathy with and without steroids: a multicenter survey. PLoS ONE 24:e213110

47.

Aronow ME, Adamus G, Abu-Asab M et al (2012) Paraneoplastic vitelliform retinopathy: clinicopathologic correlation and review of the literature. Surv Ophthalmol 57:558–564

48.

Dalvin LA, Jihnson AA, Pulido JS et al (2015) Nonantibestrophin Anti-RPE antibodies in paraneoplastic exudative polymorphous vitelliform maculopathy. Transl Vis Sci Technol 15:4

49.

Van der Noll R, Leijen S, Neuteboom GH et al (2013) Effect of inhibition of the FGFR-MPAK signaling pathway on the development of ocular toxicities. Cancer Treat Rev 39:664–672

50.

Booth AEC, Hopkins AM, Rowland A (2020) Risk factors for MEK-associated retinopathy in patients with advanced melanoma treated with combination BRAF and MEK inhibitor therapy. Ther Adv Med Oncol 12:1–10

51.

Méndez-Martínez S, Calvo P, Ruiz-Moreno O (2019) Ocular adverse events associated with MEK inhibitors. Retina 39:1435–1450

52.

Lüdeke I, Terheyden P, Grisanti S, Lüke M (2016) Entwicklung einer serösen Retinopathie unter Behandlung eines metastasierenden kutanen Melanoms. Ophthalmologe 113:861–863

53.

Sandhu HS, Kolomeyer AM, Lau MK et al (2017) Acute exudative paraneoplastic polymorphous vitelliform maculopathy during vermurafenib and pembrolizumab treatment for metastatic melanoma. Retin Cases Brief Rep 13:103–107

54.

Sioufi K, Das S, Say EAT (2020) A case of extracellular signal-regulated kinase inhibitor associated retinopathy. JAMA Ophthalmol 138:1002–1004

55.

Mantopoulus D, Kendra KL, Letson AD, Cebulla CM (2015) Bilateral choroidopathy and serous retinal detachments during ipilimumab treatment for cutaneous melanoma. JAMA Ophthalmol 133:965–967

56.

Dalvin LA, Shields CL, Orloff M et al (2018) Checkpoint inhibitor immune therapy. Systemic indications and ophthalmic side effects. Retina 38:1063–1078

57.

Liu Y, Haq Z, Pasricha ND, Beyer GJ (2020) Acute macular neuroretinopathy associated with an oral FLT3 inhibitor. JAMA Ophthalmol. https://doi.org/10.1001/jamaophthalmol.2020.2815

58.

Salgado JP, Khoramnia R, Maier MM et al (2011) Akute Visusminderung während der Therapie einer chronischen Hepatitis C. Ophthalmologe 108:561–564

59.

Rentiya ZS, Wells M, Bae J et al (2019) Interferon-α-induced retinopathy in chronic hepatitis C treatment: summary, considerations, and recommendations. Graefes Arch Clin Exp Ophthalmol 257:447–452

60.

Lai CH, Yang YH, Chen PC et al (2017) Retinal vascular complications associated with interferon-ribavirin therapy for chronic hepatitis C: A population-based study. Pharmacoepidemiol Drug Saf. https://doi.org/10.1002/pds.4363

61.

Kondapalli SSA (2020) Retinal vasculitis after administration of Brolucizumab resulting in severe loss of visual acuity. JAMA Ophthalmol. https://doi.org/10.1001/jamaophthalmol.2020.2810

62.

Baumal CR, Spaide RF, Vajzovic L et al (2020) Retinal vasculitis and intraocular inflammation after intravitreal injection of Brolucizumab. Ophthalmology. https://doi.org/10.1016/j.ophtha.2020.04.017

63.

Sun MT, Wood MK, Chan WO et al (2017) Risk of intraocular bleeding with novel oral anticoagulants compared with warfarin. A systematic review and meta-analysis. JAMA Ophthalmol 135:864–870

64.

Treder M, Alnawaiseh M, Wirths G et al (2018) Spontane intraokulare Blutungen unter oraler Antikoagulation: Axipaban in Vergleich zu Phenprocoumon. Ophthalmologe 115:573–578

65.

Uyhazi KE, Miano T, Pan W et al (2018) Association of novel oral antithrombotics with the risk of intraocular bleeding. JAMA Ophthalmol 136:122–130

66.

Makuloluwa AK, Tiew S, Briggs M (2019) Peri-operative management of ophthalmic patients on anti-thrombotic agents: a literature review. Eye 33:1044–1059

67.

Cordero-Coma M, Salazar-Méndez R, Garzo-Garcia I, Yilmaz T (2015) Drug-induced uveitis. Expert Opin Drug Saf 14:111–126

68.

Agarwal M, Majumder PD, Babu K et al (2020) Drug-induced uveitis: a review. Indian J Ophthalmol 68:1799–1807

69.

Keren S, Leibovitch I, Cnaan RB et al (2019) Aminobiphosphonate-associated orbital and ocular inflammatory disease. Acta Ophthalmol 97:e792–e799

70.

Lee H, Jin Y, Roh M et al (2020) Risk of cataract surgery and age-related macular degeneration after initiation of Denosumab vs Zolderonic acid for osteoporosis: a multi-database cohort study. Drugs Aging 37:311–320

71.

Padidam S, Burke MT, Apple DB et al (2019) Association of Ledipasvir-Sofosbuvir treatment with uveitis in patients treated for hepatitis C. JAMA Ophthalmol 137:568–570

72.

Yang MC, Lin KY (2019) Drug-induced acute angle-closure glaucoma: a review. J Curr Glaucoma Pract 13:104–109

73.

Winter G, Schaudig U, Stemplewitz B (2020) Chlortalidon als Ursache eines bilateralen Effusionssyndroms. Ophthalmologe. https://doi.org/10.1007/s00347-020-01091-9

74.

Wright T, Kumarappah A, Stavropoulos A et al (2017) Vigabatrin toxicity in infancy is associated with retinal defect in adolescence. Retina 37:858–858

75.

Witkin AJ, Chang DF, Jumper MJ et al (2017) Vancomycin-associated hemorrhagic occlusive retinal vasculitis: clinical characteriistics of 36 eyes. Ophthalmology 124:583–595

76.

Bowen RC, Zhou AX, Bondalapati S et al (2018) Comparative analysis of the safety and efficacy of intracameral cefuroxime, moxifloxacin and cancomycin at the end of cataract surgery: a meta-analysis. Br J Ophthalmol 102:1268–1276

77.

Penha FM, Rodrigues EB, Furlani BA et al (2011) Toxicological considerations for intravitreal drugs. Expert Opin Drug Metab Toxicol 7:1021–1034

78.

Bracha P, Ciulla TA, Baumal CR (2018) Vital dyes in vitreomacular surgery. Ophthalmic Surg Lasers Imaging Retina 49:788–798

79.

Fine HF, Reshef ER, Prenner JL et al (2019) Clinical fidnings in triamcinolone-associated maculopathy. Retina 39:761–765

80.

Coco RM, Srivastava GK, André-Iglesias C et al (2019) Acute retinal toxicity associated with a mixture of perfluorooctane and perfluorohexyloctane: failure of another indirect cytotoxicity analysis. Br J Ophthalmol 103:49–54

81.

Chamberlain PD, Sadaka A, Berry S, Lee AG (2017) Ethambutol-optic neuropathy. Curr Opin Ophthalmol 28:545–551

82.

Mandal S, Saxena R, Dhiman R et al (2020) Prospective study to evakluate incidence and indicators for early detection of ethambutol toxicity. Br J Ophthalmol. https://doi.org/10.1136/bjophthalmol-2020-316897

83.

Alsheri M, Joury A (2020) Oculr adverse effects of amiodaronea systematic review of case reports. Optom Vis Sci 97:536–542

84.

Sotgiu G, Centis R, D'Ambrosio L et al (2012) Efficacy, safety and tolerability of linezolid containing regimens in treating MDR-TB and XDR-TB: systematic review and meta-analysis. Eur Respi J 40:1430–1442

85.

Jaspard M, Butel N, El Helali N et al (2020) Linezolid-associated neurologic adverse events in patients with multidrug-resistant tuberculosis, France. Emerg Infect Dis 26:1792–1800
Ethics declarations
Interessenkonflikt
Gemäß den Richtlinien des Springer Medizin Verlags werden Autoren und Wissenschaftliche Leitung im Rahmen der Manuskripterstellung und Manuskriptfreigabe aufgefordert, eine vollständige Erklärung zu ihren finanziellen und nichtfinanziellen Interessen abzugeben.
Autoren
U. Kellner: A. Finanzielle Interessen: Teilnahme an wissenschaftlichen Studien (finanziert von 2016–2021): Bayer Vital, Mylan Ltd., Novartis, Samsung, Roche, Gyroscope/Medspace Ltd. – Referent (mit finanzieller Unterstützung von 2016–2021): Heidelberg Engineering, Novartis. – Wissenschaftliche Beratung (2016–2021): Grünenthal, Roche. – Beteiligung, Geschäftsanteile (2016–2021): Gesellschafter der UDRBK GmbH, über diese Gesellschaftsbeteiligung an der MVZ Augenärztliches Diagnostik- und Therapiecentrum Siegburg GmbH, ein Partner-Zentrum der Ober-Scharrer-Gruppe. – B. Nichtfinanzielle Interessen: Geschäftsführer und Ärztlicher Leiter der MVZ Augenärztliches Diagnostik- und Therapiecentrum Siegburg GmbH, ein Partner-Zentrum der Ober-Scharrer-Gruppe | Mitgliedschaften: Association for Research and Vision in Ophthalmology (ARVO), Deutsche Ophthalmologische Gesellschaft (DOG, Arbeitskreis Leitlinien), International Society for Clinical Electrophysiology of Vision (ISCEV), International Society for Genetic Eye Diseases and Retinoblastoma (ISGEDR), Retinologische Gesellschaft (RG), Rheinisch-Westfälische Augenärzte (RWA), Berufsverband der Augenärzte Deutschlands (BVA), Bundesverband Deutscher Ophthalmochirurgen (BDOC), Vereinigung Operierender Augenärzte Nordrhein (VOA, Vorstandsvorsitzender), Pro Retina Deutschland (Leiter Arbeitskreis klinische Fragen, wissenschaftlich-medizinischer Beirat). S. Kellner: A. Finanzielle Interessen: Beteiligung, Geschäftsanteile (2016–2021): Gesellschafter der UDRBK GmbH, über diese Gesellschaftsbeteiligung an der MVZ Augenärztliches Diagnostik- und Therapiecentrum Siegburg GmbH, ein Partner-Zentrum der Ober-Scharrer-Gruppe. – B. Nichtfinanzielle Interessen: Angestellte Augenärztin, AugenZentrum Siegburg, MVZ Augenärztliches Diagnostik- und Therapiecentrum Siegburg GmbH. S. Weinitz: A. Finanzielle Interessen: S. Weinitz gibt an, dass kein finanzieller Interessenkonflikt besteht. – B. Nichtfinanzielle Interessen: Angestellte Study Nurse, Leading Study Manager, AugenZentrum Siegburg, MVZ Augenärztliches Diagnostik- und Therapiecentrum Siegburg GmbH. G. Farmand: A. Finanzielle Interessen: G. Farmand gibt an, dass kein finanzieller Interessenkonflikt besteht. – B. Nichtfinanzielle Interessen: Angestellte Study Nurse, Assistant Study Manager, AugenZentrum Siegburg, MVZ Augenärztliches Diagnostik- und Therapiecentrum Siegburg GmbH.
Wissenschaftliche Leitung
Die vollständige Erklärung zum Interessenkonflikt der Wissenschaftlichen Leitung finden Sie am Kurs der zertifizierten Fortbildung auf www.springermedizin.de/cme.
Der Verlag
erklärt, dass für die Publikation dieser CME-Fortbildung keine Sponsorengelder an den Verlag fließen.
Für diesen Beitrag wurden von den Autoren keine Studien an Menschen oder Tieren durchgeführt. Für die aufgeführten Studien gelten die jeweils dort angegebenen ethischen Richtlinien.
Additional information
Wissenschaftliche Leitung
F. Grehn, Würzburg
Unter ständiger Mitarbeit von:
H. Helbig, Regensburg
W.A. Lagrèze, Freiburg
U. Pleyer, Berlin
B. Seitz, Homburg/Saar
CME-Fragebogen
CME-Fragebogen
Welche Wirkung von Stimulanzien auf die Retina ist nachgewiesen?
Methanol bewirkt eine direkte Schädigung der Fotorezeptoren.
Rauchen ist kein Risikofaktor für die altersbedingte Makuladegeneration (AMD).
Kinder rauchender Mütter haben ein erhöhtes Risiko für eine verdünnte Nervenfaserschicht.
OCT(optische Kohärenztomographie)-Veränderungen nach Poppers zeigen sich im Bereich der großen Gefäßbögen.
Nikotin bewirkt in der Regel eine akute Schädigung.
Ein Patient vermutet eine Schädigung seines Sehvermögens durch seine Medikamente. Was müssen Sie bei der Beratung beachten?
Potenzielle okuläre unerwünschte Arzneimittelwirkungen (UAW) werden bei vielen Medikamenten erwähnt, ohne dass ein kausaler Zusammenhang belegt ist.
Dem Patienten sollte die Internetadresse des Paul-Ehrlich-Instituts mitgegeben werden.
Unerwünschte Arzneimittelwirkungen (UAW) werden üblicherweise vor Zulassung in Phase-3-Studien erkannt.
Die Meldung von unerwünschten Arzneimittelwirkungen (UAW) ist nur bei gesichertem Nachweis des Zusammenhangs möglich.
Bei Diagnose einer unerwünschten Arzneimittelwirkung (UAW) sollte der Augenarzt das Medikament unmittelbar absetzen.
Was ist bei der Beurteilung einer Therapie mit Chloroquin wichtig?
Ausschluss einer Schädigung der Bipolarzellen
Überprüfung der verwendeten Tagesdosis
Testweises Absetzen zur Überprüfung eines reversiblen Gesichtsfeldausfalls
Ausschluss einer fovealen Schädigung bei Menschen asiatischer Herkunft
Eine jährliche Angiographie zur Früherkennung einer exsudativen Retinopathie
Sie sehen bei einem Patienten degenerative Veränderungen von Photorezeptoren und retinalem Pigmentepithel (RPE). Welche Medikamente müssen Sie differenzialdiagnostisch erwägen?
Linezolid, Amiodaron
Fingolimod, Ethambutol
Kortikosteroide, Canthaxanthin
Didanosin, Verteporfin, Clozapin
Rifabutin, Vigabatrin
Eine 75-jährige Patientin stellt sich bei Ihnen mit einer einseitigen Visusminderung vor. Bei der Untersuchung entdecken Sie eine einseitige Bindehautrötung, Einschränkung der Augenbeweglichkeit und intravitreale Zellen. Welche Medikamente sollten Sie bei der Anamnese auf jeden Fall erfragen?
Hydroxychloroquin
Deferoxamin
Anastrozol
Interferon
Bisphosphonate
Eine 67-jährige Patientin bemerkt eine Sehverschlechterung unter Behandlung eines metastasierenden malignen Melanoms. Welche Diagnostik ist initial sinnvoll?
Eine Fundoskopie und eine optische Kohärenztomographie (OCT) zur Darstellung exsudativer retinaler Veränderungen
Ein Mikroperimetrie zur Abklärung zentraler Fixationsverluste
Eine Computertomographie zum Ausschluss orbitaler Metastasen
Eine Magnetresonanztomographie zum Ausschluss zerebraler Metastasen
Eine Ultraschallbiomikroskopie zum Ausschluss einer Ziliarkörperschwellung
Eine 36-jährige Grafikerin will sich aufgrund der Nachbehandlung bei Mammakarzinom mit Tamoxifen in Bezug auf Risiken für das Sehen bei Ihnen beraten lassen. Was müssen Sie berücksichtigen?
Tamoxifen bewirkt Depigmentierungen im retinalen Pigmentepithel (RPE).
Die unerwünschten Arzneimittelwirkungen (UAW) haben aufgrund einer Dosiserhöhung zugenommen.
Eine optische Kohärenztomographie (OCT) sollte 2‑mal jährlich durchgeführt werden.
Kristalline Einlagerungen können selten auftreten.
Ein zystoides Makulaödem ist häufig.
Welche reversiblen retinalen Funktionsstörungen können durch unerwünschte Arzneimittelwirkungen (UAW) im Rahmen der Einnahme eines bestimmten Medikamentes auftreten?
Zentrale Skotome durch Vigabatrin treten rezidivierend über einen Zeitraum von 2 Wochen auf.
Vorübergehende Photopsien, die direkt nach Beginn einer Pentosanpolysulfat-Natrium-Therapie auftreten
Verdunklungserscheinungen, hervorgerufen durch Topiramat
Farbsinnstörungen bei niedriger Dosierung von Digitalis-Präparaten
Phosphodiesterase-5-Hemmer sind mit vorübergehenden Farbsehstörungen assoziiert.
Ein 64-jähriger Patient mit einer sehbeeinträchtigenden epiretinalen Gliose am einzigen Auge hat sich detailliert über Risiken belesen und wünscht Ihre Beratung vor einer Besprechung mit dem Operateur. Welche Risiken sind zu berücksichtigen?
Bei Farbstoffen zur Anfärbung epiretinaler Membranen sind keine unerwünschten Arzneimittelwirkungen (UAW) bekannt.
Triamcinolon-Kristalle können lange persistieren.
Gentamycin parabulbär ist bei nahtloser Vitrektomie sinnvoll.
Im Falle einer Endophthalmitis ist Vancomycin nicht retinotoxisch.
Bei Fertigpräparaten sind keine Schädigungen zu erwarten.
Ein 35-jähriger Mann mit einer neu aufgetretenen Tuberkulose möchte sich von Ihnen hinsichtlich des Risikos einer Optikusatrophie beraten lassen. Sie empfehlen:
Eine OCT(optische Kohärenztomographie)-Kontrolle der Makula alle 4 Wochen
Die Ableitung eines VEPs (visuell evozierte Potenziale) alle 6 Wochen
Eine sofortige augenärztliche Kontrolle bei Sehstörungen
Eine 30-Grad-Perimetrie alle 8 Wochen
Umstellung von Ethambutol auf Linezolid
About this article
Cite this article
Kellner, U., Kellner, S., Weinitz, S. et al. Toxische Retinopathien. Ophthalmologe (2020). https://doi.org/10.1007/s00347-020-01260-w
Schlüsselwörter
Chloroquin

Nikotin

Retina

Toxizität

Unerwünschte Arzneimittelwirkungen
Keywords
Hydroxychloroquine

Nicotine

Undesired medicinal side effects

Retina

Toxicity