Zusammenfassung
Hintergrund und Zielsetzung
In der klinischen Routine wird die Umrechnung von Hornhautradien in Brechwerte mit einem Keratometerindex selten hinterfragt. Ziel dieser Studie war es, bei pseudophaken Augen aus der biometrischen Vermessung, dem Linsenbrechwert sowie der Refraktion den Keratometerindex zurückzurechnen und mit etablierten Keratometerindizes zu vergleichen.
Patienten und Methoden
In dieser retrospektiven Fallserie wurden 99 Augen von 99 Patienten ohne Pathologien/Vorerkrankungen oder vorausgegangene operative Eingriffen mit Ausnahme der Kataraktoperation eingeschlossen, die eine CT Asphina 409M(P) (Carl-Zeiss Meditec, Berlin, Deutschland)-Intraokularlinse erhalten hatten (Operateure EF und PE). Aus der optischen Biometrie (IOLMaster 700, Carl-Zeiss Meditec, Jena, Deutschland) wurden die Augenlänge, die pseudophake Vorderkammertiefe und Linsendicke sowie der Krümmungsradius der Hornhaut entnommen. Die Refraktion wurde subjektiv mit Messbrille (Messdistanz 5 m) und Autorefraktometrie (iProfiler, Carl-Zeiss, Jena, Deutschland) erfasst. Drei Augenmodelle wurden angesetzt: dünne Linse mit nominellem Brechwert in der Äquatorebene (Modell A) oder der bildseitigen Hauptebene (Modell B der dicken Linse) und Berücksichtigung der Intraokularlinse als dicke Linse an ihrer biometrisch gemessenen Position (Modell C).
Ergebnisse
Aus der Rückrechnung des Keratometerindex auf der Basis einer Vergenzformel ergab sich auf der Basis der subjektiven Refraktion unter Berücksichtigung der Refraktionsmessdistanz für Modell A/B/C ein Wert von 1,3307 ± 0,0026/1,3312 ± 0,0026/1,3320 ± 0,0027. Mit der objektiven Refraktion (Autorefraktometer kalibriert auf Objektentfernungen in Unendlich) resultierte für Modell A/B/C ein Wert von 1,3301 ± 0,0021/1,3306 ± 0,0021/1,3315 ± 0,0021. Der Keratometerindex zeigte für alle 3 Modelle sowie für beide Refraktionsverfahren keine Abhängigkeit (lineare Regression) von der Augenlänge oder dem Hornhautradius.
Schlussfolgerungen
Der ermittelte Keratometerindex stimmt sehr gut mit dem etablierten Zeiss-Index (1,332) überein, weicht jedoch deutlich von anderen etablierten Indizes, wie z. B. dem Javal-Index (1,3375), ab. Der fehlende Trend bezüglich Augenlänge oder Hornhautradius deutet darauf hin dass der hier ermittelte Keratometerindex von knapp unter 1,332, sich sehr gut eignet, um mit der Vergenzformel für dünne oder dicke Linsen ohne weitere Korrekturterme Intraokularlinsen zu berechnen, bei denen die effektive Linsenposition mit der physikalischen Position übereinstimmt.
Abstract
Background and purpose
In the clinical routine the conversion of corneal radii into corneal refractive power using a keratometer index is rarely discussed. The purpose of this study was to back-calculate the keratometer index in pseudophakic eyes based on the refractive power of the lens, biometric measurements and refraction, and to compare it to clinically established values.
Patients and methods
In this retrospective case series 99 eyes of 99 patients without pathological alterations, previous diseases, comorbidities or history of ocular surgery apart from the uneventful cataract surgery were enrolled. In all eyes a CT Asphina 409M(P) (Carl-Zeiss Meditec, Berlin, Germany) had been implanted by two surgeons (EF and PE). For calculation we used shape and power data of the intraocular lens and data from optical biometry (axial length, pseudophakic anterior chamber depth, lens thickness, corneal radius; IOLMaster 700, Carl-Zeiss Meditec, Jena, Germany). The refraction was derived manually with a trial frame (measurement distance 5 m) and autorefractometry (iProfiler, Carl-Zeiss, Jena, Germany). For this three model eyes were used: a thin lens with the nominal refractive power positioned in the equatorial plane (model A) or in the secondary principal plane of the thick lens (model B) as well as a model considering the intraocular lens as a thick lens located at its measured position (model C).
Results
Back-calculation of the keratometer index using vergence formulas resulted in a keratometer index based on subjective refraction measurements considering lane distance correction of 1.3307 ± 0.0026/1.3312 ± 0.0026/1.332 ± 0.0027 for model A/model B/model C, respectively. Based on objective refraction measurements (autorefraction calibrated to infinity object distances) resulted in a keratometer index of 1.3301 ± 0.0021/1.3306 ± 0.0021/1.3315 ± 0.0021, for model A/model B/model C, respectively. The keratometer index did not show any trend in linear regression for axial length or corneal radius for any of the three models or for any refraction method.
Conclusion
The keratometer index derived from back-calculation matched with the Zeiss index (1.332) but was much lower compared to other established indexes, e.g. the Javal index (1.3375). The missing trend for axial length or corneal radius implies that simple vergence formulas for intraocular lens refractive power calculation without correction terms or fudge factors perform best with a keratometer index slightly below 1.332, if the biometrically measured position of the intraocular lens is used as the effective lens position.
Access options
Buy single article
Instant access to the full article PDF.
US$ 39.95
Tax calculation will be finalised during checkout.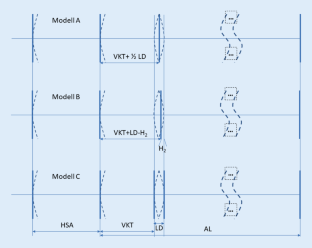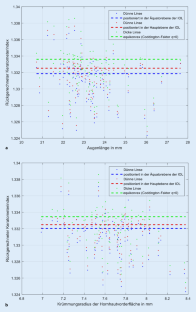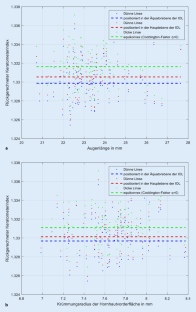 Literatur
1.

Cooke DL, Cooke TL (2019) Approximating sum-of-segments axial length from a traditional optical low-coherence reflectometry measurement. J Cataract Refract Surg 45(3):351–354

2.

Cooke DL, Cooke TL (2019) A comparison of two methods to calculate axial length. J Cataract Refract Surg 45(3):284–292. https://doi.org/10.1016/j.jcrs.2018.10.039

3.

DIN e. V. (Hrsg) (2018) ISO 11979-1-10:2018 Ophthalmic implants—Intraocular lenses. Beuth, Berlin

4.

Fam HB, Lim KL (2007) Validity of the keratometric index: large population-based study. J Cataract Refract Surg 33(4):686–691

5.

Fyodorov SN, Galin MA, Linksz A (1975) Calculation of the optical power of intraocular lenses. Invest Ophthalmol 14:625–628

6.

Gernet H, Ostholt H, Werner H (1970) Die präoperative Berechnung intraocularer Binkhorst-Linsen. 122. Vers. d. Ver. Rhein.-Westfäl. Augenärzte. Zimmermann, Balve, S 54–55

7.

Haigis W (2012) Challenges and approaches in modern biometry and IOL calculation. Saudi J Ophthalmol 26(1):7–12

8.

Ho JD, Tsai CY, Tsai RJ, Kuo LL, Tsai IL, Liou SW (2008) Validity of the keratometric index: evaluation by the Pentacam rotating Scheimpflug camera. J Cataract Refract Surg 34(1):137–145

9.

Hoffer KJ (1981) Intraocular lens calculation: the problem of the short eye. Ophthalmic Surg 12(4):269–272

10.

Hoffer KJ (1980) Steps for IOL power calculation. J Am Intraocul Implant Soc 6(4):370

11.

Hoffer KJ (1993) The Hoffer Q formula: a comparison of theoretic and regression formulas. J Cataract Refract Surg 19(6):700–712

12.

Holladay JT, Prager TC, Chandler TY, Musgrove KH, Lewis JW, Ruiz RS (1988) A three-part system for refining intraocular lens power calculations. J Cataract Refract Surg 14(1):17–24

13.

Langenbucher A, Haigis W, Seitz B (2004) Difficult lens power calculations. Curr Opin Ophthalmol 15(1):1–9

14.

Liou HL, Brennan NA (1997) Anatomically accurate, finite model eye for optical modeling. J Opt Soc Am A Opt Image Sci Vis 14(8):1684–1695

15.

Olsen T (1986) On the calculation of power from curvature of the cornea. Br J Ophthalmol 70(2):152–154. https://doi.org/10.1136/bjo.70.2.152

16.

Olsen T, Jeppesen P (2018) Ray-tracing analysis of the corneal power from Scheimpflug data. J Refract Surg 34(1):45–50

17.

Preussner PR, Wahl J, Weitzel D (2005) Topography-based intraocular lens power selection. J Cataract Refract Surg 31(3):525–533

18.

Retzlaff JA, Sanders DR, Kraff MC (1990) Development of the SRK/T intraocular lens implant power calculation formula. J Cataract Refract Surg 16(3):333–340

19.

Sanders DR, Retzlaff JA, Kraff MC, Gimbel HV, Raanan MG (1990) Comparison of the SRK/T formula and other theoretical and regression formulas. J Cataract Refract Surg 16(3):341–346

20.

Schröder S, Langenbucher A (2018) Relationship between effective lens position and axial position of a thick intraocular lens. PLoS ONE. https://doi.org/10.1371/journal.pone.0198824

21.

Wang L, Holladay JT, Koch DD (2018) Wang-Koch axial length adjustment for the Holladay 2 formula in long eyes. J Cataract Refract Surg 44(10):1291–1292

22.

Wang L, Koch DD (2018) Modified axial length adjustment formulas in long eyes. J Cataract Refract Surg 44(11):1396–1397

23.

Wang L, Shirayama M, Ma XJ, Kohnen T, Koch DD (2011) Optimizing intraocular lens power calculations in eyes with axial lengths above 25.0 mm. J Cataract Refract Surg 37(11):2018–2027
Ethics declarations
Interessenkonflikt
A. Langenbucher, P. Eberwein, E. Fabian, N. Szentmáry und J. Weisensee bestätigen, dass keine finanziellen Interessen an den im Manuskript beschriebenen Methoden oder den Ergebnissen vorliegen.
Für diesen Beitrag wurden von den Autoren keine Studien an Menschen oder Tieren durchgeführt. Für die aufgeführten Studien gelten die jeweils dort angegebenen ethischen Richtlinien.
About this article
Cite this article
Langenbucher, A., Eberwein, P., Fabian, E. et al. Rückrechnung des Keratometerindex – Welcher Wert wäre bei der Kataraktchirurgie richtig gewesen?. Ophthalmologe 118, 356–366 (2021). https://doi.org/10.1007/s00347-020-01182-7
Schlüsselwörter
Gauß-Optik

Paraxiale Optik

Keratometer

Biometrie

Kataraktoperation
Keywords
Gaussian linear optics

Paraxial optics

Keratometer

Biometry

Cataract surgery