Zusammenfassung
Ein 55-jähriger Patient stellte sich mit beidseitigem Verschwommensehen bei uns vor. Allgemeinanamnestisch war eine chronisch lymphatische Leukämie bekannt, welche mit einer Immunchemotherapie mit Fludarabin, Cyclophosphamid und Rituximab therapiert wurde. Die statische Perimetrie zeigte eine homonyme Hemianopsie nach links. Die neurologische Untersuchung ergab einen sonst unauffälligen Befund. Mittels kranieller Magnetresonanztomographie und Liquorpunktion wurde eine progressive multifokale Leukenzephalopathie (PML) diagnostiziert. Dabei handelt es sich um eine seltene demyelinisierende ZNS-Erkrankung, die durch Reaktivierung des JC-Virus hervorgerufen wird. Betroffen sind Patienten mit HIV, malignen hämatologischen Erkrankungen oder immunmodulatorischer Therapie. Eine spezifische, antivirale Therapie der PML existiert bislang nicht. Die Prognose ist somit schlecht. Nach progredientem Krankheitsverlauf verstarb unser Patient 4 Monate nach Diagnosestellung.
Abstract
A 55-year-old male patient presented with bilateral blurred vision. Chronic lymphocytic leukemia was generally known in the medical history, which was treated by immunochemotherapy with fludarabine, cyclophosphamide and rituximab. Static perimetry revealed a homonymous hemianopia to the left. The neurological examination was otherwise unremarkable. Progressive multifocal leukoencephalopathy (PML) was diagnosed by cranial magnetic resonance imaging and detection of JC virus DNA in the cerebrospinal fluid. The PML is a rare demyelinating disease of the central nervous system caused by reactivation of the JC virus. It affects patients with HIV, malignant hematological diseases and immunomodulatory therapy. A specific, antiviral treatment does not yet exist. The prognosis of PML is therefore poor. After a progressive course of the disease the patient died 4 months after the diagnosis.
Access options
Buy single article
Instant access to the full article PDF.
US$ 39.95
Tax calculation will be finalised during checkout.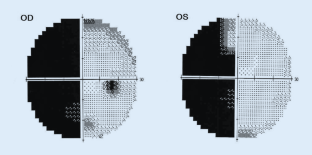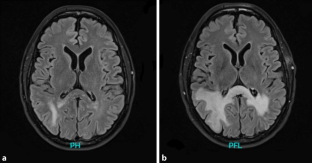 Literatur
1.

Bohra C, Sokol L, Dalia S (2017) Progressive multifocal leukoencephalopathy and monoclonal antibodies: a review. Cancer Control 24(4):1073274817729901

2.

Caldarelli-Stefano R, Vago L, Omodeo-Zorini E, Mediati M, Losciale L, Nebuloni M et al (1999) Detection and typing of JC virus in autopsy brains and extraneural organs of AIDS patients and non-immunocompromised individuals. J Neurovirol 5(2):125–133

3.

Pavlovic D, Patera AC, Nyberg F, Gerber M, Liu M (2015) Progressive multifocal leukoencephalopathy: current treatment options and future perspectives. Ther Adv Neurol Disord 8(6):255–273

4.

Berger JR, Malik V, Lacey S, Brunetta P, Lehane PB (2018) Correction to: progressive multifocal leukoencephalopathy in rituximab-treated rheumatic diseases: a rare event. J Neurovirol 24:332

5.

Alstadhaug KB, Myhr K‑M, Rinaldo CH (2017) Progressive multifocal leukoencephalopathy. Tidsskr Nor Laegeforen 137:23–24

6.

Bartsch T, Rempe T, Leypoldt F, Riedel C, Jansen O, Berg D et al (2019) The spectrum of progressive multifocal leukoencephalopathy: a practical approach. Eur J Neurol 26(4):566–e41

7.

Jamilloux Y, Kerever S, Ferry T, Broussolle C, Honnorat J, Seve P (2016) Treatment of progressive multifocal leukoencephalopathy with mirtazapine. Clin Drug Investig 36(10):783–789

8.

Khanna N, Elzi L, Mueller NJ, Garzoni C, Cavassini M, Fux CA et al (2009) Incidence and outcome of progressive multifocal leukoencephalopathy over 20 years of the Swiss HIV Cohort Study. Clin Infect Dis 48(10):1459–1466
Ethics declarations
Interessenkonflikt
J. Orphal und N. Terai geben an, dass kein Interessenkonflikt besteht.
Für diesen Beitrag wurden von den Autoren keine Studien an Menschen oder Tieren durchgeführt. Für die aufgeführten Studien gelten die jeweils dort angegebenen ethischen Richtlinien. Für Bildmaterial oder anderweitige Angaben innerhalb des Manuskripts, über die Patienten zu identifizieren sind, liegt von ihnen und/oder ihren gesetzlichen Vertretern eine schriftliche Einwilligung vor.
About this article
Cite this article
Orphal, J., Terai, N. Ophthalmologische Erstmanifestation einer letalen Grunderkrankung. Ophthalmologe 118, 590–592 (2021). https://doi.org/10.1007/s00347-020-01164-9
Schlüsselwörter
Progressive multifokale Leukenzephalopathie

JC-Virus

Homonyme Hemianopsie

Immunmodulatorische Therapie

Monoklonale Antikörper
Keywords
Progressive multifocal leukoencephalopathy

JC virus

Homonymous hemianopia

Immunomodulatory therapy

Monoclonal antibodies