Zusammenfassung
Der zerebrale Folatmangel (CFD) führt unbehandelt neben neurologischen Veränderungen zu einer massiven Degeneration der Aderhaut/Netzhaut, die das Gesichtsfeld und die Sehschärfe zunehmend einschränken. Im Folgenden stellen wir den Fall einer Patientin mit einem CFD vor, die bereits im Vorschulalter durch autistische Persönlichkeitszüge auffiel und erst im Alter von 3 Jahren zu sprechen begann. Im Alter von 6 Jahren wurde sie wegen einer unklaren Visusminderung am rechten Auge vorgestellt. Die bei Erstvorstellung noch milden Aderhaut‑/Netzhautveränderungen beidseits in der Peripherie wurden in den Folgejahren deutlicher, und es trat eine zentral betonte chorioretinale Atrophie hinzu. Im Verlauf kam es zu einer weiteren beidseitigen Visusminderung, welche ab dem 14. Lebensjahr bei 0,1 stagnierte. Die kausale Zuordnung der Befunde der Patientin war über Jahre hinweg nicht möglich: Eine Chorioideremie wurde molekulargenetisch ausgeschlossen (CHM-Gen ohne auffällige Mutation), gegen eine Atrophia gyrata sprach der normale Ornithin-Spiegel. Eine Mitochondriopathie wurde, soweit möglich, mittels Exomsequenzierung ausgeschlossen. Mit Hinzutreten weiterer nichtokulärer Symptome (neuromuskuläre Störungen, EEG-Veränderungen, autistische Störung) erfolgte eine nochmalige intensivierte Labordiagnostik durch die behandelnde Kinderklinik. Schließlich gelang mit dem Nachweis einer äußerst niedrigen Konzentration des Folsäuremetaboliten 5‑Methyltetrahydrofolat im Liquor cerebrospinalis die Diagnose eines CFD. Daraufhin wurde eine hoch dosierte Substitutionstherapie mit Folsäure eingeleitet. Nach Ausschluss pathogener Mutationen im FOLR1-Gen für den zerebralen Folatrezeptor 1 wurden als Ursache hochtitrige blockierende Autoantikörper gegen den zerebralen Folatrezeptor 1 nachgewiesen.
Abstract
Cerebral folate deficiency (CFD) results in neurological alterations and a massive degeneration of the choroid/retina if left untreated, which limit the visual field and visual acuity. This article reports the case of a female patient with CFD, who developed autistic personal characteristics prior to reaching school age and first started to speak at the age of 3 years. At the age of 6 years she was presented because of unclear reduced visual acuity in the right eye. At that time mild bilateral peripheral chorioretinal atrophy was present, which subsequently became more pronounced. Additionally, a centrally emphasized chorioretinal atrophy further developed. Visual acuity of both eyes progressively deteriorated until stagnating at 0.1 at the age of 14 years. The causal assignment of the findings of the patient was not possible for many years. Choroideremia was excluded by molecular genetic testing (CHM gene with no mutations) and gyrate atrophy was ruled out by a normal ornithine level. The existence of a mitochondrial disease was almost completely excluded by exome sequencing. After the onset of further nonocular symptoms, e.g. neuromuscular disorders, electroencephalograph (EEG) alterations and autistic disorder, intensified laboratory diagnostics were performed in the treating pediatric hospital. Finally, an extremely low level of the folic acid metabolite 5‑methyltetrahydrofolate was detected in the cerebrospinal fluid (CSF) leading to the diagnosis of CFD. High-dose substitution treatment with folic acid was subsequently initiated. After excluding the presence of a pathogenic mutation of the FOLR1 gene for the cerebral folate receptor 1, a high titer blocking autoantibody against cerebral folate receptor 1 was detected as the cause.
Access options
Buy single article
Instant access to the full article PDF.
US$ 39.95
Tax calculation will be finalised during checkout.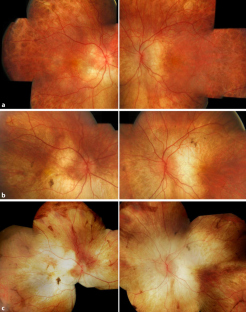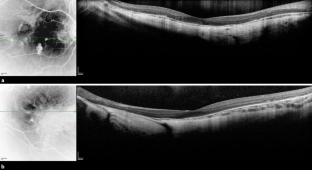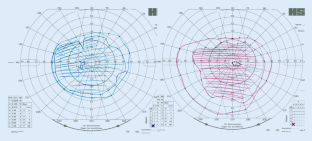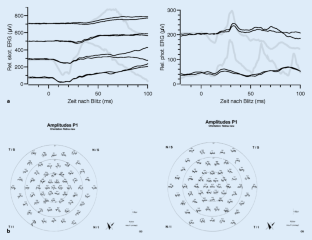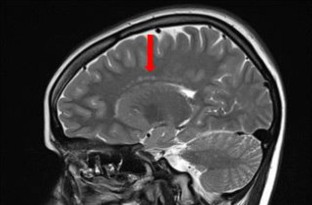 Literatur
1.

Hsu CT, Miller NR, Wray ML (2002) Optic neuropathy from folic acid deficiency without alcohol abuse. Ophthalmologica 216(1):65–67

2.

Golnik KC, Schaible ER (1994) Folate-responsive optic neuropathy. J Neuroophthalmol 14(3):163–169

3.

Kesler A, Pianka P (2003) Toxic optic neuropathy. Curr Neurol Neurosci Rep 3(5):410–414

4.

Ramaekers VT, Blau N (2004) Cerebral folate deficiency. Dev Med Child Neurol 46(12):843–851

5.

Gordon N (2009) Cerebral folate deficiency. Dev Med Child Neurol 51(3):180–182

6.

Ramaekers VT, Hausler M, Opladen T, Heimann G, Blau N (2002) Psychomotor retardation, spastic paraplegia, cerebellar ataxia and dyskinesia associated with low 5‑methyltetrahydrofolate in cerebrospinal fluid: a novel neurometabolic condition responding to folinic acid substitution. Neuropediatrics 33(6):301–308

7.

Botez MI, Peyronnard JM, Berube L, Labrecque R (1979) Relapsing neuropathy, cerebral atrophy and folate deficiency. A close association. Appl Neurophysiol 42(3):171–183

8.

Poll-The BT, Maillette de Buy Wenniger-Prick CJ (2011) The eye in metabolic diseases: clues to diagnosis. Eur J Paediatr Neurol 15(3):197–204

9.

Sadagopan KA (2017) Practical approach to syndromic pediatric retinal dystrophies. Curr Opin Ophthalmol 28(5):416–429

10.

Kellner U, Renner AB, Herbst SM, Kellner S, Weinitz S, Weber BH (2012) Hereditary retinal dystrophies. Klin Monbl Augenheilkd 229(2):171–193 (quiz 194–176.)

11.

Jagle H (2016) Muscular dystrophies involving the retinal function. Klin Monbl Augenheilkd 232(3):251–256

12.

Sequeira JM, Ramaekers VT, Quadros EV (2013) The diagnostic utility of folate receptor autoantibodies in blood. Clin Chem Lab Med 51(3):545–554

13.

Wagner M, Berutti R, Lorenz-Depiereux B, Graf E, Eckstein G, Mayr JA, Meitinger T, Ahting U, Prokisch H, Strom TM et al (2019) Mitochondrial DNA mutation analysis from exome sequencing‑A more holistic approach in diagnostics of suspected mitochondrial disease. J Inherit Metab Dis 42(5):909–917

14.

Frye RE, Sequeira JM, Quadros EV, James SJ, Rossignol DA (2013) Cerebral folate receptor autoantibodies in autism spectrum disorder. Mol Psychiatry 18(3):369–381

15.

Ramaekers VT, Sequeira JM, Blau N, Quadros EV (2008) A milk-free diet downregulates folate receptor autoimmunity in cerebral folate deficiency syndrome. Dev Med Child Neurol 50(5):346–352

16.

Koike H, Takahashi M, Ohyama K, Hashimoto R, Kawagashira Y, Iijima M, Katsuno M, Doi H, Tanaka F, Sobue G (2015) Clinicopathologic features of folate-deficiency neuropathy. Neurology 84(10):1026–1033

17.

Wortmann SB, Mayr JA, Nuoffer JM, Prokisch H, Sperl W (2017) A guideline for the diagnosis of pediatric mitochondrial disease: the value of muscle and skin biopsies in the genetics era. Neuropediatrics 48(4):309–314
Danksagung
Die Autoren danken Professor Dr. Andreas Weber (University of Aberdeen) für die wertgeschätzte Durchsicht des englischen Abstracts.
Ethics declarations
Interessenkonflikt
A. Koschmieder, F. Walther, R. Lehbrink, A. Bertsche, S.B. Wortmann, J. Buchmann, M. Jäger, C. Friedburg, B. Lorenz, V. Kakkassery und A. Jünemann geben an, dass kein Interessenkonflikt besteht.
Für diesen Beitrag wurden von den Autoren keine Studien an Menschen oder Tieren durchgeführt. Für die aufgeführten Studien gelten die jeweils dort angegebenen ethischen Richtlinien. Für Bildmaterial oder anderweitige Angaben innerhalb des Manuskripts, über die Patienten zu identifizieren sind, liegt von ihnen und/oder ihren gesetzlichen Vertretern eine schriftliche Einwilligung vor.
About this article
Cite this article
Kakkassery, V., Koschmieder, A., Walther, F. et al. Chorioretinale Atrophie bei kindlichem zerebralem Folatmangel – eine vermeidbare Erkrankung?. Ophthalmologe 118, 383–390 (2021). https://doi.org/10.1007/s00347-020-01126-1
Schlüsselwörter
Aderhautdystrophie

Zerebraler Folatmangel

Autoantikörper

Substitution

Folatrezeptor 1
Keywords
Choroidal dystrophy

Cerebral folate deficiency

Autoantibody

Substitution

Folate receptor 1