Zusammenfassung
Das maligne Glaukom beschreibt eine seltene Konstellation mit Abflachung der Vorderkammer und erhöhtem Augendruck, welche nach okulärer Chirurgie, Trauma oder auch spontan entstehen kann. Der pathophysiologische Mechanismus scheint aus einem nach posterior gerichteten Fluss des im Ziliarkörper gebildeten Kammerwassers in oder hinter den Glaskörper zu bestehen. Meist ist eine chirurgische Therapie erforderlich. Beschrieben wird ein bilaterales postoperatives Auftreten, welches ausschließlich medikamentös behandelt werden konnte.
Abstract
Malignant glaucoma describes a rare constellation with shallowing of the anterior chamber and raised intraocular pressure, which can occur after ocular surgery, trauma or spontaneously. The pathophysiological mechanism seems to consist of a posteriorly directed flow of the aqueous humor formed in the ciliary body into or behind the vitreous body. Most cases can only be treated by surgical intervention. This article describes a bilateral postoperative occurrence, which could be successfully treated with medication alone and no need for surgery.
Access options
Buy single article
Instant access to the full article PDF.
US$ 39.95
Tax calculation will be finalised during checkout.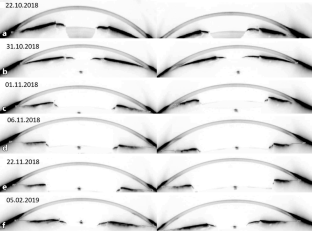 Literatur
1.

von Graefe A (1869) Beiträge zur Pathologie und Therapie des Glaucoms. Arch Opthalmol 15(3):108–252. https://doi.org/10.1007/BF02721215

2.

Chandler PA, Simmons RJ, Grant WM (1968) Malignant glaucoma. Medical and surgical treatment. Am J Ophthalmol 66(3):495–502

3.

Foreman-Larkin J, Netland PA, Salim S (2015) Clinical management of malignant glaucoma. J Ophthalmol. https://doi.org/10.1155/2015/283707

4.

Grzybowski A, Kanclerz P (2018) Acute and chronic fluid misdirection syndrome: pathophysiology and treatment. Graefes Arch Clin Exp Ophthalmol 256(1):135–154. https://doi.org/10.1007/s00417-017-3837-0

5.

Ruben S, Tsai J, Hitchings RA (1997) Malignant glaucoma and its management. Br J Ophthalmol 81(2):163–167

6.

Shaffer RN (1954) The role of vitreous detachment in aphakic and malignant glaucoma. Trans Am Acad Ophthalmol Otolaryngol 58(2):217–231

7.

Grzybowski A, Prasad S (2014) Acute aqueous misdirection syndrome: pathophysiology and management. J Cataract Refract Surg 40(12):2167. https://doi.org/10.1016/j.jcrs.2014.10.016

8.

Grzybowski A, Kanclerz P (2020) Optical coherence tomography confirms the pathomechanism of acute fluid misdirection syndrome. J Cataract Refract Surg 46(2):329. https://doi.org/10.1097/j.jcrs.0000000000000059

9.

Lau OC, Montfort JM, Sim BW, Lim CH, Chen TS, Ruan CW et al (2014) Acute intraoperative rock-hard eye syndrome and its management. J Cataract Refract Surg 40(5):799–804. https://doi.org/10.1016/j.jcrs.2013.10.038

10.

Olson RJ, Younger KM, Crandall AS, Mamalis N (1994) Subcapsular fluid entrapment in extracapsular cataract surgery. Ophthalmic Surg 25(10):688–689
Ethics declarations
Interessenkonflikt
D.M. Handzel, A. Alani und R.P. Handzel geben an, dass kein Interessenkonflikt besteht.
Für diesen Beitrag wurden von den Autoren keine Studien an Menschen oder Tieren durchgeführt. Für die aufgeführten Studien gelten die jeweils dort angegebenen ethischen Richtlinien. Für Bildmaterial oder anderweitige Angaben innerhalb des Manuskripts, über die Patienten zu identifizieren sind, liegt von ihnen und/oder ihren gesetzlichen Vertretern eine schriftliche Einwilligung vor.
About this article
Cite this article
Handzel, D.M., Alani, A. & Handzel, R.P. Beidseitige postoperative Myopisierung mit Augendruckanstieg nach Kataraktoperation. Ophthalmologe 118, 391–393 (2021). https://doi.org/10.1007/s00347-020-01123-4
Schlüsselwörter
Malignes Glaukom

Kataraktchirurgie

Aqueous misdirection syndrome
Keywords
Malignant glaucoma

Cataract surgery

Aqueous misdirection syndrome