This is a preview of subscription content, log in to check access.
Access options
Buy single article
Instant access to the full article PDF.
US$ 39.95
Price includes VAT for USA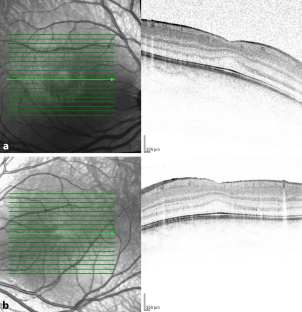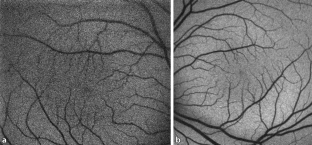 Literatur
1.

Al-Saleh AA, Hellani A, Abu-Amero KK (2011) Isolated foveal hypoplasia: report of a new case and detailed genetic investigation. Int Ophthalmol 31:117–120

2.

Charbel Issa P, Foerl M, Helb HM et al (2008) Multimodal fundus imaging in foveal hypoplasia: combined scanning laser ophthalmoscope imaging and spectral-domain optical coherence tomography. Arch Ophthalmol 126:1463–1465

3.

Curran RE, Robb RM (1976) Isolated foveal hypoplasia. Arch Ophthalmol 94:48–50

4.

Hendrickson AE, Yuodelis C (1984) The morphological development of the human fovea. Ophthalmology 91:603–612

5.

McAllister JT, Dubis AM, Tait DM et al (2010) Arrested development: high resolution imaging of foveal morphology in albinism. Vision Res 50:810–817

6.

Mota A, Fonseca S, Carneiro A et al (2012) Isolated foveal hypoplasia: tomographic, angiographic and autofluorescence pattern. Case Rep Ophthalmol Med 2012:864958

7.

Noval S, Freedman SF, Asrani S et al (2014) Incidence of fovea plana in normal children. J AAPOS 18:471–475

8.

Perez Y, Gradstein H, Flusser B et al (2014) Isolated foveal hypoplasia with secondary nystagnmus and low vision is associated with a homozygous SLC38A8 mutation. Eur J Hum Genet 22:703–706

9.

Querques G, Prascina F, Iaculli C et al (2009) Isolated foveal hypoplasia. Int Ophthalmol 29:271–274

10.

Saffra N, Agarwal S, Chiang JP et al (2012) Spectral-domain optical coherence tomographic characteristics of autosomal recessive isolated foveal hypoplasia. Arch Ophthalmol 130:1324–1327

11.

Thomas MG, Kumar A, Mohammad S et al (2011) Structural grading of foveal hypoplasiausing spectral-domain optical coherence tomography a predictor of visual acuity? Ophthalmology 118:1653–1660

12.

Vedantham V (2005) Isolated foveal hypoplasia detected by optical coherence tomography. Indian J Ophthalmol 53:276–277
Ethics declarations
Interessenkonflikt
S. Waibel, L.E. Pillunat und E. Matthé geben an, dass kein Interessenkonflikt besteht.
Für diesen Beitrag wurden von den Autoren keine Studien an Menschen oder Tieren durchgeführt. Für die aufgeführten Studien gelten die jeweils dort angegebenen ethischen Richtlinien. Für Bildmaterial oder anderweitige Angaben innerhalb des Manuskripts, über die Patienten zu identifizieren sind, liegt von ihnen und/oder ihren gesetzlichen Vertretern eine schriftliche Einwilligung vor.
About this article
Cite this article
Waibel, S., Pillunat, L.E. & Matthé, E. Netzhautverdickung eines 6‑jährigen Jungen. Ophthalmologe 116, 1079–1082 (2019). https://doi.org/10.1007/s00347-019-0890-6