Zusammenfassung
Ein 4‑jähriges Mädchen wurde notfallmäßig wegen Diplopie und intermittierendem Exophthalmus des linken Auges vorgestellt. Die Symptome waren parallel zu rezidivierenden grippalen Infekten aufgetreten. Unsere Untersuchungen ergaben keine Auffälligkeit. Anhand von Fotografien und Videoaufnahmen, die eine Hypotropie von ca. 25° und eine Protrusio des linken Auges zeigten, wurde die Diagnose eines Obliquus-superior-Klick-Syndroms mit einem atypisch distalen Passagehindernis gestellt. Rheumatologische und HNO-ärztliche Befunde waren unauffällig.
Abstract
A 4-year-old girl was referred as an emergency case because of diplopia and intermittent exophthalmos of the left eye. Symptoms had occurred together with recurrent episodes of a common cold. The examinations revealed no conspicuous findings. Photographic and video analysis revealed hypotropia of approximately 25 ° together with protrusion of the left eye. The patient history and findings were compatible with a superior oblique click syndrome with an atypical distal distinct thickening of the superior oblique tendon. Rheumatological and otorhinolaryngological findings were inconspicuous.
This is a preview of subscription content, log in to check access.
Access options
Buy single article
Instant access to the full article PDF.
US$ 39.95
Price includes VAT for USA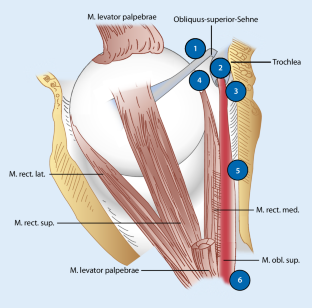 Literatur
1.

Brown HW (1950) Congenital structural muscle anomalies. In: Allen HJ (Hrsg) Strabismus ophthalmic symposium. Trans New Orleans Acad Ophthalmol. Mosby, St. Louis, S 205–236

2.

Clark E (1966) A case of apparent intermittent overaction of the left superior oblique. Br J Ophthalmol 23:116–117

3.

Costenbader FD, Dan DA (1958) Spontanous regression of pseudoparalysis of the inferior oblique muscle. Arch Ophthalmol 59:607–608

4.

Esser J, Mühlendyck H (2012) Myogene Augenbewegungsstörungen. In: Kaufmann H, Steffen H (Hrsg) Strabismus. Thieme, Stuttgart, S 446–480

5.

Fells P (1975) The superior oblique: Its actions and anomalies. Br Orthopt J 32:43–52

6.

Fink WH (1962) Surgery of the vertical muscles of the eye. Thomas, Springfield, S 206–210

7.

Girad LJ (1956) Pseudoparalysis of the inferior oblique muscle. South Med J 49:342–349

8.

Goldstein JH (1969) Intermittent superior oblique tendon sheath syndrome. Am J Ophthalmol 67:960–962

9.

Gräf M, Kloss S, Kaufmann H (2005) Operationsergebnisse bei kongenitalem Brown-Syndrom. Klin Monatsbl Augenheilkd 222:630–637

10.

Helveston EM, Merriam WW, Ellis FD et al (1982) The trochlea: a study of the anatomy and physiology. Ophthalmology 89:124–133

11.

Helveston EM (1993) Brown syndrome: anatomic considerations and pathophysiology. Am Orthopt J 43:31–35

12.

Jaensch PA (1928) Paresen der schrägen Heber. Graefes Arch Ophthalmol 121:113–125

13.

Koop G, Gräf M (2006) Okuläre Neuromyotonie – Ein Fallbericht. Klin Monbl Augenheilkd 223:247–251

14.

Leone CR, Leone RT (1986) Spontaneous cure of congenital Brown's syndrome. Am J Ophthalmol 102:542–543

15.

Lowe RF (1969) Bilateral superior oblique tendon sheath syndrome. Occurrence and spontanous recovery in one of uniovular twins. Br J Ophthalmol 53:466–471

16.

Mein J (1964) Alternating inferior oblique palsy. Br Orthopt J 21:116–119

17.

Mein J (1971) Superior oblique tendon sheath syndrome. Br Orthopt J 28:70–76

18.

Mühlendyck H (1996) Jaensch-Brown-Syndrom – Ursache und operatives Vorgehen. Klin Monbl Augenheilkd 208:37–47

19.

Neugebauer A, Fricke J (2010) Congenital cranial dysinnervation disorders: facts and perspectives to understand ocular motility disorders. In: Lorenz B, Brodsky M (Hrsg) Pediatric ophthalmology, neuro-ophthalmology, genetics. Essentials in Ophthalmology. Springer, Heidelberg, S 113–124

20.

Parks MM (1977) The superior oblique tendon. Doyne Memorial Lecture 1977. Trans Ophthalmol Soc 97:288–304

21.

Ricker VK, Mertens HG (1970) Okuläre Neuromyotonie. Klin Monbl Augenheilkd 156:837–842

22.

Sandfort-Smith JH (1969) Intermittent superior oblique tendon sheath syndrome: a case report. Br J Ophthalmol 53:412–417

23.

Sandfort-Smith JH (1973) Superior oblique tendon sheath syndrome and its relationship to stenosing tenosynovitis. Br J Ophthalmol 57:859–865

24.

Siegel LM, deSalles NL, Rosenbaum AL, Demer JL (1998) Magnetic resonance imaging features of two cases of acquired Brown's syndrome. Strabismus 6:19–29

25.

Sims J (1971) Acquired apparent superior oblique tendon sheath syndrome. Br J Ophthalmol 28:112–115

26.

Stein R (1965) Posttraumatische, intermittierende Pseudoparese des Musculus obliquus inferior. Klin Monbl Augenheilkd 147:712–720

27.

Wilson ME, Eustis HS, Parks MM (1989) Brown's syndrome. Surv Ophthalmol 34:153–172
Ethics declarations
Interessenkonflikt
J. Frank, M. Gräf und B. Lorenz geben an, dass kein Interessenkonflikt besteht.
Für diesen Beitrag wurden von den Autoren keine Studien an Menschen oder Tieren durchgeführt. Für die aufgeführten Studien gelten die jeweils dort angegebenen ethischen Richtlinien. Für Bildmaterial oder anderweitige Angaben innerhalb des Manuskripts, über die Patienten zu identifizieren sind, liegt von ihnen und/oder ihren gesetzlichen Vertretern eine schriftliche Einwilligung vor.
About this article
Cite this article
Frank, J., Gräf, M. & Lorenz, B. Temporäres Hebungsdefizit mit Protrusio bulbi bei einem 4‑jährigen Kind. Ophthalmologe 117, 58–61 (2020). https://doi.org/10.1007/s00347-019-0880-8
Schlüsselwörter
Brown-Syndrom

Klick-Syndrom

Exophthalmus

restriktives Motilitätsdefizit

Obliquus superior
Keywords
Brown's syndrome

Click-syndrome

Exophthalmos

Restrictive motility disorder

Superior oblique muscle