Zusammenfassung
Dieser Bericht stellt einen multimodalen Fall mit Fortschreiten der Makulopathie trotz Abbruch der Chloroquin-Therapie im Langzeitverlauf von 6 Jahren dar. Darüber hinaus werden die aktuellen Nachweisverfahren im Screening zur Früherkennung der Makulopathie und ihre prognostische Bedeutung diskutiert.
Abstract
This case report presents a pictorially well-documented case with multimodal images of a progression of maculopathy despite discontinuation of chloroquine treatment in a long-term follow-up over 6 years. Additionally, the current detection methods in screening for early recognition of maculopathy and their prognostic significance are reviewed.
Access options
Buy single article
Instant access to the full article PDF.
US$ 39.95
Tax calculation will be finalised during checkout.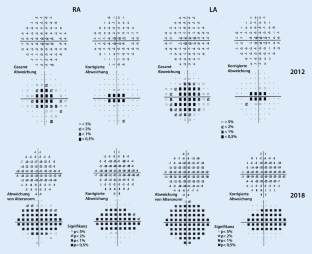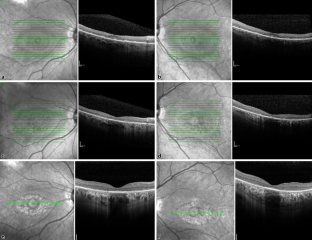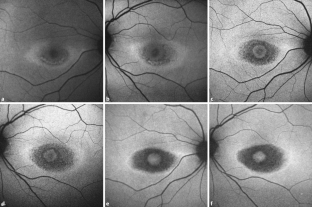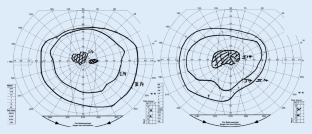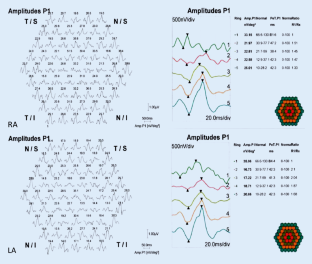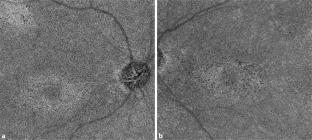 Literatur
1.

Wei LC, Chen SN, Ho CL, Kuo YH, Ho JD (2001) Progression of hydroxychloroquine retinopathy after discontinuation of therapy: case report. Chang Gung Med J 24(5):329–334

2.

Moschos M, Nitoda E, Chatziralli IP, Gatzioufas Z, Koutsandrea C, Kitsos G (2015) Assessment of hydroxychloroquine maculopathy after cessation of treatment: an optical coherence tomography and multifocal electroretinography study. Drug Des Devel Ther 9:2993

3.

Mititelu M, Wong BJ, Brenner M, Bryar PJ, Jampol LM, Fawzi AA (2013) Progression of hydroxychloroquine toxic effects after drug therapy cessation: new evidence from multimodal imaging. JAMA Ophthalmol 131(9):1187–1197

4.

Fava A, Petri M (2019) Systemic lupus erythematosus: diagnosis and clinical management. J Autoimmun 96:1–13

5.

Kuhn A, Bonsmann G, Anders HJ, Herzer P, Tenbrock K, Schneider M (2015) The diagnosis and treatment of systemic lupus erythematosus. Dtsch Arztebl Int 112:423–432

6.

Fischer-Betz R, Schneider M (2009) Antimalariamittel. Therapieoption für jeden Lupus-Patienten?! Z Rheumatol 68:6–90

7.

Jewell ML, McCauliffe DP (2000) Patients with cutaneous lupus erythematosus who smoke are less responsive to antimalarial treatment. J Am Acad Dermatol 42(6):983–987

8.

Mok SM, Tse KL, Chan LY, Ho LY (2018) Effect of immunosuppressive therapies on survival of systemic lupus erythematosus: a propensity score analysis of a longitudinal cohort. Lupus 27(5):722–727

9.

Ruberto G, Bruttini C, Tinelli C, Cavagna L, Bianchi A, Milano G (2018) Early morpho-functional changes in patients treated with hydroxychloroquine: a prospective cohort study. Graefes Arch Clin Exp Ophthalmol 256(11):2201–2210

10.

Mavrikakis I, Sfikakis PP, Mavrikakis E, Rougas K, Nikolaou A, Kostopoulos C, Mavrikakis M (2003) The incidence of irreversible retinal toxicity in patients treated with hydroxychloroquine: a reappraisal. Ophthalmology 110:1321–1326

11.

Melles RB, Marmor MF (2014) The risk of toxic retinopathy in patients on long-term hydroxychloroquine therapy. JAMA Ophthalmol 132:1453–1460

12.

Marmor MF, Kellner U, Lai TY, Melles RB, Mieler WF (2016) Recommendations on screening for chloroquine and hydroxychloroquine retinopathy (2016 revision). Ophthalmology 123:1386–1394

13.

Korthagen NM, Bastiaans J, van Meurs JC, van Bilsen K, van Hagen PM, Dik WA (2015) Chloroquine and hydroxychloroquine increase retinal pigment epithelial layer permeability. J Biochem Mol Toxicol 29:299–304

14.

Lyons JS, Severns ML (2009) Using multifocal ERG ring ratios to detect and follow Plaquenil retinal toxicity: a review. Doc Ophthalmol 118:29–36

15.

Levy GD, Munz SJ, Paschal J, Cohen HB, Pince KJ, Peterson T (1997) Incidence of hydroxychloroquine retinopathy in 1,207 patients in a large multicenter outpatient practice. Arthritis Rheum 40:1482–1486

16.

Johnson MW, Vine AK (1987) Hydroxychloroquine therapy in massive total doses without retinal toxicity. Am J Ophthalmol 104(139):44

17.

Bienfang D, Coblyn JS, Liang MH, Corzillius M (2000) Hydroxychloroquine retinopathy despite regular ophthalmologic evaluation: a consecutive series. J Rheumatol 27:2703

18.

Rüther K, Foerster J, Berndt S, Schroeter J (2007) Variabilität der retinotoxischen Gesamtdosis Chloroquin/Hydroxychloroquin. Ophthalmologe 104(10):875–879

19.

Shroyer NF, Lewis RA, Lupski JR (2001) Analysis of the ABCR (ABCA4) gene in 4‑aminoquinoline retinopathy: is retinal toxicity by chloroquine and hydroxychloroquine related to stargardt disease? Am J Ophthalmol 131:761–766

20.

Gaynes BI, Torczynski E, Varro Z, Grostern R, Perlman J (2008) Retinal toxicity of chloroquine hydrochloride administered by intraperitoneal injection. J Appl Toxicol 28(7):895–900

21.

Chen TY, Lien WC, Cheng HL, Kuan TS, Sheu SY, Wang CY (2019) Chloroquine inhibits human retina pigmented epithelial cell growth and microtubule nucleation by downregulating p150glued. J Cell Physiol 234(7):10445–10457. https://doi.org/10.1002/jcp.27712

22.

Wolfe F, Marmor MF (2010) Rates and predictors of hydroxychloroquine retinal toxicity in patients with rheumatoid arthritis and systemic lupus erythematosus. Arthritis Care Res 62:775–784

23.

de Sisternes L, Hu J, Rubin DL, Marmor MF (2015) Localization of damage in progressive hydroxychloroquine retinopathy on and off the drug: inner versus outer retina, parafovea versus peripheral fovea. Invest Ophthalmol Vis Sci 56:3415–3426

24.

Salu P, Uvijls A, van den Brande P, Leroy BP (2010) Normalization of generalized retinal function and progression of maculopathy after cessation of therapy in a case of severe hydroxychloroquine retinopathy with 19 years follow-up. Doc Ophthalmol 120(3):251–264

25.

Marmor MF, Kellner U, Lai TY, Lyons JS, Mieler WF, American Academy of Ophthalmology (2011) Revised recommendations on screening for chloroquine and hydroxychloroquine retinopathy. Ophthalmology 118(2):415–422

26.

Michaelides M, Stover NB, Francis PJ, Weleber RG (2011) Retinal toxicity associated with hydroxychloroquine and chloroquine: risk factors, screening, and progression despite cessation of therapy. Arch Ophthalmol 129(1):30–39

27.

Chen E, Brown DM, Benz MS, Fish RH, Wong TP, Kim RY, Major JC (2010) Domain optical coherence tomography as an effective screening test for hydroxychloroquine retinopathy (the "flying saucer" sign). Clin Ophthalmol 4:1151–1158

28.

Brinkley TR, Dubois EL (1979) Long term course of chloroquine retinopathy after cessation of medication. Am J Ophthalmol 88:1–11

29.

Yusuf IH, Sharma S, Luqmani R, Downes SM (2017) Hydroxychloroquine retinopathy. Eye 31:828–845

30.

Giocanti-Aurégan A, Couturier A, Girmens JF, Le Mer Y, Massamba N, Barreau E, Audo I (2018) DHU Vision Handicaps task force rétine. J Fr Ophtalmol 41(4):363–367

31.

Ahn SJ, Joung J, Lim HW, Lee BR (2017) Optical coherence tomography protocols for screening of hydroxychloroquine retinopathy in Asian patients. Am J Ophthalmol 184:11–18

32.

Kellner U, Renner AB, Tillack H (2006) Fundus autofluorescence and mfERG for early detection of retinal alterations in patients using chloroquine/hydroxychloroquine. Invest Ophthalmol Vis Sci 47:3531–3538

33.

Bulut M, Erol MK, Toslak D et al (2018) A new objective parameter in hydroxychloroquine-induced retinal toxicity screening test: macular retinal ganglion cell-inner plexiform layer thickness. Arch Rheumatol 33(1):52–58

34.

Cabral RTS, Klumb EM, Couto MINN, Carneiro S (2019) Evaluation of toxic retinopathy caused by antimalarial medications with spectral domain optical coherence tomography. Arq Bras Oftalmol 82(1):12–17

35.

Bulut M, Akıdan M, Gözkaya O, Erol MK, Cengiz A, Çay HF (2018) Optical coherence tomography angiography for screening of hydroxychloroquine-induced retinal alterations. Graefes Arch Clin Exp Ophthalmol 256(11):2075–2081

36.

Bae EJ, Kim KR, Tsang SH, Park SP, Chang S (2014) Retinal damage in chloroquine maculopathy, revealed by high resolution imaging: a case report utilizing adaptive scanning laser ophthalmoscopy. Korean J Ophthalmol 28(1):100–107

37.

Debellemanière G, Flores M, Tumahai P, Meillat M, Bidaut Garnier M, Delbosc B, Saleh M (2015) Assessment of parafoveal cone density in patients taking hydroxychloroquine in the absence of clinically documented retinal toxicity. Acta Ophthalmol 93(7):e534–40

38.

Turgut B, Turkcuoglu P, Serdar Koca S, Aydemir O (2009) Detection of the regression on hydroxychloroquine retinopathy in optical coherence tomography. Clin Rheumatol 28:607–609

39.

Tsang AC, Ahmadi Pirshahid S, Virgili G, Gottlieb CC, Hamilton J, Coupland SG (2015) Hydroxychloroquine and chloroquine retinopathy: a systematic review evaluating the multifocal electroretinogram as a screening test. Ophthalmology 122:1239–1251.e4

40.

Hood DC, Frishman LJ, Saszik S, Viswanathan S (2002) Retinal origins of the primate multifocal ERG: implications for the human response. Invest Ophthalmol Vis Sci 43:1673–1685

41.

Arndt C, Costantini M, Chiquet C, Afriat M, Berthemy S, Vasseur V, Ducasse A, Mauget-Faÿsse M (2018) Comparison between multifocal ERG and C‑Scan SD-OCT ("en face" OCT) in patients with a suspicion of antimalarial retinal toxicity: preliminary results. Doc Ophthalmol 136(2):97–111

42.

Easterbook M (1992) Long term courses of antimalarial maculopathy after cessation of treatment. Can J Ophthalmol 27:237–239

43.

Vavvas D, Huynh N, Pasquale L, Berson EL (2010) Progressive hydroxychloroquine toxicity mimicking low-tension glaucoma after discontinuation of the drug. Acta Ophthalmol 88(1):156–157

44.

Fung AE, Samy CN, Rosenfeld PJ (2007) Optical coherence tomography findings in hydroxychloroquine and chloroquine-associated maculopathy. Retin Cases Brief Rep 1(3):128–130

45.

Marmor MF (2012) Comparison of screening procedures in hydroxychloroquine toxicity. Arch Ophthalmol 130:461–469

46.

Paulose RM, Chhablani J, Jhingan M (2017) Update on hydroxychloroquine retinopathy. Kerala. J Ophthalmol 29:9–13
Ethics declarations
Interessenkonflikt
A. Rickmann, S. Al-Nawaiseh, L. Ramirez, S. Röhrig, M. Ladewig, P. Szurman und G. Szurman geben an, dass kein Interessenkonflikt besteht.
Für diesen Beitrag wurden von den Autoren keine Studien an Menschen oder Tieren durchgeführt. Für die aufgeführten Studien gelten die jeweils dort angegebenen ethischen Richtlinien. Für Bildmaterial oder anderweitige Angaben innerhalb des Manuskripts, über die Patienten zu identifizieren sind, liegt von ihnen und/oder ihren gesetzlichen Vertretern eine schriftliche Einwilligung vor.
About this article
Cite this article
Rickmann, A., Al-Nawaiseh, S., Ramirez, L. et al. Progressive Makulopathie trotz Absetzen der Chloroquin-Therapie – Multimodale Bildgebung und Review der Literatur. Ophthalmologe 117, 917–925 (2020). https://doi.org/10.1007/s00347-019-00994-6
Schlüsselwörter
Chloroquin

Chloroquinphosphat

Chloroquin-Makulopathie

Bull's-eye-Makulopathie

Systemischer Lupus erythematodes
Keywords
Chloroquine

Chloroquine phosphate

Chloroquine maculopathy

Bull's eye maculopathy

Systemic lupus erythematosus