Zusammenfassung
Ein 37-jähriger Patient stellte sich mit Metamorphopsien und einseitiger Visusminderung in Gegenwart hunderter, bilateraler, avaskulärer Pigmentepithelabhebungen vor. Anamnestisch wurde ein mit inhalativen Kortikosteroiden behandeltes allergisches Asthma bronchiale angegeben. Im Verlauf kam es nach Absetzen der Steroide zur Abflachung größerer Pigmentepithelabhebungen mit Übergang in atrophische Areale, wohingegen kleinere Pigmentepithelabhebungen über einen Beobachtungszeitraum von 14 1/2 Jahren persistierten und nach peripher weiter zunahmen.
Abstract
A 37-year-old male patient presented with metamorphopsia and unilateral visual impairment with the presence of hundreds of bilateral avascular retinal pigment epithelial detachments (PEDs). The patient suffered from allergic bronchial asthma which was treated with inhaled corticosteroids. Cessation of corticosteroid treatment resulted in flattening of larger PEDs and subsequent transition to atrophic areas over time while smaller PEDs persisted and spread peripherally over an observation period of 14½ years.
This is a preview of subscription content, log in to check access.
Access options
Buy single article
Instant access to the full article PDF.
US$ 39.95
Price includes VAT for USA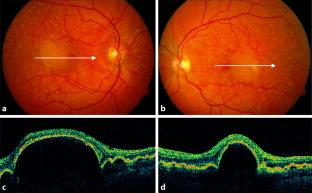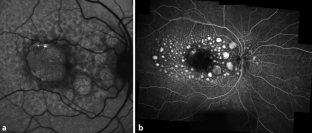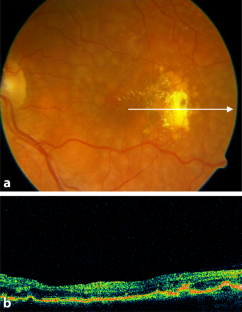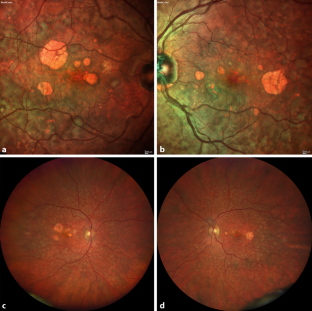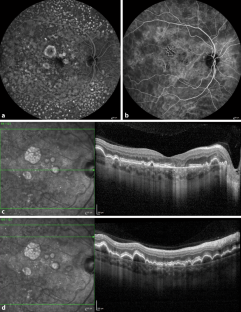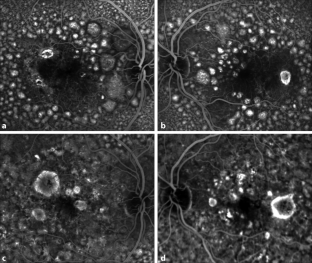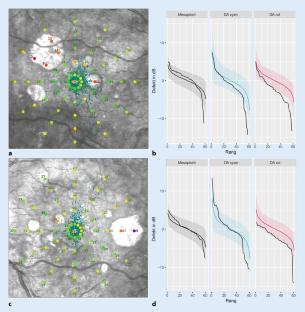 Literatur
1.

Bouzas EA, Karadimas P, Pournaras CJ (2002) Central serous chorioretinopathy and glucocorticoids. Surv Ophthalmol 47(5):431–448

2.

Caccavale A, Romanazzi F, Imparato M et al (2011) Central serous chorioretinopathy: a pathogentic model. Clin Ophthalmol 5:239–243

3.

Daruich A, Matet A, Dirani A et al (2015) Central serous chorioretinopathy: Recent findings and new physiopathology hypothesis. Prog Retin Eye Res 48(9):82–118

4.

Fernandez CF, Mendoza AJ, Arevalo JF (2004) Central serous chorioretinopahty associated with topical dermal corticosteroids. Retina 24(3):471–474

5.

Gass JDM, Little H (1995) Bilateral bullous exsudative retinal detachment complicating idiopathic central serous chorioretinopathy during systemic corticosteroid therapy. Ophthalmology 102(5):737–747

6.

Gass JDM, Bressler SB, Akduman L et al (2005) Bilateral idiopathic multifocal retinal pigment epithelium detachments in otherwise healthy middle-aged adults. Retina 25(3):304–310

7.

Haimovici R, Gragoudas ES, Duker JS et al (1997) Central serous chorioretinopathy associated with inhaled or intranasal corticosteroids. Ophthalmology 104(10):1653–1660

8.

Karadimas P, Bouzas EA (2004) Glucocorticoid use represents a risk factor for central serous chorioretinopathy: a prospective, case-control study. Graefes Arch Clin Exp Ophthalmol 242:800–802

9.

Nicholson BP, Atchison E, Idris AA, Bakri SJ (2018) Central serous chorioretinopathy and glucocorticoids: an update on evidence for association. Surv Ophthalmol 63(1):1–8

10.

Sharma T, Shah N, Rao M et al (2004) Visual outcome after discontinuation of corticosteroids in atypical severe central serous choropretinopathy. Ophthalmology 111:1708–1714

11.

Tittl MK, Spaide RF, Wong D et al (1999) Systemic findings associated with central serous chorioretinopathy. Am J Ophthalmol 128(1):63–68
Ethics declarations
Interessenkonflikt
A. Bindewald-Wittich und C. Milojcic: Forschungsförderung Heidelberg Engineering, CenterVue. M. Pfau: nichtfinanzielle Unterstützung: Carl Zeiss Meditec, Heidelberg Engineering, Optos, CenterVue. F.G. Holz: Forschungsförderung und Berater für Genentech/Roche, Bayer, Böhringer-Ingelheim, Novartis, Allergan, Heidelberg Engineering; Berater für: Apellis, LIN Bioscience; Forschungsförderung Nightstar, Centervue, Optos.
Dieser Beitrag beinhaltet keine von den Autoren durchgeführten Studien an Menschen oder Tieren. Für Bildmaterial oder anderweitige Angaben innerhalb des Manuskripts, über die Patienten zu identifizieren sind, liegt von ihnen und/oder ihren gesetzlichen Vertretern eine schriftliche Einwilligung vor.
Caption Electronic Supplementary Material
Video: Zeitraffer der Fundusautofluoreszenzaufnahmen OD im Langzeitverlauf von 03/2004 bis 06/2018
About this article
Cite this article
Bindewald-Wittich, A., Milojcic, C., Pfau, M. et al. Bilaterale multifokale Pigmentepithelabhebungen in Assoziation mit inhalativen Kortikosteroiden. Ophthalmologe 116, 887–892 (2019). https://doi.org/10.1007/s00347-018-0848-0
Schlüsselwörter
Chorioretinopathia centralis serosa

Allergisches Asthma bronchiale

Multimodale retinale Bildgebung

Metamorphopsien

Chorioidale Hyperpermabilität
Keywords
Central serous chorioretinopathy

Allergic bronchial asthma

Multimodal retinal imaging

Metamorphopsia

Choroidal hyperpermeability