Zusammenfassung
Hintergrund
Keratoprothetik bezeichnet den Austausch von humanem Hornhautgewebe durch ein künstlich hergestelltes Ersatzprodukt. Die heutzutage weltweit am häufigsten implantierte Keratoprothese ist die Boston-Typ-I-Keratoprothese (BI-KPro, Massachusetts Eye and Ear Infirmary, Boston, MA, USA).
Methoden
Im vorliegenden Video wird die an unserer Institution gängige Operationstechnik der BI-KPro-Implantation dargestellt. Darüber hinaus wird im Beitrag anhand unserer Erfahrung mit n = 31 BI-KPro-Implantationen ein Überblick über Operationsindikation, Patientenaufklärung, Anästhesie und Lagerung, postoperative Behandlung und Komplikationen sowie die Evidenz der Technik gegeben.
Ergebnis
Die BI-KPro eignet sich insbesondere zur Implantation bei Patienten mit Transplantatversagen nach wiederholter Keratoplastik oder bei sonstiger schlechter Transplantatprognose. Gründliche Untersuchung und Indikationsstellung sowie ausführliche Aufklärung der Patienten über die individuelle Prognose, das Risikoprofil sowie die postoperative Therapie und Nachsorge ermöglichen ein positives postoperatives Resultat.
Schlussfolgerung
Die BI-KPro bietet eine etablierte und relativ standardisierte Option zur operativen Versorgung von Augen mit Hochrisikosituation. Die Patienten sollten präoperativ hinsichtlich der individuellen Prognose, des Komplikationsprofils und hinsichtlich der lebenslangen Nachsorge aufgeklärt werden.
Abstract
Background
Keratoprosthetics refer to the replacement of human corneal tissue with an artificially produced exchange product. The most widely implanted keratoprosthesis worldwide is the Boston Type I Keratoprosthesis (BI-KPro, Massachusetts Eye and Ear Infirmary, Boston, MA, USA).
Methods
This video article demonstrates the surgical technique of BI-KPro implantation as routinely performed at this institution. In addition, an overview of the surgical indications, patient consent, anesthesia and positioning, postoperative treatment and complications as well as the evidence of the technique is provided in the article based on experience with 31 BI-KPro implantations.
Results
The indications for BI-KPro primarily include patients in a high-risk keratoplasty setting particularly after repeatedly failed keratoplasty. A thorough patient examination and assessment of the indications as well as detailed disclosure of information to the patient about the individual prognosis, the risk profile, the postoperative therapy and follow-up enable a positive postoperative result.
Conclusion
The BI-KPro provides an established and relatively standardized option for surgical treatment of eyes in a high-risk keratoplasty setting. Patients should be preoperatively informed with respect to the individual prognosis, complication profile and life-long follow-up.
This is a preview of subscription content, log in to check access.
Access options
Buy single article
Instant access to the full article PDF.
US$ 39.95
Price includes VAT for USA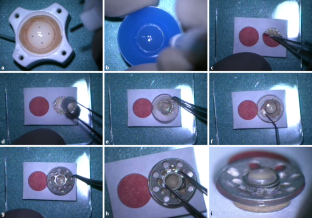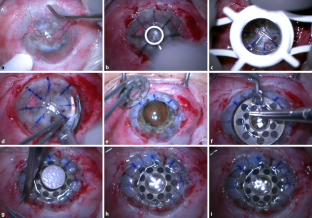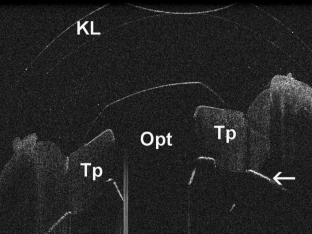 Literatur
1.

Chew HF, Ayres BD, Hammersmith KM et al (2009) Boston keratoprosthesis outcomes and complications. Cornea 28:989–996

2.

Cursiefen C, Seitz B, Kruse F (2005) Hornhauttransplantation: Glänzende Bilanz und viele Perspektiven. Dtsch Arztebl 102:3078–3080

3.

Dohlman CH, Schneider HA, Doane MG (1974) Prosthokeratoplasty. Am J Ophthalmol 77:694–670

4.

Fung SSM, Jabbour S, Harissi-Dagher M et al (2018) Visual outcomes and complications of type I boston Keratoprosthesis in children: A retrospective Multicenter study and literature review. Ophthalmology 125:153–160

5.

Koller B, Neuhann T, Neuhann I (2012) Results with the Boston keratoprosthesis. Ophthalmologe 109:454–461 (Ergebnisse nach Boston-Keratoprothese)

6.

Lee WB, Shtein RM, Kaufman SC et al (2015) Boston Keratoprosthesis: Outcomes and complications: A report by the American Academy of Ophthalmology. Ophthalmology 122:1504–1511

7.

Maier P, Reinhard T, Cursiefen C (2013) Hauchdünne Hornhauttransplantate – schnelle und gute Sehschärfenerholung. Dtsch Arztebl 110:365–371

8.

Neuhann T, Koller B, Neuhann I (2015) Die Boston-Keratoprothese: Eine Übersicht auf der Basis eigener Erfahrungen. Spektrum Augenheilkd 29:37–45

9.

Schaub F, Bachmann BO, Seyeddain O et al (2017) Mid- and longterm experiences with the Boston-Keratoprosthesis. The Cologne and Salzburg perspective. Klin Monbl Augenheilkd 234:770–775

10.

Schaub F, Hos D, Bucher F et al (2016) Boston-keratoprosthesis : Preliminary experiences in 13 high-risk eyes from the department of ophthalmology of the university of Cologne. Ophthalmologe 113:492–499

11.

Schaub F, Neuhann I, Enders P et al (2017) Boston keratoprosthesis: 73 eyes from Germany : An overview of experiences from two centers. Ophthalmologe 115(9):744–753. https://doi.org/10.1007/s00347-017-0581-0

12.

Schrage N, Hille K, Cursiefen C (2014) Current treatment options with artificial corneas: Boston Kpro, Osteo-odontokeratoprosthesis, Miro Cornea(R) and KeraKlear(R). Ophthalmologe 111:1010–1018

13.

Siebelmann S, Steven P, Hos D et al (2016) Advantages of microscope-integrated intraoperative online optical coherence tomography: Usage in Boston keratoprosthesis type I surgery. J Biomed Opt 21:16005

14.

Toth G, Bucher F, Siebelmann S et al (2016) In situ corneal cross-linking for recurrent corneal melting after Boston type 1 Keratoprosthesis. Cornea 35:884–887

15.

Wang Q, Harissi-Dagher M (2014) Characteristics and management of patients with boston type 1 keratoprosthesis explantation – the university of Montreal hospital center experience. Am J Ophthalmol 158:1297–1304
Förderung
German Research Foundation (FOR2240 to CC and DH; MA 5110/5-1 to MM; CU 47/6-1, CU 47/9-1, CU 47/12-1 to CC), FORTUNE Program University of Cologne (to DH and MM); GEROK Program University of Cologne (to DH and MM); Zentrum für Molekulare Medizin Köln (ZMMK; to CC, DH, MM); EU COST BM1302 "Joining Forces in Corneal Regeneration" (to CC, DH, SS), EU Arrest Blindness (to CC), EU EFRE NRW (to SS).
Ethics declarations
Interessenkonflikt
M. Matthaei, B. Bachmann, D. Hos, S. Siebelmann, F. Schaub und C. Cursiefen geben an, dass kein Interessenkonflikt besteht.
Dieser Beitrag beinhaltet keine von den Autoren durchgeführten Studien an Menschen oder Tieren.
Additional information
Die Autoren M. Matthaei und B. Bachmann haben zu gleichen Teilen zum Manuskript beigetragen.
Caption Electronic Supplementary Material
Video: Boston-Typ-I-Keratoprothesen-Implantation; Copyright: PD Dr. Mario Matthaei, Köln
About this article
Cite this article
Matthaei, M., Bachmann, B., Hos, D. et al. Technik der Boston-Typ-I-Keratoprothesen-Implantation. Ophthalmologe 116, 67–72 (2019). https://doi.org/10.1007/s00347-018-0806-x
Schlüsselwörter
Hornhautgewebe

Operationstechnik

Prognose

Komplikationen

Nachsorge
Keywords
Corneal tissue

Surgical procedure

Prognosis

Complications

Aftercare