Zusammenfassung
In der augenärztlichen Ambulanz stellen sich häufig Patienten mit Verletzungen nach Sturz aufs Gesicht speziell bei Beteiligung der periokulären Region vor. Oft handelt es sich um Bagatellverletzungen der Bindehaut, Lider oder periokulärer Haut. Diese können gut adaptiert sein und dann keiner weiteren Versorgung bedürfen. Kleine Dehiszenzen können mit einer Naht, Fibrinkleber oder Steristrips versorgt werden. In manchen Fällen können Bagatellverletzungen sehr trügerisch sein und nur die "Spitze des Eisbergs" der tatsächlichen Verletzung darstellen, sodass eine weiterführende Diagnostik und Therapie erforderlich werden.
Abstract
In ophthalmological emergencies, patients often present with injuries after falling on their face in particular involving the periocular region. Often these are only trivial injuries of the conjunctiva, eyelids or periocular skin, which require no further treatment. Small dehiscences can be treated with sutures, fibrin glue or Steri-Strips; however, sometimes injuries that are more serious can be mistaken as being trivial but only represent the tip of the iceberg of the actual injury and, therefore, further diagnostics and therapy are required.
This is a preview of subscription content, log in to check access.
Access options
Buy single article
Instant access to the full article PDF.
US$ 39.95
Price includes VAT for USA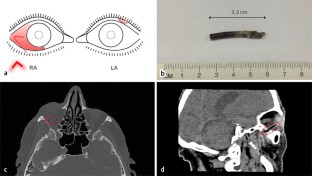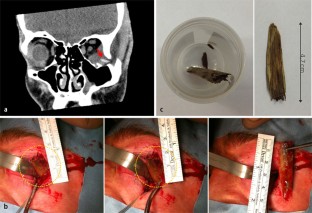 Literatur
1.

Dalley RW (1995) Intraorbital wood foreign bodies on CT: use of wide bone window settings to distinguish wood from air. AJR Am J Roentgenol 164:434–435

2.

Duane TD, Tasman W, Jaeger EA (2006) Duane's ophthalmology on CD-ROM. Lippincott Williams & Wilkins, Philadelphia

3.

Ehlers JP, Shah CP, Wills Eye Hospital (Philadelphia Pa.) et al (2008) The Wills eye manual office and emergency room diagnosis and treatment of eye disease. Lippincott Williams & Wilkins, Philadelphia

4.

Green BF, Kraft SP, Carter KD et al (1990) Intraorbital wood. Detection by magnetic resonance imaging. Ophthalmology 97:608–611

5.

John SS, Rehman TA, John D et al (2008) Missed diagnosis of a wooden intra-orbital foreign body. Indian J Ophthalmol 56:322–324

6.

Reshef DS, Ossoinig KC, Nerado JA (1987) Diagnosis and intraoperative localization of a deep orbital organic foreign body. Orbit 6:3–15

7.

Tas S, Top H (2014) Intraorbital wooden foreign body: clinical analysis of 32 cases, a 10-year experience. Ulusal Travma Acil Cerrahi Derg 20:51–55

8.

Yamashita K, Noguchi T, Mihara F et al (2007) An intraorbital wooden foreign body: description of a case and a variety of CT appearances. Emerg Radiol 14:41–43
Einhaltung ethischer Richtlinien
Interessenkonflikt. M. Kulanga und M. Schittkowski geben an, dass kein Interessenkonflikt besteht. Dieser Beitrag beinhaltet keine Studien an Menschen oder Tieren.
About this article
Cite this article
Kulanga, M., Schittkowski, M. Unterschätzte Bagatellverletzungen nach Sturz. Ophthalmologe 112, 1006–1010 (2015). https://doi.org/10.1007/s00347-015-3249-7
Schlüsselwörter
Orbita

Fremdkörper

Lider

Bildgebung

Bindehaut
Keywords
Orbit

Foreign body

Imaging

Conjunctiva

Eyelids