Zusammenfassung
Hintergrund
Ziel der vorgestellten Umfrage war es, die aktuelle Situation der Assistenzärztinnen und -ärzte in der Ophthalmologie zu beschreiben und ihre Vorstellungen und Ziele zu erfassen. Die Beschreibung der Ist-Situation soll zur Identifizierung von Problembereichen und Entwicklung von bedarfsorientierten Verbesserungsansätzen beitragen.
Methoden
Die Onlineumfrage wurde 2014 an 1100 Assistenzärzte/-ärztinnen per E-Mail versandt; 334 Antworten konnten in die Auswertung einfließen, entsprechend einer Rücklaufquote von 30,1 %.
Ergebnisse
Von den Teilnehmern waren 68 % weiblich, 32 % männlich (Durchschnittsalter 31,8 Jahre). Ein Drittel der Teilnehmer hat Kinder. An einer universitären Einrichtung waren 44,6 % der Befragten tätig, 54,4 % an einer nichtuniversitären Einrichtung; 45,5 % der Befragten fühlten sich gut ausgebildet. Defizite der Weiterbildung wurden vor allem im Bereich der Neuroophthalmologie und der ophthalmochirurgischen Ausbildung angegeben. Die Beurteilung der Weiterbildung ergab eine Durchschnittsnote von 2,9 ("befriedigend"). Von den Befragten gaben 35,5 % an, sich wissenschaftlich zu betätigen, 21,9 % strebten eine Habilitation an. Fast 50 % der Befragten planen, langfristig im niedergelassenen Bereich zu arbeiten, 15 % an einer Universität.
Schlussfolgerung
Die durchgeführte Umfrage erbrachte aufgrund der relativ guten Rücklaufquote und der Teilnahme von Assistenzärzten verschiedener Ausbildungsstufen ein relativ repräsentatives Bild. Die Umfrage kann daher dazu beitragen, die bestehende Situation zu charakterisieren und passende Verbesserungsansätze und Zukunftsstrategien zu entwickeln.
Abstract
Purpose
The main purpose of the present survey was to describe the situation of residents in ophthalmology in Germany, including professional aims and plans for the future. By evaluating the current conditions, potential deficits should be identified which could lead to demand-oriented approaches for improvement.
Methods
The online questionnaire was sent out per e-mail to 1100 German residents. The rate of received answers was 30.1 % (334 completed questionnaires).
Results
Of the participants 68 % were female,32 % were male (mean age 31.8 years), one third of the participants had children, 44.6 % worked at university institutions, 54.4 % at non-university institutions and 45.5 % considered themselves as well-trained. Deficits during residency training were seen in the field of neuro-ophthalmology and ophthalmic surgery. The evaluation of the residency in total revealed an overall average grade of 2.9 ("satisfactory"). Of the physicians 35.5 % reported to be actively involved in research projects and 21.9 % reported pursuing an academic career. Almost 50 % of the participant residents aimed to work in a private practice after residency and 15 % aimed to work at an university hospital.
Conclusion
The present survey revealed representative data because of the acceptable return rate and participating residents from all different educational levels (1st to 5th year). The survey can therefore help to characterize the current situation of residents in ophthalmology in Germany and to develop demand-oriented possibilities for improvement.
This is a preview of subscription content, log in to check access.
Access options
Buy single article
Instant access to the full article PDF.
US$ 39.95
Price includes VAT for USA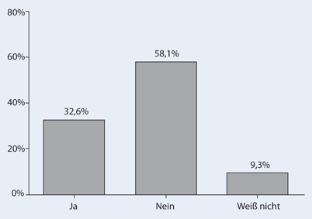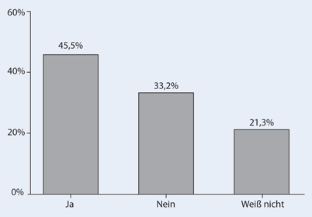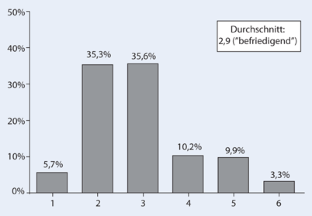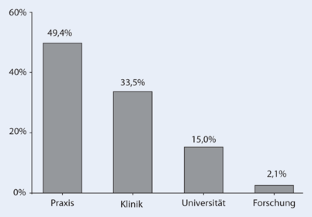 Literatur
1

Buddeberg-Fischer B, Stamm M, Buddeberg C et al (2008) Career-success scale – a new instrument to assess young physicians' academic career steps. BMC Health Serv Res 8:120

2

Buddeberg-Fischer B, Klaghofer R, Stamm M et al (2008) Work stress and reduced health in young physicians: prospective evidence from Swiss residents. Int Arch Occup Environ Health 82:31–38

3

Cerwenka H, Bacher H, Werkgartner G et al (2009) Working conditions and trainee shortage in operative disciplines – is our profession ready for the next decade? Langenbecks Arch Surg 394:179–183

4

Danesh-Meyer HV, Deva NC, Ku JY et al (2007) Differences in practice and personal profiles between male and female ophthalmologists. Clin Experiment Ophthalmol 35:318–323

5

Holz F, Kampik A, Grehn F (2008) DOG Roadmap, München

6

Kaczmarczyk G (2006) Frauen in Führungspositionen? Karriere als Ärztin? Dtsch Ärztebl 103:2132

7

Kopetsch T (2007) Berufsanfänger: Mehr als die Hälfte sind Ärztinnen. Dtsch Ärztebl 104:698–704

8

Korzilius H (2014) Weiterbildung zum Facharzt – Der Nachwuchs ist unzufrieden. Dtsch Ärztebl 111:744–745

9

Meltendorf C, Ziemssen F (2010) Arbeitsbedingungen des wissenschaftlichen Nachwuchses in der Augenheilkunde – Ergebnisse einer aktuellen Online-Umfrage. Ophthalmologe 107:1176–1184

10

Statistisches Bundesamt (2014) Statistisches Jahrbuch Deutschland 2014. https://www.destatis.de
Danksagung
Die Autoren danken Birgit Mele und Dr. Philip Gass von der Geschäftsstelle der DOG, München, für die große Hilfe bei der Durchführung der Umfrage sowie die Durchsicht des Manuskriptes und Professor Dr. Berthold Seitz, Homburg/Saar, für die Unterstützung des Projektes von Beginn an.
Ethics declarations
Interessenkonflikt
D. Hos, P. Steven und T. Dietrich-Ntoukas geben an, dass kein Interessenkonflikt besteht.
Dieser Beitrag beinhaltet keine Studien an Menschen oder Tieren.
Additional information
Die Autoren sind Mitglieder der Arbeitsgruppe Wissenschaftlicher Nachwuchs der Deutschen Ophthalmologischen Gesellschaft.
About this article
Cite this article
Hos, D., Steven, P. & Dietrich-Ntoukas, T. Situation der Assistenzärztinnen und -ärzte in der Ophthalmologie in Deutschland. Ophthalmologe 112, 498–503 (2015). https://doi.org/10.1007/s00347-015-0030-x
Schlüsselwörter
Weiterbildung

Assistenzarzt

Ausbildung

Umfrage

Evaluation
Keywords
Residency

Residents

Training

Questionnaire

Survey