Zusammenfassung
Kindern mit angeborenem klinischem Anophthalmus (fehlende Augenanlage) oder funktionslosem Mikrophthalmus (zu kleines Auge ohne Lichtwahrnehmung) fehlt bereits intrauterin der Stimulus für die Entwicklung und das Wachstum von Lidapparat, Bindehautsack und knöcherner Augenhöhle. Hoch hydrophile Hydrogelexpander bieten eine sehr gute Möglichkeit, die sich daraus ergebenden Schwierigkeiten bei der adäquaten prothetischen Versorgung und die erheblichen ästhetischen Beeinträchtigungen zu kompensieren. Mit ihrer Anwendung kann bereits im ersten Lebensjahr Prothesenfähigkeit erzielt werden.
Abstract
Children suffering from congenital anophthalmos (absence of eyes) or blind microphthalmos (eyes too small without light perception) show significant smaller eyelids, conjunctival sacs and orbital volume due to the lack of intrauterine growth stimulus. Highly hydrophilic osmotic expanders allow prostheses to be fitted in the first year of life to compensate for the volume deficit and the substantial aesthetic disadvantages and to stimulate lid development.
Access options
Buy single article
Instant access to the full article PDF.
US$ 39.95
Tax calculation will be finalised during checkout.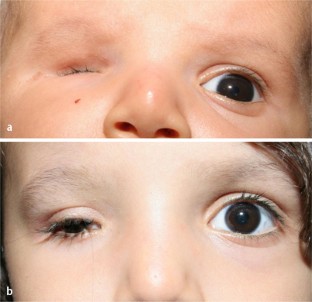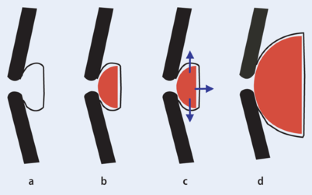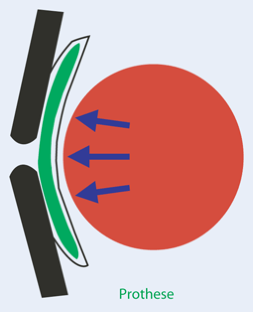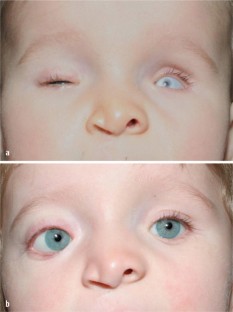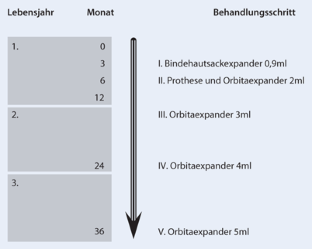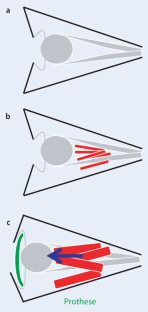 Literatur
1.

Collin JR, Moriarty PA (1982) Management of the contracted socket. Trans Ophthalmol Soc U K 102(Pt 1):93–97

2.

Dootz GL (1992) The ocularists' management of congenital microphthalmos and anophthalmos. Adv Ophthalmic Plast Reconstr Surg 9:41–56

3.

Lang GE, Apple DJ, Naumann GOH (1997) Mißbildungen und Anomalien des ganzen Auges. In: Naumann GOH (Hrsg) Pathologie des Auges. Springer, Berlin, S 99–142

4.

Mazzoli RA, Raymond WR 4th, Ainbinder DJ, Hansen EA (2004) Use of self-expanding, hydrophilic osmotic expanders (hydrogel) in the reconstruction of congenital clinical anophthalmos. Curr Opin Ophthalmol 15(5):426–431

5.

Quaranta-Leoni FM (2011) Congenital anophthalmia: current concepts in management. Curr Opin Ophthalmol 22(5):380–384

6.

Ragge NK, Subak-Sharpe ID, Collin JR (2007) A practical guide to the management of anophthalmia and microphthalmia. Eye (Lond) 21(10):1290–1300

7.

Schittkowski MP, Gundlach KKH, Guthoff RF (2003) Kongenitaler klinischer Anophthalmus und funktionsloser Mikrophthalmus. Vergleichende Betrachtungen zu unterschiedlichen Therapiekonzepten. Ophthalmologe 100(7):S 507–517

8.

Schittkowski MP, Gundlach KKH, Guthoff RF (2003) Therapie des kongenitalen klinischen Anophthalmus mit hoch hydrophilen Hydrogelexpandern. Ophthalmologe 100(7):S 525–534

9.

Schittkowski M, Hingst V, Knaape A et al (2004) Orbitavolumetrie bei kongenitalem klinischen Anophthalmus. Klin Monatsbl Augenheilkd 221(11):898–903

10.

Schittkowski MP, Guthoff RF (2006) Injectable self inflating hydrogel pellet expanders for the treatment of orbital volume deficiency in congenital microphthalmos: preliminary results with a new therapeutic approach. Br J Ophthalmol 90(9):1173–1177

11.

Tucker SM, Sapp N, Collin R (1995) Orbital expansion of the congenitally anophthalmic socket. Br J Ophthalmol 79:667–671

12.

Wiese KG (1993) Osmotically induced tissue expansion with hydrogels: a new dimension in tissue expansion? A preliminary report. J Craniomaxillofac Surg 21(7):S 309-313
Interessenkonflikt
Der korrespondierende Autor gibt an, dass kein Interessenkonflikt besteht.
About this article
Cite this article
Schittkowski, M. Therapiemöglichkeiten bei funktionslosem Mikrophthalmus und klinischem Anophthalmus. Ophthalmologe 109, 1122–1126 (2012). https://doi.org/10.1007/s00347-012-2629-5
Schlüsselwörter
Kongenitaler klinischer Anophthalmus

Mikrophthalmus

Expander

Osmose

Hydrogel
Keywords
Congenital clinical anophthalmos

Microphthalmos

Expander

Osmosis

Hydrogel