Zusammenfassung
Im weltweiten Mittel liegt die Myopiehäufigkeit bei etwa 30%. Myopie wird traditionell eingeteilt in "Schulmyopie" und "pathologische Myopie". Weiterhin unterscheidet man fortschreitende Myopie und stationäre Myopie. Es besteht eine ausgeprägte Korrelation zwischen Myopiehäufigkeit und "Verstädterung und Ausbildung". Risikofaktoren für eine Myopieentwicklung sind Naharbeit, wenig Aufenthalt im Freien, der Bau des Auges sowie genetische Risikofaktoren. Positiv beeinflusst werden kann die Myopieentwicklung durch eine periphere Fokussierung, vermehrte Lichtexposition und künftig evtl. auch pharmakologisch.
Abstract
The average worldwide frequency of myopia is approximately 30 % and is traditionally subdivided into school myopia and pathological myopia. A further distinction is made between progressive myopia and stationary myopia. There is a high correlation between the frequency of myopia and urbanization and training. Risk factors for development of myopia are close-up work, lack of outdoor activity, biometrical variables of the eye and genetic risk factors. Development of myopia can be positively influenced by peripheral focusing, increased exposure to light and in the future possibly pharmacologically.
Access options
Buy single article
Instant access to the full article PDF.
US$ 39.95
Tax calculation will be finalised during checkout.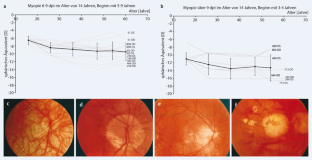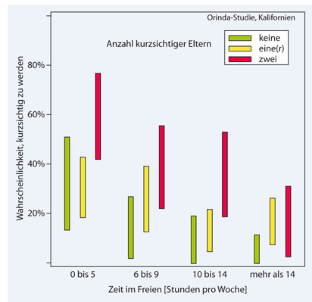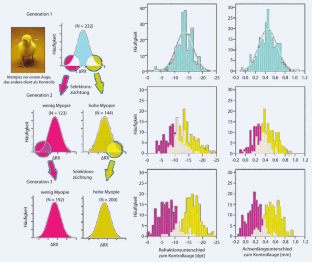 Literatur
1.

Anstice NS, Phillips JR (2011) Effect of dual-focus soft contact lens wear on axial myopia progression in children. Ophthalmology 118(6):1152–1161

2.

Ashby R, Ohlendorf A, Schaeffel F (2009) The effect of ambient illuminance on the development of deprivation myopia in chicks. Invest Ophthalmol Vis Sci 50:5348–5354

3.

Ashby RS, Schaeffel F (2010) The effect of bright light on lens compensation in chicks. Invest Ophthalmol Vis Sci 51:5247–5253

4.

Berntsen DA, Sinnott LT, Mutti DO, Zadnik K (2012) A randomized trial using progressive addition lenses to evaluate theories of myopia progression in children with a high lag of accommodation. Invest Ophthalmol Vis Sci 53(2):640–649

5.

Berntsen DA, Sinnott LT, Mutti DO et al (2011) Accommodative lag and juvenile-onset myopia progression in children wearing refractive correction. Vision Res 51:1039–1046

6.

Burton TC (1989)The influence of refractive error and lattice degeneration on the incidence of retinal detachment. Trans Am Ophthalmol Soc 87:143–155 (discussion 155–157)

7.

Chen YP, Hocking PM, Wang L et al (2011) Selective breeding for susceptibility to myopia reveals a gene-environment interaction. Invest Ophthalmol Vis Sci 52:4003–4011

8.

Chung K, Mohidin N, O'Leary DJ (2002) Undercorrection of myopia enhances rather than inhibits myopia progression. Vision Res 42:2555–2559

9.

Curtin BJ (1985) The myopias. Basic science and clinical management. Harper and Row Publihers, Philadelphia, S 338

10.

Dirani M, Tong L, Gazzard G et al (2009) Outdoor activity and myopia in Singapore teenage children. Br J Ophthalmol 93(8):997–1000

11.

Ganesan P, Wildsoet CF (2010) Pharmaceutical intervention for myopia control. Expert Rev Ophthalmol 5:759–787

12.

Goldschmidt E, Fledelius HC (2011) Clinical features in high myopia. A Danish cohort study of high myopia cases followed from age 14 to age 60. Acta Ophthalmol 89:97–98

13.

Gwiazda J, Hyman L, Hussein M et al (2003) A randomized clinical trial of progressive addition lenses versus single vision lenses on the progression of myopia in children. Invest Ophthalmol Vis Sci 44:1492–1500

14.

Hammond CJ, Snieder H, Gilbert CE, Spector TD (2001) Genes and environment in refractive error: the twin eye study. Invest Ophthalmol Vis Sci 42(6):1232–1236

15.

Hayashi K, Ohno-Matsui K, Shimada N et al (2010) Long-term pattern of progression of myopic maculopathy: a natural history study. Ophthalmology 117:1595–1611

16.

Hoogerheide J, Rempt F, Hoogenboom WP (1971) Acquired myopia in young pilots. Ophthalmologica 163(4):209–215

17.

Ikuno Y, Jo Y, Hamasaki T, Tano Y (2010a) Ocular risk factors for choroidal neovascularization in pathologic myopia. Invest Ophthalmol Vis Sci 51:3721–3725

18.

Ikuno Y, Kawaguchi K, Nouchi T, Yasuno Y (2010b) Choroidal thickness in healthy Japanese subjects. Invest Ophthalmol Vis Sci 51:2173–2176

19.

Jacobsen N, Jensen H, Goldschmidt E (2007) Prevalence of myopia in Danish conscripts. Acta Ophthalmol Scand 85:165–167

20.

Jobke S, Kasten E, Vorwerk C (2008) The prevalence rates of refractive errors among children, adolescents, and adults in Germany. Clin Ophthalmol 2:601–607

21.

Jones LA, Sinnott LT, Mutti DO et al (2007) Parental history of myopia, sports and outdoor activities, and future myopia. Invest Ophthalmol Vis Sci 48:3524–3532

22.

Kempen JH, Mitchell P, Lee KE et al (2004) Eye Diseases Prevalence Research Group. The prevalence of refractive errors among adults in the United States, Western Europe, and Australia. Arch Ophthalmol 122(4):495–505

23.

Li XQ, Larsen M, Munch IC (2011) Subfoveal choroidal thickness in relation to sex and axial length in 93 Danish university students. Invest Ophthalmol Vis Sci 52(11):8438–8441

24.

Lin LL, Shih YF, Hsiao CK, Chen CJ (2004) Prevalence of myopia in taiwanese schoolchildren: 1983–2000. Ann Acad Med Singapore 33(1):27–33

25.

Liu HH, Xu L, Wang YX et al (2010) Prevalence and progression of myopic retinopathy in Chinese adults: the Beijing Eye Study. Ophthalmology 117(9):1763–1768

26.

Manny RE, Mitchell GL, Cotter SA et al (2011) Intraocular pressure, ethnicity, and refractive error. Optom Vis Sci 88(12):1445–1453

27.

McBrien NA, Arumugam B, Metlapally S (2012) The effect of daily transient + 4 D positive lens wear on the inhibition of myopia in the tree shrew. Invest Ophthalmol Vis Sci. 53(3):1593–1601

28.

McBrien NA, Jobling AI, Gentle A (2009) Biomechanics of the sclera in myopia: extracellular and cellular factors. Optom Vis Sci 86(1):E23–30 (Review)

29.

McLeod DS, Grebe R, Bhutto I et al (2009) Relationship between RPE and choriocapillaris in age-related macular degeneration. Invest Ophthalmol Vis Sci 50:4982–4991

30.

Mordechai S, Gradstein L, Pasanen A et al (2011) High myopia caused by a mutation in LEPREL1, encoding prolyl 3-hydroxylase 2. Am J Hum Genet 89(3):438–445

31.

Morgan I, Rose K (2005) How genetic is school myopia? Prog Retin Eye Res 24:1–38 (Review)

32.

Mutti DO, Mitchell GL, Sinnott LT et al (2012) Corneal and crystalline lens dimensions before and after myopia onset. Optom Vis Sci 89(3):251–262

33.

Pan CW, Ramamurthy D, Saw SM (2012) Worldwide prevalence and risk factors for myopia. Ophthalmic Physiol Opt 32(1):3–16 (Review)

34.

Pärssinen O, Lyyra AL (1993) Myopia and myopic progression among schoolchildren: a three-year follow-up study. Invest Ophthalmol Vis Sci 34(9):2794–2802

35.

Perkins ES (1979) Morbidity from myopia. Sight Sav Rev 49(1):11–19

36.

Phillips JR (2005) Monovision slows juvenile myopia progression unilaterally. Br J Ophthalmol 89:1196–1200

37.

Rahi JS, Cumberland PM, Peckham CS (2011) Myopia over the lifecourse: prevalence and early life influences in the 1958 British birth cohort. Ophthalmology 118(5):797–804

38.

Rose KA, Morgan IG, Smith W et al (2008) Myopia, lifestyle, and schooling in students of Chinese ethnicity in Singapore and Sydney. Arch Ophthalmol 126(4):527–523

39.

Schaeffel F, Howland HC (1991) Properties of the feedback loops controlling eye growth and refractive state in the chicken. Vision Res 31(4):717–734

40.

Schaeffel F (2011) Myopia update 2011. Klin Monatsbl Augenheilkd 228(9):754–756

41.

Schwahn HN, Kaymak H, Schaeffel F (2000) Effects of atropine on refractive development, dopamine release, and slow retinal potentials in the chick. Vis Neurosci 17(2):165–176

42.

Smith EL III, Hung LF, Huang J et al (2010) Effects of optical defocus on refractive development in monkeys: evidence for local, regionally selective mechanisms. Invest Ophthalmol Vis Sci 51(8):3864–3873

43.

Smith EL III, Hung LF, Huang J (2012) Protective effects of high ambient lighting on the development of form-deprivation myopia in rhesus monkeys. Invest Ophthalmol Vis Sci 53(1):421–428

44.

Smith EL III, Hung LF, Huang J (2009) Relative peripheral hyperopic defocus alters central refractive development in infant monkeys. Vision Res 49(19):2386–2392

45.

Smith EL III, Ramamirtham R, Qiao-Grider Y et al (2007) Effects of foveal ablation on emmetropization and form-deprivation myopia. Invest Ophthalmol Vis Sci 48(9):3914–3922

46.

Tabernero J, Ohlendorf A, Fischer MD et al (2011) Peripheral refraction profiles in subjects with low foveal refractive errors. Optom Vis Sci 88:E388–394

47.

Tokoro T, Kabe S (1965) Treatment of the myopia and the changes in optical components. Report II. Full-or under-correction of myopia by glasses. Nihon Ganka Gakkai Zasshi 69(2):140–144 (Japanese)

48.

Vitale S, Sperduto RD, Ferris FL III (2009) Increased prevalence of myopia in the United States between 1971–1972 and 1999–2004. Arch Ophthalmol 127:1632–1639

49.

Vongphanit J, Mitchell P, Wang JJ (2002) Prevalence and progression of myopic retinopathy in an older population. Ophthalmology 109(4):704–711

50.

Wallman J, Winawer J (2004) Homeostasis of eye growth and the question of myopia. Neuron. 43(4):447–468 (Review)

51.

Wildsoet C, Wallman J (1995) Choroidal and scleral mechanisms of compensation for spectacle lenses in chicks. Vision Res 35(9):1175–1194

52.

Young TL (2009) Molecular genetics of human myopia: an update. Optom Vis Sci 86(1):E8–E22

53.

Zadnik K, Mutti DO, Friedman NE et al (1999) Ocular predictors of the onset of juvenile myopia. Invest Ophthalmol Vis Sci 40(9):1936–1943

54.

Zhu X, Winawer JA, Wallman J (2003) Potency of myopic defocus in spectacle lens compensation. Invest Ophthalmol Vis Sci 44(7):2818–2827

55.

Zylbermann R, Landau D, Berson D (1993) The influence of study habits on myopia in Jewish teenagers. J Pediatr Ophthalmol Strabismus 30(5):319–322

56.

Low W, Dirani M, Gazzard G et al (2010) Family history, near work, outdoor activity and myopia in Singapore Chinese preschool children. Optometry Vision Sci 88(3):400 (online available under http://links.lww.com/OPX/A45)

57.

Jensen H (1991) Myopia progression in young school children. A prospective study of myopia progression and the effect of a trial with bifocal lenses and beta blocker eye drops. Acta Ophthalmol Suppl 200:1–79

58.

Gwiazda J, Thorn F, Bauer J, Held R (1993) Myopic children show insufficient accommodative response to blur. Invest Ophthalmol Vis Sci 34(3):690–694
Danksagung
Ich danke Frau Dr. Andrea Hassenstein, Hamburg, für die Einladung zu diesem Übersichtsartikel, und Frau Dr. Marita Feldkaemper für Kommentare zum Manuskript.
Interessenkonflikt
Der korrespondierende Autor gibt an, dass kein Interessenkonflikt besteht.
Additional information
__ ____
Das Manuskript benutzt eine Anzahl Abstracts, eingereicht für die jährliche Tagung der Association for Research in Vision and Ophthalmology (ARVO) in Ft. Lauderdale vom 6.–10. Mai 2012. Abstractnummern sind direkt im Text zitiert.
About this article
Cite this article
Schaeffel, F. Klinische Risikofaktoren der Myopieprogression. Ophthalmologe 109, 738–748 (2012). https://doi.org/10.1007/s00347-011-2497-4
Schlüsselwörter
Myopie

Myopieprogression

Lichtexposition

Genetische Risikofaktoren

Verstädterung
Keywords
Myopia

Progression

Light exposure

Genetic risk factors

Urbanization