Zusammenfassung
Bei Glaukompatienten ist eine zuverlässige Messung des Intraokulardrucks (IOD) notwendig. Bei der Applanationstonometrie können durch den Messvorgang, durch die Anatomie des Auges oder durch extraokulare Einflüsse Fehler auftreten. Zu einer Überschätzung des IOD kann es bei Messung durch das falsche Okular der Spaltlampe, bei Druck gegen den Messarm während der Messung, bei Lidkontakt mit dem Tonometerköpfchen, bei forciertem Lidschluss, bei weit geöffneten Augen oder bei einem Valsalva-Manöver kommen. Zu einer Unterschätzung des IOD kommt es unter anderem bei fehlender oder zu geringer Fluoreszeinanfärbung, bei nicht ausreichend heller Beleuchtung, bei einem kornealen Stromaödem, nach LASIK, bei Akkommodation, bei wiederholten Messungen innerhalb von wenigen Minuten oder bei systemischem Blutdruckabfall. Abweichungen des IOD in beide Richtungen können bei fehlerhafter Kalibrierung des Tonometers, bei abnormer Hornhautdicke oder bei Astigmatismus auftreten. Zur korrekten Messung ist eine halbjährliche oder jährliche Kalibrierung der Tonometer sinnvoll.
Abstract
Reliable measurements of the intraocular pressure (IOP) are necessary for glaucoma patients. The measuring procedure, anatomical changes of the eye or extraocular influences can lead to errors during applanation tonometry. The IOP is overestimated if measured through the wrong eyepiece of the slit lamp, if a force is interfering with the tonometer arm during the measurement, if the lid comes into contact with the tonometer tip, if blepharospasm occurs, if there is lid retraction or if a Valsalva maneuver is present. An underestimation of the IOP occurs if staining with fluorescein is absent or insufficient, if the illumination is not bright enough, if a corneal stromal edema is present, after LASIK, during accommodation, during repeated measures within a few minutes or during systemic blood pressure drop. Discrepancies of the IOP in both directions can appear if the calibration of the tonometer is irregular, if abnormal central corneal thickness or astigmatism is present. For correct measurements calibrations are advised once or twice a year.
This is a preview of subscription content, log in to check access.
Access options
Buy single article
Instant access to the full article PDF.
US$ 39.95
Price includes VAT for USA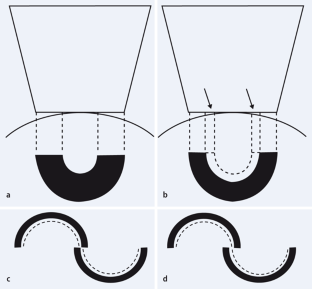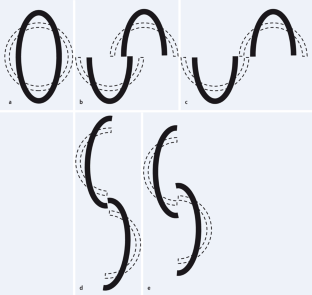 Literatur
1.

Bechrakis E (1966) Über den spontanen Druckabfall bei Applanationstonometrie. Ophthalmologica 151:604–614

2.

Brandt JD, Beiser JA, Kass MA et al (2001) Central corneal thickness in the Ocular Hypertension Treatment Study (OHTS). Ophthalmology 108:1779–1788

3.

Bynke H, Krakau CE, Wilke K (1972) Repeated applanation tonometry in optic atrophy. Acta Ophthalmol (Copenh) 50:240–246

4.

Coleman DJ, Trokel S (1969) Direct-recorded intraocular pressure variations in a human subject. Arch Ophthalmol 82:637–640

5.

Dada T, Gupta V, Deepak KK et al (2006) Narrowing of the anterior chamber angle during Valsalva maneuver: a possible mechanism for angle closure. Eur J Ophthalmol 16:81–91

6.

Draeger J (1999) Das neue automatische Applanationstonometer für den Augenarzt. Spektrum Augenheilkd 13:195–197

7.

Dos Santos MG, Makk S, Berghold A et al (1998) Intraocular pressure difference in Goldmann applanation tonometry versus Perkins hand-held applanation tonometry in overweight patients. Ophthalmology 105:2260–2263

8.

Ehlers N, Bramsen T, Sperling S (1975) Applanation tonometry and central corneal thickness. Acta Ophthalmol (Copenh) 53:34–43

9.

Faschinger C, Mossböck G (2010) Kontinuierliche 24-h-Aufzeichnung von Augendruckschwankungen mittels drahtlosem Kontaktlinsensensor TriggerfishTM. Erste Ergebnisse an Patienten. Ophthalmologe 107:918–922

10.

Hoffer KJ (1979) Applanation tonometry with and without fluorescein. Am J Ophthalmol 88:798

11.

Hoffmann PC, Hutz WW (2010) Analysis of biometry and prevalence data for corneal astigmatism in 23,239 eyes. J Cataract Refract Surg 36:1479–1485

12.

Holladay JT, Allison ME, Prager TC (1983) Goldmann applanation tonometry in patients with regular corneal astigmatism. Am J Ophthalmol 96:90–93

13.

Jessen K (1969) Neuere Verfahren zur eichamtlichen Prüfung von Impressions- und Applanationstonometern. Klin Monatsbl Augenheilkd 155:271–278

14.

Kohlhaas M, Spörl E, Böhm AG et al (2005) Applanationstonometrie bei Normalpatienten und Patienten nach LASIK. Klin Monatsbl Augenheilkd 222:823–826

15.

Kotecha A, White E, Schlottmann PG et al (2010) Intraocular pressure measurement precision with the Goldmann applanation, dynamic contour, and ocular response analyzer tonometers. Ophthalmology 117:730–737

16.

Kubota T, Nagata T, Tawara A et al (2008) Influence of IOP measurement through the wrong eyepiece of the slit lamp on Goldmann applanation tonometry. Eur J Ophthalmol 18:910–914

17.

Kutschan A, Schroeder B, Hager A et al (2010) Hornhautdickenabhängige Korrekturfaktoren bei der Goldmann-Applanationstonometrie. Ophthalmologe 107:30–35

18.

Leske MC, Heijl A, Hussein M et al (2003) Factors for glaucoma progression and the effect of treatment: the early manifest glaucoma trial. Arch Ophthalmol 121:48–56

19.

Leydhecker W (1961) Die homöostatische Regulation des intraokularen Druckes – Experimentelle und klinische Befunde. Klin Monatsbl Augenheilkd 139:617–626

20.

Mark HH, Mark TL (2003) Corneal astigmatism in applanation tonometry. Eye (Lond) 17:617–618

21.

McMillan F, Forster RK (1975) Comparison of MacKay-Marg, Goldmann, and Perkins tonometers in abnormal corneas. Arch Ophthalmol 93:420–424

22.

Moses RA, Carniglia PE, Grodzki WJ et al (1984) Proptosis and increase of intraocular pressure in voluntary lid fissure widening. Invest Ophthalmol Vis Sci 25:989–992

23.

Oh JH, Yoo C, Kim YY et al (2009) The effect of contact lens-induced corneal edema on Goldmann applanation tonometry and dynamic contour tonometry. Graefes Arch Clin Exp Ophthalmol 247:371–375

24.

Read SA, Collins MJ, Becker H et al (2010) Changes in intraocular pressure and ocular pulse amplitude with accommodation. Br J Ophthalmol 94:332–335

25.

Ritch R, Reyes A (1988) Moustache glaucoma. Arch Ophthalmol 106:1503

26.

Roper DL (1980) Applanation tonometry with and without fluorescein Am J Ophthalmol 90:668–671

27.

Rüfer F, Schröder A, Bader C et al (2007) Age-related changes in central and peripheral corneal thickness: determination of normal values with the Orbscan II topography system. Cornea 26:1–5

28.

Sandhu SS, Chattopadhyay S, Amariotakis GA et al (2009) The accuracy of continued clinical use of Goldmann applanation tonometers with known calibration errors. Ophthalmology 116:9–13

29.

Sandhu SS, Chattopadhyay S, Birch MK et al (2005) Frequency of Goldmann applanation tonometer calibration error checks. J Glaucoma 14:215–218

30.

Simon G, Small RH, Ren Q et al (1993) Effect of corneal hydration on Goldmann applanation tonometry and corneal topography. Refract Corneal Surg 9:110–117

31.

Wessels IF, Oh Y (1990) Tonometer utilization, accuracy, and calibration under field conditions. Arch Ophthalmol 108:1709–1712

32.

Whitacre MM, Stein R (1993) Sources of error with use of Goldmann-type tonometers. Surv Ophthalmol 38:1–30

33.

Wilke K (1972), Effects of repeated tonometry: genuine and sham measurements. Acta Ophthalmol (Copenh) 50:574–582
Interessenkonflikt
Der korrespondierende Autor gibt an, dass kein Interessenkonflikt besteht.
About this article
Cite this article
Rüfer, F. Fehlerquellen bei der Goldmann-Applanationstonometrie. Ophthalmologe 108, 546–552 (2011). https://doi.org/10.1007/s00347-011-2370-5
Schlüsselwörter
Applanationstonometrie

Fehler

Zentrale Hornhautdicke

Astigmatismus

Valsalva-Manöver
Keywords
Applanation tonometry

Error

Central corneal thickness

Astigmatism

Valsalva maneuver