Zusammenfassung
Einleitung
Wir berichten über einen einzigartigen Fall eines jungen Patienten, der bei Keratokonus vor 20 Jahren eine perforierende Keratoplastik erhalten hatte und sich in unserer Klinik mit Visusverschlechterung bei Salzmann'scher nodulärer Degeneration auf dem Transplantat, wahrscheinlich aufgrund einer rezidivierenden Herpeskeratitis, vorstellte. Der Patient wurde mit einer phototherapeutischen Keratektomie (PTK) behandelt, und trotz niedriger Endothelzellzahl des Hornhauttransplantates konnte die Sehschärfe zufriedenstellend wiederhergestellt werden.
Schlussfolgerung
Auch bei unsicherer Transplantatprognose aufgrund mehrerer Risikofaktoren (Transplantatalter, geringe Endothelzellzahl, subklinische rezidivierende HSV-Infektion) stellt ein ophthalmochirurgischer Therapieversuch mittels PTK bei Salzmann'scher nodulärer Degeneration eine vielversprechende Therapiemethode zur Vermeidung einer Rekeratoplastik dar.
Abstract
Introduction
We report a unique case of a young patient who underwent penetrating keratoplasty for keratoconus 20 years previously and presented in our department with visual deterioration due to Salzmann's nodular degeneration (SND) on the corneal graft, induced probably by underlying recurrent herpetic (HSV) keratitis. The patient was treated with phototherapeutic keratectomy (PTK) and despite the low endothelial density of the corneal graft, visual acuity was sufficiently restored.
Conclusion
Treatment with PTK is a promising therapeutic option in SND to avoid repeat penetrating keratoplasty, even if the prognosis for the corneal graft is endangered by several risk factors (age of the graft, low endothelial density, subclinical recurrent HSV infection).
Access options
Buy single article
Instant access to the full article PDF.
US$ 39.95
Tax calculation will be finalised during checkout.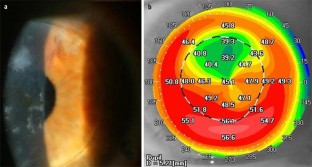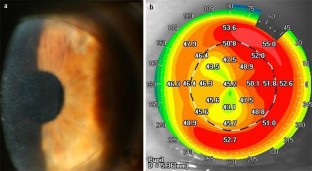 Literatur
1.

Das S, Link B, Seitz B (2005) Salzmann's nodular degeneration of the cornea: a review and case series. Cornea 24:772–777

2.

Das S, Langenbucher A, Pogorelov P et al (2005) Long-term outcome of excimer laser phototherapeutic keratectomy for treatment of Salzmann's nodular degeneration. J Cataract Refract Surg 31:1386–1391

3.

Deai T, Fukuda M, Tomoda Y et al (2004) Excimer laser photokeratectomy reactivates latent herpes simplex virus. Jpn J Ophthalmol 48:570–572

4.

Lim MC, Chan WK (2009) Salzmann nodular degeneration after laser in situ keratomileusis. Cornea 28:577–578

5.

Stone DU, Astley RA, Shaver RP, Chodosh J (2008) Histopathology of Salzman nodular corneal degeneration. Cornea 27:148–151

6.

VanderBeek BL, Silverman RH, Starr CE (2009) Bilateral Salzmann-like nodular corneal degeneration after laser in situ keratomileusis imaged with anterior segment optical coherence tomography and high-frequency ultrasound biomicroscopy. J Cataract Refract Surg 35:785–787

7.

Vannas A, Hogan MJ, Wood I (1975) Salzmann's nodular degeneration of the cornea. Am J Ophthalmol 79:211–219
Interessenkonflikt
Der korrespondierende Autor gibt an, dass kein Interessenkonflikt besteht.
Additional information
___ ___
Dieses Manuskript basiert auf einem Vortrag, gehalten auf der Tagung der Deutschen Ophthalmologischen Gesellschaft 2010.
About this article
Cite this article
Gatzioufas, Z., Hager, T., El-Husseiny, M. et al. Salzmann'sche noduläre Degeneration 20 Jahre nach perforierender Keratoplastik bei Keratokonus. Ophthalmologe 108, 963–965 (2011). https://doi.org/10.1007/s00347-011-2361-6
Schlüsselwörter
Salzmann'sche noduläre Degeneration

Herpetische Keratitis

Hornhauttransplantat

Keratokonus

Keratoplastik
Keywords
Salzmann's nodular degeneration

Corneal graft

Keratoconus

Herpetic keratitis

Keratoplasty