Zusammenfassung
Schweres Silikonöl hat keine mit hoher Evidenz nachweisbaren Vor- oder Nachteile gegenüber konventionellem Silikonöl. Das gibt dem Operateur die Freiheit, diejenige Tamponade zu wählen, die ihm für den Einzelfall am besten geeignet erscheint. Geeignete Indikationen für schweres Silikonöl sind Augen mit bestehender PVR-Amotio oder mit PVR-Risiko in der unteren Netzhauthälfte. Persistierende oder komplizierte Makulaforamina können mit schwerem Öl oft doch noch verschlossen werden. Dafür muss eine höhere Emulsifikationsrate im Vergleich zu herkömmlichem 5000-cSt-Silikonöl in Kauf genommen werden, ebenso wie eine gesteigerte Kataraktrate. Schweres Silikonöl sollte nicht länger als etwa 2 Monate im Auge belassen werden. Deshalb sind schwere Verletzungen und Hypotoniesyndrom keine geeigneten Indikationen. Anfängliche Schwierigkeiten bei der Entfernung des schweren Öls durch (seltene) Klebrigkeit an der Netzhaut sind inzwischen mit Hilfe von Perfluorkarbonen überwunden.
Abstract
Heavy silicone oil does not have any evidence-based advantages or disadvantages over conventional silicone oil. It is up to the surgeon to choose the type of tamponade considered to be most suitable for the individual eye. Suitable indications for heavy silicone oil are, for example proliferative vitreoretinopathy (PVR) and risk of PVR in the lower retina. Persistent or complicated macular holes can often be closed with heavy oil but in exchange higher rates of emulsification and cataracts are to be expected. Heavy silicone oils should not remain in the eye for longer than approximately 2 months, therefore, severe ocular trauma and ocular hypotension are not suitable indications. Initial technical difficulties to remove sticky (rare) oil from the retina have now been overcome by using liquid perfluorocarbons.
Access options
Buy single article
Instant access to the full article PDF.
US$ 39.95
Tax calculation will be finalised during checkout.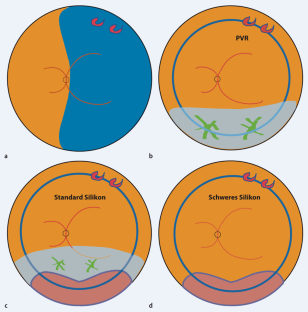 Literatur
1.

Caramoy A, Schroder S, Fauser S, Kirchhof B (2009) In vitro emulsification assessment of new silicone oils. Br J Ophthalmol 94(4):509–12

2.

Doi M, Refojo MF (1995) Histopathology of rabbit eyes with silicone-fluorosilicone copolymer oil as six months internal retinal tamponade. Exp Eye Res 61:469–478

3.

Dresp JH, Menz DH (2007) The phenomenon of "sticky" silicone oil. Graefes Arch Clin Exp Ophthalmol 245:863–868

4.

Herbert E, Stappler T, Wetterqvist C et al (2004) Tamponade properties of double-filling with perfluorohexyloctane and silicone oil in a model eye chamber. Graefes Arch Clin Exp Ophthalmol 242:250–254

5.

Joussen AM, Kirchhof B, Schrage N et al (2007) Heavy silicone oil versus standard silicone oil as vitreous tamponade in inferior PVR (HSO Study): design issues and implications. Acta Ophthalmol Scand 85:623–630

6.

Joussen AM, Lux A, Kirchhof B (2009) Shifting of the proliferative vitreoretinopathy milieu after tamponade with heavy silicone oil in eyes prone to proliferative vitreoretinopathy and bleeding. Br J Ophthalmol 93:128–129

7.

Kirchhof B, Wong D, Van MJ et al (2002) Use of perfluorohexyloctane as a long-term internal tamponade agent in complicated retinal detachment surgery. Am J Ophthalmol 133:95–101

8.

Lappas A, Foerster AM, Kirchhof B (2009) Use of heavy silicone oil (Densiron-68) in the treatment of persistent macular holes. Acta Ophthalmol Scand 87:866–870

9.

Lappas A, Kirchhof B, Konen W (2007) Effects of the long-term tamponade with densiron on the lens. Klin Monatsbl Augenheilkd 224:434–437

10.

Osterholz J, Winter M, Winkler J et al (2009) Retinal damage by perfluorocarbon liquids – a question of specific gravity? Intraocular pressure peaks and shearing forces. Klin Monatsbl Augenheilkd 226:38–47

11.

Stappler T, Heimann H, Wong D et al (2008) Heavy tamponade 2 densiron 68 in routine clinical practice: anatomical and functional outcomes of a consecutive case series. Eye 22:1360–1365

12.

Veckeneer MA, VS de, Lindstedt EW et al (2008) An epidemic of sticky silicone oil at the Rotterdam Eye Hospital. Patient review and chemical analyses. Graefes Arch Clin Exp Ophthalmol 246:917–922

13.

Winter M, Eberhardt W, Scholz C, Reichenbach A (2000) Failure of potassium siphoning by Muller cells: a new hypothesis of perfluorocarbon liquid-induced retinopathy. Invest Ophthalmol Vis Sci 41:256–261

14.

Wolf S, Schon V, Meier P, Wiedemann P (2003) Silicone oil-RMN3 mixture ("heavy silicone oil") as internal tamponade for complicated retinal detachment. Retina 23:335–342

15.

Wong D, Cazabon S, Ali H et al (2006) Can the sequential use of conventional silicone oil and heavy oil be a strategy for the management of proliferative vitreoretinopathy? Ann Acad Med Singapore 35:181–184

16.

Wong D, Kumar I, Quah SA et al (2009) Comparison of postoperative intraocular pressure in patients with densiron-68 vs conventional silicone oil: a case-control study. Eye (Lond) 23:190–194
Interessenkonflikt
Der korrespondierende Autor versichert, dass er keinen wirtschaftlichen Vorteil von Produkten hat, die in dem Artikel genannt werden. Der Autor ist Mitglied des Aufsichtsrates der Firma Fluoron (Ulm). Die Präsentation des Themas ist unabhängig und die Darstellung der Inhalte produktneutral.
About this article
Cite this article
Kirchhof, B. Vor- und Nachteile des schweren Silikonöls. Ophthalmologe 107, 566–570 (2010). https://doi.org/10.1007/s00347-010-2215-7
Schlüsselwörter
Operation

Glaskörperersatzstoff

Tamponade

Proliferative Vitreoretinopathie (PVR)

Makulaforamina
Keywords
Operation

Vitreous body replacement material

Tamponade

Proliferative vitreoretinopathy (PVR)

Macular hole