Zusammenfassung
Hintergrund
Es wurde eine augenärztliche Feldstudie mit einem Hospitalschiff auf dem Voltastausee in Ghana durchgeführt, um zu ermitteln, in welchem Umfang dort augenärztliche Untersuchungen und operative Versorgung möglich sind.
Patienten und Methoden
Das Hospitalschiff ist mit einem Operationssaal, Elektrizität und sauberem Trinkwasser ausgerüstet. Sehtests erfolgten mit Snellen-Einzel-E-Haken. Bei Kindern bis zum 4. Lebensjahr wurden Lea-Tafeln verwendet. Die vorderen Augenabschnitte wurden mittels Handspaltlampe und der Fundus binokular in Mydriasis untersucht. Augeninnendruckmessungen erfolgten mit dem Perkins-Handapplanationstonometer.
Ergebnisse
1246 Bewohner wurden untersucht. Das Durchschnittsalter betrug 23,7 Jahre und die mittlere Sehschärfe für beide Augen 1,0 (log MAR 0,0±0,3). Die Haupterblindungsursache ist die Katarakt mit 45,8%, gefolgt von Optikuspathologien mit 29,2%.
Schlussfolgerung
Das Hospitalschiff eignet sich gut zum Screening und zur Durchführung von kleinen Eingriffen. Intraokulare Eingriffe wären aus technischer Sicht auf dem Hospitalschiff durchführbar, sinnvoller erscheint jedoch die Versorgung im nächstgelegenen Krankenhaus.
Abstract
Background
A maiden voyage on a hospital boat was carried out to determine the spectrum of ophthalmological diseases in a rural and secluded area on the Volta Lake in Ghana in order to improve future health care services.
Patients and methods
Portable water, electricity, and an operating theatre were available on the hospital boat. Visual acuity was determined using Snellen E charts, and Lea boards were used in children up to the age of 4 years. The anterior segments were examined using hand held slit lamps. After pupil dilation indirect binocular ophthalmoscopy was performed and tonometry was carried out using a Perkins tonometer
Results
A total of 1,246 citizens were examined. The mean age was 23.7 years and the mean visual acuity was 6/6 (log MAR 0.0±0.3. The main cause of blindness was a cataract with 45.8%, followed by pathological conditions of the optic disc with 29.2%.
Conclusions
The hospital boat is suitable for screening and for carrying out minor extraocular operations. Looking just at the technical aspect, it is possible to perform major intraocular operations on the hospital boat. However, due to the lack of immediate follow-up visits, it is advisable to carry out major operations in the next eye clinic on shore.
This is a preview of subscription content, log in to check access.
Access options
Buy single article
Instant access to the full article PDF.
US$ 39.95
Price includes VAT for USA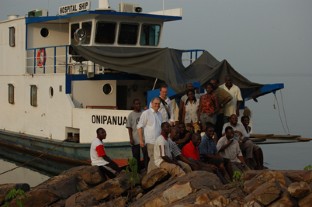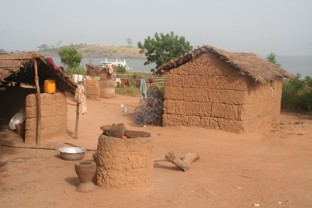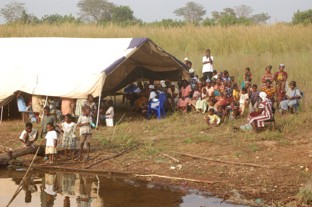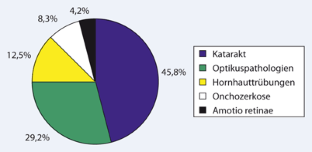 Literatur
1.

Adegbehingbe BO, Majengbasan TO (2007) Ocular health status of rural dwellers in south-western Nigeria. Aust J Rural Health 15: 269–272

2.

Adeoti CO (2004) Prevalence and causes of blindness in a tropical African population. West Afr J Med 23: 249–252

3.

Dirani M, Chamberlain M, Shekar SN et al. (2006) Heritability of refractive error and ocular biometrics: the Genes in Myopia (GEM) twin study. Invest Ophthalmol Vis Sci 47: 4756–4761

4.

Dirani M, Shekar SN, Baird PN (2008) The role of educational attainment in refraction: the Genes in Myopia (GEM) twin study. Invest Ophthalmol Vis Sci 49: 534–538

5.

Ghana National eye care report 2004

6.

Girkin CA, McGwin G Jr, McNeal SF, DeLeon-Ortega J (2003) Racial differences in the association between optic disc topography and early glaucoma. Invest Ophthalmol Vis Sci 44: 3382–3387

7.

Guzek JP, Anyomi FK, Fiadoyor S, Nyonator F (2005) Prevalence of blindness in people over 40 years in the Volta Region of Ghana. Ghana Med J 39: 55–62

8.

Lewallen S, Courtright P (2001) Blindness in Africa: present situation and future needs. Br J Ophthalmol 85: 897–903

9.

Midelfart A, Midelfart S (2005) Prevalence of refractive errors among adults in Europe. Arch Ophthalmol 123: 580

10.

Moll AC, Linden AJH van der, Hogeweg M et al. (1994) Prevalence of blindness and low vision of people over 30 years in the Wenchi district, Ghana, in relation to eye care programs. Br J Ophthalmol 78: 275–279

11.

Ntim-Amponsah CT, Amoaku WM, Ofosu-Amaah S et al. (2004) Prevalence of glaucoma in an African population. Eye 18: 491–497

12.

Ntim-Amponsah CT, Ofosu-Amaah S (2007) Prevalence of refractive error and other eye diseases in schoolchildren in the Greater Accra region of Ghana. J Pediatr Ophthalmol Strabismus 44: 294–297

13.

Oluleye TS, Ajaiyeoba AI, Akinwale MO, Olusanya BA (2006) Causes of blindness in Southwestern Nigeria: a general hospital clinic study. Eur J Ophthalmol 16: 604–607

14.

Papastergiou GI, Schmid GF, Laties AM et al. (1998) Induction of axial eye elongation and myopic refractive shift in one-year-old chickens. Vision Res 38: 1883–1888

15.

Racette L, Wilson MR, Zangwill LM et al. (2003) Primary open-angle glaucoma in blacks: a review. Surv Ophthalmol 48: 295–313

16.

Risovic DJ, Misailovic KR, Eric-Marinkovic JM et al. (2008) Refractive errors and binocular dysfunctions in a population of university students. Eur J Ophthalmol 18: 1–6

17.

Resnikoff S, Pascolini D, Mariotti SP, Pokharel GP (2008) Global magnitude of visual impairment caused by uncorrected refractive errors in 2004. Bull World Health Organ

18.

Resnikoff S, Pascolini D, Etya'ale D et al. (2004) Global data on visual impairment in the year 2002. Bull World Health Organ 82: 844–851

19.

United Nations Population Fund (UNFPA), The state of world population 2005

20.

Vera-Díaz FA, Strang NC, Winn B (2002) Nearwork induced transient myopia during myopia progression.Curr Eye Res 24: 289–295

21.

Weale RA (2003) Epidemiology of refractive errors and presbyopia. Surv Ophthalmol 48: 515–543

22.

Zangwill LM, Weinreb RN, Berry CC et al. (2004) Racial differences in Optic disc Topography, Baseline Results from the Confocal Scanning Laser Ophthalmoscopy Ancillary Study to the Ocular Hypertension Treatment Study. Arch Ophthalmol 122: 22–28
Interessenkonflikt
Der korrespondierende Autor gibt an, dass kein Interessenkonflikt besteht.
Additional information
Gefördert durch die Deutsche Ophthalmologische Gesellschaft
About this article
Cite this article
Frimpong-Boateng, A., Rüfer, F., Fiadoyor, S. et al. Ophthalmologisches Screening mit einem Hospitalschiff. Ophthalmologe 106, 819 (2009). https://doi.org/10.1007/s00347-008-1837-5
Schlüsselwörter
Afrika

Erblindung

Glaukom

Katarakt

Populationsstudie
Keywords
Africa

Blindness

Cataract

Epidemiology

Glaucoma