Zusammenfassung
Bibrocathol 5% Augensalbe ist eine in der Praxis häufig genutzte antiseptische Therapie der Blepharitis. Zum Nachweis der Wirksamkeit von Bibrocathol wurden im Rahmen einer kontrollierten klinischen Studie 100 und 97 Patienten zu Bibrocathol bzw. Salben-Vehikel randomisiert und 2 Wochen lang behandelt. An Tag 1 (Baseline) und Tag 14 (Studienende) fanden nach Spaltlampenuntersuchung Einschätzungen von Lidödemen, Liderythemen, Debris und Meibom-Drüsendysfunktion statt; Patienten schätzen den Schweregrad ihrer lokalen Beschwerden ein. Der Summenscore aus den 5 Skalen verbesserte sich unter Bibrocathol signifikant stärker als unter der Kontrollbehandlung (um 7,0 vs. 4,7, p<0,001), insbesondere bei primär schwerer Ausprägung der Blepharitis (um 8,3 vs. 4,8, p<0,0001). Mit dem Antiseptikum Bibrocathol 5% Augensalbe können akute Formen der Blepharitis, für die eine antibiotische Therapie nicht indiziert ist, wirksam behandelt werden. Diese Behandlung ist gut verträglich und sicher.
Abstract
Bibrocathol (Noviform) 5% ointment is a frequently used therapy for blepharitis. The study included 197 patients who were randomized to be treated over 2 weeks with bibrocathol or an ointment vehicle, respectively. Slit lamp examinations were performed on day 1 (baseline) and day 14 (end of study) to assess lid edema, lid erythema, debris, and pouting of Meibomian glands; patients rated their subjective complaints. Bibrocathol was superior to the control treatment in improving the sum score of the 5 scales (by 7.0 vs 4.7 points, p<0.001), especially in patients with primarily severe symptoms (by 8.3 vs 4.8, p<0.0001). Antiseptic therapy with bibrocathol eye ointment 3 times daily over 2 weeks was found to be efficacious in the treatment of acute forms of blepharitis which do not require antibiotic therapy. Bibrocathol treatment is well tolerated and safe.
Access options
Buy single article
Instant access to the full article PDF.
USD 39.95
Price excludes VAT (USA)
Tax calculation will be finalised during checkout.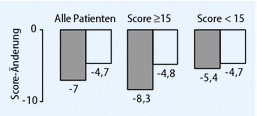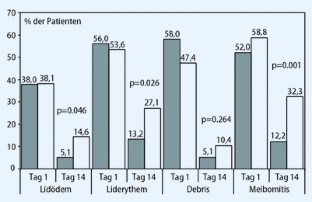 Literatur
Behrens-Baumann W, Begall T (1993) Antiseptics vs antibiotics in the treatment of the experimental conjunctivitis caused by Staphylococcus aureus. Ger J Ophthalmol 2: 409–411

Behrens-Baumann W (2004) Antiinfektive medikamentöse Therapie in der Augenheilkunde Teil 1: Bakterielle Infektionen. Klin Monatsbl Augenheilkd 221: 539–555

Brewitt H, Höh H, Kaercher T et al. (1997) Das trockene Auge. Empfehlungen der Arbeitsgruppe Trockenes Auge im BVA. Z Prakt Augenheilkd 18: 371–937

BVA & DOG (1998) Leitlinie Nr. 11. "Trockenes Auge" (Sicca-Syndrom) und Belpharitis. Berufsverband der Augenärzte Deutschlands e.V. (BVA) und Deutsche Ophthalmologische Gesellschaft e.v. (DOG)

Cée V (1998) Antimikrobielle Wirksamkeit von Noviform-Rohstoff. Interner Bericht, Dispersa

Dougherty JM, McCulley JP (1984) Comparative bacteriology of chronic blepharitis. Br J Ophthalmol 68: 524–528

Kaercher T, Brewitt H (2004) Blepharitis. Ophthalmologe 101: 1135–1147

Kramer A, Behrens-Baumann W (2002) Microbial colonization of the eye as target for antiseptics. Dev Ophthalmol 33: 2–8

Kowalski RP, Karenchak LM, Romanowski EG (2003) Infectious disease: changing antibiotic susceptibility. Ophthalmol Clin North Am 16: 1–9

McCulley JP, Shine WE (2000) Changing concepts in the diagnosis and management of blepharitis. Cornea 19: 650–658

Monographie Bibrocathol, Bundesanzeiger 10.03.92

von Liebermann L (1912) Zur Therapie der Lidrandentzündungen. DMW: 11
Interessenkonflikt
Es besteht kein Interessenkonflikt. Der korrespondierende Autor versichert, dass keine Verbindungen mit einer Firma, deren Produkt in dem Artikel genannt ist, oder einer Firma, die ein Konkurrenzprodukt vertreibt, bestehen. Die Präsentation des Themas ist unabhängig und die Darstellung der Inhalte produktneutral.
Additional information
Diese klinische Prüfung wurde von Novartis Pharma GmbH, Nürnberg, gefördert und durchgeführt.
An der Studie haben folgende Ärzte mitgewirkt (in alphabetischer Reihenfolge): Andreas Bach, Schwerin; Katrin Engelmann, Dresden; Veit Gabel, Regensburg; Roland Glück, Mannheim; Michael Huhle, Dresden; Ute Kariger-Schweigert, Falkensee; Murat Kus, Mannheim; Angelika Lindenschmid, Weiden; Gunter Matterstock, Frankfurt; Wolf-Ulrich Mättig, Leipzig; Valeska Müller, Berlin; Heidel Müller, Schwerin; Christoph Niederdellmann, Friedberg; Peter Otto, Berlin; Stephanie Pahlitzsch, Berlin; Johann Schock, Erlangen; Sonja Schölzel, Berlin; Eva Simon, Mannheim; Winfried Weiler, Offenbach.
About this article
Cite this article
Behrens-Baumann, W., Niederdellmann, C., Jehkul, A. et al. Bibrocathol-Augensalbe ist wirksam bei Blepharitis. Ophthalmologe 103, 960–965 (2006). https://doi.org/10.1007/s00347-006-1426-4
Issue Date:

DOI: https://doi.org/10.1007/s00347-006-1426-4
Schlüsselwörter
Antiseptikum

Bibrocathol

Blepharitis

Infektion

Spaltlampe
Keywords
Antiseptic

Bibrocathol

Blepharitis

Infection

Slit lamp