Zusammenfassung
Die Pathogenese des trockenen Auges ist multifaktoriell und komplex. Neue Forschungsergebnisse zeigen, dass sich ein Entzündungsprozess der Augenoberfläche als "gemeinsame Endstrecke" aller chronischen Formen des trockenen Auges herauskristallisiert. Daneben sind lokale Hormonimbalanzen, vor allem ein Androgenmangel, entscheidend für dessen Entstehung. Aktuelle Konzepte zur Pathogenese des trockenen Auges und die diagnostischen Basis- und Zusatzverfahren werden erläutert. Die In-vivo-Konfokalmikroskopie erlaubt erstmals die Quantifizierung von Entzündungszellen der Augenoberfläche zur Indikationsstellung und Verlaufskontrolle antientzündlicher Therapieoptionen des trockenen Auges.
Abstract
The etiology of dysfunctional tear syndrome ("dry eye") is multifactorial and complex. Recent evidence suggests an important role of androgens in regulating tear film secretion onto the ocular surface. In addition, inflammatory processes of the ocular surface seem to be the common final pathway of all chronic forms of dry eye. Novel concepts of pathogenesis and state-of-the-art diagnostic tools are discussed. In vivo confocal microscopy allows quantification of ocular surface inflammatory cells. This is of increasing importance for evaluation of anti-inflammatory treatments in dry eye patients.
Access options
Buy single article
Instant access to the full article PDF.
US$ 39.95
Tax calculation will be finalised during checkout.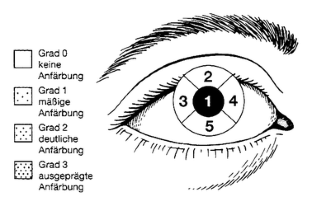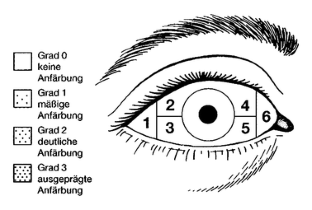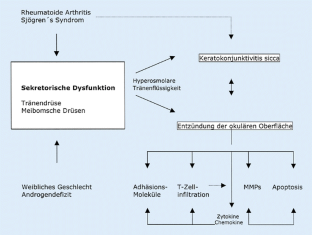 Literatur
1.

American Academy of Ophthalmology (2003) Preferred Practice Pattern: Dry Eye Syndrome

2.

Brewitt H, Zierhut M (2001) Trockenes Auge. Anatomie Physiologie Pathophysiologie Diagnostik Therapie. Dr. Reinhard Kaden, Heidelberg

3.

Brewitt H, Höh H, Kaercher T, Stolze HH (1997) "Das Trockene Auge" Diagnostik und Therapie. Z prakt Augenheilkd 18:371–379

4.

Cursiefen C, Seitz B, Kruse FE (2005) Neurotrophe Keratopathie, Pathogenese, Klinik und Diagnostik. Ophthalmologe 102:7–14

5.

Dogru M, Tsubota K (2004) New Insights into the Diagnosis and Treatment of Dry Eye. Ocul Surf 2:59–75

6.

Hitchon CA, Alex P, Erdile LB et al. (2004) A distinct multicytokine profile is associated with anti-cyclical citrullinated peptide antibodies in patients with early untreated inflammatory arthritis. J Rheumatol 31:2336–2346

7.

Höh H (2001) Lidkantenparallele konjunktivale Falten. In: Brewitt H, Zierhut M (Hrsg) Trockenes Auge. Dr. Reinhard Kaden, Heidelberg

8.

Hoang-Xuan T, Baudouin C, Creuzot-Garcher C (2001) Inflammatory Diseases of the Conjunctiva. Thieme, Stuttgart New York

9.

Jacobi C (2003) Okuläre Manifestationen bei chronischer Hepatitis C. Dissertation, Augenklinik mit Poliklinik der Friedrich-Alexander-Universität, Erlangen-Nürnberg

10.

Jacobi C, Gottschalk K, Cursiefen C, Kruse FE, Müller LJ (2005) Organization of the subbasal nerves in a large group of control human corneas visualized with the Heidelberg Retina Tomograph (HRT II). ARVO

11.

Kunert KS, Tisdale AS, Gipson IK (2002) Goblet Cell Numbers and Epithelial Proliferation in the Conjunctiva of Patients With Dry Eye Syndrome Treated With Cyclosporine. Arch Ophthalmol 120:330–337

12.

Lemp M (1995) Report of the National Eye Institut/Industry Workshop on Clinical Trials and Dry Eyes. CLAO J 21:221–232

13.

Luo L, Li DQ, Doshi A, Farley W, Pflugfelder SC (2003) Experimental dry eye induced expression of inflammatory cytokines (IL-1α and TNF-α), MMP-9 and activated MAPK by the corneal epithelium. Invest Ophthalmol Vis Sci 44:E-Abstract 1026

14.

Müller LJ, Marfurt CF, Kruse F, Tervo TMT (2003) Corneal nerves: structure, contents and function. Exp Eye Res 76:521–542

15.

Pflugfelder SC (2004) Perspective Antiinflammatory Therapie for Dry Eye. Am J Ophthalmol 137:337–342

16.

Pflugfelder SC, Jones D, Ji Z, Afonso A, Monroy D (1999) Altered cytokine balance in the tear fluid and conjunctiva of patients with Sjögrens syndrome keratoconjunctivitis sicca. Curr Eye Res 19:201–211

17.

Solomon A, Dursun D, Liu Z, Xie Y, Macri A, Pflugfelder SC (2001) Pro- and anti-inflammatory forms of interleukin-1 in the tear fluid and conjunctiva of patients with dry-eye disease. Invest Ophthalmol Vis Sci 42:2283–2292

19.

Szodoray P, Alex P, Brun JG, Centola M, Jonsson R (2004) Circulating cytokines in primary Sjogren's syndrome determined by a multiplex cytokine array system. Scand J Immunol 59:592–599

18.

Szodoray P, Alex P, Jonsson MV et al. (2005) Distinct profiles of Sjogren's syndrome patients with ectopic salivary gland germinal centers revealed by serum cytokines and BAFF. Clin Immunol 117:168–176

20.

Stern ME, Pflugfelder SC (2004) Inflammation in dry eye. Ocul Surf 2:124–130

21.

Stevenson D, Tauber J, Reis BL (2000) Efficacy and Safety of Cyclosporin A Ophthalmic Emulsion in the Treatment of Moderate-to-severe Dry Eye Disease. Ophthalmology 107:967–974
Interessenkonflikt:
Es besteht kein Interessenkonflikt. Der korrespondierende Autor versichert, dass keine Verbindungen mit einer Firma, deren Produkt in dem Artikel genannt ist, oder einer Firma, die ein Konkurrenzprodukt vertreibt, bestehen. Die Präsentation des Themas ist unabhängig und die Darstellung der Inhalte produktneutral.
Additional information
Unterstützung: Sicca-Forschungsförderung des Ressorts Trockenes Auge des BVA (DOG 2005); Interdisziplinäres Zentrum für Klinische Forschung (IZKF) Erlangen (A9).
About this article
Cite this article
Jacobi, C., Dietrich, T., Cursiefen, C. et al. Das trockene Auge. Ophthalmologe 103, 9–17 (2006). https://doi.org/10.1007/s00347-005-1299-y
Schlüsselwörter
Trockenes Auge

Pathogenese

Entzündung

Klassifizierung

Diagnostik
Keywords
Dry eye

Pathogenesis

Inflammation

Classification

Diagnostics