Zusammenfassung
Einleitung
Bei Kindern mit angeborenem klinischen Anophthalmus (echter Anophthalmus oder funktionsloser extremer Mikrophthalmus) fehlt der Stimulus für die Entwicklung und das Wachstum von Lidapparat, Bindehautsack und Augenhöhle. Daraus folgend ergeben sich Schwierigkeiten der adäquaten prothetischen Versorgung und damit erhebliche kosmetische Beeinträchtigungen. Seit wenigen Jahren steht nach der Vorarbeit von Wiese mit dem Einsatz hoch hydrophiler Osmoseexpander eine neue Behandlungsmethode für diese Patientengruppe zur Verfügung.
Patienten und Methode
Es wird über die Anwendung selbstquellender Osmoseexpander bei der Dehnung des Bindehautsackes anophthalmischer Kinder berichtet. Bisher befinden sich 13 Patienten (8 mit einseitigem, 5 mit beidseitigem Anophthalmus) in unserer Behandlung.
Ergebnisse
Durch die Expanderanwendung konnte in allen Fällen eine Aufdehnung des Bindehautsackes erreicht werden. Allein durch diese Maßnahme gelang es, eine prothesenfähige Höhle zu schaffen. Bei allen Kindern konnte bisher ein gutes bis zufriedenstellendes kosmetisches Resultat erzielt werden, ohne auf weitere lidchirurgische Maßnahmen zurückgreifen zu müssen.
Diskussion
Der Einsatz der selbstquellenden Hydrogelexpander hat sich an unserer Klinik in den letzten Jahren bewährt. Resultierend aus der bisherigen klinischen Erfahrung konnte ein neues therapeutisches Konzept zur Behandlung des klinischen Anophthalmus aufgestellt werden. Der Vorteil des Verfahrens besteht im Verzicht auf ausgedehnte lidchirurgische Operationen, welche im Kindesalter oft zu ausgedehnter narbiger Schrumpfung führen.
Abstract
Introduction
Children presenting with congenital anophthalmos usually develop a smaller bony orbit, a constricted mucosal socket, and a shortened eyelid fissure. This causes problems when fitting these patients with a prosthesis. Clinical evaluation of the Wiese self-inflating hydrogel expanders has demonstrated their ability to expand the socket and eyelid fissure for inserting a more realistic prosthesis in shorter periods of time.
Patients and method
The study included 13 consecutive anophthalmic patients, eight unilateral and five bilateral. Each patient received a hemispherical osmotic tissue expander in the rudimentary mucosal socket and later a sphere implanted in the deeper soft orbital tissue.
Results
The use of hydrogel expanders enlarged the lid and palpebral fissure in all children, with good cosmetic results. It allowed insertion of custom-made glass prostheses with good cosmetic appearance very early in life. Growth of the bony orbit may be stimulated successfully by these expanders in the soft orbital tissue.
Conclusions
The enlargement of constricted mucosal sockets and short palpebral fissures using self-inflating hydrogel expanders is a new and successful concept in treating congenital anophthalmos.
Access options
Buy single article
Instant access to the full article PDF.
US$ 39.95
Tax calculation will be finalised during checkout.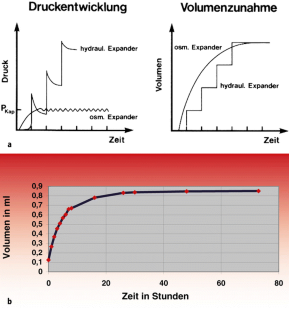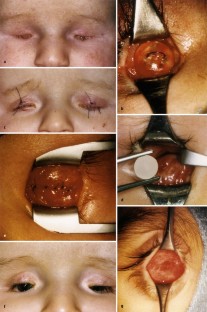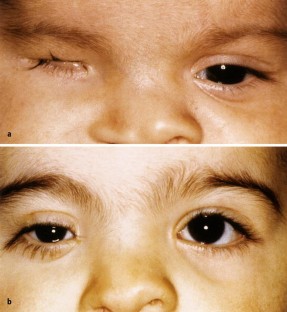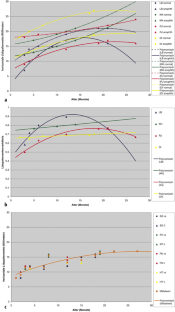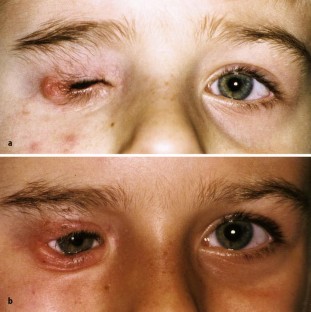 Literatur
1.

Bacskulin A, Vogel M, Wiese K. G, Gundlach K, Hingst V, Guthoff R (2000) New osmotically active hydrogel expander for enlargement of the contracted anophthalmic socket. Graefes Arch Clin Exp Ophthalmol 238 (1):24–7

2.

Bennett R. G, Hirt M (1993) A history of tissue expansion. Concepts controversies and complications. J Dermatol Surg Oncol 19 (12):1066–73

3.

Brunquell PJ, Papale JH, Horton JC, Williams RS, Zgrabik MJ, Albert DM Hedley-Whyte ET (1984) Sex-linked hereditary bilateral anophthalmos. Pathologic and radiologic correlation. Arch Ophthalmol 102 (1):108–13

4.

Busby A, Dolk H, Collin R, Jones RB, Winter R (1998) Compiling a national register of babies born with anophthalmia/microphthalmia in England 1988–94. Arch Dis Child Fetal Neonatal Ed 79 (3):F168–73

5.

Cepela MA, Nunery WR, Martin RT (1992) Stimulation of orbital growth by the use of expandable implants in the anophthalmic cat orbit. Ophthal Plast Reconstr Surg 8 (3):157–69

6.

Clementi M, Turolla L, Mammi I, Tenconi R (1992) Clinical anophthalmia: an epidemiological study in northeast Italy based on 368256 consecutive births. Teratology 46 (6):551–3

7.

Collin JR, Moriarty PA (1982) Management of the contracted socket. Trans Ophthalmol Soc U K 102 (Pt1):93–7

8.

Dolk H, Busby A, Armstrong BG, Walls PH (1998) Geographical variation in anophthalmia and microphthalmia in England 1988–94. BMJ 317 (7163):905–910

9.

Dootz GL (1992) The ocularists' management of congenital microphthalmos and anophthalmos. Adv Ophthalmic Plast Reconstr Surg 9:41–56

10.

Downes R, Lavin M, Collin R (1992) Hydrophilic expanders for the congenital anophthalmic socket. Adv Ophthalmic Plast Reconstr Surg 9:57–61

11.

Duke-Elder S (1963) Anophthalmos and Extreme Microphthalmos. In: Duke-Elder S (ed) System of Ophthalmology. Bd. 2. Mosby, St. Louis, pp 416–28

12.

Dunaway DJ, David DJ (1996) Intraorbital tissue expansion in the management of congenital anophthalmos. Br J Plast Surg 49 (8):529–35

13.

Elliott J, Maltby EL, Reynolds B (1993) A case of deletion 14(q22.1→q22.3) associated with anophthalmia and pituitary abnormalities. J Med Genet 30 (3):251–2.

14.

Eppley BL, Holley S, Sadove AM (1993) Experimental effects of intraorbital tissue expansion on orbitomaxillary growth in anophthalmos. Ann Plast Surg 31 (1):19–27

15.

Gundlach K, Guthoff R (2001) Treatment of anophthalmia using osmotic hydrogel expanders. In: Lilja JL (ed) Transactions 9th International Congress on Cleft Palate and Related Craniofacial Anomalies. Eilanders Novum, Göteborg, pp 47–48

16.

Handler LF, Heher KL, Katowitz JA (1994) Congenital and acquired anophthalmia. Curr Opin Ophthalmol 5 (5):84–90

17.

Hintschich C, Zonneveld F, Baldeschi L, Bunce C, Koornneef L (2001) Bony orbital development after early enucleation in humans. Br J Ophthalmol 85 (2):205–8

18.

Hornby SJ, Dandona L, Foster A, Jones RB, Gilbert CE (2001) Clinical findings consanguinity and pedigrees in children with anophthalmos in southern India. Dev Med Child Neurol 43 (6):392–8

19.

Kallen B, Robert E, Harris J (1996) The descriptive epidemiology of anophthalmia and microphthalmia. Int J Epidemiol 25 (5):1009–16

20.

Lang GE. Apple DJ. Naumann GOH (1997) Mißbildungen und Anomalien des ganzen Auges. In: Naumann GOH (ed) Pathologie des Auges. Bd. I. 2. Aufl. Springer, Berlin Heidelberg, pp 99–105

21.

Lo AK, Colcleugh RG, Allen L, Van Wyck L, Bite U (1990) The role of tissue expanders in an anophthalmic animal model. Plast Reconstr Surg 86 (3):399–410

22.

Lo AKM (1991) Tissue expansion for anophthalmos. Plast Surg Outlook :5

23.

Lohse P (osmed GmbH Ilmenau) Persönliche Mitteilung.

24.

Mann I (1957) Developmental abnormalities of the eye. Lippincott, Philadelphia, pp 60–66

25.

Marchac D, Cophignon J, Achard E, Dufourmentel C (1977) Orbital expansion for anophthalmia and micro-orbitism. Plast Reconstr Surg 59 (4):486–91

26.

Morax S, Hurbli T (1992) Orbito-palpebral reconstruction in anophthalmos and severe congenital microphthalmos. Adv Ophthalmic Plast Reconstr Surg 9:67–80

27.

O'Keefe M, Webb M, Pashby RC, Wagman RD (1987) Clinical anophthalmos. Br J Ophthalmol 71 (8):635–8

28.

Pearce WG, Nigam S, Rootman J (1974) Primary anophthalmos histological and genetic features. Can J Ophthalmol 9 (1):141–5

29.

Pritikin RI (1980) The rarity of true congenital bilateral anophthalmos. Metab Pediatr Ophthalmol 4 (3):165–7

30.

Sjörgen T, Larsson T (1949) Microphthalmos and anophthalmos with or without coincident oligophrenia: clinical and genetic statistical study. Acta Psychiatr Neurol [Suppl 56]:1-103

31.

Spagnolo A, Bianchi F, Calabro A et al. (1994) Anophthalmia and benomyl in Italy: a multicenter study based on 940615 newborns. Reprod Toxicol 8 (5):397–403

32.

Tucker SM, Sapp N, Collin R (1995) Orbital expansion of the congenitally anophthalmic socket. Br J Ophthalmol 79 (7):667–71

33.

Tucker S, Jones B, Collin R (1996) Systemic anomalies in 77 patients with congenital anophthalmos or microphthalmos. Eye 10 (Pt 3):310–4

34.

Warburg M (1981) Genetics of microphthalmos. Int Ophthalmol 4 (1–2):45–65

35.

Wiese KG (1993) Osmotically induced tissue expansion with hydrogels: a new dimension in tissue expansion? A preliminary report. J Craniomaxillofac Surg 21 (7):309–13

36.

Wiese KG (1998) Gewebedehnung mit osmotisch-aktiven Hydrogelsystemen. Habilitationsschrift. Quintessenz, Berlin

37.

Wiese KG, Vogel M, Guthoff R, Gundlach KK (1999) Treatment of congenital anophthalmos with self-inflating polymer expanders: a new method. J Craniomaxillofac Surg 27 (2):72–6

38.

Wiese KG, Heinemann DE, Ostermeier D, Peters JH (2001) Biomaterial properties and biocompatibility in cell culture of a novel self-inflating hydrogel tissue expander. J Biomed Mater Res 54 (2):179–88
Danksagung
Die Autoren danken Herrn P. Lohse (osmed GmbH, Ilmenau) für die Zusammenarbeit und die Bereitstellung des Materials, sie haben kein finanzielles Interesse an dem Produkt. Ebenfalls danken wir den Herren Greiner und Weidner (Fa. Heumann, Hamburg) für die Kooperation und die gegenseitige Stimulation zur weiteren Verbesserung unseres Behandlungskonzeptes.
Additional information
Dieser Beitrag wurde in Teilen als Vortrag auf der 99. Tagung der DOG vorgestellt.
About this article
Cite this article
Schittkowski, M., Gundlach, K. & Guthoff, R. Therapie des kongenitalen klinischen Anophthalmus mit hoch hydrophilen Hydrogelexpandern. Ophthalmologe 100, 525–534 (2003). https://doi.org/10.1007/s00347-002-0776-9
Schlüsselwörter
Kongenitaler klinischer Anophthalmus

Prothese

Selbstquellende Expander

Osmose

Hydrogel
Keywords
Congenital clinical anophthalmos

Eye prosthesis

Self-inflating expanders

Osmosis

Hydrogel