Abstract
Purpose
We evaluated the accuracy and reliability of a new smartphone-based acoustic voided volume (VV) measurement application compared to VV estimation based on the measurement of urine volume in a bladder by ultrasound bladder scan.
Patients and methods
A total of 53 subjects from 01/2021 to 09/2021 were prospectively enrolled. Bladder scan-based VV estimation is based on the difference in the volume of urine in a bladder measured before urination and volume measured after urination. The acoustic VV measurement is based on smartphone-based acoustic VV measurement mobile application. VV estimates for the same void were compared between two techniques. Urinary measures were obtained from 49 male subjects resulting in a total of 245 measurements for analysis. VV measures were compared using Pearson's correlation coefficient (PCC), evaluation of observed versus predicted VV measures using linear regression fit indices, and Bland–Altman method.
Results
VV between the two techniques revealed strong correlation (PCC 0.811, p < 0.001). Means of the number of measurements per patient and inpatient days for measurements analyzed are 5 and 2.7, respectively. In 245 measurements, VV measured by bladder scan is 238.69 ± 122.32 mL, VV measured by mobile application is 254.69 ± 119.28 mL, and their difference of two measurements is 16 ± 74.29 mL.
Conclusion
Through the comparison with VV estimated by ultrasound bladder scan, which is a technology to measure the urine volume in a bladder, it was confirmed that the smartphone-based acoustic VV measurement application proudP® is accurate.
Access options
Buy single article
Instant access to the full article PDF.
USD 39.95
Price excludes VAT (USA)
Tax calculation will be finalised during checkout.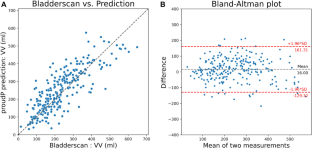 Data availability
The original contributions presented in the study are included in the article, and further inquiries can be directed to the corresponding author.
Abbreviations
BMI:

Body mass index

IPSS:

International Prostate Symptom Score

OABSS:

Overactive Bladder Symptom Score

PCC:

Pearson correlation coefficient

Qmax:

Maximum flow rate

QoL:

Quality of life

RMSE:

Root-mean-square error

SD:

Standard deviation

VV:

Voided volume
References
Abrams P, Cardozo L, Wagg A, Wein A (2017) Incontinence, 6th edn. International Continence Society, Bristol

Bray A et al (2012) Methods and value of home uroflowmetry in the assessment of men with lower urinary tract symptoms: a literature review. Neurourol Urodyn 31(1):7–12. https://doi.org/10.1002/nau.21197

Schäfer W et al (2002) Good urodynamic practices: uroflowmetry, filling cystometry, and pressure-flow studies. Neurourol Urodyn 21(3):261–274. https://doi.org/10.1002/nau.10066

Di Blasi Z et al (2001) Influence of context effects on health outcomes: a systematic review. Lancet 357(9258):757–762. https://doi.org/10.1016/s0140-6736(00)04169-6

Schwarz N et al (1992) Context effects in social and psychological research, 1992nd edn. Springer, New York

Blanker MH et al (2001) Voided volumes: normal values and relation to lower urinary tract symptoms in elderly men, a community-based study. Urology 57(6):1093–1098. https://doi.org/10.1016/s0090-4295(01)00988-8 (discussion 1098–9)

Lee YJ et al (2021) A novel mobile acoustic uroflowmetry: comparison with contemporary uroflowmetry. Int Neurourol J 25(2):150–156. https://doi.org/10.5213/inj.2040250.125

Krhut J et al (2015) Comparison between uroflowmetry and sonouroflowmetry in recording of urinary flow in healthy men. Int J Urol 22(8):761–765. https://doi.org/10.1111/iju.12796

Gärtner M et al (2018) Evaluation of voiding parameters in healthy women using sound analysis. Low Urin Tract Symptoms 10(1):12–16. https://doi.org/10.1111/luts.12134

El Helou E et al (2021) Mobile sonouroflowmetry using voiding sound and volume. Sci Rep. https://doi.org/10.1038/s41598-021-90659-9

Lee DG et al (2021) A prospective comparative study of mobile acoustic uroflowmetry and conventional uroflowmetry. Int Neurourol J 25(4):355–363. https://doi.org/10.5213/inj.2142154.077

Barry MJ et al (1992) The American Urological Association symptom index for benign prostatic hyperplasia. The Measurement Committee of the American Urological Association. J Urol 148(5):1549–1557. https://doi.org/10.1016/s0022-5347(17)36966-5 (discussion 1564)

Choi HRCW, Shim BS, Kwon SW, Hong SJ, Chung BH, Sung DH, Lee MS, Song JM (1996) Translation validity and reliability of I-PSS Korean version. Korean J Urol 37(6):659–665

Homma Y et al (2006) Symptom assessment tool for overactive bladder syndrome–overactive bladder symptom score. Urology 68(2):318–323. https://doi.org/10.1016/j.urology.2006.02.042

Jeong SJ, Homma Y, Oh SJ (2011) Korean version of the overactive bladder symptom score questionnaire: translation and linguistic validation. Int Neurourol J 15(3):135–142. https://doi.org/10.5213/inj.2011.15.3.135

Ballstaedt L, Woodbury B (2022) Bladder post void residual volume. In: StatPearls. StatPearls Publishing Copyright © 2022, StatPearls Publishing LLC, Treasure Island (FL)

Cho MK, Noh EJ, Kim CH (2017) Accuracy and precision of a new portable ultrasound scanner, the Biocon-700, in residual urine volume measurement. Int Urogynecol J 28(7):1057–1061. https://doi.org/10.1007/s00192-016-3224-0

Møller T et al (2021) Reduced need for urinary bladder catheterization in the postanesthesia care unit after implementation of an evidence-based protocol: a prospective cohort comparison study. Eur Urol Open Sci 26:27–34. https://doi.org/10.1016/j.euros.2021.01.013

Arjona L et al (2022) UroSound: a smartwatch-based platform to perform non-intrusive sound-based uroflowmetry. IEEE J Biomed Health Inform. https://doi.org/10.1109/jbhi.2022.3140590

Kim JK et al (2022) A novel acoustic uroflowmetry-based mobile app voiding diary: comparison with conventional paper-based voiding diary. Biomed Res Int 2022:3390338. https://doi.org/10.1155/2022/3390338
Funding
This work was supported by the Korea Medical Device Development Fund grant funded by the Korea government (the Ministry of Science and ICT, the Ministry of Trade, Industry and Energy, the Ministry of Health & Welfare, the Ministry of Food and Drug Safety) (Project Number: 1711138269, RS-2020-KD000141) (NTIS, RS-2020-KD000141). This work was also supported by the Grant no. 14-2021-0045 from the SNUBH Research Fund.
Ethics declarations
Conflict of interest
The authors declare that the research was conducted in the absence of any commercial or financial relationships that could be construed as a potential conflict of interest.
Additional information
Publisher's Note
Springer Nature remains neutral with regard to jurisdictional claims in published maps and institutional affiliations.
Rights and permissions
Springer Nature or its licensor (e.g. a society or other partner) holds exclusive rights to this article under a publishing agreement with the author(s) or other rightsholder(s); author self-archiving of the accepted manuscript version of this article is solely governed by the terms of such publishing agreement and applicable law.
About this article
Cite this article
Kim, H., Ye, C., Jung, G. et al. Validation of acoustic voided volume measure: a pilot prospective study. World J Urol 41, 509–514 (2023). https://doi.org/10.1007/s00345-022-04231-9
Received:

Accepted:

Published:

Issue Date:

DOI: https://doi.org/10.1007/s00345-022-04231-9
Keywords
New device

Uroflowmetry

Acoustic volume measurement

Urine volume measurement

Voiding dysfunction