Abstract
Introduction
There has been recent introduction of novel lithotripters and high-power lasers for stone disintegration. With miniaturization of PCNL, there is need of effective disintegration and faster stone-clearance. This study aimed to evaluate efficiency of Trilogy™ and Thulium fibre laser (TFL) in mini-percutaneous nephrolithotomy (mini-PCNL).
Methods
This is prospective study comparing efficiency and outcomes of Trilogy™ and TFL in mini-PCNL between January 2019 and February 2020. Primary objective was to compare stone fragmentation rates, with secondary objectives beings stone-free rates and complications.
Results
There were 60 mini-PCNL with suction using either Trilogy™ or TFL energy source. Mean stone size and density were 27.60 ± 10.17 mm, 22.04 ± 9.69 mm (p = 0.05) and 1172.9 ± 313.5HU, 1308.9 ± 333.9HU (p = 0.10) for Trilogy™ and TFL, respectively. Using 3D doctor imaging software from CT images, mean stone volumes were 3718.9 ± 3038.7mm3 for Trilogy™ and 3425.9 ± 3096.1mm3 for TFL(p = 0.77). Using probe-activation time or lasing time, stone-fragmentation rate was 5.98 ± 4.25mm3/sec for Trilogy™ and 3.95 ± 1.00mm3/sec for TFL(p = 0.015). Treatment time (puncture to complete clearance) was 32.48 ± 15.39 min for Trilogy™ and 28.63 ± 18.56 min for TFL(p = 0.38). Haemoglobin drop was 1.19 ± 0.76gm/dl for Trilogy™ and 0.99 ± 0.74gm/dl for TFL (p = 0.30). Trilogy™ arm had 96.6% complete clearance and TFL had 76.6% in TFL at 48 h. One patient in Trilogy™ arm required auxiliary RIRS for residual stone. Both arms had complete stone clearance at 1 month follow-up. Trilogy™ arm had 3 Clavien–Dindo grade-II complications while TFL had 2 Clavien–Dindo grade-II complications (UTI requiring antibiotics). There was no blood transfusion in either of arm.
Conclusion
Trilogy™ had significantly better stone fragmentation rate than TFL in managing renal stones. However, stone-free rates and complications were comparable for Trilogy™ and TFL.
Access options
Buy single article
Instant access to the full article PDF.
USD 39.95
Price excludes VAT (USA)
Tax calculation will be finalised during checkout.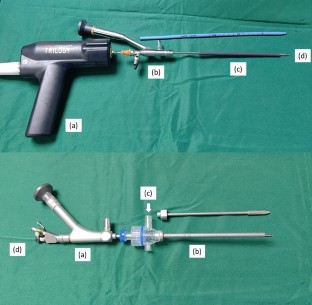 References
S.-O. Professionals, "EAU guidelines: urolithiasis," uroweb. https://uroweb.org/guideline/urolithiasis/#7. Accessed 03 June 2020

Ruhayel Y et al (2017) Tract sizes in miniaturized percutaneous nephrolithotomy: a systematic review from the European association of urology urolithiasis guidelines panel. Eur Urol 72(2):220–235. https://doi.org/10.1016/j.eururo.2017.01.046

Pietrow PK, Auge BK, Pei Z, Preminger GM (2003) Clinical efficacy of a combination pneumatic and ultrasonic lithotrite. J Urol 169(4):1247–1249. https://doi.org/10.1097/01.ju.0000049643.18775.65

Badrakumar C, Desai MR, Prajay S, Kishore W, Snehal P, Bapat Sharad D (2004) 1909: Is the new ultrasonic and pneumatic Lithoclast combination (Lithoclast master) superior to time tested pneumatic Lithoclast for percutaneous lithotripsy? J Urol 171(4S):504–504. https://doi.org/10.1016/S0022-5347(18)39101-8

Martov A et al (2018) Initial experience in clinical application of thulium laser contact lithotripsy for transurethral treatment of urolithiasis. Urologiia (Moscow, Russia: 1999) 1:112–120

Yaroslavsky I et al (2018) Optimization of a novel Tm fiber laser lithotripter in terms of stone ablation efficiency and retropulsion reduction. Ther Diagn Urol 2018 10468:104680H

De Coninck V, Keller EX, Kovalenko A, Vinnichenko V, Traxer O (2019) Dusting efficiency comparison between Moses technology of Ho: YAG laser and superpulse thulium fiber laser. Eur Urol Suppl 18(1):e1757–e1758

Enikeev D et al (2020) Thulium-fiber laser for lithotripsy: first clinical experience in percutaneous nephrolithotomy. World J Urol. https://doi.org/10.1007/s00345-020-03134-x

Shah D et al (2020) A clinical experience of thulium fibre laser in miniperc to dust with suction: a new horizon. World J Urol. https://doi.org/10.1007/s00345-020-03458-8

Traxer O, Keller EX (2020) Thulium fiber laser: the new player for kidney stone treatment? A comparison with holmium: YAG laser. World J Urol 38(8):1883–1894. https://doi.org/10.1007/s00345-019-02654-5

Kronenberg P, Hameed BZ, Somani B (2021) Outcomes of thulium fibre laser for treatment of urinary tract stones: results of a systematic review. Curr Opin Urol 31(2):80

Scotland KB, Kroczak T, Pace KT, Chew BH (2017) Stone technology: intracorporeal lithotripters. World J Urol 35(9):1347–1351. https://doi.org/10.1007/s00345-017-2057-x

Timm B et al (2021) Stone clearance times with mini-percutaneous nephrolithotomy: comparison of a 1.5 mm ballistic/ultrasonic mini-probe vs. laser. Can Urol Assoc J 15(1):E17

Nottingham CU et al (2020) Initial clinical experience with Swiss LithoClast Trilogy during percutaneous nephrolithotomy. J Endourol 34(2):151–155

Sabnis RB et al (2020) EMS Lithoclast TrilogyTM: an effective single-probe dual-energy lithotripter for mini and standard PCNL. World J Urol 38(4):1043–1050

Wiseman O et al (2020) MP22–11 the efficacy and safety of the EMS Lithoclast Trilogy: a European multicenter prospective study on behalf of ESUT. J Urol 203(4):e331–e332
Ethics declarations
Conflict of interest
The authors declare that they have no conflict of interest.
Ethical approval
This study was performed in line with the principles of the Declaration of Helsinki. Approval was granted by the Ethics Committee of Muljibhai Patel Society for Research in Nephro-Urology (MPSRNU).
Informed consent
Informed consent was obtained from all individual participants included in the study.
Additional information
Publisher's Note
Springer Nature remains neutral with regard to jurisdictional claims in published maps and institutional affiliations.
About this article
Cite this article
Patil, A., Sharma, R., Shah, D. et al. A prospective comparative study of mini-PCNL using Trilogy™ or thulium fibre laser with suction. World J Urol 40, 539–543 (2022). https://doi.org/10.1007/s00345-021-03881-5
Received:

Accepted:

Published:

Issue Date:

DOI: https://doi.org/10.1007/s00345-021-03881-5
Keywords
Trilogy

Mini-PCNL

Thulium fibre laser

TFL

Suction