Abstract
Purpose of review
A sound scientific basis has been emerging on the anti-neoplastic role of metformin, statins and dietary interventions. However, evidence in prostate cancer patients remains mixed owing to an absence of completed randomized trials. This overview examines the rationale for metformin, statins and dietary intervention for secondary prevention in men on active surveillance by summarizing current evidence base and biological mechanisms in influencing cancer progression and mortality.
Methods
A comprehensive literature search was performed to identify studies that evaluated the role of metformin, statins and diet in the secondary prevention of prostate cancer as well as those that described the anti-cancer mechanisms of these agents. The search included Pubmed, MEDLINE, EMBASE and Cochrane library from inception till August 2021.
Results
A total of 14 trials on metformin, 21 trials on statins and 13 trials on dietary measures were evaluated. Majority were observational population-based cohort studies or meta-analysis of them. Three ongoing prospective randomized controlled trials were also reported. Overall, mixed results were obtained.
Conclusions
The role of metformin and statins remains promising with several trials showing reduced rates of progression and cancer specific mortality. Combination therapy strategies have also been evaluated in more advanced patients showing synergism. Dietary interventions especially fruits, vegetables and fish intake has shown some benefit albeit with mixed results for others like legumes, red meat, coffee and multivitamins. Several ongoing randomized trials will provide stronger evidence in the future for secondary prevention.
Access options
Buy single article
Instant access to the full article PDF.
USD 39.95
Price includes VAT (USA)
Tax calculation will be finalised during checkout.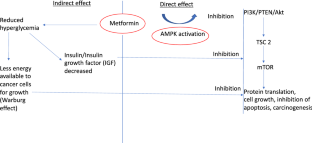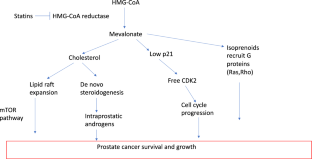 References
1.

Moschine M, Carroll PR, Eggener SE, Epstein JI, Graefen M, Montironi R et al (2017) Low risk prostate cancer; identification, management and outcomes. Eur Urol. https://doi.org/10.1016/j.eururo.2017.03.009

2.

Sanda MG, Dunn RL, Michealski J, Sandler HM, Northouse L, Hembroff L et al (2008) Quality of life and satisfaction with outcome among prostate cancer survivors. N Engl J Med 358(12):1250–1261

3.

Tosoian JJ, Carter HB, Lepor A, Loeb S (2016) Active surveillance for prostate cancer : current evidence and contemporary state of practice. Nat Rev Urol 13:205–215

4.

Mano R, Margel D (2018) Is there a role for pharmacologic manipulation to prevent progression in men on active surveillance? The role of 5-ARIs, statins, and metformin. In: Klotz L (ed) Active surveillance for localized prostate cancer, Current Clinical Urology, Chp 17. Springer International Publishing. ISBN 978-3-319-62710-6. https://doi.org/10.1007/978-3-319-62710-6_17

5.

World Health Organization [Internet] (2021) Geneva: World Health Organization Factsheets 2021; cited 2021 July 17. Available from: http://www.who.int

6.

Ben Sahra I, Le Marchand-Brustel Y, Tanti JF, Bost F (2010) Metformin in cancer therapy: a new perspective for an old antidiabetic drug? Mol Cancer Ther 9:1092–1099

7.

Hankinson SJ, Fam M, Patel NN (2017) A review for clinicians: prostate cancer and the antineoplastic properties of metformin. Urol Oncol 35(1):21–29

8.

Dowling RJ, Zakikhani M, Fantus IG, Pollak M, Sonenberg N (2007) Metformin inhibits mammalian target o rapamycin-dependent translation initiation in breast cancer cells. Cancer Res 67(22):10804–10812

9.

Xiang X, Saha AK, Wen R, Rudeman NB, Luo Z (2004) AMP-activated protein kinase activators can inhibit the growth of prostate cancer cells by multiple mechanisms. Biochem Biophys Res Commun 321(1):161–167

10.

Miller RA, Chu Q, Xie J, Foretz M, Viollet B, Birnbaum MJ (2013) Biguanides suppress hepatic glucagon signalling by decreasing production of cyclic AMP. Nature 494(7436):256–260

11.

Zhang HH, Guo XL (2016) Combinational strategies of metformin and chemotherapy in cancers. Cancer Chemother Pharmacol 78(1):13–26

12.

Comstock CE, Revelo MP, Buncher CR, Knudsen KE (2007) Impact of differential cyclin D1 expression and localisation in prostate cancer. Br J Cancer 96(6):970–979

13.

Joshua AM, Zanella VE, Downes MR, Bowes B, Hersey K, Fleshner N et al (2014) A pilot "window of opportunity" neoadjuvant study of metformin in localised prostate cancer. Prostate Cancer Prostate Dis 17:252–258

14.

Margel D, Urbach DR, Lipscombe LL, Bell CM, Kulkarni G, Austin PC et al (2013) Metformin use and all cause and prostate cancer specific mortality among men with diabetes. J Clin Oncol 31(25):3069–3075

15.

Stopsack KH, Ziehr DR, Rider JR, Giovanucci EL (2016) Metformin and prostate cancer mortality: a meta analysis. Cancer Causes Control 27:105–113

16.

Raval AD, Thakker D, Vyas A, Salkini M, Madhavana S, Sambamoorthi U (2015) Impact of metformin on clinical outcomes among men with prostate cancer: a systemic review and meta-analysis. Prostate Cancer Prostatic Dis 18:110–121

17.

Yu H, Yin L, Jiag X, Sun X, Wu J, Tian H et al (2014) Effect of metformin on cancer risk and treatment outcome of prostate cancer: a meta-analysis of epidemiological observational studies. PLoS ONE 9:e116327

18.

Deng D, Yang Y, Tang X, Skrip L, Qiu J, Wang Y et al (2015) Association between metformin therapy and incidence, recurrence and mortality of prostate cancer: evidence from a meta-analysis. Diabetes Metab Res Rev 31:595–602

19.

University Health Network, Toronto (2021) A Randomized double-blind, placebo controlled trial of metformin in reducing progression among men on expectant management for low risk prostate cancer: the MAST (metformin active surveillance trial) study. In: ClinicalTrial.gov [Internet] Bethesda:National Library of Medicine (US): 2000-[cited 2021 July 17]. Available from: http://clinicaltrails.gov/ct2/show/NCT01864096 NLM identifier: NCT01864096

20.

Johns Hopkins Medicine website [Internet] (2021) Wellness and Prevention. How statin drugs protect the heart 2021; cited 17 July 2021; hopkinsmedicine.org

21.

Hamilton RJ, Freedland SJ (2008) Rationale for statins in chemoprevention of prostate cancer. Curr Urol Rep 9(3):189–196

22.

Schaffner CP (1981) Prostatic cholesterol metabolism: regulation and alteration. Prog Clin Biol Res 75A:279–324

23.

Simons K, Ikonen E (1997) Functional rafts in cell membranes. Nature 387:569–572

24.

Freeman MR, Cinar B, Lu ML (2005) Membrane rafts as potential sites of nongenomic hormonal signaling in prostate cancer. Trends Endocrinol Metab 16:273–279

25.

Zhuang L, Lin J, Lu ML, Solomon KR, Freeman MR (2002) Cholesterol rich lipid rafts mediate AKT-regulated survival in prostate cancer cells. Cancer Res 62:2227–3221

26.

Smith SM et al (2006) Luteinizing hormone receptors translocate to plasma membrane microdomains after binding of human chorionic gonadotropin. Endocrinology 147:1789–1795

27.

Lawrence JC, Saslowsky DE, Edwardson JM, Hendersom RM (2003) Real time analysis of the effects of cholesterol on lipid raft behavior using atomic force microscopy. Biophys J 84:1827–1832

28.

Zhuang L, Kim J, Adama RM, Solomon KR, Freeman MR (2005) Cholesterol targeting alters lipid raft composition and cell survival in prostate cancer cells and xenografts. J Clin Invest 115(4):959–968

29.

Alfaqih MA, Allott EH, Hamilton RJ, Freeman MR, Freedland SJ (2016) The current evidence on statin use and prostate cancer prevention: are we there yet? Nat Rev Urol 14:107–119

30.

Dobs AS et al (2000) Effects of high dose simvastatin on adrenal and gonadal steroidogenesis in men with hypercholesterolemia. Metabolism 49:1234–1238

31.

Hall SA et al (2007) Do statins affect androgen levels in men? Results from the Boston area community health survey. Cancer Epidemiol Biomarkers Prev 16:1587–1594

32.

Graaf MR, Richel DJ, van Noorden CJ, Guchelaar HJ (2004) Effects of statins and farnesyltransferase inhibitors on the development and progression of cancer. Cancer Treat Rev 30:609–641

33.

Demierre MF, Higgins PD, Gruber SB, Hawk E, Lippman SM (2005) Statins and cancer prevention. Nat rev Cancer 5:930–942

34.

Lee SJ et al (1998) Inhibition of the 3-hydroxy-3-methylglutaryl-coenzymeA reductase pathway induces p53 independent transcriptional regulation of p219WAF1/CIP10 in human prostate carcinoma cells. J Biol Chem 273:10618–10623

35.

Banez LL et al (2010) Association between statins and prostate tumour inflammatory infiltrate in men undergoing radical prostatectomy. Cancer Epidemiol Biomarkers Preview 19:722–728

36.

Babcook MA, Joshi A, Montellano JA, Shanker E, Gupta S (2016) Statin use in prostate cancer: an update. Nutr Metab Insights 9:43–50

37.

Yu O, Eberg M, Benayoun S, Aprikian A, Batist G, Suissa S et al (2014) Use of statins and the risk of death in patients with prostate cancer. J Clin Oncol 32(1):5–11

38.

Longo J, Mullen PJ, Yu R et al (2019) An actionable sterol regulated feedback loop modulates statin sensitivity in prostate cancer. Mol Metab 25:119–130

39.

Goldberg H, Mohsin F, Saskin R, Fleshner N et al (2021) The suggested unique association between the various statin subgroups and prostate cancer. Eur Urol Focus 7:537–545

40.

Hamilton RJ, Goldberg KC, Platz EA, Freedland SJ (2008) The influence of statin medications on prostate specific antigen levels. J Natl Cancer Inst 100:1511–1518

41.

Freedland SJ, Hamilton RJ, Gerber L, Rittmaster RS et al (2013) Statin use and risk of prostate cancer and high grade prostate cancer: results from the REDUCE study. Prostate Cancer Prostatic Dis 16:254–259

42.

Andriole GL, Botswick DG, Brawley OW, Gomelia LG, Marberger M, Montorsi F et al (2010) Effect of dutasteride on the risk of prostate cancer. N Eng J Med 362:1192–1202

43.

Moyad MA, Klotz LH (2011) Statin clinical trial (REALITY) for prostate cancer: an over 15 year wait is finally over thanks to a dietary supplement. Urol Clin North Am 38(3):325–331

44.

Nijjar PS, Burke FM, Bloesch A, Rader DJ (2010) Role of dietary supplements in lowering low-density lipoprotein cholesterol; a review. J Clin Lipidol 4(4):248–258

45.

Lu Z, Kou W, Du B, Wu Y, Zhao S, Bursco OA et al (2008) Effect of Xuezhikang, an extract from red yeast Chinese rice, on coronary events in a Chinese population with previous myocardial infarction. Am J Cardiol 101(12):1689–1693

46.

Hong MY, Seeram NP, Zhang Y, Heber D (2008) Chinese red yeast rice versus lovastatin effects on prostate cancer cells with and without androgen receptor overexpression. J Med Food 11(4):657–666

47.

Hong MY, Henning S, Moro A, Seeram NP, Zhang Y, Heber D (2011) Chinese red yeast rice inhibition of prostate tumour growth in SCID mice. Cancer Prev Res 4(4):608–615

48.

Clinicaltrials.gov. Lipitor and biguanide to Androgen delay Trial (LIGAND) [Internet] (2021). Bethesda(MD): US National Library of Medicine;US National Institutes of Health; US Department of Health and Human Services;2016[cited 17th July 2021]. Available from https://clinicaltrials.gov/ct2/show/study/NCT02497638?term=LIGANG&rank=8

49.

Chan JM, Van Blarigan EL, Kenfield SA (2014) What should we tell prostate cancer patients about (secondary) prevention. Curr Opin Urol 24(3):318

50.

Kang DW, Fairey AS, Boulé NG et al (2021) Effects of exercise on cardiorespiratory fitness and biochemical progression in men with localized prostate cancer under active surveillance. The ERASE Randomized Clinical Trial. JAMA Oncol. https://doi.org/10.1001/jamaoncol.2021.3067

51.

Lin PH, Aronson W, Freedland S (2015) Nutrition, dietary interventions and prostate cancer: the latest evidence. BMC Med 13:3

52.

Chan JM, Holick CN, Leitzann MF et al (2006) Diet after diagnosis and the risk of prostate cancer progression, recurrence and death (United States). Cancer Causes Control 17:199–208

53.

Cooperberg M, Carroll P (2015) Trends in management for patients with localized prostate cancer (CaPSURE). JAMA 314(1):80–82

54.

Diallo A, Deschasaux M, Galan P et al (2016) Associations between fruit, vegetable and legume intake and prostate cancer risk; results from the prospective Supplementation en Vitamines et Mineraux Antioxydants (SU.VI.MAX) cohort. Br J Nutr 115:1579–1585

55.

Higdon JV, Delage B, Williams DE, Dashwood RH (2007) Cruciferous vegetables and human cancer risk: epidemiologic evidence and mechanistic basis. Pharmacol Res 55:224–236

56.

Hwang YW, Kim SY, Jee SH et al (2009) Soy food consumption and risk of prostate cancer: a meta-analysis of observational studies. Nutr Cancer 61:598–606

57.

Yan L, Spitznagel EL (2009) Soy consumption and prostate cancer risk in men: a revisit of a meta-analysis. Am J Clin Nutr 89:1155–1163

58.

Chavarro JE, Stampfer MJ, Hall MN et al (2008) A 22 year prospective study of fish intake in relation to prostate cancer incidence and mortality. Am J Clin Nutr 88:1297–1303

59.

Discacciati A, Orsini N, Wolk A (2014) Coffee consumption and risk of non-aggressive, aggressive and fatal prostate cancer-a dose response meta-analysis. Ann Oncol 25:584–591

60.

Klein EA, Thompson IM Jr, Tangen CM et al (2011) Vitamin E and the risk of prostate cancer: the Selenium and Vitamin E Cancer Prevention Trial (SELECT). J Am Med Assoc 306:1549–1556

61.

Kenfield A, DuPre N, richman EL, et al. (2010) Selenium supplementation and lethal prostate cancer. Paper presented at American Institute for Cancer research 2010; Washington DC
Ethics declarations
Conflict of interest
The authors declare that they have no conflict of interest.
Research involving human participants and/or animals
This review article did not directly involve research with human participants or animals.
Informed consent
This review article did not directly involve research with human participants or animals. No informed consent was taken.
Additional information
Publisher's Note
Springer Nature remains neutral with regard to jurisdictional claims in published maps and institutional affiliations.
About this article
Cite this article
Tiwari, R., Fleshner, N. The role of metformin, statins and diet in men on active surveillance for prostate cancer. World J Urol (2021). https://doi.org/10.1007/s00345-021-03858-4
Received:

Accepted:

Published:
Keywords
Metformin

Statins

Diet

Prostate cancer

Active surveillance