Abstract
Purpose
To assess the efficacy and safety of intravesical instillation of high molecular weight sodium hyaluronate (HMW-HA) for the treatment of radiation-induced cystitis.
Methods
This prospective cohort study was conducted in seven centers in France. Eligible patients with radiation-induced cystitis were recruited between April 2020 and March 2021. A sterile disposable 50 ml prefilled solution containing 0.16% (80 mg/50 mL) HMW-HA (INSTYLAN) was instilled weekly into the bladder. The treatment consisted of 6 sessions (V1 to V6). Outcomes were assessed 1 week (V7) and 4 weeks (V8) after the last session and were compared with baseline (V0). The primary endpoint was bladder pain, evaluated by a Questionnaire with 5 closed-ended response options. Secondary endpoints included changes from baseline for hematuria, urinary frequency, and the effect of urgencies on Quality of Life (QoL). Adverse events (AEs) were graded according to the CTCAE 3.0 classification.
Results
A total of 30 participants were enrolled. The Intent-to-Treat analysis showed a significant reduction in pelvic pain intensity (− 45.81%, p < 0.001), hematuria (− 26.87%, p = 0.008), total 24 h voids (− 23.92%, p < 0.001) and the effect of urgencies on QoL (− 33.92%, p < 0.001) at V7. The improvement for each outcome remained stable during the post-therapeutic period between V7 and V8. Bladder instillation therapy was well-tolerated: two treatment-related AEs (6.6%) were reported corresponding to two grade 1 hematuria.
Conclusions
Intravesical instillation of HMW-HA appears to be effective in the treatment of radiation-induced cystitis. Further comparative studies with longer follow-up are needed to confirm our preliminary results.
Access options
Buy single article
Instant access to the full article PDF.
US$ 39.95
Tax calculation will be finalised during checkout.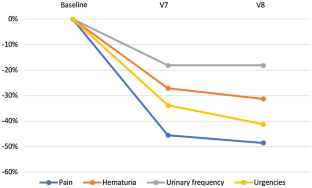 Availability of data and materials
Data are available upon request to the corresponding author.
References
1.

Matz EL, Hsieh MH (2017) Review of advances in uroprotective agents for cyclophosphamide- and ifosfamide-induced hemorrhagic cystitis. Urology 100:16–19

2.

Payne H, Adamson A, Bahl A et al (2013) Chemical- and radiation-induced haemorrhagic cystitis: current treatments and challenges. BJU Int 112:885

3.

Fransson P, Widmark A (1999) Late side effects unchanged 4–8 years after radiotherapy for prostate carcinoma: a comparison with age-matched controls. Cancer 85:678–688

4.

Mendenhall WM, Henderson RH, Costa JA et al (2015) Hemorrhagic radiation cystitis. Am J Clin Oncol 38(3):331–336

5.

Ribeiro de Oliveira TM, Carmelo Romao AJ, Gamito Guerreiro FM, Matos Lopes TM (2015) Hyperbaric oxygen therapy for refractory radiation-induced hemorrhagic cystitis. Int J Urol 22:962–966

6.

Oscarsson N, Müller B, Rosén A et al (2019) Radiation-induced cystitis treated with hyperbaric oxygen therapy (RICH-ART): a randomised, controlled, phase 2–3 trial. Lancet Oncol 20(11):1602–1614

7.

Zwaans BM, Chancellor MB, Lamb LE (2016) Modeling and treatment of radiation cystitis. Urology 88:14–21

8.

Browne CD, Davis NF, Mac Craith E et al (2015) A narrative review on the pathophysiology and management for radiation cystitis. Adv Urol 2015:346812

9.

Pascoe C, Duncan C, Lamb BW et al (2019) Current management of radiation cystitis: a review and practical guide to clinical management. BJU Int 123(4):585–594

10.

Shao Y, Lu GL, Shen ZJ (2012) Comparison of intravesical hyaluronic acid instillation and hyperbaric oxygen in the treatment of radiation-induced hemorrhagic cystitis. BJU Int 109(5):691–694

11.

Lazzeri ML, Hurle R, Casale P et al (2016) Managing chronic bladder diseases with the administration of exogenous glycosaminoglycans: an update on the evidence. Ther Adv Urol 8:91–99

12.

Wyndaele JJJ, Riedl C, Taneja R, Lovász S, Ueda T, Cervigni M (2019) GAG replenishment therapy for bladder pain syndrome/interstitial cystitis. Neurourol Urodyn 38(2):535–544

13.

Morales A, Emerson L, Nickel JC (1997) Intravesical hyaluronic acid in the treatment of refractory interstitial cystitis. Urology 49:111–113

14.

Shao Y, Shen ZJ, Rui WB, Zhou WL (2010) Intravesical instillation of hyaluronic acid prolonged the effect of bladder hydrodistention in patients with severe interstitial cystitis. Urology 75:547–550

15.

Ahmad I, Sarath Krishna N, Meddings RN (2008) Sequential hydrodistension and intravesical instillation of hyaluronic acid under general anaesthesia for treatment of refractory interstitial cystitis: a pilot study. Int Urogynecol J Pelvic Floor Dysfunct 19(4):543–546

16.

Sommariva ML, Sandri SD, Ceriani V (2010) Efficacy of sodium hyaluronate in the management of chemical and radiation cystitis. Minerva Urol Nefrol 62(2):145–150

17.

Miodosky M, Abdul-Hai A, Tsirigotis P et al (2006) Treatment of post-hematopoietic stem cell transplantation hemorrhagic cystitis with intravesicular sodium hyaluronate. Bone Marrow Transplant 38(7):507–511

18.

Constantinides C, Manousakas T, Nikolopoulos P, Stanitsas A, Haritopoulos K, Giannopoulos A (2004) Prevention of recurrent bacterial cystitis by intravesical administration of hyaluronic acid: a pilot study. BJU Int 93(9):1262–1266

19.

Cardinal J, Slade A, McFarland M et al (2018) Scoping review and meta-analysis of hyperbaric oxygen therapy for radiation-induced hemorrhagic cystitis. Curr Urol Rep 19:38

20.

Madhuvrata P, Singh M, Hasafa Z, Abdel-Fattah M (2012) Anticholinergic drugs for adult neurogenic detrusor overactivity: a systematic review and meta-analysis. Eur Urol 62(5):816–830

21.

Redorta JP, Sanguedolce F, Pardo GS et al (2021) Multicentre international study for the prevention with iAluRil of radio-induced cystitis (MISTIC): a randomised controlled study. Eur Urol Open Sci 23(26):45–54

22.

Westerman ME, Boorjian SA, Linder BJ (2016) Safety and efficacy of intravesical alum for intractable hemorrhagic cystitis: a contemporary evaluation. Int Braz J Urol 42:1144–1149

23.

Phelps KR, Naylor K, Brien TP et al (1999) Encephalopathy after bladder irrigation with alum: case report and literature review. Am J Med Sci 318:181–185

24.

Shah BC, Albert DJ (1973) Intravesical instillation of formalin for the management of intractable hematuria. J Urol 110:519–520

25.

Lojanapiwat B, Sripralakrit S, Soonthornphan S (2002) Intravesicle formalin instillation with a modified technique for controlling haemorrhage secondary to radiation cystitis. Asian J Surg 25:232–235

26.

Dewan AK, Mohan GM, Ravi R (1993) Intravesical formalin for hemorrhagic cystitis following irradiation of cancer of the cervix. Int J Gynaecol Obstet 42:131–135
Funding
The study was funded by LIDDE Therapeutics SAS.
Ethics declarations
Conflict of interest
The authors report no conflict of interest.
Ethics approval
The study protocol and amendments were approved by the Committee for the Protection of Persons: CPP Sud-Est VI—Clermont Ferrand.
Consent to participate
Patient's written information and participation agreement was obtained and signed from all patients.
Consent for publication
All authors approve the submission.
Additional information
Publisher's Note
Springer Nature remains neutral with regard to jurisdictional claims in published maps and institutional affiliations.
We would like to pay tribute to the memory of Mr. Francois Schutz, chairman of LIDDE Therapeutics.
About this article
Cite this article
Baboudjian, M., Fourmarier, M., Clement, C. et al. Intravesical instillation of high molecular weight sodium hyaluronate in radiation-induced cystitis: a prospective pilot study. World J Urol (2021). https://doi.org/10.1007/s00345-021-03837-9
Received:

Accepted:

Published:
Keywords
Sodium hyaluronate

Intravesical instillation

Radiation-induced cystitis

Bladder pain

Hematuria