Abstract
Background
Race/ethnicity may predispose to less favorable prostate cancer characteristics in intermediate risk prostate cancer (IR PCa) patients. We tested this hypothesis in a subgroup of IR PCa patients treated with radical prostatectomy (RP).
Methods
We relied on the Surveillance, Epidemiology and End Results 2004–2016. The effect of race/ethnicity was tested in univariable and multivariable logistic regression analyses predicting upstaging (pT3+/pN1) and/or upgrading (Gleason Grade Group [GGG] 4–5) at RP.
Results
Of 20,391 IR PCa patients, 15,050 (73.8%) were Caucasian, 2857 (14.0%) African-American, 1632 (8.0%) Hispanic/Latino and 852 (4.2%) Asian. Asian patients exhibited highest age (64 year), highest PSA (6.8 ng/ml) and highest rate of GGG3 (31.9%). African-Americans exhibited the highest percentage of positive cores at biopsy (41.7%) and the highest proportion of NCCN unfavorable risk group membership (54.6%). Conversely, Caucasians exhibited the highest proportion of cT2 stage (35.6%). In univariable analyses, Hispanic/Latinos exhibited the highest rates of upstaging/upgrading among all race/ethnicities, in both favorable and unfavorable groups, followed by Asians, Caucasians and African-Americans in that order. In multivariable analyses, Hispanic/Latino race/ethnicity represented an independent predictor of higher upstaging and/or upgrading in favorable IR PCa (odds ratio [OR] 1.27, p < 0.01), while African-American race/ethnicity represented an independent predictor of lower upstaging and/or upgrading in unfavorable IR PCa (OR 0.79, p < 0.001).
Conclusion
Race/ethnicity predisposes to differences in clinical, as well as in pathological characteristics in IR PCa patients. Specifically, even after full statistical adjustment, Hispanic/Latinos are at higher and African-Americans are at lower risk of upstaging and/or upgrading.
Access options
Buy single article
Instant access to the full article PDF.
USD 39.95
Price includes VAT (USA)
Tax calculation will be finalised during checkout.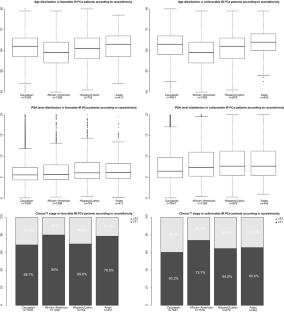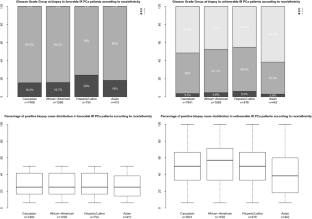 References
1.

Fletcher SA, von Landenberg N, Cole AP et al (2020) Contemporary national trends in prostate cancer risk profile at diagnosis. Prostate Cancer Prostatic Dis 23:81–87

2.

Reese AC, Pierorazio PM, Han M et al (2012) Contemporary evaluation of the National Comprehensive Cancer Network prostate cancer risk classification system. Urology 80:1075–1079

3.

Serrano NA, Anscher MS (2016) Favorable vs unfavorable intermediate-risk prostate cancer: a review of the new classification system and its impact on treatment recommendations. Oncology 30:229–236

4.

Kane CJ, Eggener SE, Shindel AW et al (2017) Variability in outcomes for patients with intermediate-risk prostate cancer (Gleason Score 7, International Society of Urological Pathology Gleason Group 2–3) and implications for risk stratification: a systematic review. Eur Urol Focus 3:487–497

5.

Preisser F, Cooperberg MR, Crook J et al (2020) Intermediate-risk prostate cancer: stratification and management. Eur Urol Oncol 3:270–280

6.

Nocera L, Collà Ruvolo C, Stolzenbach LF, Deuker M, Tian Z, Gandaglia G, Fossati N, Abdollah F, Suardi N, Mirone V, Graefen M, Chun FK, Saad F, Montorsi F, Briganti A, Karakiewicz PI (2021) Improving the stratification of intermediate risk prostate cancer. Minerva Urol Nephrol. https://doi.org/10.23736/S2724-6051.21.04314-7

7.

Zumsteg ZS, Chen Z, Howard LE et al (2017) Number of unfavorable intermediate-risk factors predicts pathologic upstaging and prostate cancer-specific mortality following radical prostatectomy: Results from the SEARCH Database. Prostate 77:154–163

8.

About the SEER Program. SEER. https://seer.cancer.gov/about/overview.html. Accessed 11 Mar 2021

9.

National Comprehensive Cancer Network. Prostate Cancer (Version 2.2020). http://www.nccn.org/professionals/physician_gls/pdf/prostate.pdf. Accessed 10 Mar 2021

10.

Brawley OW (2016) Some thoughts on health surveillance data, race, and population categorization. CA Cancer J Clin 66:179–181

11.

Revisions to the Standards for the Classification of Federal Data on Race and Ethnicity. https://obamawhitehouse.archives.gov/omb/fedreg_1997standards. Accessed 10 Mar 2021

12.

US-Census-Bureau (2019) Asian–American and Pacific Islander Heritage Month: May 2019. https://www.census.gov/newsroom/facts-for-features/2019/asian-american-pacific-islander.html. Accessed 10 Mar 2021

13.

Mohler JL, Antonarakis ES, Armstrong AJ et al (2019) Prostate cancer, Version 2.2019, NCCN Clinical Practice Guidelines in Oncology. J Natl Compr Canc Netw 17:479–505

14.

RCT R (2017) A language and environment for statistical computing. R Foundation for Statistical Computing, Vienna, Austria. https://www.r-project.org. Accessed 10 Mar 2021

15.

Sundi D, Ross AE, Humphreys EB et al (2013) African American men with very low-risk prostate cancer exhibit adverse oncologic outcomes after radical prostatectomy: should active surveillance still be an option for them? J Clin Oncol 31:2991–2997

16.

Maurice MJ, Sundi D, Schaeffer EM et al (2017) Risk of pathological upgrading and up staging among men with low risk prostate cancer varies by race: results from the National Cancer Database. J Urol 197:627–631

17.

Katz JE, Chinea FM, Patel VN et al (2018) Disparities in Hispanic/Latino and non-Hispanic Black men with low-risk prostate cancer and eligible for active surveillance: a population-based study. Prostate Cancer Prostatic Dis 21:533–538

18.

Stolzenbach LF, Rosiello G, Pecoraro A et al (2020) Prostate cancer grade and stage misclassification in active surveillance candidates: black versus white Patients. J Natl Compr Canc Netw 18:1492–1499

19.

Colla Ruvolo C, Stolzenbach LF, Nocera L et al (2021) Comparison of Mexican–American vs Caucasian prostate cancer active surveillance candidates. Urol Oncol 39:74 e71-74 e77

20.

Kasivisvanathan V, Rannikko AS, Borghi M et al (2018) MRI-targeted or standard biopsy for prostate-cancer diagnosis. N Engl J Med 378:1767–1777

21.

Panebianco V, Valerio MC, Giuliani A et al (2018) Clinical utility of multiparametric magnetic resonance imaging as the first-line tool for men with high clinical suspicion of prostate cancer. Eur Urol Oncol 1:208–214

22.

Brimo F, Schultz L, Epstein JI (2010) The value of mandatory second opinion pathology review of prostate needle biopsy interpretation before radical prostatectomy. J Urol 184:126–130

23.

Bravi CA, Vertosick E, Tin A et al (2018) Relative contribution of sampling and grading to the quality of prostate biopsy: results from a single high-volume institution. Eur Urol Oncol 3:474–480
Ethics declarations
Conflict of interest
The authors declare no competing interests.
Ethics approval
Not applicable.
Additional information
Publisher's Note
Springer Nature remains neutral with regard to jurisdictional claims in published maps and institutional affiliations.
Supplementary Information
Below is the link to the electronic supplementary material.
About this article
Cite this article
Nocera, L., Wenzel, M., Collà Ruvolo, C. et al. The impact of race/ethnicity on upstaging and/or upgrading rates among intermediate risk prostate cancer patients treated with radical prostatectomy. World J Urol (2021). https://doi.org/10.1007/s00345-021-03816-0
Received:

Accepted:

Published:
Keywords
PCa

SEER

African-American

Asian

Hispanic/Latino