Abstract
Purpose
The benefits and harms of the available types of surgical management for lichen sclerosus-related (LS) strictures remain unclear and, thus, clear and robust clinical practice recommendations cannot be given.
Materials and methods
To assess the role of single-stage OMGU in the management of LS strictures and explore how its benefits and harms compare with the alternative management options. Medline, Embase and Cochrane controlled trial databases (CENTRAL, CDSR) were systematically searched. Randomized (RCTs) and nonrandomized studies (NRCSs) comparing single-stage OMGU with other surgical management options for LS strictures and single-arm studies on single-stage OMGU were included. Risk of bias (RoB) was assessed.
Results
Of the 1912 abstracts identified, 15 studies (1 NRCS and 14 single-arm studies) were included, recruiting in total 649 patients. All studies were at high RoB. In the only NRCS available, stricture-free rate (SFR) for single-stage and staged OMGU was 88% vs 60%, respectively (p = 0.05), at a mean follow-up of 66.5 months. SFR range for single-stage OMGU in single-arm studies was 65–100% (mean/median follow-up, 12–59 months). Single-stage OMGU had low complication rates and beneficial impact on LUTS and QoL.
Conclusions
The present SR highlights the methodological limitations of the available literature. In the absence of adverse local tissue conditions, and taking into consideration benefit–harm balance and surgeon's skills and expertise, single-stage OMGU can be justified in patients with LS strictures.
Access options
Buy single article
Instant access to the full article PDF.
USD 39.95
Price includes VAT (USA)
Tax calculation will be finalised during checkout.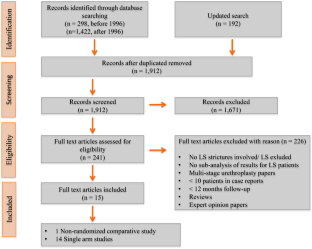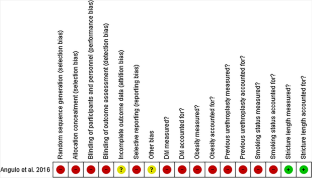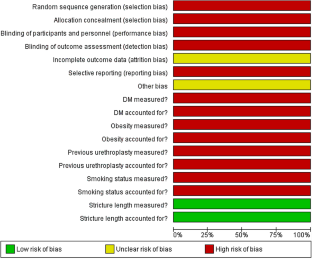 References
1.

Stewart L, McCammon K, Metro M et al (2014) SIU/ICUD consultation on urethral strictures: anterior urethra-Lichen sclerosus. Urology 83(3 Suppl.):S27

2.

Murphy R (2010) Lichen sclerosus. Dermatol Clin 28(4):707

3.

Fistarol SK, Itin PH (2013) Diagnosis and treatment of lichen sclerosus: an update. Am J Clin Dermatol 14(1):27

4.

Lumen N, Hoebeke P, Willemsen P et al (2009) Etiology of urethral stricture disease in the 21st century. J Urol 182(3):983

5.

Pugliese JM, Morey AF, Peterson AC (2007) Lichen sclerosus: review of the literature and current recommendations for management. J Urol 178(6):2268

6.

Buckley JC, Heyns C, Gilling P et al (2014) SIU/ICUD consultation on urethral strictures: dilation, internal urethrotomy, and stenting of male anterior urethral strictures. Urology 83(3 Suppl):S18

7.

Trivedi S, Kumar A, Goyal NK et al (2008) Urethral reconstruction in balanitis xerotica obliterans. Urol Int 81(3):285

8.

Wong SS, Aboumarzouk OM, Narahari R et al (2012) Simple urethral dilatation, endoscopic urethrotomy, and urethroplasty for urethral stricture disease in adult men. Cochrane Database Syst Rev 12(12):CD006934

9.

Lumen N, Hoebeke P, Oosterlinck W (2010) Urethroplasty for urethral strictures: quality assessment of an in-home algorithm. Int J Urol 17(2):167

10.

Barbagli G, Balò S, Sansalone S et al (2016) One-stage and two-stage penile buccal mucosa urethroplasty. Afr J Urol. 22(1):11

11.

Clavien PA, Barkun J, de Oliveira ML et al (2009) The Clavien–Dindo classification of surgical complications: five-year experience. Ann Surg 250(2):187

12.

Viswanathan M, Ansari MT, Berkman ND, et al. (2008) Assessing the risk of bias of individual studies in systematic reviews of health care interventions. 2012 Mar 8. In: Methods guide for effectiveness and comparative effectiveness reviews [Internet]. Rockville (MD): Agency for Healthcare Research and Quality (US)

13.

Dalziel K, Round A, Stein K et al (2005) Do the findings of case series studies vary significantly according to methodological characteristics? Health Technol Assess. 9(2):1

14.

Popay J, Roberts H, Sowden A et al. (2006) Guidance on the conduct of narrative synthesis in systematic reviews. ESRC Methods Programme

15.

Angulo JC, Arance I, Esquinas C et al (2017) Treatment of long anterior urethral stricture associated to lichen sclerosus. Actas Urol Esp 41(2):123

16.

Dubey D, Sehgal A, Srivastava A et al (2005) Buccal mucosal urethroplasty for balanitis xerotica obliterans related urethral strictures: the outcome of 1 and 2-stage techniques. J Urol 173(2):463

17.

Kulkarni S, Barbagli G, Kirpekar D et al (2009) Lichen sclerosus of the male genitalia and urethra: surgical options and results in a multicenter international experience with 215 patients. Eur Urol 55(4):945

18.

Patel CK, Buckley JC, Zinman LN et al (2016) Outcomes for management of lichen sclerosus urethral strictures by 3 different techniques. Urology 91:215

19.

Campos-Juanatey F, Bugeja S, Dragova M et al (2020) Single-stage tubular urethral reconstruction using oral grafts is an alternative to classical staged approach for selected penile urethral strictures. Asian J Androl 22(2):134

20.

Kulkarni S, Barbagli G, Sansalone S et al (2009) One-sided anterior urethroplasty: a new dorsal onlay graft technique. BJU Int 104(8):1150

21.

Kulkarni SB, Joshi PM, Venkatesan K (2012) Management of panurethral stricture disease in India. J Urol 188(3):824

22.

Onol SY, Onol FF, Gümüş E et al (2012) Reconstruction of distal urethral strictures confined to the glans with circular buccal mucosa graft. Urology 79(5):1158

23.

Kumar S, Bansal P, Vijay MK et al (2013) Buccal mucosal graft urethroplasty in long segment anterior urethral stricture—is it gold standard? Saudi J Kidney Dis Transpl 24(1):115

24.

TavakkoliTabassi K, Ghoreifi A (2014) Dorsally placed buccal mucosal graft urethroplasty in treatment of long urethral strictures using one-stage transperineal approach. Int Sch Res Notices. 2014:792982

25.

Simsek A, Onol SY, Kurt O (2014) Treatment of urethral strictures in balanitis xerotica obliterans (BXO) using circular buccal mucosal meatoplasy: experience of 15 cases. Arch Ital Urol Androl 86(1):23

26.

Chodisetti S, Boddepalli Y, Kota M (2017) Repair of panurethral stricture: proximal ventral and distal dorsal onlay technique of buccal mucosal graft urethroplasty. Arab J Urol 16(2):211

27.

Xu YM, Feng C, Sa YL et al (2014) Outcome of 1-stage urethroplasty using oral mucosal grafts for the treatment of urethral strictures associated with genital lichen sclerosus. Urology 83(1):232

28.

Aldaqadossi HA, Eladawy M, Shaker H et al (2020) Dorsal onlay urethroplasty using lingual mucosal grafts for lichen sclerosis anterior urethral strictures repair: long-term outcomes. Int J Urol 27(4):320

29.

Daneshvar M, Simhan J, Blakely S et al (2020) Transurethral ventral buccal mucosa graft inlay for treatment of distal urethral strictures: international multi-institutional experience. World J Urol 38(10):2601

30.

Spilotros M, Sihra N, Malde S et al (2017) Buccal mucosal graft urethroplasty in men-risk factors for recurrence and complications: a third referral centre experience in anterior urethroplasty using buccal mucosal graft. Transl Androl Urol 6(3):510

31.

O'Riordan A, Narahari R, Kumar V et al (2008) Outcome of dorsal buccal graft urethroplasty for recurrent bulbar urethral strictures. BJU Int 102(9):1148

32.

Hosseini J, Kaviani A, Hosseini M et al (2011) Dorsal versus ventral oral mucosal graft urethroplasty. Urol J. 8(1):48

33.

Barbagli G, Fossati N, Sansalone S et al (2014) Prediction of early and late complications after oral mucosal graft harvesting: Multivariable analysis from a cohort of 553 consecutive patients. J Urol 191(3):688

34.

Ahmad H, Mahmood A, Niaz WA et al (2011) Bulbar uretheral stricture repair with buccal mucosa graft urethroplasty. J Pak Med Assoc 61(5):440

35.

Chung ASJ, Suarez OA (2020) Current treatment of lichen sclerosus and stricture. World J Urol 38(12):3061

36.

Granieri MA, Peterson AC, Madden-Fuentes RJ (2017) Effect of lichen sclerosis on success of urethroplasty. Urol Clin N Am 44:77–86

37.

Levine LA, Strom KH, Lux MM (2007) Buccal mucosa graft urethroplasty for anterior urethral stricture repair: evaluation of the impact of stricture location and lichen sclerosus on surgical outcome. J Urol 178(5):2011

38.

Peterson AC, Palminteri E, Lazzeri M et al (2004) Heroic measures may not always be justified in extensive urethral stricture due to lichen sclerosus (balanitis xerotica obliterans). Urology 64(3):565

39.

Figler BD, Gomella A, Hubbard L (2018) Staged urethroplasty for penile urethral strictures from lichen sclerosus and failed hypospadias repair. Urology 112:222

40.

Blaschko SD, Sanford MT, Cinman NM et al (2013) De novo erectile dysfunction after anterior urethroplasty: a systematic review and meta-analysis. BJU Int 112(5):655

41.

Han JS, Liu J, Hofer MD et al (2015) Risk of urethral stricture recurrence increases over time after urethroplasty. Int J Urol 22(7):695

42.

Andrich DE, Dunglison N, Greenwell TJ et al (2003) The long-term results of urethroplasty. J Urol 170(1):90

43.

Jackson MJ, Sciberras J, Mangera A et al (2011) Defining a patient-reported outcome measure for urethral stricture surgery. Eur Urol 60(1):60
Additional information
Publisher's Note
Springer Nature remains neutral with regard to jurisdictional claims in published maps and institutional affiliations.
Supplementary Information
Below is the link to the electronic supplementary material.
About this article
Cite this article
Esperto, F., Verla, W., Ploumidis, A. et al. What is the role of single-stage oral mucosa graft urethroplasty in the surgical management of lichen sclerosus-related stricture disease in men? A systematic review. World J Urol (2021). https://doi.org/10.1007/s00345-021-03803-5
Received:

Accepted:

Published:
Keywords
Lichen sclerosus strictures

Oral mucosa graft urethroplasty

Panurethral stricture disease

Stricture management