Abstract
Objective
To describe our institution's initial experience with robot-assisted radical prostatectomy (RARP) using the Senhance® robotic system.
Patients and methods
A prospective analysis of 127 robot-assisted radical prostatectomies was performed. Patient demographics, preoperative and intraoperative parameters, histopathological examination results, intraoperative and early postoperative complications were obtained and analyzed.
Results
The median patient age was 61.0 ± 6.36 (from 37 to 73) years, with a mean body mass index of 26.2 ± 3.79 kg/m2. Of 127 patients, 16.5% (n = 21) underwent a pelvic lymph node dissection, 29.1% (n = 37) underwent one sided or bilateral nerve sparing. Post-operative extracapsular invasion (≥ pT3) was found in 15% (n = 19) of the cases and a Gleason score ≥ 7 in 74.8% of all patients. Our median operative time was 180 ± 41.98 min [interquartile range (IQR) 150–215], and median blood loss was 250 ± 236 (IQR 175–430) ml. Of 127 patients, 33.9% (n = 43) had positive margins, of them 28.7% in pT2 and 57.9% in pT3. Fifteen patients (11.8%) experienced complications, of them only three had Clavien–Dindo ≥ 3. Operation time decreased by about 60 min and estimated blood loss decreased by about 200 ml from the initial experience of each surgeon.
Conclusions
Robotic prostatectomy using a Senhance® robotic system is feasible, and warrants further study to determine whether it can improve patient outcomes.
Access options
Buy single article
Instant access to the full article PDF.
US$ 39.95
Tax calculation will be finalised during checkout.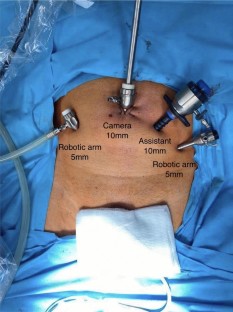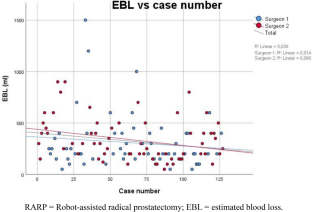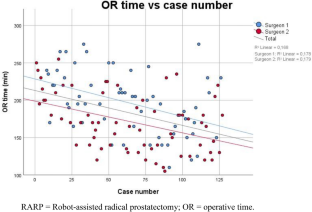 References
1.

Ferlay J, Soerjomataram I, Dikshit R et al (2015) Cancer incidence and mortality worldwide: sources, methods and major patterns in GLOBOCAN 2012. Int J Cancer 136(5):E359-386

2.

Siegel RL, Miller KD, Jemal A (2017) Cancer statistics, 2017. CA Cancer J Clin 67(1):7–30

3.

Ilic D, Evans SM, Allan CA et al (2017) Laparoscopic and robotic-assisted versus open radical prostatectomy for the treatment of localised prostate cancer. Cochrane Database Syst Rev 9(9):CD009625

4.

Oberlin DT, Flum AS, Lai JD et al (2016) The effect of minimally invasive prostatectomy on practice patterns of American urologists. Urol Oncol 34(6):255.e1–5

5.

Gandaglia G, Montorsi F, Karakiewicz PI et al (2015) Robot-assisted radical prostatectomy in prostate cancer. Future Oncol 11(20):2767–2773

6.

Kastelan Z, Hudolin T, Kulis T, Knezevic N, Penezic L, Maric M, Zekulic T (2021) Upper urinary tract surgery and radical prostatectomy with Senhance® robotic system: single center experience—first 100 cases. Int J Med Robot. https://doi.org/10.1002/rcs.2269

7.

Rao PP (2018) Robotic surgery: new robots and finally some real competition! World J Urol 36(4):537–541

8.

Stephan D, Salzer H, Willeke F (2018) First experiences with the new Senhance1 telerobotic system in visceral surgery. Visc Med 34:31–36

9.

Godoy G, Chong KT, Cronin A et al (2011) Extent of pelvic lymph node dissection and the impact of standard template dissection on nomogram prediction of lymph node involvement. Eur Urol 60(2):195–201

10.

Dindo DA, Demartines N, Clavien PA (2004) Classification of surgical complications: a new proposal with evaluation in a cohort of 6336 patients and results of a survey. Ann Surg 240(2):205–213

11.

Alletti SG, Rossitto C, Cianci S et al (2018) The Senhance™ surgical robotic system ("Senhance") for total hysterectomy in obese patients: a pilot study. J Robot Surg 12(2):229–234

12.

Samalavicius NE, Janusonis V, Siaulys R et al (2020) Robotic surgery using Senhance® robotic platform: single center experience with first 100 cases. J Robot Surg 14:371–376

13.

Rumolo V, Rosati A, Tropea A et al (2019) Senhance robotic platform for gynecologic surgery: a review of literature. Updates Surg 71(3):419–427

14.

Stephan D, Darwich I, Willeke F (2021) The TransEnterix European patient registry for robotic-assisted laparoscopic procedures in urology, abdominal, thoracic, and gynecologic surgery ("TRUST"). Surg Technol Int. 38:sti38/1394

15.

De Carlo F, Celestino F, Verri C et al (2014) Retropubic, laparoscopic, and robot-assisted radical prostatectomy: surgical, oncological, and functional outcomes: a systematic review. Urol Int 93(4):373–383

16.

Yossepowitch O, Briganti A, Eastham JA et al (2014) Positive surgical margins after radical prostatectomy: a systematic review and contemporary update. Eur Urol 65(2):303–313

17.

Adili AF, Di Giovanni J, Kolesar E et al (2017) Positive surgical margin rates during the robot-assisted laparoscopic radical prostatectomy learning curve of an experienced laparoscopic surgeon. Can Urol Assoc J 11(11):E409–E413
Acknowledgements
RV, TT, MV, VJ and AD performed the research; AD, NES designed the research study; RV, MJ and TT performed the surgeries; TT, MV, VJ analysed the data; TT, MV, RV, NES and AD wrote the paper.
Ethics declarations
Conflict of interest
The authors have no competing interests.
Patient confidentiality and consent to publication
Informed, written consent has been obtained, that studies have been performed according to the Declaration of Helsinki, and that the procedures have been approved by a local ethics committee.
Additional information
Publisher's Note
Springer Nature remains neutral with regard to jurisdictional claims in published maps and institutional affiliations.
About this article
Cite this article
Venckus, R., Jasenas, M., Telksnys, T. et al. Robotic-assisted radical prostatectomy with the Senhance® robotic platform: single center experience. World J Urol (2021). https://doi.org/10.1007/s00345-021-03792-5
Received:

Accepted:

Published:
Keywords
Minimally invasive surgery

Robotic surgery

Senhance® robotic system

Prostate cancer

Prostatectomy