Abstract
Purpose
To investigate the relationship between metabolic syndrome (MS) and urinary abnormalities in stone-forming patients. Additionally, to delineate whether severity of urinary derangements is impacted by the number of co-occurring MS components.
Methods
Stone-forming patients who underwent initial metabolic workup prior to medical intervention at a comprehensive stone clinic were retrospectively reviewed and included in the study. Patients were given a six point (0–5) Metabolic Syndrome Severity Score (MSSS) based on the number of co-occurring MS components and split into six respective groups. Baseline clinical characteristics and metabolic profiles were compared between groups.
Results
Four-hundred-ninety-five patients were included in the study. Median age and median BMI was 58 years and 27.26 kg/m2, respectively. Several significant metabolic differences were noted, most notably a downward trend in median urinary pH (p < 0.001) and an upward trend in median urinary supersaturation uric acid (p < 0.001) across groups as MSSS increased. Multivariate analysis demonstrated an independent association between higher MSSS and increasing number of urinary abnormalities. A second multivariate analysis revealed that all MS components except hyperlipidemia were independently associated with low urinary pH. Additionally, obesity was independently associated with the greatest number of urinary abnormalities and had the strongest association with hyperuricosuria.
Conclusions
Prior research has attributed the strong association of nephrolithiasis and MS to high prevalence of UA nephrolithiasis and low urinary pH. Our findings indicate that all MS components with the exception of hyperlipidemia were independently associated with low urinary pH suggesting a mechanism independent from insulin resistance.
Access options
Buy single article
Instant access to the full article PDF.
US$ 39.95
Tax calculation will be finalised during checkout.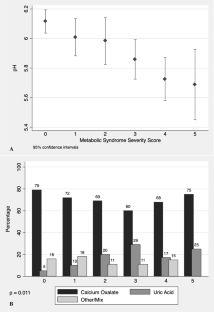 Abbreviations
MSSS:

Metabolic Syndrome Severity Score

MS:

Metabolic syndrome

DM:

Diabetes mellitus

HLD:

Hyperlipidemia

HTN:

Hypertension

HTG:

Hypertriglyceridemia

IDF:

International diabetes federation

AHA/NHLBI:

American Heart Association/National Heart, Lung, and Blood Institute

BMI:

Body mass index

HbA1c:

Glycated hemoglobin

SSCaP:

Supersaturation calcium phosphate

Ca24:

24-Hour urinary calcium

Ox24:

24-Hour urinary oxalate

Cit24:

24-Hour urinary citrate

SSCaOx:

Supersaturation calcium oxalate

SSUA:

Supersaturation uric acid

UA24:

24-Hour urinary uric acid

Na24:

24-Hour urinary sodium

NH424:

24-Hour urinary ammonium

CaOx:

Calcium oxalate

UA:

Uric acid

OR:

Odds ratio

AUA:

American Urologic Association
References
1.

Liu Y-T, Yang P-Y, Yang Y-W, Sun H-Y, Lin IC (2017) The association of nephrolithiasis with metabolic syndrome and its components: a cross-sectional analysis. Ther Clin Risk Manag 13:41–48

2.

Eckel RH, Alberti KG, Grundy SM, Zimmet PZ (2010) The metabolic syndrome. Lancet (London, England) 375(9710):181–183

3.

Wong Y, Cook P, Roderick P, Somani BK (2016) Metabolic syndrome and kidney stone disease: a systematic review of literature. J Endourol 30(3):246–253

4.

Sakhaee K (2014) Epidemiology and clinical pathophysiology of uric acid kidney stones. J Nephrol 27(3):241–245

5.

Abate N, Chandalia M, Cabo-Chan AV, Moe OW, Sakhaee K (2004) The metabolic syndrome and uric acid nephrolithiasis: novel features of renal manifestation of insulin resistance. Kidney Int 65(2):386–392

6.

Taylor EN, Curhan GC (2006) Body size and 24-hour urine composition. Am J Kidney Dis 48(6):905–915

7.

Hsi RS, Sanford T, Goldfarb DS, Stoller ML (2017) The role of the 24-hour urine collection in the prevention of kidney stone recurrence. J Urol 197(4):1084–1089

8.

Milose JC, Kaufman SR, Hollenbeck BK, Wolf JS Jr, Hollingsworth JM (2014) Prevalence of 24-hour urine collection in high risk stone formers. J Urol 191(2):376–380

9.

Samson SL, Garber AJ (2014) Metabolic syndrome. Endocrinol Metab Clin North Am 43(1):1–23

10.

Pearle MS, Goldfarb DS, Assimos DG et al (2014) Medical management of kidney stones: AUA guideline. J Urol 192(2):316–324

11.

Ekeruo WO, Tan YH, Young MD et al (2004) Metabolic risk factors and the impact of medical therapy on the management of nephrolithiasis in obese patients. J Urol 172(1):159–163

12.

Ferraro PM, Bargagli M, Trinchieri A, Gambaro G (2020) Risk of kidney stones: influence of dietary factors, dietary patterns, and vegetarian-vegan diets. Nutrients 12(3):779

13.

Bobulescu IA, Park SK, Xu LHR et al (2019) Net acid excretion and urinary organic anions in idiopathic uric acid nephrolithiasis. Clin J Am Soc Nephrol 14(3):411–420

14.

Kadlec AO, Greco K, Fridirici ZC, Hart ST, Vellos T, Turk TM (2012) Metabolic syndrome and urinary stone composition: what factors matter most? Urology 80(4):805–810

15.

Castro-Barquero S, Ruiz-León AM, Sierra-Pérez M, Estruch R, Casas R (2020) Dietary strategies for metabolic syndrome: a comprehensive review. Nutrients. https://doi.org/10.3390/nu12102983
Funding
All authors report no funding, financial or non-financial interests to disclose.
Ethics declarations
Conflict of interest
None.
Ethical approval
The study was approved by the Institutional Review Board and necessary informed consent was collected from all participants.
Additional information
Publisher's Note
Springer Nature remains neutral with regard to jurisdictional claims in published maps and institutional affiliations.
Supplementary Information
Below is the link to the electronic supplementary material.
About this article
Cite this article
Bamberger, J.N., Rosen, D.C., Khusid, J.A. et al. The impact of metabolic syndrome components on urinary parameters and risk of stone formation. World J Urol (2021). https://doi.org/10.1007/s00345-021-03790-7
Received:

Accepted:

Published:
Keywords
Nephrolithiasis

Metabolic syndrome

24-Hour urinalysis

Diabetes mellitus