Abstract
Purpose
Metastatic prostate cancer (mPCa) rarely occurs under the age of 60, and we aim to evaluate the clinical outcomes and prognosis of mPCa patients ≤ 60-year-old.
Methods
Two thousand and eighty-three patients were treated with mPCa between April 2003 and May 2020. Clinicopathological characteristics between groups, biochemical recurrence (BCR)-free survival, and overall survival (OS) were assessed. Subgroup analysis was performed on patients ≤ 60 years. Multivariable cox regression was used for survival analysis.
Results
Three hundred and seventy-five patients (> 60 years: older) and 115 patients (≤ 60 years: young) were identified. 5-year BCR-free survival rates were 38.8% in young and 74.1% in older group (p < 0.001). 5-year OS were 88.1% in young and 96.5% in older group (p = 0.006). The significant factor associated with BCR was age > 60 (hazard ratio [HR] = 0.67, 95% confidence [CI]: 0.36–0.94, p = 0.017). The significant predictors of OS were age > 60 (HR 0.40, CI 0.18–0.91, p = 0.028) and local definitive treatment (HR 0.29, CI 0.13–0.64, p = 0.002). For the subgroup analysis, median BCR-free survival was significantly shorter in younger (≤ 56) group (14 mo vs. 27 mo, p = 0.026), and the median OS was significantly different (p = 0.048).
Conclusions
In mPCa patients ≤ 60-year-old, BCR occurs earlier and OS is significantly reduced than older patients. Therefore, special caution is mandatory when treating these mPCa patients.
Access options
Buy single article
Instant access to the full article PDF.
US$ 39.95
Tax calculation will be finalised during checkout.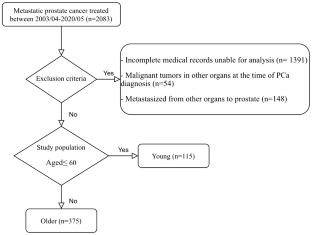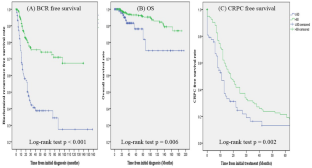 References
1.

Miller KD, Nogueira L, Mariotto AB, Rowland JH, Yabroff KR, Alfano CM et al (2019) Cancer treatment and survivorship statistics, 2019. CA Cancer J Clin 69(5):363–385

2.

Gillessen S, Attard G, Beer TM, Beltran H, Bossi A, Bristow R et al (2018) Management of patients with advanced prostate cancer: the report of the advanced prostate cancer consensus conference APCCC 2017. Eur Urol 73(2):178–211

3.

Guo Y, Mao S, Zhang A, Wang R, Zhang Z, Zhang J et al (2019) Prognostic significance of young age and non-bone metastasis at diagnosis in patients with metastatic prostate cancer: a SEER population-based data analysis. J Cancer 10(3):556–567

4.

Wilson JM, Kemp IW, Stein GJ (1984) Cancer of the prostate. Do younger men have a poorer survival rate. Br J Urol 56(4):391–396

5.

Tjaden HB, Culp DA, Flocks RH (1965) Clinical adenocarcinoma of the prostate in patients under 50 years of age. J Urol 93:618–621

6.

Weitzner S, Sarikaya H, Furness TD (1980) Adenocarcinoma of prostate in a twenty-seven-year-old man. Urology 16(3):286–288

7.

Madan R, Singh L, Haresh KP, Rath GK (2015) Metastatic adenocarcinoma of prostate in a 28-year-old male: the outcome is poor in young patients. Indian J Palliat Care 21(2):242–244

8.

Caffo O, Ortega C, Di Lorenzo G, Sava T, De Giorgi U, Cavaliere C et al (2015) Clinical outcomes in a contemporary series of "young" patients with castration-resistant prostate cancer who were 60 years and younger. Urol Oncol 33(6):265.e15–21

9.

Epstein JI, Allsbrook WC, Amin MB, Egevad LL (2005) The 2005 International Society of Urological Pathology (ISUP) consensus conference on Gleason grading of prostatic carcinoma. Am J Surg Pathol 29(9):1228–1242

10.

Scher HI, Morris MJ, Stadler WM, Higano C, Basch E, Fizazi K, Antonarakis ES, Beer TM, Carducci MA, Chi KN, Corn PG, de Bono JS, Dreicer R, George DJ, Heath EI, Hussain M, Kelly WK, Liu G, Logothetis C, Nanus D, Stein MN, Rathkopf DE, Slovin SF, Ryan CJ, Sartor O, Small EJ, Smith MR, Sternberg CN, Taplin ME, Wilding G, Nelson PS, Schwartz LH, Halabi S, Kantoff PW, Armstrong AJ, Prostate Cancer Clinical Trials Working Group 3 (2016) Trial design and objectives for castration-resistant prostate cancer: updated recommendations from the Prostate Cancer Clinical Trials Working Group 3. J Clin Oncol 34(12):1402–1418

11.

Lin DW, Porter M, Montgomery B (2009) Treatment and survival outcomes in young men diagnosed with prostate cancer: a Population-based Cohort Study. Cancer 115(13):2863–2871

12.

Tannock IF, de Wit R, Berry WR, Horti J, Pluzanska A, Chi KN et al (2004) Docetaxel plus prednisone or mitoxantrone plus prednisone for advanced prostate cancer. N Engl J Med 351(15):1502–1512

13.

Petrylak DP, Tangen CM, Hussain MH, Lara PN, Jones JA, Taplin ME et al (2004) Docetaxel and estramustine compared with mitoxantrone and prednisone for advanced refractory prostate cancer. N Engl J Med 351(15):1513–1520

14.

de Bono JS, Logothetis CJ, Molina A, Fizazi K, North S, Chu L et al (2011) Abiraterone and increased survival in metastatic prostate cancer. N Engl J Med 364(21):1995–2005

15.

Scher HI, Fizazi K, Saad F, Taplin ME, Sternberg CN, Miller K et al (2012) Increased survival with enzalutamide in prostate cancer after chemotherapy. N Engl J Med 367(13):1187–1197

16.

Ryan CJ, Smith MR, de Bono JS, Molina A, Logothetis CJ, de Souza P et al (2013) Abiraterone in metastatic prostate cancer without previous chemotherapy. N Engl J Med 368(2):138–148

17.

de Bono JS, Oudard S, Ozguroglu M, Hansen S, Machiels JP, Kocak I et al (2010) Prednisone plus cabazitaxel or mitoxantrone for metastatic castration-resistant prostate cancer progressing after docetaxel treatment: a randomised open-label trial. Lancet 376(9747):1147–1154

18.

Humphreys MR, Fernandes KA, Sridhar SS (2013) Impact of age at diagnosis on outcomes in men with castrate-resistant prostate cancer (CRPC). J Cancer 4(4):304–314

19.

Tan L, Wang LL, Ranasinghe W, Persad R, Bolton D, Lawrentschuk N et al (2018) Survival outcomes of younger men (< 55 years) undergoing radical prostatectomy. Prostate Int 6(1):31–35

20.

Yuh BE, Kwon YS, Shinder BM, Singer EA, Jang TL, Kim S et al (2019) Results of Phase 1 study on cytoreductive radical prostatectomy in men with newly diagnosed metastatic prostate cancer. Prostate Int 7(3):102–107

21.

Culp SH, Schellhammer PF, Williams MB (2014) Might men diagnosed with metastatic prostate cancer benefit from definitive treatment of the primary tumor? A SEER-based study Eur Urol 65(6):1058–1066

22.

Jenjitranant P, Touijer KA (2019) Role of surgery in oligometastatic prostate cancer. Prostate Int 7(4):125–130

23.

Martinez PF, Romeo A, Tobia I, Isola M, Giudice CR, Villamil WA (2021) Comparing open and robotic salvage radical prostatectomy after radiotherapy: predictors and outcomes. Prostate Int 9(1):42–47

24.

Parker CC, James ND, Brawley CD, Clarke NW, Hoyle AP, Ali A et al (2018) Radiotherapy to the primary tumour for newly diagnosed, metastatic prostate cancer (STAMPEDE): a randomised controlled phase 3 trial. Lancet 392(10162):2353–2366

25.

Bechis SK, Carroll PR, Cooperberg MR (2011) Impact of age at diagnosis on prostate cancer treatment and survival. J Clin Oncol 29(2):235–241

26.

Aprikian AG, Zhang ZF, Fair WR (1994) Prostate adenocarcinoma in men younger than 50 years. A retrospective review of 151 patients. Cancer 74(6):1768–1777

27.

Shimada H, Misugi K, Sasaki Y, Iizuka A, Nishihira H (1980) Carcinoma of the prostate in childhood and adolescence: report of a case and review of the literature. Cancer 46(11):2534–2542

28.

Astigueta JC, Abad MA, Morante C, Pow-Sang MR, Destefano V, Montes J (2010) Characteristics of metastatic prostate cancer occurring in patients under 50 years of age. Actas Urol Esp 34(4):327–332

29.

Kimura T, Onozawa M, Miyazaki J, Matsuoka T, Joraku A, Kawai K et al (2014) Prognostic impact of young age on stage IV prostate cancer treated with primary androgen deprivation therapy. Int J Urol 21(6):578–583
Funding
No funding was received specifically for this project.
Ethics declarations
Conflict of interest
All authors have no conflict of interest to declare.
Ethical statements
All study protocols were in accordance with the principles of the Helsinki Declaration. We removed personal identifiers and anonymized all data, which exempted the study from the need to obtain informed consent from patients. Institutional review board (IRB) approval of study from Seoul National University Bundang Hospital was obtained (IRB number: B-2007-622-102).
Additional information
Publisher's Note
Springer Nature remains neutral with regard to jurisdictional claims in published maps and institutional affiliations.
Supplementary Information
Below is the link to the electronic supplementary material.
About this article
Cite this article
Kim, H., Lee, S., Byun, SS. et al. Clinical outcomes and prognosis of metastatic prostate cancer patients ≤ 60-year-old. World J Urol (2021). https://doi.org/10.1007/s00345-021-03785-4
Received:

Accepted:

Published:
Keywords
Metastatic prostate cancer

Aged ≤ 60 years

Outcomes assessment

Prognosis

Local definitive treatment