Abstract
Purpose
To compare transcorporal vs bulbar artificial urinary sphincter (AUS) implantation in men with fragile urethra and to investigate the risk factors of AUS explantation in this population.
Methods
The charts of all male patients who had an AUS implantation between 2004 and 2020 in 16 centers were reviewed retrospectively. The primary endpoint was device explantation-free survival. Only patients with a fragile urethra were included in the present analysis. Fragile urethra was defined as a urethra carrying a high risk of cuff erosion because of prior radiotherapy and/or history of AUS explantation and/or history of urethral stricture surgery. The patients were divided in two groups according to the implantation site: bulbar vs transcorporal.
Results
464 patients were included for analysis. 88 patients underwent a transcorporal AUS implantation and 376 underwent a bulbar AUS implantation. Explantation-free survival was similar in both groups (estimated 5-year explantation free survival rates 55.3% vs. 58.4%; p=0.98). In the subgroup of patients with a history of previous AUS explantation, transcorporal approach tended to bring longer explantation-free survival (2-year explantation-free survival: 61.9% vs. 58.2%; p=0.096). In multivariate analysis, the only risk factor of shorter explantation-free survival was the history of previous AUS explantation (HR=2.65; p=0.01).
Conclusions
Transcorporal AUS implantation was not associated with longer explantation-free survival. History of previous AUS explantation was the only risk factor associated with shorter explantation-free survival and this subgroup of patients may be the only one to draw benefits of transcorporal AUS implantation.
Access options
Buy single article
Instant access to the full article PDF.
US$ 39.95
Tax calculation will be finalised during checkout.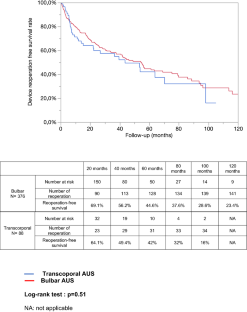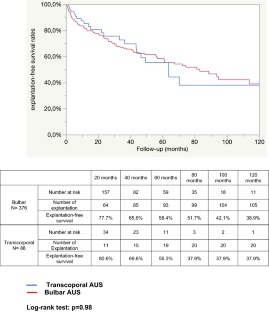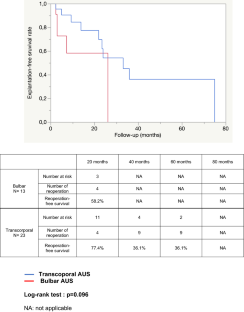 References
1.

Hald T, Byström J, Alfthan O (1975) Treatment of urinary incontinence by the Scott-Bradley-Timm artificial sphincter. A report of eight cases. Urol Res 3:133–137

2.

Yafi FA, Powers MK, Zurawin J, Hellstrom WJG (2016) Contemporary review of artificial urinary sphincters for male stress urinary incontinence. Sex Med Rev 4:157–166

3.

Ortiz NM, Wolfe AR, Baumgarten AS, Ward EE, VanDyke ME, Hudak SJ et al (2020) Artificial urinary sphincter cuff erosion heat map shows similar anatomic characteristics for transcorporal and standard approach. J Urol. https://doi.org/10.1097/JU0000000000001148

4.

Moser DC, Kaufman MR, Milam DF, Johnsen NV, Cleves MA, Broghammer JA et al (2018) Impact of radiation and transcorporeal artificial sphincter placement in patients with prior urethral cuff erosion: results from a retrospective multicenter analysis. J Urol 200:1338–1343

5.

Sayedahmed K, Olianas R, Kaftan B, Omar M, El Shazly M, Burger M et al (2020) Impact of previous urethroplasty on the outcome after artificial urinary sphincter implantation: a prospective evaluation. World J Urol 38:183–191

6.

Brant WO, Erickson BA, Elliott SP, Powell C, Alsikafi N, McClung C et al (2014) Risk factors for erosion of artificial urinary sphincters: a multicenter prospective study. Urology 84:934–938

7.

McGeady JB, McAninch JW, Truesdale MD, Blaschko SD, Kenfield S, Breyer BN (2014) Artificial urinary sphincter placement in compromised urethras and survival: a comparison of virgin, radiated and reoperative cases. J Urol 192:1756–1761

8.

Guralnick ML, Miller E, Toh KL, Webster GD (2002) Transcorporal artificial urinary sphincter cuff placement in cases requiring revision for erosion and urethral atrophy. J Urol 167:2075–2078 (discussion 2079)

9.

Redmond EJ, Tong S, Zemp L, Hoy N, Rourke KF (2020) Improved artificial urinary sphincter outcomes using a transcorporal cuff placement in patients with a "fragile urethra." Can Urol Assoc J J Assoc Urol Can 14:E62

10.

Davenport MT, Akhtar AM, Shakir NA, Baumgarten AS, Yi YA, Bergeson RL et al (2020) Comparison of 3.5 cm and transcorporal cuffs in high-risk artificial urinary sphincter populations. Transl Androl Urol 9:62–66

11.

Linder BJ, Piotrowski JT, Ziegelmann MJ, Rivera ME, Rangel LJ, Elliott DS (2015) Perioperative complications following artificial urinary sphincter placement. J Urol 194:716–720

12.

Khene Z-E, Paret F, Perrouin-Verbe M-A, Prudhomme T, Hascoet J, Nedelec M et al (2018) Artificial urinary sphincter in male patients with spina bifida: comparison of perioperative and functional outcomes between bulbar urethra and bladder neck cuff placement. J Urol 199:791–797

13.

Tutolo M, Cornu J-N, Bauer RM, Ahyai S, Bozzini G, Heesakkers J et al (2019) Efficacy and safety of artificial urinary sphincter (AUS): results of a large multi-institutional cohort of patients with mid-term follow-up. Neurourol Urodyn 38:710–718

14.

Viers BR, Linder BJ, Rivera ME, Rangel LJ, Ziegelmann MJ, Elliott DS (2016) Long-term quality of life and functional outcomes among primary and secondary artificial urinary sphincter implantations in men with stress urinary incontinence. J Urol 196:838–843

15.

Van der Aa F, Drake MJ, Kasyan GR, Petrolekas A, Cornu J-N, Young Academic Urologists Functional Urology Group (2013) The artificial urinary sphincter after a quarter of a century: a critical systematic review of its use in male non-neurogenic incontinence. Eur Urol 63:681–689

16.

Manka MG, Linder BJ, Rangel LJ, Elliott DS (2020) The impact of prior external beam radiation therapy on device outcomes following artificial urinary sphincter revision surgery. Transl Androl Urol 9:67–72

17.

Wiedemann L, Cornu J-N, Haab E, Peyrat L, Beley S, Cathelineau X et al (2013) Transcorporal artificial urinary sphincter implantation as a salvage surgical procedure for challenging cases of male stress urinary incontinence: surgical technique and functional outcomes in a contemporary series. BJU Int 112:1163–1168

18.

Le Long E, Rebibo JD, Nouhaud FX, Grise P (2016) Transcorporal artificial urinary sphincter in radiated and non-radiated compromised urethra. Assessment with a minimum 2 year follow-up. Int Braz J Urol Off J Braz Soc Urol 42:494–500

19.

Biardeau X, Aharony S, AUS Consensus Group, Campeau L, Corcos J (2016) Artificial urinary sphincter: report of the 2015 consensus conference. Neurourol Urodyn 35 Suppl 2:S8-24

20.

Sandhu JS, Maschino AC, Vickers AJ (2011) The surgical learning curve for artificial urinary sphincter procedures compared to typical surgeon experience. Eur Urol 60:1285–1290

21.

Radomski SB, Ruzhynsky V, Wallis CJD, Herschorn S (2018) Complications and interventions in patients with an artificial urinary sphincter: long-term results. J Urol 200:1093–1098

22.

Viers BR, Linder BJ, Rivera ME, Andrews JR, Rangel LJ, Ziegelmann MJ et al (2016) The impact of diabetes mellitus and obesity on artificial urinary sphincter outcomes in men. Urology 98:176–182
Funding
No disclosures. This research did not receive any specifc grant from funding agencies in the public, commercial, or not-for-profit sectors.
Ethics declarations
Conflict of interest
Benoit Peyronnet, Jean Nicolas Cornu, Xavier Gamé, Franck Bruyère, Gregoire Capon, Xavier Biardeau, Jean Francois Hermieu are consultant for Boston Scientific. Other authors have no conflicts of interest.
Informed consent
As this was a retrospective study, no informed consent was required for this study by the internal review board.
Research involving human participants and/or animals
As this was a retrospective study, this study did not contain any contact with human participants or animals performed by any of the authors.
Additional information
Publisher's Note
Springer Nature remains neutral with regard to jurisdictional claims in published maps and institutional affiliations.
Supplementary Information
Below is the link to the electronic supplementary material.
About this article
Cite this article
El-Akri, M., Bentellis, I., Tricard, T. et al. Transcorporal vs. bulbar artificial urinary sphincter implantation in male patients with fragile urethra. World J Urol (2021). https://doi.org/10.1007/s00345-021-03783-6
Received:

Accepted:

Published:
Keywords
Urinary sphincter

artificial

Urinary incontinence

Urethra

Reoperation