Abstract
Purpose
The main objective of static cold storage is to reduce cellular metabolic demands to extend the period of ischaemia prior to transplantation. Hypothermia does not halt metabolism and the absence of oxygen causes a cellular shift toward anaerobic respiratory pathways.
There is emerging evidence that the introduction of oxygenation during organ preservation may help ameliorate the degree of ischaemia reperfusion injury and improve post-transplantation outcomes.
This review aims to appraise and summarise all published literature that utilises oxygenation to improve kidney preservation for purposes of transplantation.
Methods
We performed a scoping review of the literature using the bibliographic databases Embase and MEDLINE. The final date for searches was 20 March 2021. All research studies included were those that reported oxygen delivery during kidney preservation as well as providing a description of the oxygenation technique.
Results
17 human and 48 animal studies met the inclusion criteria. The oxygen delivery methods investigated included hypothermic oxygenated machine perfusion (HOPE), oxygen carriers, two-layer method, venous systemic persufflation, hyperbaric oxygenation, normothermic machine perfusion and sub-normothermic machine perfusion.
The COMPARE trial was the only study carried out with the most methodological robustness being a randomised, double blind, controlled, phase III trial that investigated the efficacy of HOPE versus HMP.
Conclusion
A variety of studies reflect the evolution of oxygenation with useful lessons and encouraging outcomes. The first in human studies investigating HOPE and oxygen carriers are most robustly investigated strategies for oxygenation during kidney preservation and are, therefore, the best clinical references.
Access options
Buy single article
Instant access to the full article PDF.
US$ 39.95
Tax calculation will be finalised during checkout.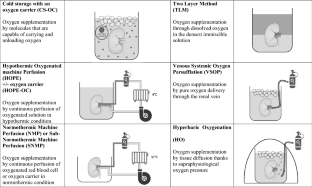 Abbreviations
ATP:

Adenosine TriPhosphate

COR:

Controlled Oxygenated Rewarming

CS:

Cold storage

CS-OC:

Cold storage with an oxygen carrier supplementation

DBD:

Dead Brain Donor

DCD:

Donation after Cardiac Death

DGF:

Delayed Graft Function

ECD:

Expanded Criteria Donor

HBO-C201:

Hemopure® (HbO2 Therapeutics LLC, Waltham, MA)

HMP:

Hypothermic Machine Perfusion

HMP-OC:

Hypothermic Machine Perfusion with an Oxygen Carrier

HO:

Hyperbaric Oxygenation

HOPE:

Hypothermic Oxygenated Machine Perfusion

HOPE-OC:

Hypothermic Oxygenated Machine PErfusion with an Oxygen Carrier

M101:

HEMO2Life® (Hemarina, Morlaix, France)

NMP:

Normothermic Machine Perfusion

RBC:

Red Blood Cells

SNMP:

Sub-Normothermic Machine Perfusion

TLM:

Two Layer Method

VSOP:

Venous Systemic Oxygen Persufflation
References
1.

National Data. Organ Procurement and Transplantation Network. U.S. Department of Health & Human Services. https://optn.transplant.hrsa.gov/data/view-data-reports/national-data/# Accessed Mar 2021

2.

Wolfe RA, Ashby VB, Milford EL, Ojo AO, Ettenger RE, Agodoa LYC et al (1999) Comparison of mortality in all patients on dialysis, patients on dialysis awaiting transplantation, and recipients of a first cadaveric transplant. N Engl J Med 341(23):1725–1730

3.

Kootstra G, Daemen JH, Oomen AP (1995) Categories of non-heart-beating donors. Transplant Proc 27(5):2893–2894

4.

Metzger RA, Delmonico FL, Feng S, Port FK, Wynn JJ, Merion RM (2003) Expanded criteria donors for kidney transplantation. Am J Transplant 3(s4):114–125

5.

Moers C, Smits JM, Maathuis M-HJ, Treckmann J, van Gelder F, Napieralski BP et al (2009) Machine perfusion or cold storage in deceased-donor kidney transplantation. N Engl J Med 360(1):7–19

6.

Kaminski J, Delpech P-O, Kaaki-Hosni S, Promeyrat X, Hauet T, Hannaert P (2019) Oxygen consumption by warm ischemia-injured porcine kidneys in hypothermic static and machine preservation. J Surg Res 242:78–86

7.

Rosenberger C, Eckardt K-U (2019) Oxygenation of the transplanted kidney. Semin Nephrol 39(6):554–566

8.

Tricco AC, Lillie E, Zarin W, O'Brien KK, Colquhoun H, Levac D et al (2018) PRISMA extension for scoping reviews (PRISMAScR): checklist and explanation. Ann Intern Med 169:467–473. https://doi.org/10.7326/M18-0850

9.

Jochmans I, Brat A, Davies L, Hofker HS, van de Leemkolk FEM, Leuvenink HGD et al (2020) Oxygenated versus standard cold perfusion preservation in kidney transplantation (COMPARE): a randomised, double-blind, paired, phase 3 trial. Lancet 396(10263):1653–1662

10.

Houtzager JHE, Hemelrijk SD, Post ICJH, Idu MM, Bemelman FJ, van Gulik TM (2020) The Use of the Oxygenated AirdriveTM Machine Perfusion System in Kidney Graft Preservation: A Clinical Pilot Study. Eur Surg Res 61(6):153–162

11.

Meister FA, Czigany Z, Rietzler K, Miller H, Reichelt S, Liu W-J et al (2020) Decrease of renal resistance during hypothermic oxygenated machine perfusion is associated with early allograft function in extended criteria donation kidney transplantation. Sci Rep 10(1):17726

12.

Ravaioli M, De Pace V, Comai G, Busutti M, Del Gaudio M, Amaduzzi A et al (2017) Successful dual kidney transplantation after hypothermic oxygenated perfusion of discarded human kidneys. Am J Case Rep 20(18):1009–1013

13.

Darius T, Vergauwen M, Smith TB, Patel K, Craps J, Joris V et al (2020) Influence of different partial pressures of oxygen during continuous hypothermic machine perfusion in a pig kidney ischemia-reperfusion autotransplant model. Transplantation 104(4):731–743

14.

Darius T, Vergauwen M, Smith T, Gerin I, Joris V, Mueller M et al (2020) Brief O2 uploading during continuous hypothermic machine perfusion is simple yet effective oxygenation method to improve initial kidney function in a porcine autotransplant model. Am J Transplant 20(8):2030–2043

15.

Darius T, Vergauwen M, Mueller M, Aydin S, Dutkowski P, Gianello P et al (2020) Brief bubble and intermittent surface oxygenation is a simple and effective alternative for membrane oxygenation during hypothermic machine perfusion in kidneys. Transplant Direct 6(7):e571

16.

Gallinat A, Paul A, Efferz P, Lüer B, Swoboda S, Hoyer D et al (2012) Role of oxygenation in hypothermic machine perfusion of kidneys from heart beating donors. Transplantation 94(8):809–813

17.

Thuillier R, Allain G, Celhay O, Hebrard W, Barrou B, Badet L et al (2013) Benefits of active oxygenation during hypothermic machine perfusion of kidneys in a preclinical model of deceased after cardiac death donors. J Surg Res 184(2):1174–1181

18.

Patel K, Smith TB, Neil DAH, Thakker A, Tsuchiya Y, Higgs EB et al (2019) The effects of oxygenation on ex vivo kidneys undergoing hypothermic machine perfusion. Transplantation 103(2):314–322

19.

Venema LH, Brat A, Moers C, A't Hart N, Ploeg RJ, Hannaert P et al (2019) Effects of oxygen during long-term hypothermic machine perfusion in a porcine model of kidney donation after circulatory death. Transplantation 103(10):2057–2064

20.

Buchs J-B, Lazeyras F, Ruttimann R, Nastasi A, Morel P (2011) Oxygenated hypothermic pulsatile perfusion versus cold static storage for kidneys from non heart-beating donors tested by in-line ATP resynthesis to establish a strategy of preservation. Perfusion 26(2):159–165

21.

Kron P, Schlegel A, de Rougemont O, Oberkofler CE, Clavien P-A, Dutkowski P (2016) Short, cool, and well oxygenated—HOPE for kidney transplantation in a rodent model. Ann Surg 264(5):815–822

22.

Minor T, Sitzia M, Dombrowski F (2005) Kidney transplantation from non-heart-beating donors after oxygenated low-flow machine perfusion preservation with histidine-tryptophan-ketoglutarate solution. Transpl Int 17(11):707–712

23.

Hoyer DP, Gallinat A, Swoboda S, Wohlschlaeger J, Rauen U, Paul A et al (2014) Influence of oxygen concentration during hypothermic machine perfusion on porcine kidneys from donation after circulatory death. Transplantation 98(9):944–950

24.

Le Meur Y, Badet L, Essig M, Thierry A, Büchler M, Drouin S et al (2020) First-in-human use of a marine oxygen carrier (M101) for organ preservation: a safety and proof-of-principle study. Am J Transplant 20(6):1729–1738

25.

Mallet V, Dutheil D, Polard V, Rousselot M, Leize E, Hauet T et al (2014) Dose-ranging study of the performance of the natural oxygen transporter HEMO 2 life in organ preservation: dose-ranging study of the performance of HEMO 2 life. Artif Organs 38(8):691–701

26.

Thuillier R, Dutheil D, Trieu MTN, Mallet V, Allain G, Rousselot M et al (2011) Supplementation with a new therapeutic oxygen carrier reduces chronic fibrosis and organ dysfunction in kidney static preservation: a new O2 therapeutic molecule improves static kidney preservation. Am J Transplant sept 11(9):1845–1860

27.

Kaminski J, Hannaert P, Kasil A, Thuillier R, Leize E, Delpy E et al (2019) Efficacy of the natural oxygen transporter HEMO 2 life ® in cold preservation in a preclinical porcine model of donation after cardiac death. Transpl Int sept 32(9):985–996

28.

Kasil A, Giraud S, Couturier P, Amiri A, Danion J, Donatini G et al (2019) Individual and combined impact of oxygen and oxygen transporter supplementation during kidney machine preservation in a porcine preclinical kidney transplantation model. Int J Mol Sci 20(8):1992

29.

Hosgood SA, Mohamed IH, Nicholson ML (2011) The two layer method does not improve the preservation of porcine kidneys. Med Sci Monit Int Med J Exp Clin Res 17(1):BR27–BR33

30.

Maluf DG, Mas VR, Yanek K, Stone JJ, Weis R, Massey D et al (2006) Molecular markers in stored kidneys using perfluorocarbon-based preservation solution: preliminary results. Transplant Proc 38(5):1243–1246

31.

Marada T, Zacharovova K, Saudek F (2010) Perfluorocarbon improves post-transplant survival and early kidney function following prolonged cold ischemia. Eur Surg Res 44(3–4):170–178

32.

Rolles K, Foreman J, Pegg DE (1989) A pilot clinical study of retrograde oxygen persufflation in renal preservation. Transplantation 48(2):339–342

33.

Flatmark A, Slaattelid O, Woxholt G (1975) Gaseous persufflation during machine perfusion of human kidneys before transplantation. Eur Surg Res 7(2):83–90

34.

Moláček J, Opatrný V, Matějka R, Baxa J, Třeška V (2016) Retrograde oxygen persufflation of kidney—experiment on an animal. In Vivo 30(6):801–806

35.

Kalenski J, Mancina E, Paschenda P, Beckers C, Bleilevens C, Tóthová Ľ et al (2016) Comparison of aerobic preservation by venous systemic oxygen persufflation or oxygenated machine perfusion of warm-ischemia-damaged porcine kidneys. Eur Surg Res 57(1–2):10–21

36.

Fischer JH, Kulus D, Hansen-Schmidt IH, Isselhard W (1981) Adenine nucleotide levels of canine kidneys during hypothermic aerobic or anaerobic storage in collins solution. Eur Surg Res 13(2):178–188

37.

Pegg DE, Foreman J, Hunt CJ, Diaper MP (1989) The mechanism of action of retrograde oxygen persufflation in renal preservation. Transplantation 48(2):210–217

38.

Manax WG, Block JH, Eyal Z, Lyons GW, Lillehei RC (1965) Hypothermia and hyperbaria: simple method for whole organ preservation. JAMA 31(192):755–759

39.

Ladaga LG, Nabseth DC, Besznyak I, Hendry WF, McLeod G, Deterling RA (1966) Preservation of canine kidneys by hypothermia and hyperbaric oxygen: long-term survival of autografts following 24-hour storage. Ann Surg 163(4):553–558

40.

Rudolf LE, Mandel S (1967) Supercooling, intermittent perfusion, and high pressure oxygen in whole organ preservation. Transplantation 5(Suppl):1159–1166

41.

Abe T, Yazawa K, Fujino M, Imamura R, Hatayama N, Kakuta Y et al (2017) High-pressure carbon monoxide preserves rat kidney grafts from apoptosis and inflammation. Lab Invest 97(4):468–477

42.

Nicholson ML, Hosgood SA (2013) Renal transplantation after ex vivo normothermic perfusion: the first clinical study. Am J Transplant 13(5):1246–1252

43.

Rijkse E, de Jonge J, Kimenai HJAN, Hoogduijn MJ, de Bruin RWF, van den Hoogen MWF et al (2021) Safety and feasibility of 2 h of normothermic machine perfusion of donor kidneys in the Eurotransplant Senior Program. BJS. https://doi.org/10.1093/bjsopen/zraa024

44.

Aburawi MM, Fontan FM, Karimian N, Eymard C, Cronin S, Pendexter C et al (2019) Synthetic hemoglobin-based oxygen carriers are an acceptable alternative for packed red blood cells in normothermic kidney perfusion. Am J Transplant 19(10):2814–2824

45.

Urbanellis P, Hamar M, Kaths JM, Kollmann D, Linares I, Mazilescu L et al (2020) Normothermic ex vivo kidney perfusion improves early DCD graft function compared with hypothermic machine perfusion and static cold storage. Transplantation 104(5):947–955

46.

Elliott TR, Nicholson ML, Hosgood SA (2021) Normothermic kidney perfusion: An overview of protocols and strategies. Am J Transplant 21(4):1382–1390

47.

Minor T, Von Horn C, Gallinat A, Kaths M, Kribben A, Treckmann J et al (2020) First-in-man controlled rewarming and normothermic perfusion with cell-free solution of a kidney prior to transplantation. Am J Transplant Par 20(4):1192–1195

48.

Bhattacharjee RN, Patel SVB, Sun Q, Jiang L, Richard-Mohamed M, Ruthirakanthan A et al (2020) Renal protection against ischemia reperfusion injury: hemoglobin-based oxygen carrier-201 versus blood as an oxygen carrier in ex vivo subnormothermic machine perfusion. Transplantation 104(3):482–489

49.

Urcuyo D, Blum MF, Liu Q, Nassar A, Buccini LD, Diago Uso T et al (2017) Development of a prolonged warm ex vivo perfusion model for kidneys donated after cardiac death. Int J Artif Organs 40(6):265–271

50.

Minor T, von Horn C, Paul A (2019) Role of erythrocytes in short-term rewarming kidney perfusion after cold storage. Artif Organs 43(6):584–592

51.

Gallinat A, Lu J, von Horn C, Kaths M, Ingenwerth M, Paul A et al (2018) Transplantation of cold stored porcine kidneys after controlled oxygenated rewarming: transplantation of cold stored porcine kidneys. Artif Organs 42(6):647–654
Ethics declarations
Conflict of interest
The authors declare that they have no conflict of interest.
Additional information
Publisher's Note
Springer Nature remains neutral with regard to jurisdictional claims in published maps and institutional affiliations.
About this article
Cite this article
Mesnard, B., Ogbemudia, A.E., Karam, G. et al. What is the evidence for oxygenation during kidney preservation for transplantation in 2021? A scoping review. World J Urol (2021). https://doi.org/10.1007/s00345-021-03757-8
Received:

Accepted:

Published:
Keywords
Kidney transplantation

Oxygen

Organ preservation

Hypothermic oxygenated machine perfusion

Oxygen carrier

Venous systemic oxygen persufflation

Hyperbaric Oxygenation

Normothermic Machine Perfusion