Abstract
Background
To evaluate the role of multiparametric magnetic resonance imaging (mpMRI) in Gleason score (GS) 3 + 4 prostate cancer (PCa) and evaluate independent factors in mpMRI that can predict GS upgrading, we compared the outcomes of GS upgrading group and GS non-upgrading group.
Patients and methods
We analyzed the data of 539 patients undergoing radical prostatectomy (RP) for biopsy GS 3 + 4 PCa from two tertiary referral centers. Univariate and multivariate analyses were performed to determine significant predictors of GS upgrading. GS upgrading, the study outcome, was defined as GS ≥ 4 + 3 at definitive pathology at RP specimen.
Results
GS upgrading rate was 35.3% and biochemical recurrence (BCR) rate was 8.0%. GS upgrading group was significantly older (p = 0.015), had significantly higher prebiopsy serum prostate-specific antigen (PSA) level (p = 0.001) and PSA density (p = 0.003), had a higher number of prostate biopsy (p = 0.026). There were 413 lesions (76.6%) of PI-RADS lesion ≥ 4, 236 (57.1%) for PI-RADS 4 and 177 (42.9%) for PI-RADS 5 lesion. Multivariate logistic regression analysis revealed that age (p = 0.045), initial prebiopsy PSA level (p = 0.002) and presence of PI-RADS lesion ≥ 4 (p = 0.044) are independent predictors of GS upgrading.
Conclusion
MpMRI can predict postoperative Gleason score upgrading in prostate cancer with Gleason score 3 + 4. Especially, presence of clinically significant PI-RADS lesion ≥ 4, the significant predictor of GS upgrading, in preoperative mpMRI needs to be paid attention and can be helpful for patient counseling on prostate cancer treatment.
Access options
Buy single article
Instant access to the full article PDF.
USD 39.95
Price includes VAT (USA)
Tax calculation will be finalised during checkout.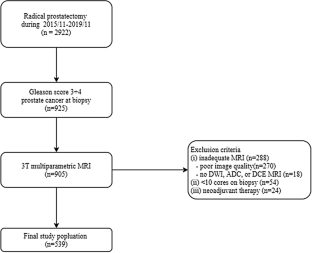 References
1.

Rawla P (2019) Epidemiology of prostate cancer. World J Oncol 10(2):63–89

2.

Lee H, Lee M, Byun SS et al (2019) Evaluation of Prostate Cancer Stage Groups Updated in the 8th Edition of the American Joint Committee on Cancer Tumor-Node-Metastasis Staging Manual. Clin Genitourin Cancer 17(1):e221–e226

3.

Choi MH, Jung SE, Park YH et al (2017) Multiparametric MRI of prostate cancer after biopsy: little impact of hemorrhage on tumor staging. iMRI 21:139–147

4.

Offermann A, Hohensteiner S, Kuempers C et al (2017) Prognostic value of the new prostate cancer international society of urological pathology grade groups. Front Med (Lausanne) 29(4):157

5.

Park J, Yoo S, Cho MC et al (2020) Patients with biopsy Gleason score 3 + 4 are not appropriate candidates for active surveillance. Urol Int 104(3–4):199–204

6.

Borkowetz A, Platzek I, Toma M et al (2016) Direct comparison of multiparametric magnetic resonance imaging (MRI) results with final histopathology in patients with proven prostate cancer in MRI/ultrasonography-fusion biopsy. BJU Int 118(2):213–220

7.

Kim JJ, Byun SS, Lee SE et al (2018) A negative multiparametric magnetic resonance imaging finding does not guarantee the absence of significant cancer among biopsy-proven prostate cancer patients: a real-life clinical experience. Int Urol Nephrol 50(11):1989–1997

8.

Kang M, Song B, Lee I et al (2016) Predictors of pathological upgrading in low-risk prostate cancer patients without hypointense lesions on an apparent diffusion coefficient map of multiparametric magnetic resonance imaging. World J Urol 34:1541–1546

9.

Weinreb JC, Barentsz JO, Choyke PL et al (2016) PI-RADS prostate imaging—reporting and data system: 2015, version 2. Eur Urol 69:16

10.

Kim TJ, Lee MS, Hwang SI et al (2019) Outcomes of magnetic resonance imaging fusion-targeted biopsy of prostate imaging reporting and data system 3 lesions. World J Urol 37(8):1581–1586

11.

Xu N, Wu YP, Li XD et al (2018) Risk of upgrading from prostate biopsy to radical prostatectomy pathology: Is magnetic resonance imaging-guided biopsy more accurate? J Cancer 9(19):3634–3639

12.

Faiena I, Salmasi A, Mendhiratta N et al (2019) PI-RADS version 2 category on 3 tesla multiparametric prostate magnetic resonance imaging predicts oncologic outcomes in gleason 3 + 4 prostate cancer on biopsy. J Urol 201(1):91–97

13.

Morlacco A, Cheville JC, Rangel LJ et al (2017) Adverse disease features in gleason score 3 + 4 "favorable intermediate-risk" prostate cancer: implications for active surveillance. Eur Urol 72(3):442–447

14.

Siddiqui MM, Rais-Bahrami S, Turkbey B et al (2015) Comparison of MR/ultrasound fusion-guided biopsy with ultrasound-guided biopsy for the diagnosis of prostate cancer. JAMA 313:390

15.

Le JD, Tan N, Shkolyar E et al (2015) Multifocality and prostate cancer detection by multiparametric magnetic resonance imaging: correlation with whole-mount histopathology. Eur Urol 67:569

16.

Tan N, Margolis DJ, Lu DY et al (2015) Characteristics of detected and missed prostate cancer foci on 3-t multiparametric MRI using an endorectal coil correlated with whole-mount thin-section histopathology. AJR Am J Roentgenol 205:W87

17.

Bratan F, Niaf E, Melodelima C et al (2013) Influence of imaging and histological factors on prostate cancer detection and localisation on multiparametric MRI: a prospective study. Eur Radiol 23:2019

18.

Vargas HA, Hotker AM, Goldman DA et al (2016) Updated Prostate Imaging Reporting and Data System (PI-RADS v2) recommendations for the detection of clinically significant prostate cancer using multiparametric MRI: critical evaluation using whole-mount pathology as standard of reference. Eur Radiol 26:1606

19.

Felker ER, Wu J, Natarajan S et al (2016) Serial magnetic resonance imaging in active surveillance of prostate cancer: incremental value. J Urol 195:1421

20.

Kamrava M, Kishan AU, Margolis DJ et al (2015) Multiparametric magnetic resonance imaging for prostate cancer improves Gleason score assessment in favorable risk prostate cancer. Pract Radiat Oncol 5:411

21.

Zhang K, Chen R, Alberts AR et al (2019) Distribution of Prostate Imaging Reporting and Data System score and diagnostic accuracy of magnetic resonance imaging-targeted biopsy: comparison of an Asian and European cohort. Prostate Int 7:96–101

22.

Kızılay F, Çelik S, Sözen S et al (2020) Correlation of Prostate-Imaging Reporting and Data Scoring System scoring on multiparametric prostate magnetic resonance imaging with histopathological factors in radical prostatectomy material in Turkish prostate cancer patients: a multicenter study of the Urooncology Association. Prostate Int 8:10–15
Ethics declarations
Conflict of interest
There are no conflicts of interest, including specific financial interests, relationships, and affiliations relevant to the subject materials described in this manuscript.
Ethical statement
All study protocols were in accordance with the principles of the Helsinki Declaration. We removed personal identifiers and anonymized all data, which exempted the study from the need to obtain informed consent from patients.
Additional information
Publisher's Note
Springer Nature remains neutral with regard to jurisdictional claims in published maps and institutional affiliations.
Electronic supplementary material
Below is the link to the electronic supplementary material.
About this article
Cite this article
Kim, H., Kim, J.K., Hong, S.K. et al. Role of multiparametric magnetic resonance imaging to predict postoperative Gleason score upgrading in prostate cancer with Gleason score 3 + 4. World J Urol 39, 1825–1830 (2021). https://doi.org/10.1007/s00345-020-03421-7
Received:

Accepted:

Published:

Issue Date:
Keywords
Prostate cancer

Multiparametric MRI

Gleason score 3 + 4

Radical prostatectomy

Gleason score upgrading

Prostate biopsy