Abstract
Background
Urinary stones are a common urologic problem that can be manifested as an intense pain, known as renal colic. Pain control is an important intervention for the emergency treatment of renal colic patients. Intranasal ketamine can form a crucial part of such interventions by offering a new route for a widely-used analgesic drug.
Methods
In a double-blind, randomized, clinical trial, adults with renal colic admitted to a tertiary hospital emergency department were examined. The intervention group received 1 mg/kg intranasal (IN) ketamine and 1 ml of saline as a placebo. The control group received 0.1 mg/kg intravenous (IV) morphine and four puffs of saline as the placebo. The pain score was measured on the Numerical Rating Scale (NRS) 0, 15, 30 and 60 min after the drug administration.
Results
A total of 184 patients enrolled in this study in two parallel groups. The two groups did not differ significantly in terms of pain intensity at the time of their referral (P = 0.489), 15 min post-dose (P = 0.204), 30 min post-dose (P = 0.978) and 60 min post-dose (P = 0.648).
Conclusion
IN ketamine is as effective as IV morphine for pain control in renal colic patients. No remarkable side-effects were observed for IN ketamine use in these patients.
Access options
Buy single article
Instant access to the full article PDF.
USD 39.95
Price excludes VAT (USA)
Tax calculation will be finalised during checkout.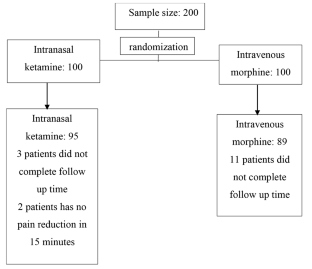 References
Morteza-Bagi HR, Amjadi M, Mirzaii-Sousefidi R (2015) The comparison of apotel plus low dose of morphine and full dose of morphine in pain relief in patients with acute renal colic. Addict Health 7(1–2):66–73

Jokar A, Cyrus A, Babaei M, Taheri M, Almasi-Hashiani A, Behzadinia E, Yazdanbakhsh A (2017) The effect of magnesium sulfate on renal colic pain relief; a randomized clinical trial. Emerg (Tehran) 5(1):e25

O'Connor A, A'Schug S, Cardwell A (2000) A comparison of the efficacy and safety of morphine and pethidine as analgesia for suspected renal colic in the emergency setting. Emerg Med J 17:261–264

Hamidi N, Ozturk E, Yikilmaz TN et al (2018) The effect of corticosteroid on postoperative early pain, renal colic and total analgesic consumption after uncomplicated and unstented ureteroscopy: a matched-pair analysis. World J Urol 36:979. https://doi.org/10.1007/s00345-018-2210-1

Golzari SE, Soleimanpour H, Rahmani F et al (2014) Therapeutic approaches for renal colic in the emergency department: a review article. Anesth Pain Med 4(1):e16222

Soleimanpour H, Hassanzadeh K, Vaezi H et al (2012) effectiveness of intravenous lidocaine versus intravenous morphine for patients with renal colic in emergency department. BMC Urol 12:13

Soleimanpour H, Hassanzadeh K, Mohammadi DA et al (2011) Parenteral lidocaine for treatment of intractable renal colic: a case series. J Med Case Rep 29(5):256

Pathan SA et al (2018) A systematic review and meta-analysis comparing the efficacy of nonsteroidal anti-inflammatory drugs, opioids, and paracetamol in the treatment of acute renal colic. Eur Urol 73:583

Pathan SA et al (2016) Delivering safe and effective analgesia for management of renal colic in the emergency department: a double-blind, multigroup, randomised controlled trial. Lancet 387:1999

Forouzan A, Masoumi K, Motamed H et al (2019) Comparison of the analgesic effect of intravenous ketamine versus intravenous morphine in reducing pain of renal colic patients: double-blind clinical trial study. Rev Recent Clin Trials 14:4

Farnia MR, Jalali A, Vahidi E, Momeni M et al (2017) Comparison of intranasal ketamine versus IV morphine in reducing pain in patients with renal colic. Am J Emerg Med 35(3):434–437

Li L, Vlisides PE (2016) Ketamine: 50 years of modulating the mind. Front Hum Neurosci 10:612

Ghojazadeh M, Sanaie S, Paknezhad SP, Faghih SS, Soleimanpour H (2019) Using ketamine and propofol for procedural sedation of adults in the emergency department: a systematic review and meta-analysis. Adv Pharm Bull 9(1):5–11

Kronenberg RH (2002) Ketamine as an analgesic:parental, oral, rectal, subcutaneous, transdermal and intranasal administration. J Pain Palliat Care Pharmacother 16:27–235

Christensen K, Rogers E, Greenb GA, Hamiltonb DA, Mermelsteinb F, Liaob E et al (2007) Safety and efficacy of intranasal ketamine for acute postoperative pain. Acute Pain 9:183–192

Yanagihara Y, Ohtani M, Kariya S et al (2003) Plasma concentration profiles of ketamine and norketamine after administration of various ketamine preparations to healthy Japanese volunteers. Biopharma Drug Dispos 24:37–43

Carr DB, Goudas LC, Denman WT et al (2004) Safety and efficacy of intranasal ketamine for the treatment of breakthrough pain in patients with chronic pain: a randomized, double-blind, placebo-controlled, crossover study. Pain 108(1–2):17–27

Huge V, Lauchart M, Magerl W et al (2010) Effects of low-dose intranasal (S)-ketamine in patients with neuropathic pain. Eur J Pain 14(4):387–394

Shrestha R, Pant S, Shrestha A (2016) Kabita Hada Batajoo, Rashmi Thapa, Sumana Vaidya. World J Emerg Med 7(1):19–24. https://doi.org/10.5847/wjem.j.1920-8642.2016.01.003

Motov S et al (2015) Intravenous sub dissociative-dose ketamine versus morphine for analgesia in the emergency department: a randomized controlled trial. Ann Emerg Med 66(3):222–229

Abdolkarimi B (2016) Comparison effect of intravenous ketamine with pethidine for analgesia and sedation during bone marrow procedures in oncologic children: a randomized double-blinded, crossover trial. Int J Hematol Oncol Stem Cell Res 10(4):206–211

Andolfatto G, Willman E, Joo D, Miller P, Wong WB et al (2013) intranasal ketamine for analgesia in the emergency department: a prospective observational series. Acad Emerg Med 20(10):1050–1054

Andolfatto G, Innes K, Dick W, Jenneson S, Willman E et al (2019) Prehospital analgesia with intranasal ketamine (PAIN-K): a randomized double-blind trial in adults. Ann Emerg Med 74(2):241–250

Shimonovich S, Gigi R, Shapira A, Sarig-Meth T et al (2016) Intranasal ketamine for acute traumatic pain in the Emergency Department: a prospective, randomized clinical trial of efficacy and safety. BMC Emerg Med 16:43
Acknowledgements
The authors wish to express their gratitude to all those who participated in this study and also all the data collectors, supervisors and administrative staff of the Emergency Medicine Department of Imam Reza Hospital affiliated to Tabriz University of Medical Sciences in Tabriz, Iran. This article was written based on a dataset by Zahra Vand Rajabpour's speciality thesis entitled "Intranasal ketamine versus intravenous morphine for pain management in patients with renal colic: A double-blind, randomized, controlled trial", approved by Tabriz University of Medical Sciences (IR.TBZMED.REC.1398.006) and presented in 2019.
Funding
This article was supported by the Emergency Medicine Research Team, Tabriz University of Medical Sciences, Tabriz, Iran. Special gratitude is expressed to the Vice Chancellor of Research of Tabriz University of Medical Sciences for all the material and financial support provided for this study.
Ethics declarations
Conflict of interest
The authors declare that they have no competing interests.
Ethics approval
The study was approved by the Ethics Committee of Tabriz University of Medical Sciences and registered under the code IR.TBZMED.REC.1398.006.
Additional information
Publisher's Note
Springer Nature remains neutral with regard to jurisdictional claims in published maps and institutional affiliations.
About this article
Cite this article
Pouraghaei, M., Moharamzadeh, P., Paknezhad, S.P. et al. Intranasal ketamine versus intravenous morphine for pain management in patients with renal colic: a double-blind, randomized, controlled trial. World J Urol 39, 1263–1267 (2021). https://doi.org/10.1007/s00345-020-03319-4
Received:

Accepted:

Published:

Issue Date:

DOI: https://doi.org/10.1007/s00345-020-03319-4
Keywords
Ketamine

Morphine

Kidney stones