Abstract
Purpose
To retrospectively review our 20 year experience of multidisciplinary management of non-metastatic ductal prostate cancer (dPC), a rare but aggressive histological subtype of prostate cancer whose optimal therapeutic approach is still controversial.
Methods
Histologically confirmed dPC patients undergoing primary, curative treatment [radical prostatectomy (RP), external beam radiotherapy (EBRT), and androgen deprivation therapy (ADT)] were included, and percentage of ductal and acinar pattern within prostate samples were derived. Survival outcomes were assessed using the subdistribution hazard ratio (SHR) and Fine-and-Gray model.
Results
From January 1997 to December 2016, 81 non-metastatic dPC fitted selection criteria. Compared to surgery alone, SHR for progression-free survival and cancer-specific mortality were 2.8 (95% CI 0.6–13.3) and 1.3 (95% CI 0.1–16.2) for exclusive EBRT, 2.7 (95% CI 0.6–13.0) and 6.5 (95% CI 0.6–69.8) for adjuvant EBRT, 4.9 (95% CI 0.7–35.5) and 5.8 (95% CI 0.5–65.6) for salvage EBRT post-prostatectomy recurrence, and 3.2 (95% CI 0.7–14.0) and 3.9 (95% CI 0.3–44.1) for primary ADT (P = 0.558; P = 0.181), respectively. Comparing multimodal treatment and monotherapy confirmed the above trends. Local recurrence more typically occurred in pure dPC patients, mixed histology more frequently produced metastatic spread (29.6% relapse in total, P = 0.026).
Conclusion
Albeit some limitations affected the study, our findings support the role of local treatment to achieve better disease control and improve quality of life. Different behavior, with typical local growth in pure dPC, higher distant metastatization in the mixed form, might influence treatment response. Given its poor prognosis, we recommend multidisciplinary management of dPC.
Access options
Buy single article
Instant access to the full article PDF.
US$ 39.95
Tax calculation will be finalised during checkout.
Subscribe to journal
Immediate online access to all issues from 2019. Subscription will auto renew annually.
US$ 119
Tax calculation will be finalised during checkout.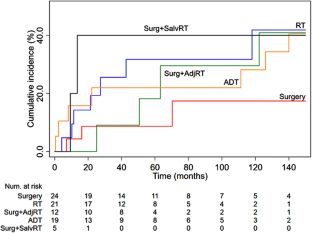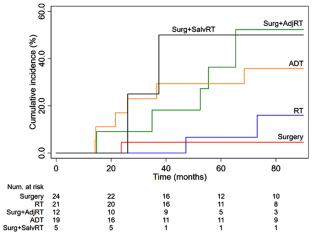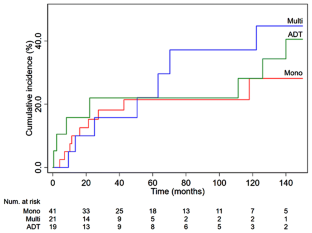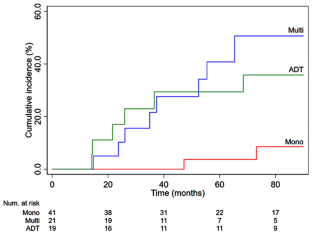 References
1.

Morgan TM, Welty CJ, Vakar-Lopez F, Lin DW, Wright JL (2010) Ductal adenocarcinoma of the prostate: increased mortality risk and decreased PSA secretion. J Urol 184(6):2303–2307

2.

Melicow MM, Pachtr MR (1967) Endometrial carcinoma of prostatic Utricle (uterus masculinus). Cancer 20:1715–1722

3.

Vale JA, Patel A, Ball AJ, Hendry WF, Chappeli ME, Fisher C (1992) Endometriold carcinoma of the prostate: a misnomer? J Royal Soc Med 85:394–396

4.

Meeks JJ, Zhao LC, Cashy J, Kundu S (2012) Incidence and outcomes of ductal carcinoma of the prostate in the USA: analysis of data from the surveillance, epidemiology, and end results program. BJU Int 109(6):831–834 (Epub 2011 Aug 24)

5.

Bostwick DG, Kindrachuk RW, Rouse RV (1985) Prostatic adenocarcinoma with endometrioid features. Clinical, pathologic, and ultrastructural findings. Am J Surg Pathol 9:595–609

6.

Christensen WN, Steinberg G, Walsh PC, Epstein JI (1991) Prostatic duct adenocarcinoma findings at radical prostatectomy. Cancer 67(8):2118–2124

7.

Brinker DA, Potter SR, Epstein JI (1999) Ductal adenocarcinoma of the prostate diagnosed on needle biopsy: correlation with clinical and radical prostatectomy findings and progression. Am J Surg Pathol 23:1471–1479

8.

Lemberger RJ, Bishop MC, Bates CP et al (1984) Carcinoma of the prostate of ductal origin. Br J Urol 56:706–709

9.

McNeal JE, Reese JH, Redwine EA et al (1986) Cribriform adenocarcinoma of the prostate. Cancer 58:1714–1719

10.

Rubin MA, de La Taille A, Bagiella E et al (1998) Cribriform carcinoma of the prostate and cribriform prostatic intraepithelial neoplasia: Incidence and clinical implications. Am J Surg Pathol 22:840–848

11.

Orihuela E, Green JM (2008) Ductal prostate cancer: contemporary management and outcomes. Urol Oncol 26:368–371

12.

Charlson M, Szatrowski TP, Peterson J, Gold J (1994) Validation of a combined comorbidity index. J Clin Epidemiol 47(11):1245–1251

13.

Sobin HL, Gospodarowicz MK, Wittekind C (eds) (2009) TNM classification of malignant tumours, 7th edn. UICC - International Union Against Cancer

14.

Buyyounouski MK, Hanlon AL, Eisenberg DF, Horwitz EM, Feigenberg SJ, Uzzo RG, Pollack A (2005) Defining biochemical failure after radiotherapy with and without androgen deprivation for prostate cancer. Int J Radiat Oncol Biol Phys 63(5):1455–1462

15.

Gray RJ (1988) A class of K-sample tests for comparing the cumulative incidence of a competing risk. Ann Stat 16:1141–1154

16.

Austin PC, Lee DS, Fine JP (2016) Introduction to the analysis of survival data in the presence of competing risks. Circulation 133(6):601–609

17.

Fine JP, Gray RJ (1999) A proportional hazards model for the subdistribution of a competing risk. J Am Stat Assoc 94:496–509

18.

D'Amico AV, Whittington R, Malkowicz B et al (1998) Biochemical outcome after radical prostatectomy, external beam radiation therapy for clinically localized prostate cancer. JAMA 280(11):969–974

19.

Seipel AH, Delahunt B, Samaratunga H, Egevad L (2016) Ductal adenocarcinoma of the prostate: histogenesis, biology and clinicopathological features. Pathology 48(5):398–405

20.

Bronkema C, Arora S, Sood A, Dalela D, Keeley J, Borchert A, Baumgarten L, Rogers CG, Peabody JO, Menon M, Abdollah F (2020) Rare histological variants of prostate adenocarcinoma: a national cancer database analysis. J Urol. https://doi.org/10.1097/JU.0000000000001011 (Online ahead of print)

21.

Wai Man Kan R, Fai Kan C, Hon Ming Wong J, Kam Fung FuK, Fai Ng C, Wai Hee Chan S (2014) Ductal adenocarcinoma of the prostate: a Hong Kong case series. Int Urol Nephrol 46:2133–2137

22.

Eade TN, Al-Saleem T, Horwitz EN, Buyyounouski MK, Chen DYT, Pollack A (2007) Role of radiotherapy in ductal (endometrioid) carcinoma of the prostate. Cancer 109(10):2011–2015

23.

Epstein JI (2010) Prostatic ductal adenocarcinoma: a mini review. Med Princ Pract 19:82–85

24.

Samaratunga H, Duffy D, Yaxley J, Delahunt B (2010) Any proportion of ductal adenocarcinoma in radical prostatectomy specimens predicts extraprostatic extension. Hum Pathol 41(2):281–285 (Epub 2009 Dec 11)

25.

Epstein JI, Allsbrook WC, Amin MB et al (2005) The 2005 International Society of Urological Pathology (ISUP) consensus conference on Gleason grading of prostate cancer. Am J Surg Pathol 29:1228–1242

26.

Tu SM, Lopey A, Leibovici D, Bilen MA, Evliyaoglu F, Asparicio A, Guo CC, Kuban DA, Johnson MM, Pisters LL (2009) Ductal adenocarcinoma of the prostate: clinical features and implications after local therapy. Cancer 115(13):2872–2880

27.

Schweizer MT, Antonarakis ES, Bismar TA, Guedes LB, Cheng HH, Tretiakova MS, Vakar-Lopez F, Klemfuss N, Konnick EQ, Mostaghel EA, Hsieh AC, Nelson PS, Yu EY, Montgomery RB, True LD, Epstein JI, Lotan TL, Pritchard CC (2019) Genomic characterization of prostatic ductal adenocarcinoma identifies a high prevalence of DNA repair gene mutations. JCO Precis Oncol. https://doi.org/10.1200/PO.18.00327 (Epub 2019 Apr 18)

28.

Gillessen S, Attard G, Beer TM, Beltran H, Bossi A et al (2018) Management of patients with advanced prostate cancer: the report of the advanced prostate cancer consensus conference APCCC 2017. Eur Urol 73(2):178–211

29.

Kim A, Kwon T, You D, Gab Jeong I, Go H, Mee Cho Y, Hyuk Hong J, Ahn H, Kim C-S (2015) Clinicopathological features of prostate ductal carcinoma: matching analysis and comparison with prostate acinar carcinoma. J Korean Med Sci 30:385–389

30.

Knipper S, Preisser F, Mazzone E, Mistretta FA, Tian Z, Briganti A, Zorn KC, Saad F, Tilki D, Graefen M, Karakiewicz PI (2019) Contemporary comparison of clinicopathologic characteristics and survival outcomes of prostate ductal carcinoma and acinar adenocarcinoma: a population-based study. Clin Genitourin Cancer 17:231–237. https://doi.org/10.1016/j.clgc.2019.04.009
Ethics declarations
Conflicts of interest
The authors declare that they have no conflict of interest.
Additional information
Publisher's Note
Springer Nature remains neutral with regard to jurisdictional claims in published maps and institutional affiliations.
About this article
Cite this article
Bardoscia, L., Triggiani, L., Sandri, M. et al. Non-metastatic ductal adenocarcinoma of the prostate: pattern of care from an uro-oncology multidisciplinary group. World J Urol (2020). https://doi.org/10.1007/s00345-020-03315-8
Received:

Accepted:

Published:
Keywords
Ductal prostate cancer

Local treatment

Multidisciplinary tumor board

External beam radiotherapy

Radical prostatectomy

Androgen deprivation therapy