Abstract
Objective
To investigate the sexual, physical, and mental adverse effects associated with exposure to 5-alpha reductase inhibitors (5ARIs).
Methods
FAERS data containing finasteride and dutasteride reports were analyzed from January 2000 to April 2019. Reports identified one or more adverse effects, along with all concurrent medications. Cases of monotherapy of finasteride or dutasteride were identified. We conducted a chi-square test of independence to assess the relationship between the three drug groups and adverse event (AE) occurrence across 19 sexual, physical, and mental AE categories. The frequency procedure in SAS was utilized to summarize rates of AEs between various dosages of each drug.
Results
A total of 16,014 case reports were obtained. After excluding females, 7436 case reports of 5ARI monotherapy were identified: 2628 of dutasteride 0.5 mg, 3266 of finasteride 1 mg, and 744 of finasteride 5 mg. Differences in rates of AEs occurrence were statistically significant across all 19 variables (p < 0.001) with a significantly higher proportion of AEs attributed to finasteride 1 mg, with gynecomastia being the only exception. Case report submissions rose dramatically following FDA-mandated finasteride label change.
Conclusions
Analysis of FAERS data suggests AEs of 5ARIs are dose-independent with greater likelihood of occurrence in younger patients, particularly in sexual and mental domains. The causality and the rate of AEs are not certain based on the FAERS data and future prospective studies are necessary to determine the true rates.
Access options
Buy single article
Instant access to the full article PDF.
US$ 39.95
Tax calculation will be finalised during checkout.
Subscribe to journal
Immediate online access to all issues from 2019. Subscription will auto renew annually.
US$ 119
Tax calculation will be finalised during checkout.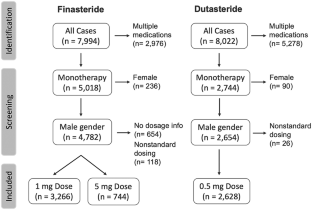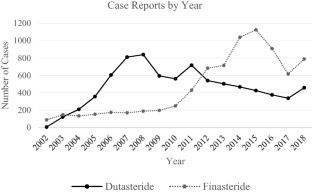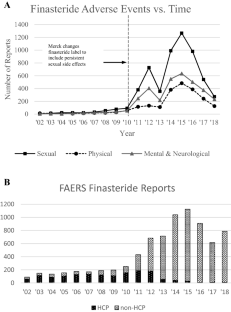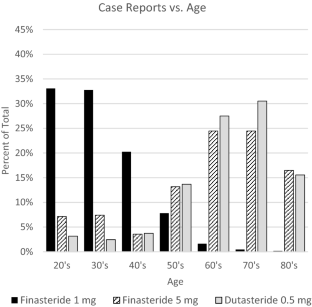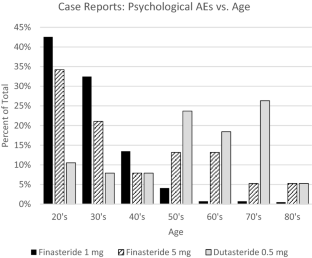 References
1.

Liu L, Zhao S, Li F et al (2016) Effect of 5α-reductase inhibitors on sexual function: a meta-analysis and systematic review of randomized controlled trials. J Sex Med 13:1297–1310

2.

Total Patient Tracker (TPT) Years 2002-2009. SDI Vector One®. Data extracted May, 2011. https://www.accessdata.fda.gov/drugsatfda_docs/nda/2009/020592Orig1s040s041OtherR.pdf

3.

U.S. Food and Drug Administration. FDA Drug Safety Communication: 5-alpha reductase inhibitors (5-ARIs) may increase the risk of a more serious form of prostate cancer [Internet]. U.S. Food and Drug Administration, Silver Spring, c2013. Version 03/2013. 10]. http://www.fda.gov/Drugs/DrugSafety/ucm258314.htm

4.

Ganzer CA, Jacobs AR, Iqbal F (2015) Persistent sexual, emotional, and cognitive impairment post-finasteride: a survey of men reporting symptoms. Am J Mens Health 9:222–228

5.

Traish AM (2020) Post-finasteride syndrome: a surmountable challenge for clinicians. Fertil Steril 113:21–50

6.

NIH (2015) Adverse events of 5-α-reductase inhibitors: US Department of Health and Human Services. Version 03/03/2015. https://rarediseases.info.nih.gov/diseases/12407/adverse-events-of-5-alpha-reductase-inhibitors

7.

Administration USFD (2018) Questions and answers on FDA's adverse event reporting system (FAERS). Version 06/04/2018. https://www.fda.gov/drugs/surveillance/questions-and-answers-fdas-adverse-event-reporting-system-faers

8.

Ali AK (2011) Pharmacovigilance analysis of adverse event reports for aliskiren hemifumarate, a first-in-class direct renin inhibitor. Ther Clin Risk Manag 7:337–344

9.

Golan DETJA, Armstrong EJ, Armstrong AW (2011) Principles of pharmacology: the pathophysiologic basis of drug therapy, 3rd revised international ed edition ed. Lippincott Williams and Wilkins, Philadelphia

10.

Ali AK, Heran BS, Etminan M (2015) Persistent sexual dysfunction and suicidal ideation in young men treated with low-dose finasteride: a pharmacovigilance study. Pharmacotherapy 35:687–695

11.

Mondaini N, Gontero P, Giubilei G et al (2007) Finasteride 5 mg and sexual side effects: How many of these are related to a nocebo phenomenon? J Sex Med 4:1708–1712

12.

Olsen EA, Hordinsky M, Whiting D et al (2006) The importance of dual 5α-reductase inhibition in the treatment of male pattern hair loss: results of a randomized placebo-controlled study of dutasteride vs. finasteride. J Am Acad Dermatol 55:1014–1023

13.

Rittmaster RS, Lemay A, Zwicker H et al (1992) Effect of finasteride, a 5α-reductase inhibitor, on serum gonadotropins in normal men. J Clin Endocrinol Metab 75:484–488

14.

Clark RV, Hermann DJ, Cunningham GR, Wilson TH, Morrill BB, Hobbs S (2004) Marked suppression of dihydrotestosterone in men with benign prostatic hyperplasia by dutasteride, a dual 5α-reductase inhibitor. J Clin Endocrinol Metab 89:2179–2184

15.

Wessells H, Roy J, Bannow J et al (2003) Incidence and severity of sexual adverse experiences in finasteride and placebo-treated men with benign prostatic hyperplasia. Urology 61:579–584

16.

Physicians AAFP (2012) Finasteride sexual side effects prompt FDA warning, Label Changes. Version 04/18/2012. https://www.aafp.org/news/health-ofthe-public/20120418finasteride.html

17.

Traish AM, Hassani J, Guay AT, Zitzmann M, Hansen ML (2011) Adverse side effects of 5α-reductase inhibitors therapy: persistent diminished libido and erectile dysfunction and depression in a subset of patients. J Sex Med 8:872–884

18.

Mulhall JP, Luo X, Zou KH, Stecher V, Galaznik A (2016) Relationship between age and erectile dysfunction diagnosis or treatment using real-world observational data in the USA. Int J Clin Pract 70:1012–1018

19.

Johannes CB, Araujo AB, Feldman HA, Derby CA, Kleinman KP, McKinlay JB (2000) Incidence of erectile dysfunction in men 40 to 69 years old: longitudinal results from the Massachusetts male aging study. J Urol 163:460–463

20.

Moreira ED Jr, Lbo CF, Diament A, Nicolosi A, Glasser DB (2003) Incidence of erectile dysfunction in men 40 to 69 years old: results from a population-based cohort study in Brazil. Urology 61:431–436

21.

Lim KB (2017) Epidemiology of clinical benign prostatic hyperplasia. Asian J Urol 4:148–151

22.

Eisenberg ML, Meldrum D (2017) Effects of age on fertility and sexual function. Fertil Steril 107:301–304

23.

Erectile dysfunction epidemiology (2003) Int J Impot Res 15(Suppl 7):S2–4

24.

Morin L, Johnell K, Laroche ML, Fastbom J, Wastesson JW (2018) The epidemiology of polypharmacy in older adults: register-based prospective cohort study. Clin Epidemiol 10:289–298

25.

Fourcade R, Lacoin F, Slama A, Gaudin A, Le Fur C, Michel E, Sitbon, Cotté (2010) UP-1.09: impact of benign prostatic hyperplasia (BPH) on medically treated patients' quality of life. Urology 76(3):S55

26.

Cash TF (1999) The psychosocial consequences of androgenetic alopecia: a review of the research literature. Br J Dermatol 141:398–405

27.

Wells PA, Willmoth T, Russell RJ (1995) Does fortune favour the bald? Psychological correlates of hair loss in males. Br J Psychol 86(Pt 3):337–344

28.

Baas WR, Butcher MJ, Lwin A et al (2018) A review of the FAERS data on 5-α reductase inhibitors: implications for postfinasteride syndrome. Urology 120:143–149
Ethics declarations
Conflict of interest
The author(s) declare that they have no conflict of interest.
Research involving human participants
The data used in this study are de-identified and publicly available FAERS data. It has been determined by the Institutional Review Board (IRB) at Weill Cornell Medical College that it meets eligibility for IRB review exemption authorized by 45 CFR part 46.
Informed consent
Not applicable.
Additional information
Publisher's Note
Springer Nature remains neutral with regard to jurisdictional claims in published maps and institutional affiliations.
About this article
Cite this article
Harrell, M.B., Ho, K., Te, A.E. et al. An evaluation of the federal adverse events reporting system data on adverse effects of 5-alpha reductase inhibitors. World J Urol 39, 1233–1239 (2021). https://doi.org/10.1007/s00345-020-03314-9
Received:

Accepted:

Published:

Issue Date:
Keywords
Post-finasteride syndrome

Finasteride

Dutasteride

Benign-prostatic hyperplasia

Androgenic alopecia