Abstract
Introduction and objective
To assess the safety, oncological and quality-of-life (QoL) outcomes of focal ablation of apical prostate cancer (PCa) lesions with irreversible electroporation (IRE).
Methods
Patients were included in the study if they had a PCa lesion within 3 mm of the apical capsule treated with IRE. The IRE procedure was performed in our institution by a single urologist. The QoL and functional data was collected prospectively from patients who provided consent using the Expanded Prostate Cancer Index Composite (EPIC). Oncological follow up included 3-month PSA levels, mpMRI at 6 months and transperineal biopsy at 1-year post treatment.
Results
A total of 50 patients had apical PCa lesions treated between February 2013 and September 2018. Median follow-up was 44 months. There were no Clavien–Dindo grade 3 events or higher. No perioperative complications were recorded. No significant difference was observed in the EPIC urinary or bowel QoL domain between baseline and 12-month post-treatment. One patient (2%) required one pad per day for urinary incontinence 12-month post-treatment. There was a small but significant decline in EPIC sexual QoL (65 at baseline and 59 at 12-month post-IRE). Of patient's potent pre-treatment, 94% remained potent after treatment. The median PSA nadir decreased by 71% (6.25–1.7 ng/mL). Only one patient (2.5%) had in-field residual disease on repeat biopsy.
Conclusion
Focal ablation using IRE for PCa in the distal apex appears safe and feasible with acceptable early QoL and oncologic outcomes.
Access options
Buy single article
Instant access to the full article PDF.
US$ 39.95
Tax calculation will be finalised during checkout.
Subscribe to journal
Immediate online access to all issues from 2019. Subscription will auto renew annually.
US$ 119
Tax calculation will be finalised during checkout.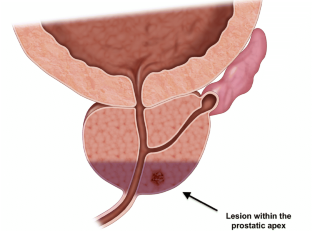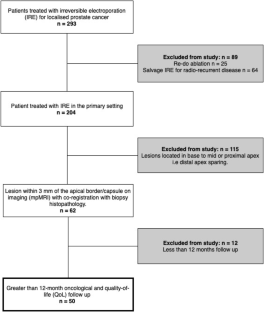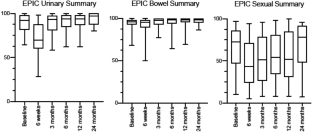 References
1.

Perera M, Krishnananthan N, Lindner U, Lawrentschuk N (2016) An update on focal therapy for prostate cancer. Nat Rev Urol 13(11):641–653

2.

Valerio M, Cerantola Y, Eggener SE, Lepor H, Polascik TJ, Villers A et al (2017) New and established technology in focal ablation of the prostate: a systematic review. Eur Urol 71(1):17–34

3.

Guillaumier S, Peters M, Arya M et al (2018) A multicentre study of 5-year outcomes following focal therapy in treating clinically significant nonmetastatic prostate cancer. Eur Urol 74(4):422–429

4.

Stabile A, Orczyk C, Hosking-Jervis F et al (2019) Medium-term oncological outcomes in a large cohort of men treated with either focal or hemi-ablation using high-intensity focused ultrasonography for primary localised prostate cancer. BJU Int 124(3):431–440

5.

Mathew MS, Oto A (2017) MRI-guided focal therapy of prostate cancer. Future Oncol 13(6):537–549

6.

Sivaraman A, Barret E (2016) Focal therapy for prostate cancer: an "A la Carte" approach. Eur Urol 69(6):973–975

7.

Ganzer R, Arthanareeswaran VKA, Ahmed HU, Cestari A, Rischmann P, Salomon G et al (2018) Which technology to select for primary focal treatment of prostate cancer?—European Section of Urotechnology (ESUT) position statement. Prostate Cancer Prostatic Dis 21(2):175–186

8.

Blazevski A, Amin A, Scheltema MJ et al (2019) Irreversible electroporation (IRE): a narrative review of the development of IRE from the laboratory to a prostate cancer treatment. BJU Int. https://doi.org/10.1111/bju.14951

9.

Blazevski A, Scheltema MJ, Yuen B, Masand N, Nguyen TV, Delprado W et al (2019) Oncological and quality-of-life outcomes following focal irreversible electroporation as primary treatment for localised prostate cancer: a biopsy-monitored prospective cohort. Eur Urol Onc. https://doi.org/10.1016/j.euo.2019.04.008

10.

Collettini F, Enders J, Stephan C, Fischer T, Baur ADJ, Penzkofer T et al (2019) Image-guided irreversible electroporation of localized prostate cancer: functional and oncologic outcomes. Radiology 292(1):250–257

11.

Le Nobin J, Rosenkrantz AB, Villers A, Orczyk C, Deng FM, Melamed J et al (2015) Image guided focal therapy for magnetic resonance imaging visible prostate cancer: defining a 3-dimensional treatment margin based on magnetic resonance imaging histology co-registration analysis. J Urol 194(2):364–370

12.

Shah TT, Peters M, Eldred-Evans D et al (2019) Early-medium-term outcomes of primary focal cryotherapy to treat nonmetastatic clinically significant prostate cancer from a prospective multicentre registry. Eur Urol 76:98–105

13.

Thompson J, Sridhar AN, Tan WS et al (2019) Pathological findings and magnetic resonance imaging concordance at salvage radical prostatectomy for local recurrence following partial ablation using high intensity focused ultrasound. J Urol 201(6):1134–1143

14.

Srougi V, Barret E, Nunes-Silva I, Baghdadi M, Garcia-Barreras S, Pierrat N et al (2017) Focal brachytherapy for localized prostate cancer: urinary toxicity depends on tumor location. Brachytherapy 16(5):988–992

15.

Cosset JM, Cathelineau X, Wakil G, Pierrat N, Quenzer O, Prapotnich D et al (2013) Focal brachytherapy for selected low-risk prostate cancers: a pilot study. Brachytherapy 12(4):331–337

16.

Azzouzi AR, Vincendeau S, Barret E, Cicco A, Kleinclauss F, van der Poel HG et al (2017) Padeliporfin vascular-targeted photodynamic therapy versus active surveillance in men with low-risk prostate cancer (CLIN1001 PCM301): an open-label, phase 3, randomised controlled trial. Lancet Oncol 18(2):181–191

17.

Gill IS, Azzouzi AR, Emberton M et al (2018) Randomised trial of partial gland ablation with vascular targeted photodynamic versus active surveillance for low risk prostate cancer: extended followup and analyses of effectiveness. J Urol 200(4):786–793

18.

Noweski A, Roosen A, Labdai S et al (2019) Medium-term follow-up of vascular-targeted photodynamic therapy of localised prostate cancer using TOOKAD soluble WST-11 (phase II trials). Eur Urol Focus 5:1022–1028

19.

Valerio M, Dickinson L, Ali A et al (2017) Nanoknife electroporation ablation tiral: a prospective development study investigating focal irreveribsle electropiraiton for localised prostate cancer. J Urol 197(3):647–654

20.

Tay KJ, Scheltema MJ, Ashmed HU et al (2017) Patient selection for prostate focal therapy in the era of active surveillance: an international Delphi Consenses Project. Prostate Cancer Prostatic Dis 20:294–299

21.

King MT, Nguyen PL, Boldbaatar N et al (2018) Long-term outcomes of partial prostate treatment with magnetic resonance imaging-guided brachytherapy for patients with favorable-risk prostate cancer. Cancer 124(17):3528–3535
Funding
Funding was provided by Australian Prostate Cancer Research Centre-NSW and St. Vincent's Prostate Cancer Centre.
Ethics declarations
Conflict of interest
Prof. Phillip Stricker is a paid consultant to Angiodynamics. Dr. Alexandar Blazevski is a paid proctor to Getz Healthcare. All other authors have nothing to disclose.
Ethics approval/informed consent
The board of the Human Research Ethics Committee of St. Vincent's Hospital (Sydney, Australia) approval prospective acquisition of patient-reported QoL outcomes (HREC approval SVH 13/018) after institutional review. The analysis and data collection were performed following the Declaration of Helsinki after written informed consent was obtained from all patients.
Additional information
Publisher's Note
Springer Nature remains neutral with regard to jurisdictional claims in published maps and institutional affiliations.
Electronic supplementary material
Below is the link to the electronic supplementary material.
About this article
Cite this article
Blazevski, A., Amin, A., Scheltema, M.J. et al. Focal ablation of apical prostate cancer lesions with irreversible electroporation (IRE). World J Urol 39, 1107–1114 (2021). https://doi.org/10.1007/s00345-020-03275-z
Received:

Accepted:

Published:

Issue Date:
Keywords
Irreversible electroporation

Apex

Apical

Prostate

Prostate cancer

Focal therapy